On Saturday, 11th May 2019, Copro Gallery opens three solo shows simultaneously; what better place to be if you are in Santa Monica? Chris Mars, Annie Montgomerie and Peca: Nature of the Mind bring three very different experiences under one roof, yet all provide a surreal space to step out of your usual comfort zone and wander into new realms of being.
Chris Mars, Annie Montgomerie & Peca: Nature of the Mind solo shows
Exhibition Dates:
May 11 – June 1, 2019
Opening Reception:
Saturday, May 11, 6:00 pm – 10:00 pm artist reception – all artists will be in attendance!
2525 Michigan Ave. T5, Santa Monica, CA 90404
For more details contact Gary Pressman, Gallery Director, on 310-829-2156 or email: [email protected]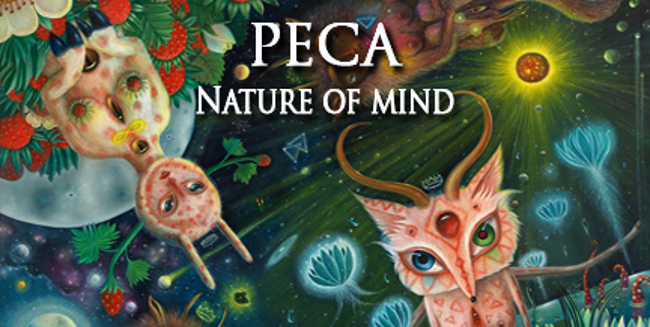 Known for her dream-like paintings, Peca's latest solo show, Nature of the Mind, brings you more mysticism and bizarre scenarios than a psychotropic drug-induced episode. Expect to be taken into the sky and back, meeting a host of god-like creatures and spirits along the way. Peca's exhibition also includes moveable oil on wood artworks, and a selection of smaller paintings well as her usual oil on linen creations.
"This series is an initiatory journey of learning and self-knowledge towards the innermost part of my mind." Explains Peca. "When we reach the depths of our own being, we can touch the beginning of life and find alternatives to our reality.
Art is my best way to connect myself with the universe. It is my moment of introspection, the way of not losing my head; it is meditation, decoding of cosmic signals maybe. Materializing the unconscious is my path to consciousness – a response to the aggressiveness and falsity of the material world that is presented as the only alternative; the way of being outside the rules. All of us have the power of transformation, we are creators of worlds.
I love to paint animals awake, connected with the universal movement; usually they are beings that ignore our rules and have the mission to challenge the viewer to see beyond the limits of our understanding. They push us into the unknown, trying to break the foundations of our belief system putting our world upside down."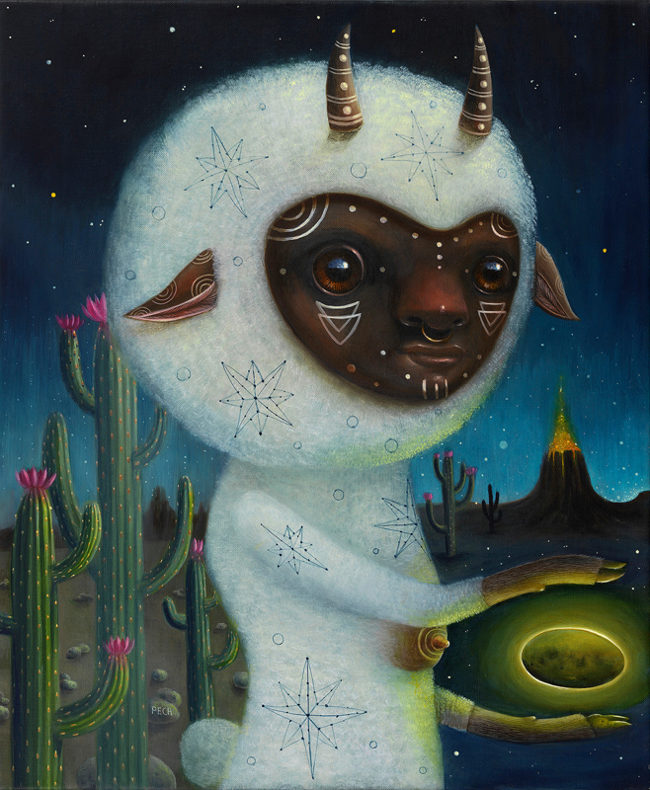 Allegory (series): The First Stone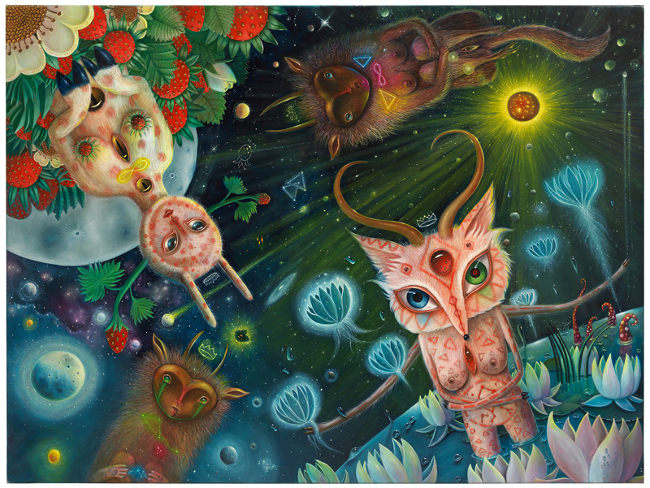 Spiral Time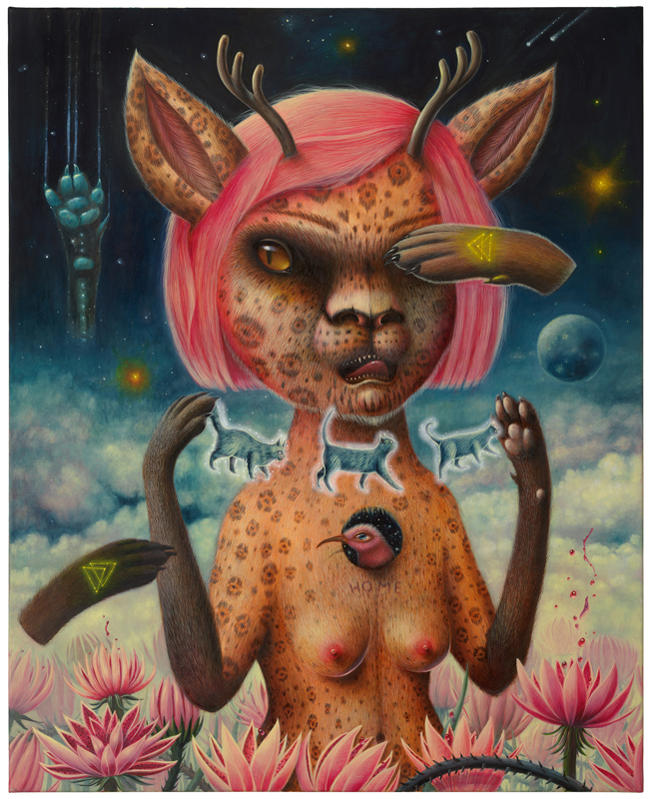 Nahual
"Nahasdzáán Spirit" (Pink) "Johonaa ei Spirit" (Brown)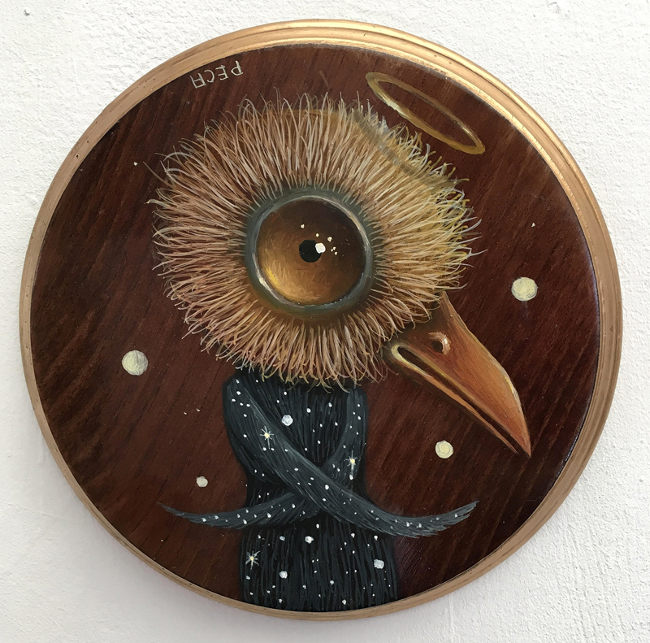 Sunrise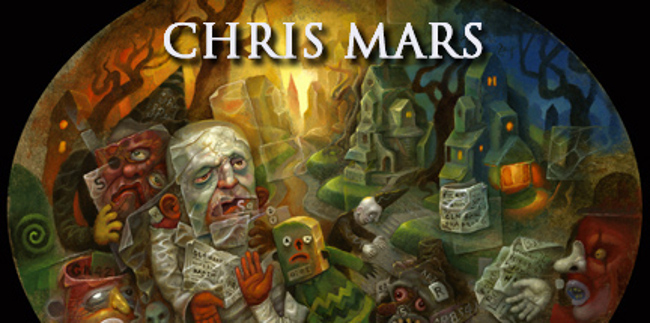 Chris Mars unveils a large selection of vibrant oil paintings, subtly beautiful amidst the obvious grotesque. The series consists mainly of new works, with some older paintings in the mix. His works encourage you to take the time to study each piece's deeper meaning and see the opportunities to connect with his characters, when at first they may seem far-flung from the viewer's everyday norms.
Included in this exhibition will be some pieces from Chris' ongoing series of paintings about Hanford, Washington – a cold war era nuclear bomb plant that to this day, continues to contaminate the surrounding area with copious amounts of highly radioactive waste. People are suffering, grieving, dying. When asked about his message, Chris says "Painting is a way to simply escape; I don't exclusively wrestle with how people treat other people negatively. Luckily there are problems people are solving for one another as well. Either way, painting is good therapy."
From Chris Mars' artist statement: "The imagery that is my work stems from the very strong visual and emotional impact of growing up in a family marked by mental illness. My eldest brother Joe suffers from schizophrenia. Joe experienced his first pronounced episode at age 16, and was immediately institutionalized. As a result, I acquired an early and lasting fear that if you are not one of society's "Normal" members, then you are likely to be labelled, whisked embarrassingly away from your family, stripped of your freedom, drugged and humiliated." (2000)
"Through some thirty years of his treatment, he encountered compassionate souls, both fellows and caregivers. He was also neglected and exploited by individuals and a system more interested in commerce and statistics than his very well-being. Were these exploiters monsters? He was fifteen. I was five. I went to see him. Did he see monsters? Or did I?" (2003)
"From my hands, my mission: To free the oppressed; to champion the persecuted, and the submissive; to liberate through revelation the actualized Self in those proposed by some to have no self at all.
In my hands, my version: All art is political in some sense, be it through conformity, reflection, propaganda or rebellion. My paintings are rallies and trials, photographs of a moment when Truth was made public, and Mercy known. Question why a villain is villainized, a victim martyred. Ask why a group is demonized, and the motives for control. See for yourself what the truth looks like in your hands. Dig it up and hold it for a while. This work you see, it's my Truth. But please don't take my word for it." (2005)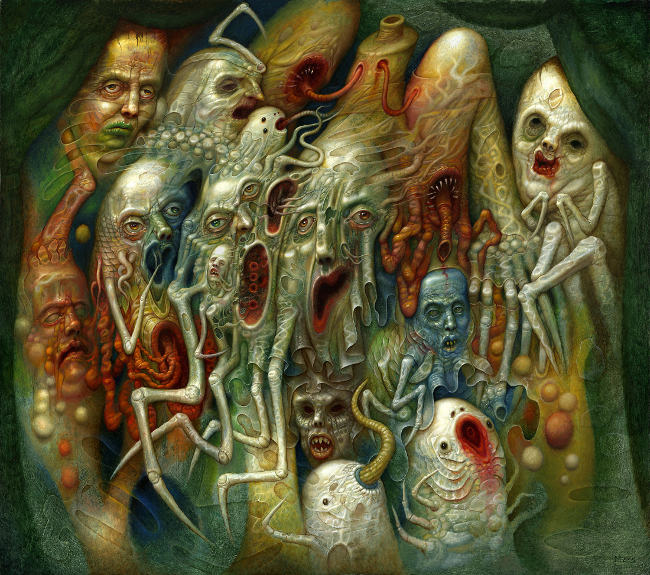 Hanford #16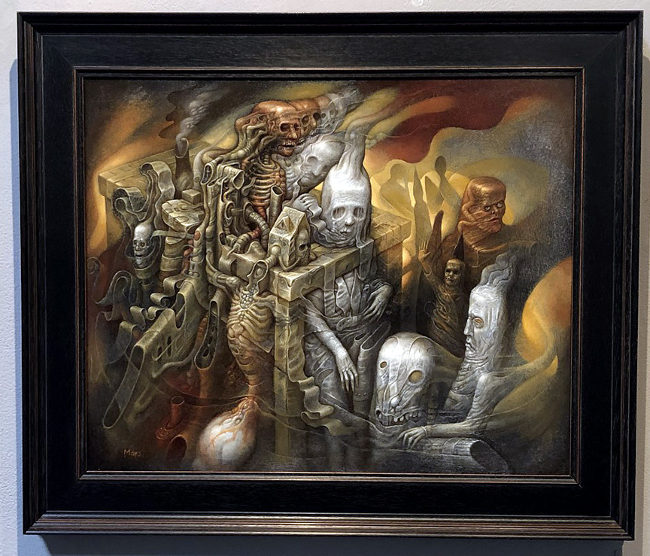 Relativity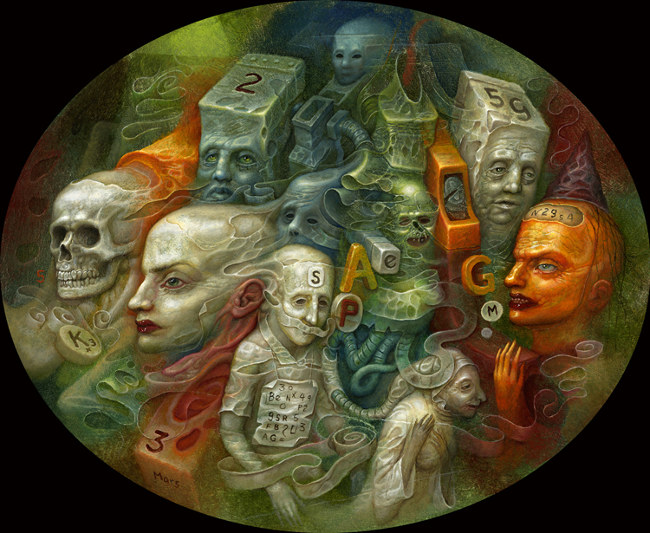 Unified Theory
The Healing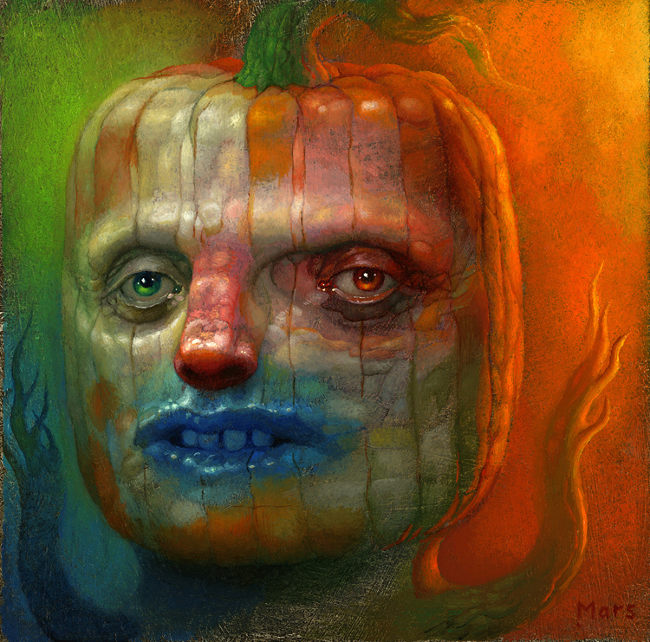 Ergophobia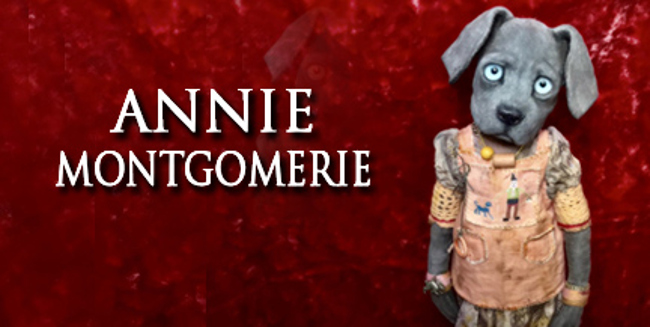 Annie Montgomerie's curious creatures have caught the hearts of handmade sculpture-lovers around the world. There's something inherently innocent about her delicate creations, made from recycled and upcycled materials locally sourced around her hometown, Dorset, in the UK. Her ability to make her creatures so lifelike makes it impossible not to feel something as you catch the eye of each anthropomorphic animal. Clad in handmade outfits, each character seems to have stepped straight out of a storybook. Part toy, part sculpture – each of Annie Montgomerie's figures wait patiently to their new forever home.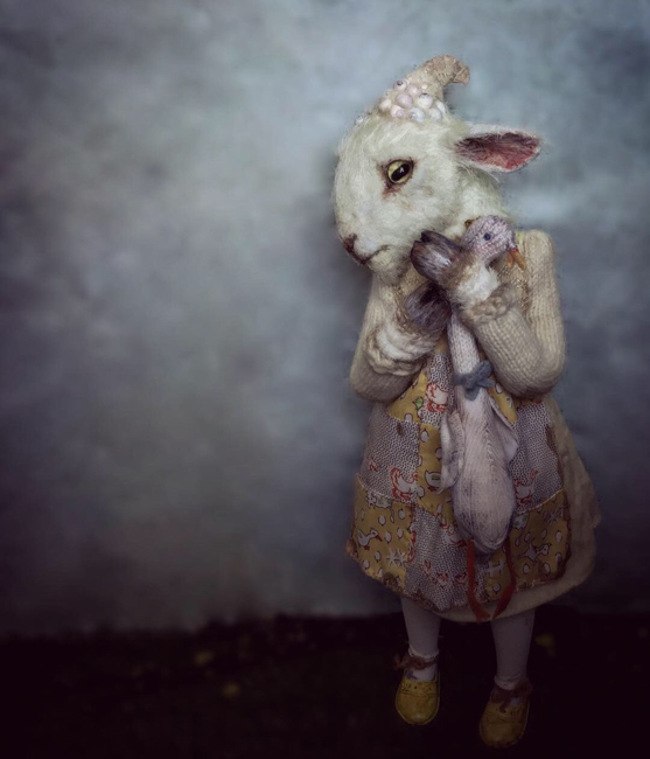 Gertrude and her cuddle goose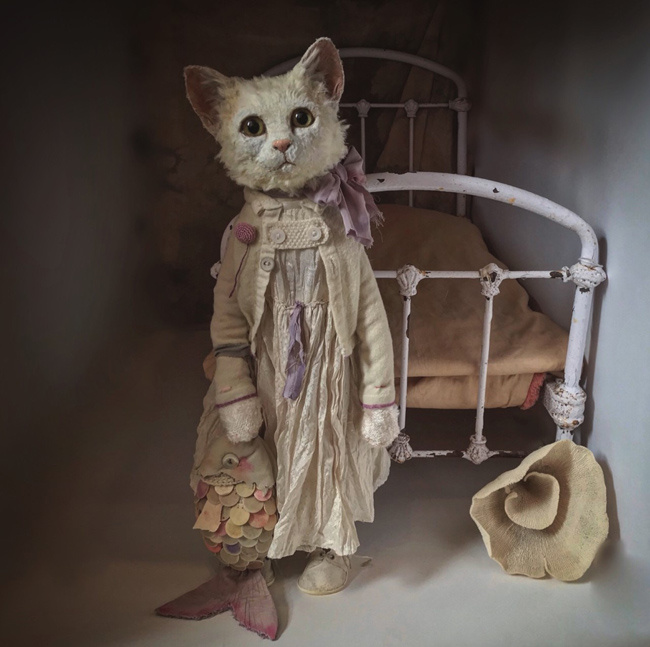 Pearl and Tiddly Fish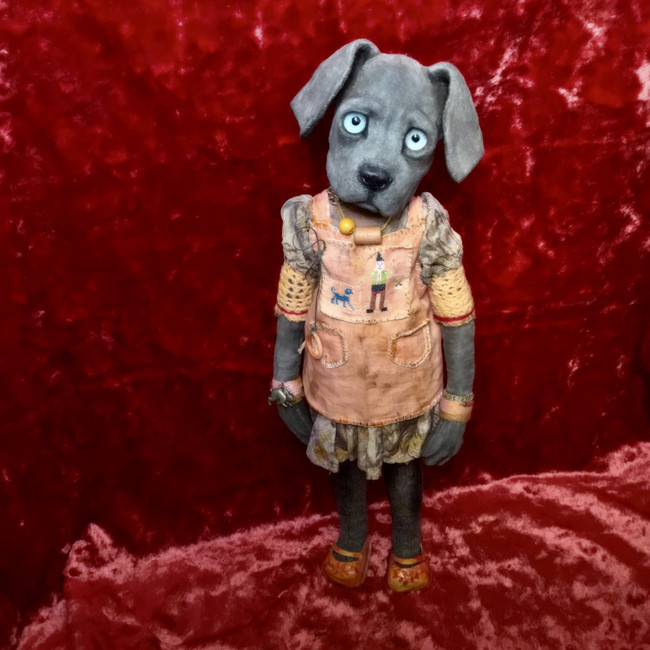 Odda. The Weimaraner Pup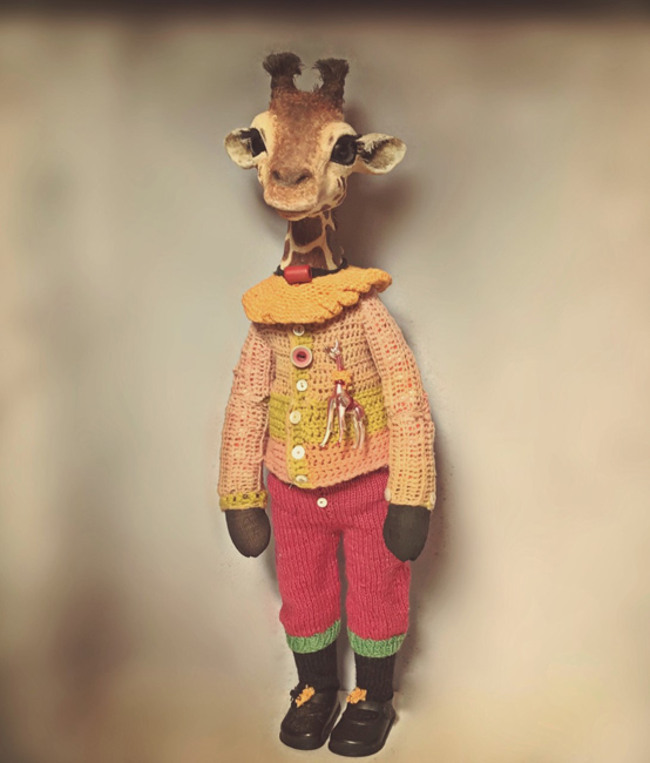 Raffly the young giraffe