You might have noticed that we've been sharing several sneak peeks on our social media of Jasmine Becket-Griffith's upcoming Magical Thinking show, to wet your whistle. Okay, we admit… we're slightly obsessed. There's just something about those little, big-eyed Strangelings that make the imagination soar.
I had the pleasure of interviewing Jasmine again to catch up on all things Magical Thinking. We hope you enjoy! If you would like to receive the advance Collector's Preview information to reserve original paintings shortly before Magical Thinking is open to the public, please contact CHG director Sherri at [email protected].
Press Release: Acrylic painter Jasmine Becket-Griffith will be debuting dozens of new original paintings she has been working on for the past two years as part of her Magical Thinking show.  Her big eyed beauties are re-imagined in new whimsical and surreal visions combined with historical influences.  Jasmine will be attending the opening event in person, everyone is welcome – the first 200 attendees will receive an Event Exclusive collectible "Porcelina" Strangeling pin!  Original paintings will vary from miniatures (2.5″x3.5″ at $495) to large masterpieces (48″ at $27,000).  Jasmine will also be debuting a giant mermaid installation sculpture featuring her "Porcelina" mermaid character.
Jasmine Becket-Griffith's Magical Thinking
571 S Anderson St  Los Angeles, CA 90033
Opening Reception:
July 28, 2018 | 7:00-10:00PM |  show will hang for approximately one month after the opening
Jasmine, I'm so excited to have this opportunity to talk to you again. It's been a while since our last chat and it was long overdue! You mentioned that you've been working on your Magical Thinking exhibition for Corey Helford Gallery for the last 2 years. What has been the driving force of this journey?
I am SO excited for this show!  It's the first time I've dedicated for multiple years for a single event, and I think the time put into it really shows well in this collection.  I spent ages scribbling and making notes – putting thought into creating a group of works that all tell different stories but still work as a cohesive whole.  I'm very proud of how it has all turned out, I can't wait to see them all hanging together at the show in person!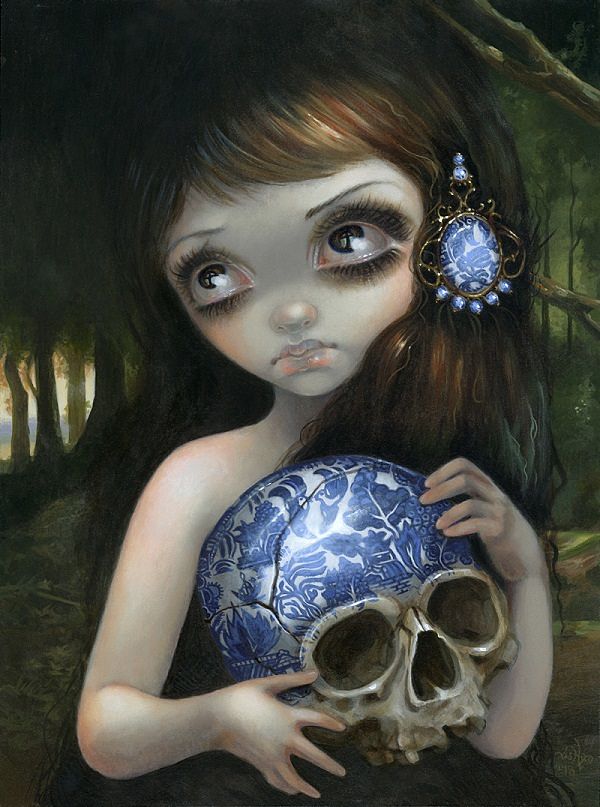 Looking at your girls, each have a story to tell, and each share it freely. They seem to communicate your creative vision in such a spellbinding way that it leaves my imagination wandering and wondering, "Who are these wide-eyed strangelings?" What can you tell us about them?  
Thank you!  I sometimes think of my paintings as being illustrations to stories that don't exist yet.  I like to create works that seem to imply a back-story.  Sometimes people ask me "wow – what book is this from?"  or "is this from a movie?" or "what character is she?"  – and I have to explain that they are not illustrating any specific existing book or film.  I like people to see my pictures and form their own story.  Pretty much all of my work is self-portraiture in some sense or another (when I began the Strangeling idea back in the 1990's they started off more as caricatures/cartoons of myself, but I very much enjoy it when viewers can identify as the characters themselves.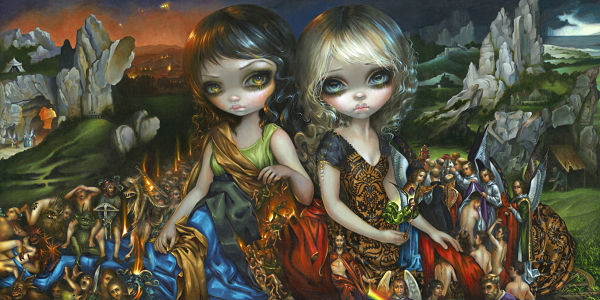 Relating to symbolism, what are some of the key components of your technique and vision for this particular body of work?  What made you want to reference historical figures?
I earned a degree in Art History and it's one of the primary driving forces behind my work.  Many of my paintings reference museum pieces from centuries passed, or include elements of classical aesthetics.  I think this helps provide a "touchstone" or a feeling of recognition upon first viewing my artwork.  It also creates an interesting juxtaposition of cultural contexts and a jumble of visual "clues" that help imply deeper meaning.  It's not always something that jumps out at the viewer – I may have a character with a more contemporary look (let's say some Goth-y eye makeup or 21st century clothing), but the pose might be inspired by a 19th Century William-Adolphe Bouguereau painting.  And then of course Bouguereau would have based his pose off of a classical Roman sculpture, which in turn was a copy of a much earlier Greek statue, and on and on.  I think it gives my work a more timeless quality that gives it a sense of depth.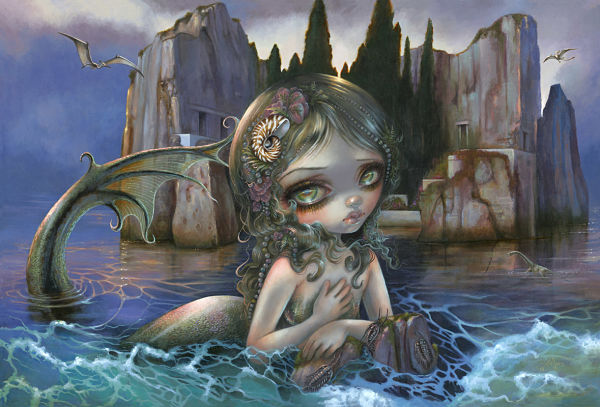 Who is your favorite historical figure?
Oh wow, that is tough.  I'm a history nerd in general; I spend a lot of my free time traveling to visit museums and old buildings, places of cultural importance.  I have a small secondary studio in London and love simply walking through Westminster Abbey, just feeling the overwhelming sensation of knowing the bones of so many kings, queens, artists, poets & scientists are lying there beneath my feet.  I could go on and on, but if I had to narrow it down I think I might have to go with Elizabeth I and also sneak in her mother, Anne Boleyn.  I am mildly obsessed with Tudor history, and the influence of it still exists throughout London & the UK (the Tower and Hampton Court are a couple of my favorite places to wander and get inspired!).  I'm actually working on a portrait of Elizabeth I right now for the "Her Majesty" show opening later this year at the Haven Gallery.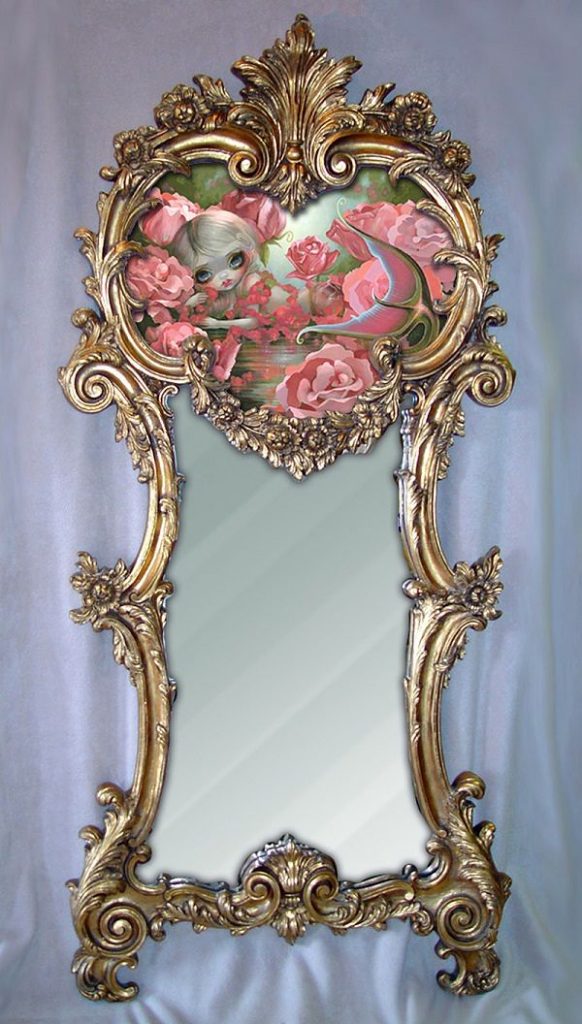 What would be your biggest hope that viewers take with them when looking at your new collection, Magical Thinking?
I would like it to inspire the viewers to see the world a little differently.  To find symbolism and synchronicity in seemingly random occurrences.  I want there to be more mystery, more beauty, more secrets and more surprises in what can sometimes seem mundane in this world.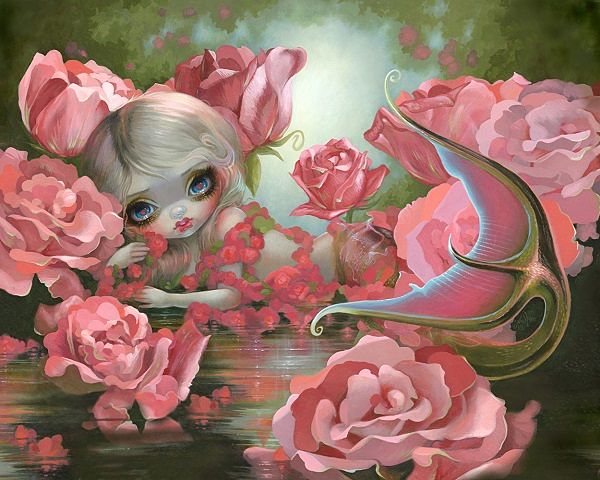 I love the nuances in mystical thought and belief; for me personally, it balances the scales of spirituality as a definitive counterpart.  Apart from your upcoming exhibit, what does "magical thinking" mean to you?
The term "Magical Thinking" is also a term used in the psychiatric/medical community – apparently it is the belief that one's own thoughts, wishes, or desires can influence the external world.  Illness or not, lol, I'm a strong proponent of it.  I think a lot of us can change the physical world just by changing our perceptions of it.  As an artist, how can I NOT think that my thoughts influence the physical world?  It's basically what I do for a living!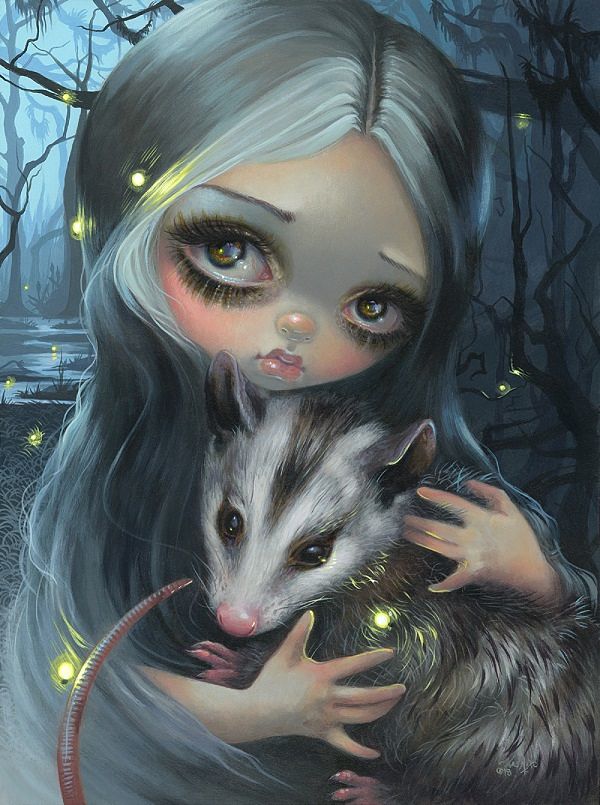 You've also been busy with a brand new Twitch channel. Tell us about that!!!
Oh yes, I sure have!  Many years ago (well, 15-20 years ago) I used to have a 24/7 "Strangeling Paintcam" where folks could see my easel at any time of the day to see what I was working on.   It was fun, but it was very low tech, bad resolution, no audio, very rough.  But now of course technology has moved on, and a lot of my fans had been asking if I'd ever make a tutorial video.  I didn't know where to begin with something like that, but my friend and fellow artist Nen Chang suggested I give Twitch a try!  So glad I did – it's been a blast.  I've been at Twitch; broadcasting a couple times a week in 4-5 hour increments (we archive them on both Twitch and YouTube as well).  I paint while my husband, Matt, reads all the questions from the chatroom to me, and I have a mic into which I answer them, talk about what I'm working on, etc.  It's a great platform to show off new paintings in progress, to debut new products & projects, and mostly to interact with my fans.  A lot of my fellow artists tell me they like watching to learn painting technique, etc. so it's also helpful as a tutorial.  We have a LOT of fun up there!
It's a completely free website and app – twitch.tv/jasminebecketgriffith – we keep it suitable for all ages, too.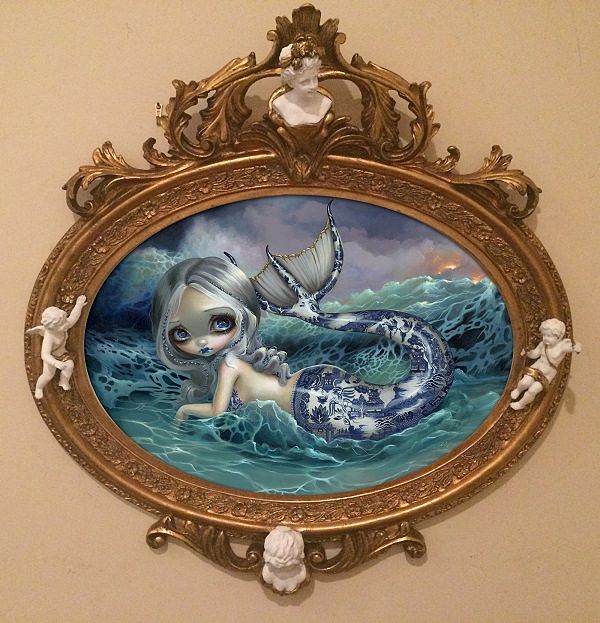 How are you balancing life as an artist with so many creative endeavors?
Not particularly well.  I'm the sort of peon who thrives on momentum, and I am pretty much consumed by my work.  There isn't a time where I'm not working somehow.  It's a terrible balance.  I probably can't keep this up forever, but I'd be happy to die trying.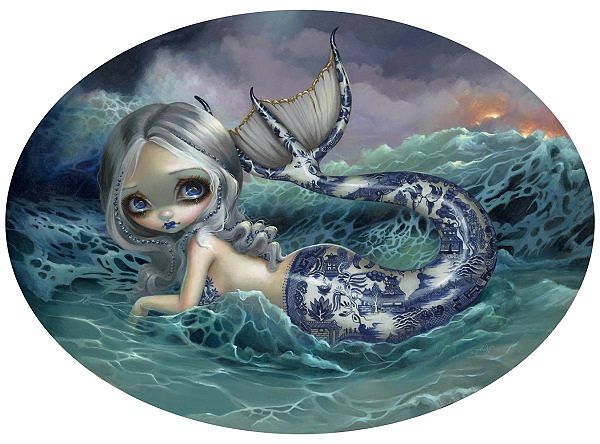 How many hours a day do you spend creating?
Unless I'm on the road, I work about 16 hours a day.  About 12 of that is actually painting, the rest is doing other work-related stuff like answering emails, paperwork, legal stuff, bookkeeping, approving new products, signing endless prints, design stuff, all the boring ancillary tasks that go along with a full-time art job.  I do have six employees now who thankfully handle most of the things like order processing, printing, packaging, some of the legal stuff, etc.  Otherwise my head would fall off.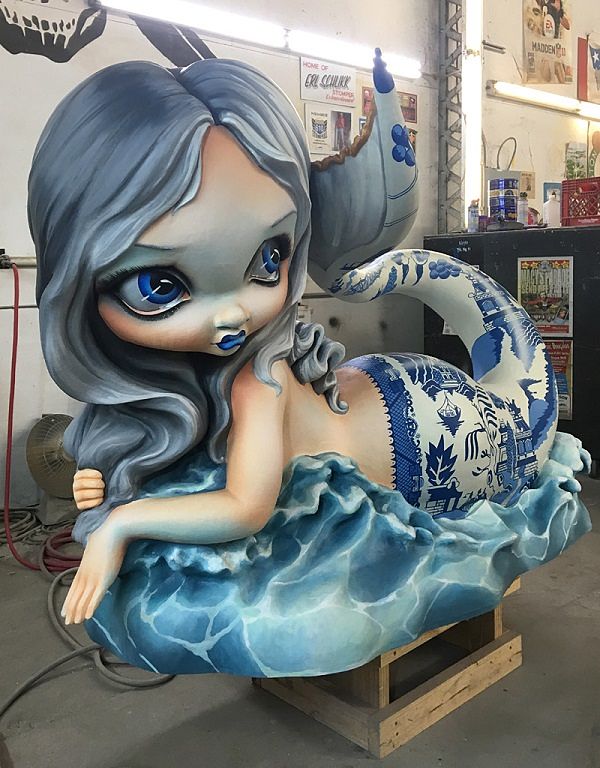 Last book you read?
I just re-read (via audio book) "The Wind-up Bird Chronicle" by Haruki Murakami.  I've read it before, but then I recently read Patti Smith's "M Train" and in that book she describes a strange journey she took specifically to find a house referenced in Murakami's Windup Bird, which inspired me to read it again.   Magical thinking indeed!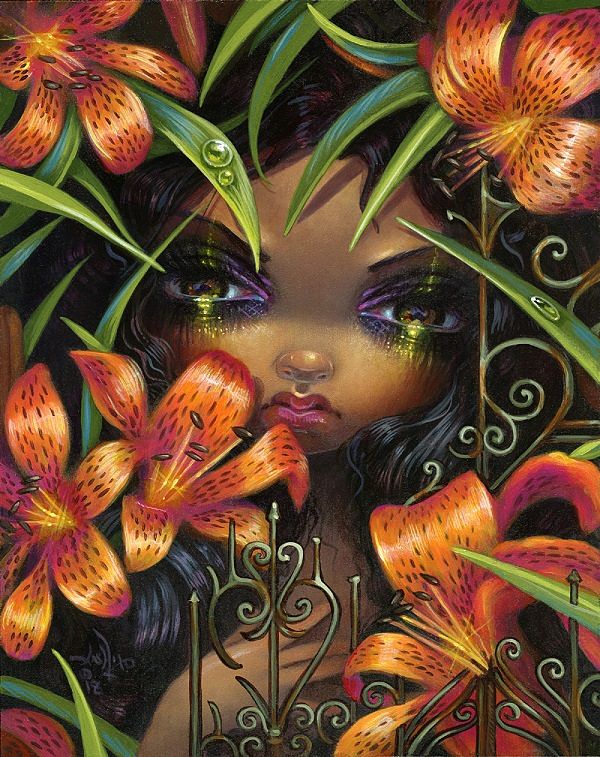 Last movie you watched?
Um, it was the Rifftrax Live presents "Space Mutiny!"  Yep.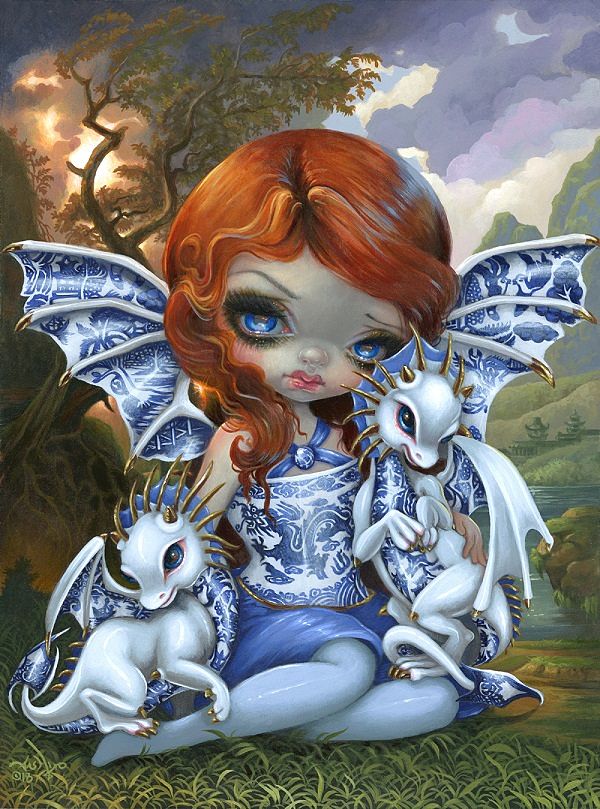 What's next for you?
More painting!  I'm working on several projects for Disney at the moment, I'm gearing up for DragonCon, my annual stint at the Kansas City Renaissance Festival, the Whitby Goth Weekend up in Whitby, England – it's going to be a busy Autumn!  I've also just approved the final galley copies for my "Forever Strange" solo art book being published by Blue Angel Publishing – that should be out a bit later this year, along with my Alice in Wonderland Coloring Book!