Monica Rohan's paintings are suffocatingly beautiful.
When you first look at Rohan's work, you are immediately struck by the vibrancy of the colours. Your eyes frantically search across the tangle of intricate patterns that is ever-spreading and engulfing the figure into its fold. Then your eye snags on a figure. Rohan's figures seem to float across a sea of repetition, they hide their faces, their bodies stretch, and they are set adrift in the frantic world around her. The intricacy of the fabric patterns and the dense foliage of her work seek to express the shy anxiety Rohan feels with the world she inhabits and the world inside her.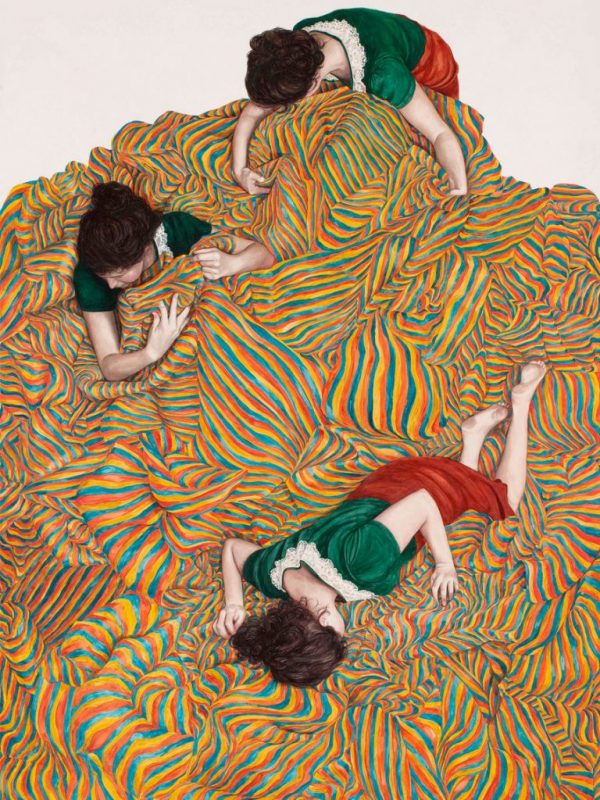 Gradual descent 2015
oil on board
100.0 x 70.0 cm
Her location is the key to understanding the comforting warmth she brings to her anxiety. Rohan is an Australian artist based in Brisbane, who is represented by The Jan Murphy Gallery. She studied at Griffith University's Queensland College of the Arts (QCA) in the heart of Brisbane's South Bank. Meters from the QCA studios, a path snakes through the South Bank gardens, around children's playgrounds, through cafes and even past an artificial beach. This path is tangled with the lush ornamental vine Bougainvillea. Its ever-growing thorny claws are spattered with rich pink flowers that reach across the path hoping to snag a passerby. Its sinister claws are disguised with the beauty of its dense flowers and foliage. This plant holds a special place in the heart of the Brisbane local, as it reminds us of running free through the gardens as a child and perhaps too for Rohan. This is what brings the comforting warmth to Rohan's work, in the face of overwhelming and suffocating anxieties. Each of the plants that engulf her figures are painted with a similar warmth, as some are scattered around her family home and others, like the Jacarandas, turn Brisbane pail purple when blooming in spring.
What can I say 2017
oil on board
80.0 x 61.0 cm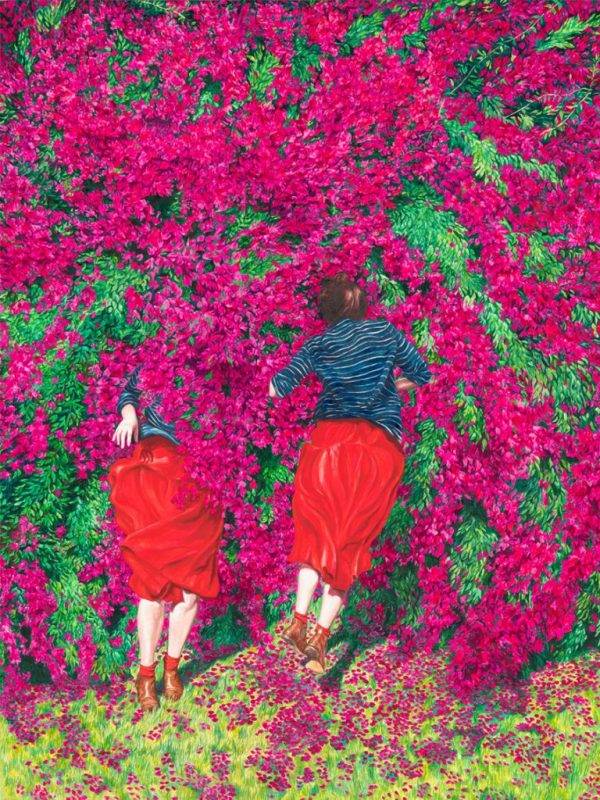 Should I go now? 2016
oil on board
80.0 x 64.0 cm
Rohan's work, at times, isolates her figure from the overwhelming suffocation of her surroundings, expressing the suffocation of her internal anxieties through the twisting repetition of textile. These repetitions of pattern and figure, though suffocating to the eye, are from the warm heart of Rohan. She searches her world for the colour and vibrant fabrics that inhabit it; Rohan says, "It has become an obsession looking for patterns". I'm glad it has. The initial anxieties that the patterns create are embraced with the warmth that resides behind the dreamlike images.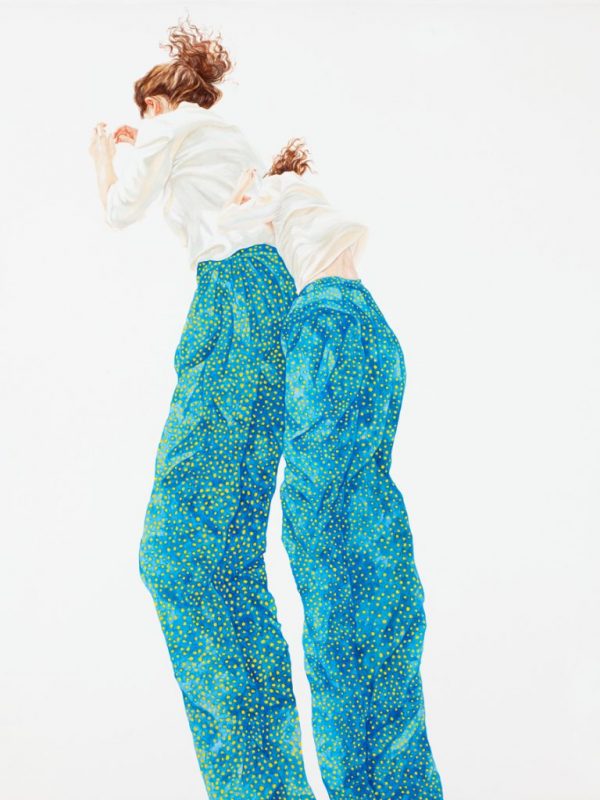 Stilted 2017
oil on board
80.0 x 61.0 cm
Doubt it 2014
oil on board
70.0 x 50.0 cm
Below is a video of Rohan talking about her 2017 exhibition 'Look down at the ground' at Jan Murphy Gallery.
Her works have a long waiting list, so admire them for now. Be sure to check out Monica Rohan's Instagram, and keep up to date, so you can see where she will take her work next. Remember though, sometimes she is "not always chatty" however know she is sharing her warmth.
Yeah right ok 2014
oil on board
80.0 x 61.0 cm
Rose above 2016
oil on board
80.0 x 61.0 cm
All Images are courtesy of the artist and The Jan Murphy Gallery, Brisbane.