Matt Mitchell
. An excerpt of this interview is published in the June issue of Beautiful Bizarre Magazine] Gaia Reborn: The first museum exhibition curated by Beautiful Bizarre is a full-on immersive experience featuring 50+ artists at Berlin's Urban Nation Museum of Urban Contemporary Art. The seed for this show was planted when the Director, Yasha Young, saw common interests between herself and Danijela Krha Purssey, Co-Founder and Editor-in-Chief of Beautiful Bizarre Magazine, who has curated several exhibitions internationally.
On discussing the possibility of an exhibition Danijela and Yasha determined "Gaia Reborn" must be the theme. All around the globe artists' subconscious minds cannot be freed from the web of information that foretells of ecological collapse. The planet is going through a mass extinction. The ice caps are melting. Titanic gyres of plastic spin in the world's oceans. When thinking about these problems, it became clear that a provocative approach to a show would be to imagine if they had been solved. Thus Danijela selected 50 artists and asked them to delve into a new vision: that of the triumph of the mother earth spirit.
However, this is no simple utopia.
To find out more about Gaia Reborn: A Future Utopia, enjoy our full-length, in-depth interview with the two visionaries behind the show, Danijela and Yasha.
A Beautiful Bizarre Magazine Exhibition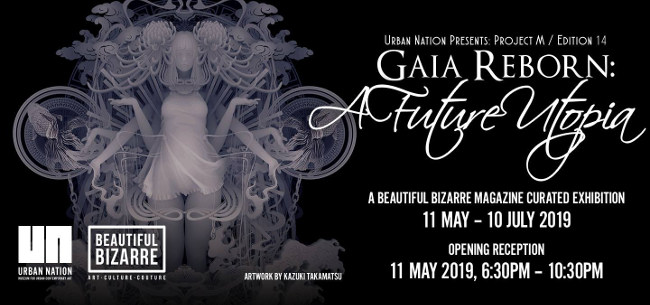 Opening Reception:
11 May 2019 | 6:30pm-10:30pm
Exhibition Dates:
11 May – 10 July 2019
Urban Nation Museum of Urban Contemporary Art / Project M
Bülowstraße 97, D-10783 Berlin, Germany.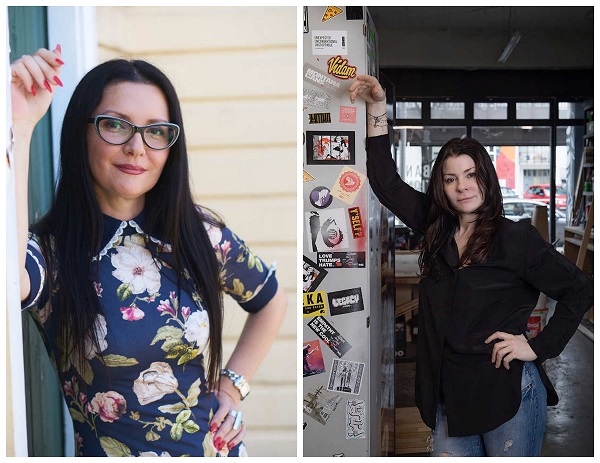 Danijela Krha Purssey & Yasha Young
When coming up with the theme did you expect the part about utopia to be a challenge for the artists?
Danijela: The theme 'Gaia Reborn: A Future Utopia' explores a critical topic: the preservation of our planet, including all the beautifully diverse and interconnected plant and animal species, and, not incidentally, ourselves. With global warming threatening to irrevocably alter the world's delicate ecosystem, we must act now before it is too late! Humankind's damaging effect on the environment is accelerating at an alarming rate! Sadly, over 500 species have gone extinct in the last 100 years – what a devastating testament to how we are caring for our one and only blue planet.
At this very moment, we are living through the 'Holocene Extinction' period, which has been largely caused by human actions; it is one of the most significant extinction events in the history of the Earth. Let's put this into perspective; the previous extinction event, the Cretaceous–Paleogene extinction, was a sudden mass extinction of some three-quarters of the plant and animal species on Earth. I think we all need to ask ourselves, what would you do to save us from the same fate?
[Recently] I was incredibly proud to see that high school students across Australia and around the world skipped class to take to the streets and demand that our Governments take action now to stop the current trajectory toward destruction. They believe the climate scientists who say we only have 12 years to make significant changes before it will be too late to save our planet and therefore ourselves. It is
their
future we as adults are meant to be safeguarding, so let us all – individuals, communities, societies and governments – do what we must now to make sure we leave the next generation and those that follow a vibrant, living planet.
Creatives all around the world cannot help but feel deeply about this critical global concern. Many share my passion for our planet and all the flora and fauna it nurtures, so I was delighted by the incredibly positive response I received when I invited artists to participate.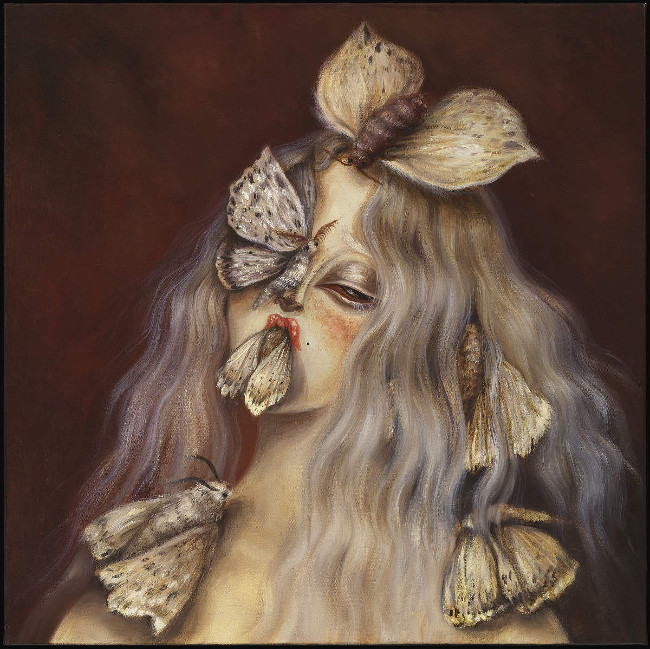 Miss Van – Moth Muse II (2019). Oil on canvas.
The 'utopia' aspect asks the artists to consider: how can we create a future utopia where we can tread softly on the earth, and live in harmony with its creatures, while at the same time continuing to evolve and progress as humans? What emotions would it evoke, what new and different narratives can we shape in this new utopia which honour the dynamic nature of our planet? I was thrilled to see the participating artists express the theme in both an emotional and narrative way, allowing the audience to see the true, powerful and dynamic nature of the earth – both as protector/nurturer, and destroyer, which enables new life.
I personally love this quote by Astrophysicist Brian Cox, which I think illustrates the true and deep connection we can all feel with our planet and our place in nature: "We are the cosmos made conscious, and life is the means by which the universe understands itself." So let us wake up now, let us understand ourselves, our nature and how we can use our knowledge, experience, technology, empathy and wisdom to overcome these issues and move into our future utopia.
Kevin Peterson – Wish II (2019). Oil on panel.
Our understanding of environmental issues is based on scientific data, so it can be hard to feel these problems deeply enough so that we change our lives. Can art really help people connect to these vital issues in new ways?
Danijela: Science and data sharing are critical to informing individuals as well as Governments. Sadly, many still don't accept these findings and find ways to overlook or dismiss the critical nature of our current environmental crisis. But artists are society's visionaries; it is through their work that we are able to inspire thought, discussion, and a real connection with the earth on a personal and societal level.
I recently experienced firsthand the transformative power of personal connection with wild creatures and places. When my husband and I went to Tahiti on our honeymoon, there we were able to experience just one of the beautiful yet fragile places on this earth. Seeing a humpback whale mother and calf in the nursery waters of the Pacific, an endangered sea turtle swimming out to sea, coral reefs tragically damaged and bleaching, and the wild volcanic mountains and vegetation. This was when I was finally and deeply moved to not just "think about it" but do whatever I could in my power to effect change. However, we cannot all experience these natural wonders in person, so it is through the arts that we can touch people's hearts and inspire society to make real change.
When conceptualizing their work, I asked the participating artists to consider the early religions that worshipped the earth: Gaia the earth mother. To take inspiration from this period in our early history when humanity was intimately connected with the earth, respected, and sometimes sensibly even feared her. A time when we lived and worked in harmony with our fragile planet.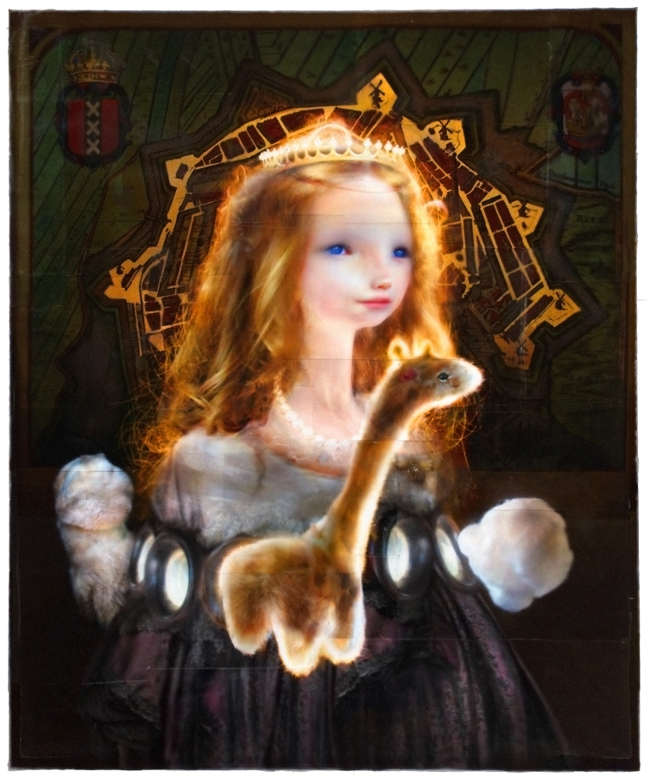 Chris Berens – Sisters of Mercy (2019). Mixed media on panel.
Yasha: You have to like or love something in order to want to protect it, yet nature is removed more and more from urban life. Parks are becoming smaller as they make way for housing. Kids often don't have that exposure to nature. Some [people] I've worked with have only known their backyard, or the sandbox in kindergarten, as a part of nature. By creating an exhibition with a see-hear-smell-feel, multi-sensory component, we aim to educate and even evoke an emotional response and prolonged interest [in nature]. This kind of curatorial experimentation is exactly what our Project M Space is about.
My own experience of nature has led me to want to protect it. The blueberry fields I walked through in my childhood held some of my fondest memories – but they are long gone now.
Often, today's kids don't have those organically developed memories. Their parents may not even have the means to give them vacations. We, the prior generations, need to be the keepers of the collective memories and raise awareness for them. Thankfully many artists dedicate their work to environmental and social issues. However, if that art is only seen on social media it can become just another part of our swipe-fast-and-forget-fast world. An exhibition is a different situation. People often stay for 60 to 75 minutes looking at artwork and reading about the vision behind it. Discussions often start with other viewers, as well as with curators and even artists that are present. The bottom line is, I think that direct contact with all of our senses and everything that makes us human can start long-term thought processes and activate possible chain reactions and change.
Urban Nation is focussed on street art; how does this connect with the artistic vision of Beautiful Bizarre?
Yasha: Urban Nation is a Museum not focussed solely on street art, it never was. Street art belongs in and to the streets. What I exhibit are many things that are connected to street art.
Some of the work featured in Beautiful Bizarre is art that I was showing in my former gallery in the early 2000's. At the time, it was considered pop surrealism. Now it has grown into something else, and will continue to grow naturally into the next category that the art world can come up with.
In today's contemporary art world, artists are very free to quickly shift between genres. The Urban Nation Museum is interested in supporting artists regardless of where they come from, what stage their career is at, and whether they are self-taught or not. We support artists in meaningful and long-term ways, such as our 11 residencies. When we support artists in this way, we hope that we can further break down the still existing boundaries between the so-called traditional art world and the great variety of strong contemporary movements that exist.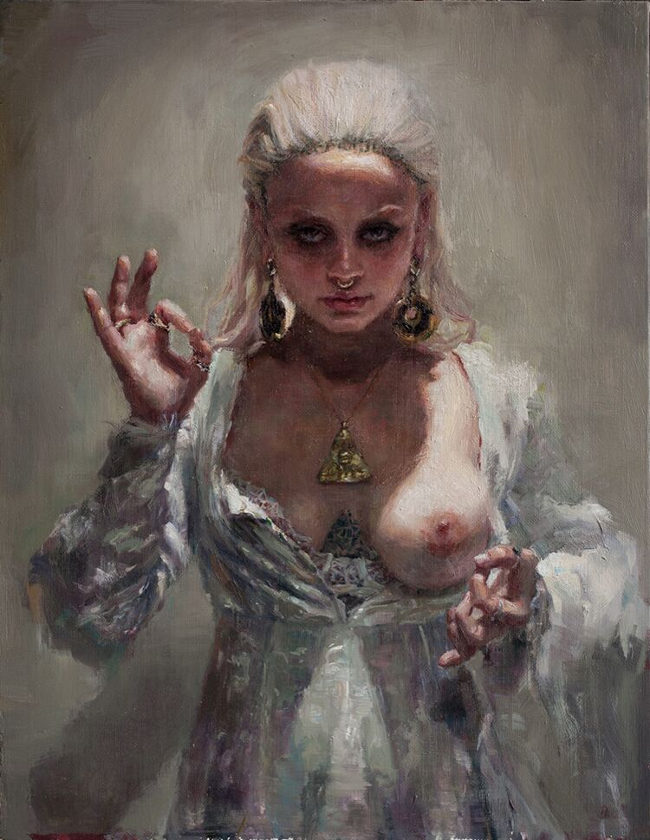 Natalia Fabia – Biała Koza (2018). Oil on linen.
The theme of Gaia evokes images of female power as well as the environment. Street [and its connected] art seems to still be a male dominated field. Do you think that's going to change?
Yasha: I think it's important to say that the UN doesn't archive street art only. Also, I know many, many successful female artists that have been working in the streets and outside for a long time.
In my opinion, we are now seeing a massive development in the female sector of the contemporary art scene. This has to do with new feminist movements. Social media makes it possible for more voices to be heard – voices that have always been there! I encourage and support this wherever I can.
Still, the never-ending disadvantages that women face are real. I am a woman and I have achieved a lot. I have worked hard and I am proud, but I still personally experience the ever present force of inequality on a daily basis. Yet, I believe we're breaking these issues open. I think that society as a whole is starting to evolve and equal opportunity is no longer just a wish – it is a must in today's world. Of course, I hope we're going to see a change in that aspect in all professions.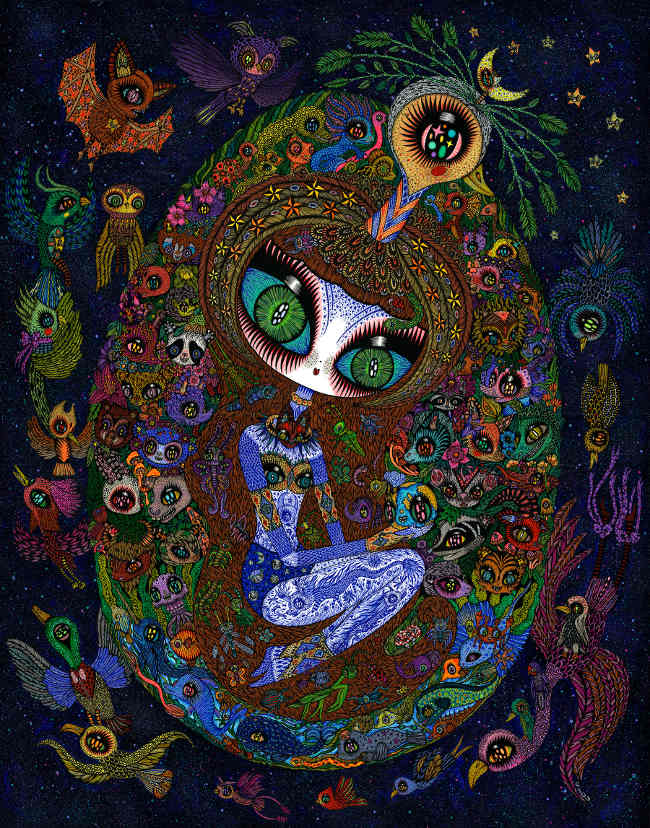 Ciou – Cosmic Egg (2019). Mixed media (acrylic, ink, paper on wood).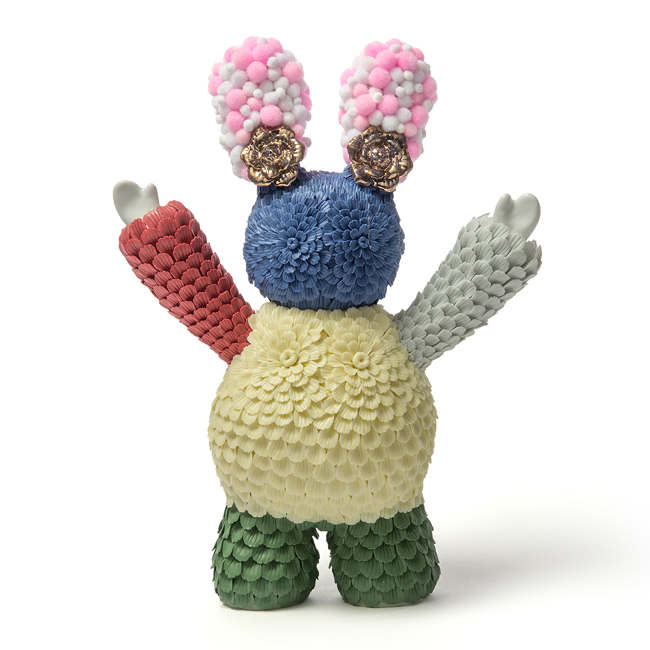 Vipoo – Gaia (2019). Porcelain and mix media.
The name of the type of art in the Gaia Reborn exhibition is hard to pin down. Urban Contemporary is possibility, I know Danijela has suggested another name, New Contemporary Art. If I may be so bold, I would like to propose another name I find helpful. I call it Free Contemporary Art because it is art that has been freed in so many ways. It has been liberated by social media to create its own economies and audiences. Free Contemporary artists want their viewers to be free of reading things in order to understand the work. They want to be free of art world jargon and art world attitude.
Names aside, the more important issue is that this genre of art is absolutely on the rise. It is massively popular. Where do you think this movement is headed? How will it grow and become more deep and rich?
Danijela: Indeed, the nomenclature of this art movement is still up for debate. I do, however, love Free Contemporary Art – it evokes the freedom that current living artists are embracing outside of the dictates of the traditional fine art establishment. Another name that a Gallerist friend Joseph Weinreb suggested when we visited Haven Gallery in Northport, New York, still resonates with me: Contemporary Renaissance – because it is a re-emergence, or renaissance, of figurative/representational art, but inclusive of new styles including pop surrealism and low brow art.
Terminology aside, I, like many artists, collectors and art lovers are bored with conceptual and abstract art. Tired of walking into galleries and looking at rooms with walls filled with work that doesn't create any sort of personal connection with the viewer. The sort of art that high end art galleries and museums were sharing with the public was turning us off art, rather than inspiring us.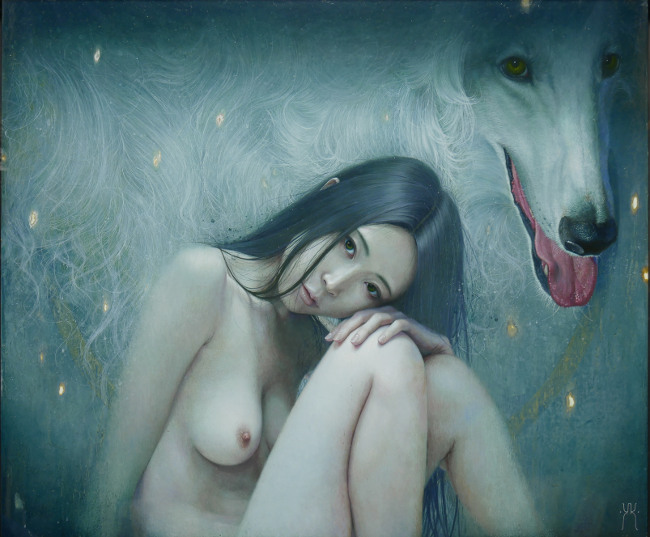 Yousuke Kawashima – Edda (2019). Oil paint on Japanese paper on panel.
I think this quote from Beautiful Bizarre Magazine cover artist Malcolm T Liepke sums up the overwhelming feeling of the current new generation of artists about conceptual and abstract art: "I saw a piece of art one time and I didn't like and didn't understand what I saw, but next to the painting was a page long description of what I was supposed to get from it. I remember thinking 'this person should have been a writer!…"
Thankfully the internet and particularly social media have enabled artists, collectors and art lovers to have their own voices heard. To say, "This is what we want to see on our feeds, in our galleries, and on our walls!" has taken many years, but high-end art galleries and museums around the world are finally beginning to listen to this collective voice. Take the National Gallery of Victoria's (NGV) recent Triennial exhibition; it was a risky move for the Director to focus on contemporary representational art and design in a still very traditional Australian market, but it was wildly successful drawing almost 1.3 million visitors! So successful in fact, that the Victorian government is now going to build the largest contemporary art gallery in Australia in Melbourne, NGV Contemporary.
The new generation of collectors has spoken loudly and clearly. The Contemporary Renaissance has begun!
Yasha: The very closed doors of the traditional art world and its boundaries have been forced open. Everything is changing rapidly: gallery exhibitions, the way museums work, the way people collect art, art fairs.
However, I do believe that the faster we become, the greater the risk of losing the ability to focus on the creative process. At the moment, the main focus of my work has been to try to find ways to slow down the actual process of creation and output in the future. This discussion of social media also raises other issues. It may not actually be beneficial for an artist to be their own social media manager, their own PR agency, and their own dealer. Ideally an artist should be able to focus on making art, having the opportunity to be surrounded by people that have those above-mentioned tools to properly execute what is needed.
Social media can actually have negative effects. I'm watching this phenomenon with a very careful eye. I am trying to bring back some old-school one-on-one interaction as part of the development from the beginning to the end of an artwork.
Therein lies an important freedom of art and the creative mind.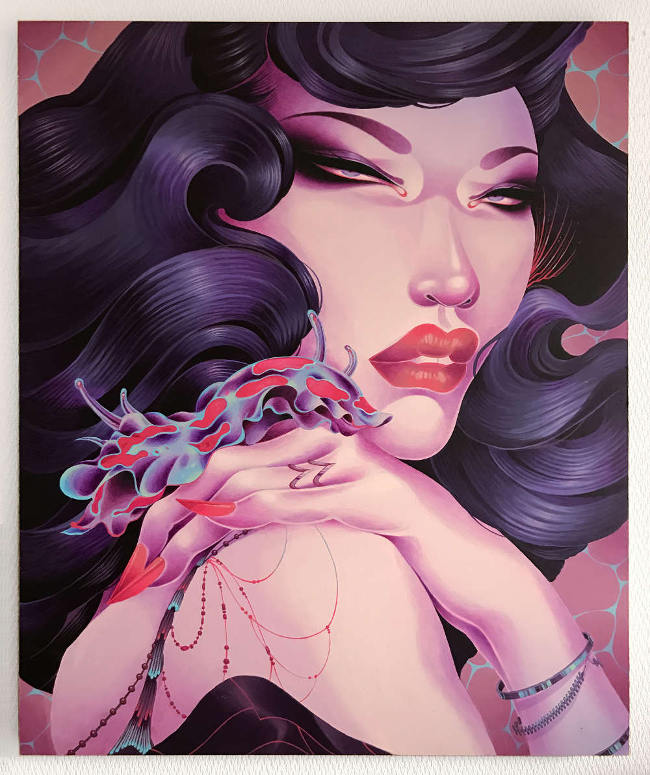 ONEQ – NYORO (2019). Acrylic painting on wood panel.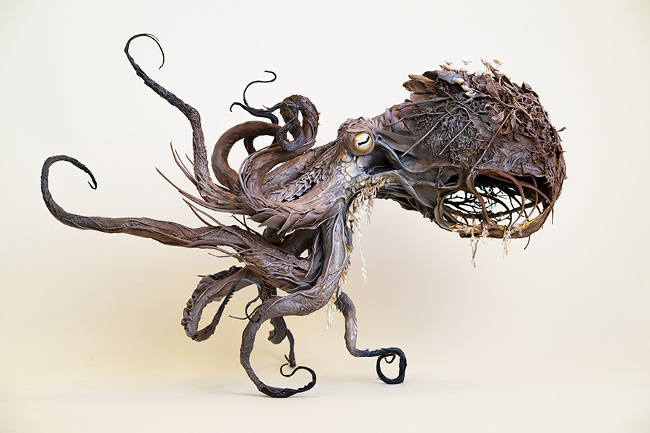 Ellen Jewett – "Of decay and adaptation (strange and gentle XXI)" (2019). Mixed media (air drying polymer, cold porcelain, resin, metal, acrylic, mineral pigment).
Jasmine Becket-Griffith – Silent Wisdom (2019). Acrylic on masonite.
Jessica Dalva – As Dusk Would Fall (2019). Mixed media sculpture on wooden base.