Creating magical worlds that pique imagination, Travis Louie and Camilla d'Errico's artwork will leave you feeling inspired. Instantly drawn to the many curiosities of each artist's interpretive visions, they have a distinctly-intriguing way of expressing themselves through their craft.
If love their work as much as we do then save the date because on May 11th, Haven Gallery proudly presents the highly anticipated opening of Camilla d'Errico "The Zodiac" and Travis Louie "Animals That I've Known" alongside "Elements", a group exhibition exploring the five elements: fire, water, air, earth and ether.
We are so pleased to present to you this fascinating Artist vs Artist exclusive interview between Travis Louie and Camilla d'Errico! So grab a drink, kick back and enjoy!
Camilla d'Errico "The Zodiac" and Travis Louie "Animals That I've Known" Limited Edition Dual Art Book
Available at Haven Gallery!
"Camilla d'Errico "The Zodiac" and Travis Louie "Animals That I've Known" Dual Art Book is a limited edition, 54 page softcover book chronicling a selection of new and current works by Camilla d'Errico and Travis Louie in connection with their upcoming solo shows (May 2019) at Haven Gallery. The catalogue contains 12 artworks from each artist along with statements and tales for each painting included. This catalogue is a limited edition of 800. Once the book is sold out, there will be no more copies so be sure to grab yours!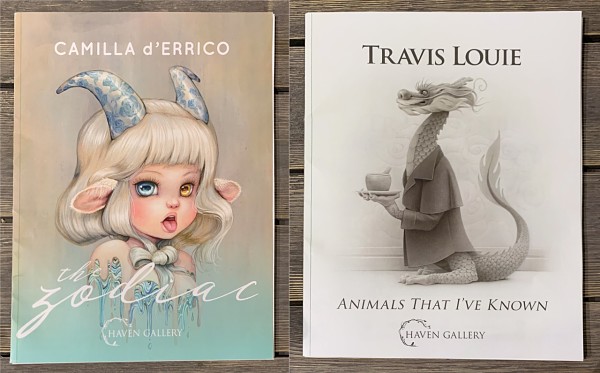 Opening Reception:
May 11, 2019 | 6 – 8 pm
Exhibition Dates:
May 11 – June 16, 2019
Event spinning by GenX DJ
Haven Gallery
155 Main St., | The Carriage House Square
Northport, NY 11768
For additional information and images, please contact Erica Berkowitz at [email protected]
Camilla d'Errico >> Travis Louie
Camilla: I adore your art, have for many years, there is so much whimsy and detail in each piece. How do you find the balance of both to create your paintings?
Travis:  Thanks for the kind words! The answer to the question falls on the narrative nature of my work. When we tell stories, we rely on certain details to give the characters/subjects more weight; I pretty much have some backstory in my head for every character that I paint. I like to give them clues to when they may have existed with elements that are recognizable enough for the audience to connect to. Art enthusiasts often talk about art in terms of being a form of expression. With that in mind, it's like a language; an attempt at communicating something. So, having the requisite details is key to the narrative.
Camilla: And do you ever feel overwhelmed sometimes in their creation?
Travis: The only times I have felt overwhelmed, were when I was tackling a commercial deadline that I tried to squeeze into my usually full schedule. I kind of wonder sometimes if there is an element of being addicted to the adrenaline of working right up to the last minute of commercial projects. To be honest, I really feel like I'm having a great time when my focus on the work is something I can get lost in… sort of the way people get engrossed in a good book or binge-watch a show… except I'm problem solving of course.
Creative, interactive leisure… is that a thing? You know, with deadlines.
Camilla: You have wonderful stories for each of your pieces; you create not only beautiful images but vivid worlds in which they exist. Which comes first for you? The story or the image? Or is it a chicken and the egg type situation!
Travis: Every time I get asked this, I start to list all my characters in my head and think of where they all came from. Most of the characters start out with a short backstory, but there have been some which are based on real people I've met or observed (I'm a people watcher). There are of course characters which started out as a simple thumbnail on a napkin or place mat in a diner.
Those usually require me to come up with the story after I've envisioned the look. I do a lot of research when I build the back-stories to those characters and often they have some bit of my personality in them as well. That's inescapable I guess.
Travis Louie >> Camilla d'Errico
Travis: I've been following your work for a long time and it's been fascinating to see the evolution your artwork has gone through. What does the current incarnation of your work say about where you are now as an artist and how does it relate to your life now?
Camilla:  Being such a huge fan of your work for years it means a lot to me that you and I can exhibit in the same gallery at the same time. I really feel that art shows are pages in our creative and personal diaries. They show a moment of who we are in visual ways. My art has evolved as I have evolved as a person. I've grown and matured and I believe my paintings have too.
With every solo show, I paint a piece of my soul and heart. I think these paintings take that and multiple it by ten. I've poured so much time and energy to refine my work, elevate it and explore new techniques as well as my passion for diversity. It show who I am as an artist by showing that I believe all body types and all cultures are masterpieces that deserve to be on a canvas. This body of work shows who I am now; someone who is looking to the universe for answers. I want to explore how we as people relate to the planet and the stars. Our time on earth is so short yet the universe is forever, I think there is so much more to life than just what we can see and touch. Our energies are connected and the zodiac gives us a roadmap to that which I'd like to follow.
Travis: We are essentially narrative painters… with that inclination to be a storyteller, how much of you is present in the figures that you put in your paintings? 
Camilla: My entire essence is present in each one of the paintings, even though they are all different. I wanted to tell the stories not only of each personality of each individual zodiac sign but also fold in my beliefs that humanity is so much more beautiful when there is a variety of people. Together we are so much more amazing then if we were all the same.
Travis: To clarify, is there any kind of autobiographical texture to those characters?
Camilla: I definitely painted myself in Libra. That's my zodiac sign and I have to say I fit the description to a T! For me this show was about having fun, about breathing life into each astrological sign in a new fresh way. That says a lot about who I am. I will always strive to achieve balance and love and spread the message of equality wherever I can.
Camilla d'Errico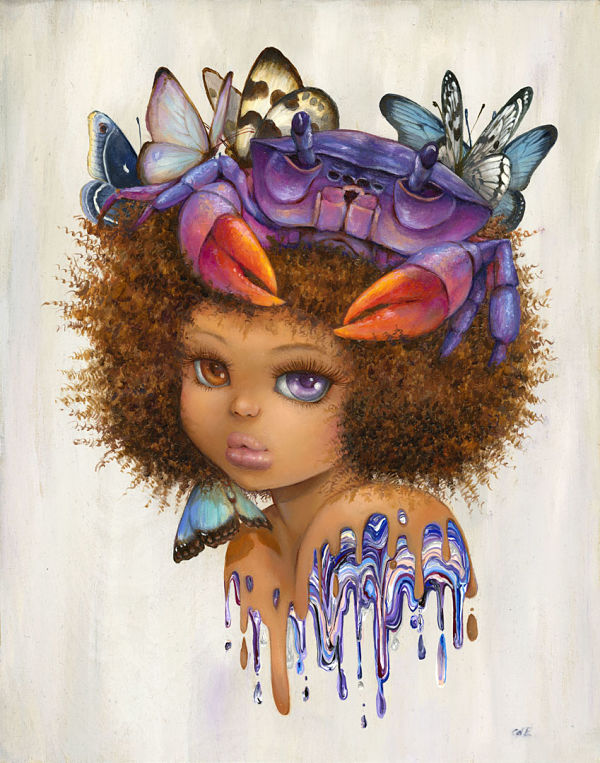 "Cancer", oil on panel, 11 x 14 inches
Northport, NY– Haven Gallery is honored to present "The Zodiac", a solo exhibition of new work by Canadian artist Camilla d'Errico. "The Zodiac" is Camilla's second solo show at the gallery and will encompass twenty-four new paintings exploring the twelve astrological signs known as the zodiac. Twelve paintings will feature her quintessentially rendered, expressive eyed females ornamented with their lush patterns, vivid drips and pools of sensational pigment taking on the form of their symbolic signs, while the other twelve will feature her archetypal bee paintings adorned in symbology and bursts of Camilla's consummate palette of color.
Camilla's work is a stunning portrayal of the many shapes, sizes, colors and personalities that make each woman who they are as individuals. Naturally, an exploration of the zodiac further echoes the artist's creative exploration as she highlights the astrological nature and characteristics that serve to supplement the unique makeup of each and every one of us. Animal counterparts serve as companions and extensions of the female psyche while continuing to embrace Camilla's known kawaii aesthetics. Their continued presence nods to her past work spanning back over a decade, along with the symbolic use of the furry, aquatic and wild portrayed commonly in horoscopes.
The play on pop culture, color, design and form present in these paintings are a testament to the many forms of beauty. Camilla's work embraces personal acceptance and acknowledgment of this in all forms.
A flip book of paintings and musings from both Camilla and her co-exhibitor, Travis Louie, will accompany the exhibition.
ABOUT CAMILLA d'ERRICO
Camilla d'Errico is an Italo-Canadian artist who has been making waves in the fine art and comic industries with her manga-influenced style. Ever the prolific artist, Camilla is comic artist/creator and Pop Surrealist painter, while also contributing to the vinyl art toy movement, and expanding her style into fashion, accessories, toys and other merchandise.
Camilla resides in Vancouver, BC, where she paints and draws comics, and more recently has been working with entertainment companies on feature films and videogames. She has distinguished herself through her ability to seamlessly weave comic art and manga with surrealist elements, wrapping it all together with an extensive emotional palette. Thanks to her relentless energy, dedication, and creativity, she has followed her dream of successfully working creatively for a living.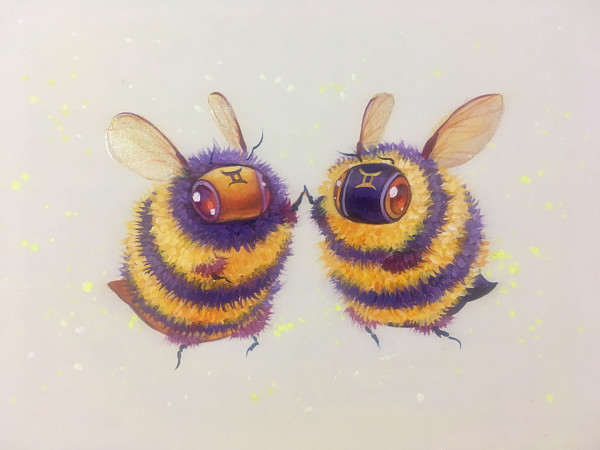 "Gemihive", duo oils and acrylic on board, 5×7 inches
"Aries", oil on panel, 18 x 24 inches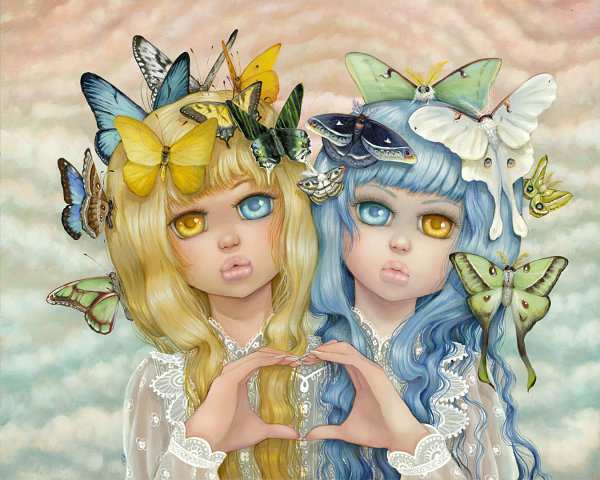 "Gemini", oil on panel, 16 x 20 inches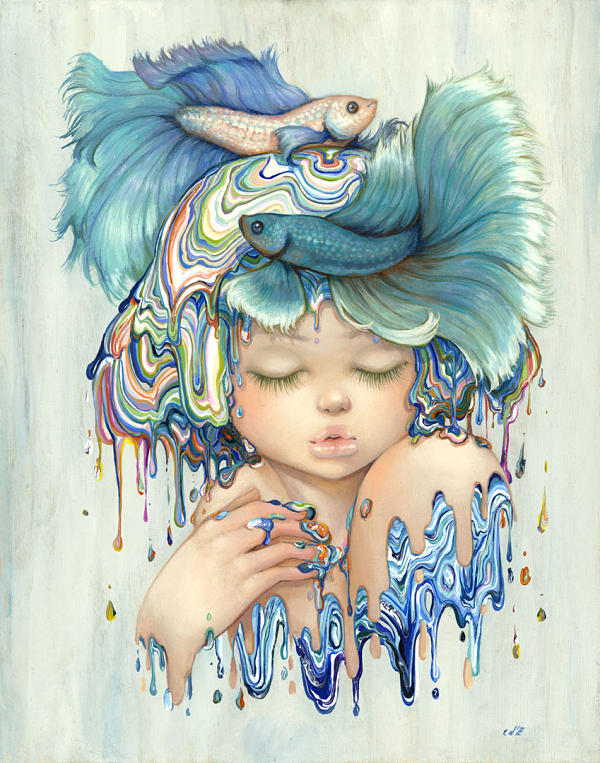 "Pisces", oil on panel, 11 x 14 inches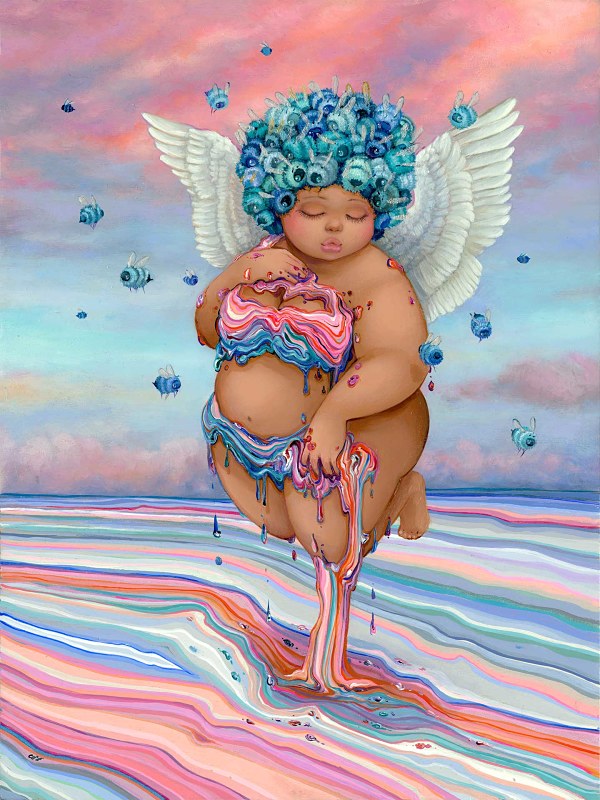 "Virgo", oil on panel, 12 x 16 inches
Travis Louie
Northport, NY– Haven Gallery is honored to present "Animals That I've Known", a solo exhibition of new work by New York based artist Travis Louie. "Animals That I've Known" is Louie's first solo show at the gallery and is host to a cavalcade of expressive animal portraits. Each painting's narratives are echoed in the trade and character captured by the artist's fascination of the past and cornerstone of embracing the marginalization of the other throughout society.
From the scaly to the furry, each sitter is depictured in the finest attire and millinery styles of the Victorian era. Posed and executed in a soft application of medium, emulating tintypes or cabinet cards, each portrait is representative of that individual's profession and ambition; attributes that define their individuality yet immerse them purposefully in a bustling society. Humor is laced with weighty undertones as Louie offers us notions of the other in curiously engaging poses and anthropomorphic depictions of unhuman species, both beckoning us to learn more while simultaneously finding familiarity and friendship. Inspiration for these visuals go beyond Victorian aesthetics and tap into Louie's love of film noir, atomic age sci-fi stories and the quirks and particularities of people he has encountered throughout his life.
Louie's work reminds us that what may be unfamiliar and unusual can actually be illuminating and relatable. They inspire us to explore the unknown and see beyond the appearances and differences of others. This collection may depict portraits of animals but upon closer inspection, they share much with us; their stories and details transcend their appearance and ground them in people we know or feel as if we can know. More so, they remind us how we can all be a bit of a creature ourselves.
Stories written by the artist will accompany each painting on exhibit at "Animals That I've Known".
A flip book of paintings and musings from both Camilla and her co-exhibitor, Travis Louie, will accompany the exhibition.
ABOUT TRAVIS LOUIE
Travis Louie's paintings come from the tiny little drawings and many writings in his journals. He has created his own imaginary world that is grounded in Victorian and Edwardian times. It is inhabited by human oddities, mythical beings, and otherworldly characters who appear to have had their formal portraits taken to mark their existence. The underlying thread that connects all these characters is the unusual circumstances that shape who they were and how they lived. Some of their origins are a complete mystery while others are hinted at. A man is cursed by a goat, a strange furry being is discovered sleeping in a hedge, an engine driver can't seem to stop vibrating in his sleep, a man overcomes his phobia of spiders, etc.
Using acrylic paint washes and simple textures on smooth boards, he has created portraits from an alternative universe that seemingly may or may not have existed. His work is about identity and remembrance, with a veiled commentary on racism and the immigrant experience. He would like the fear of "the other" to be replaced with a curiosity about the unknown and a sense of wonder regarding those things that are unfamiliar.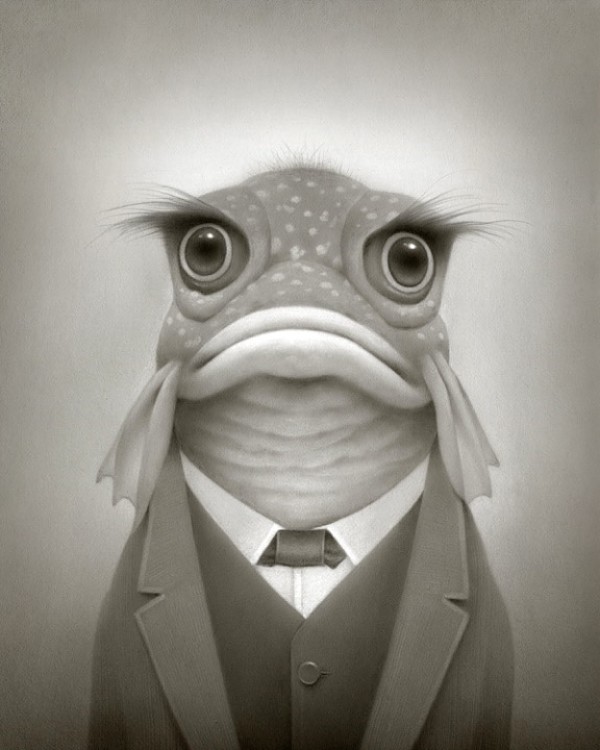 Gillie The Fish Whisperer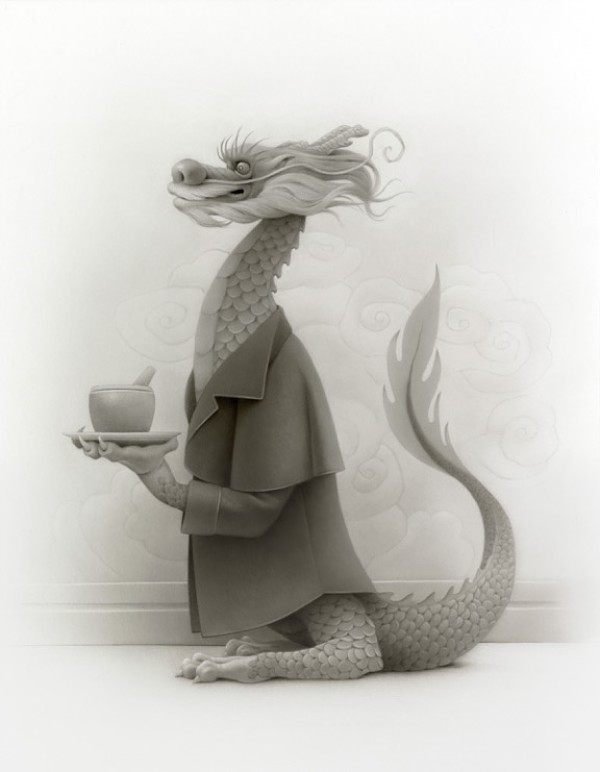 Herbalist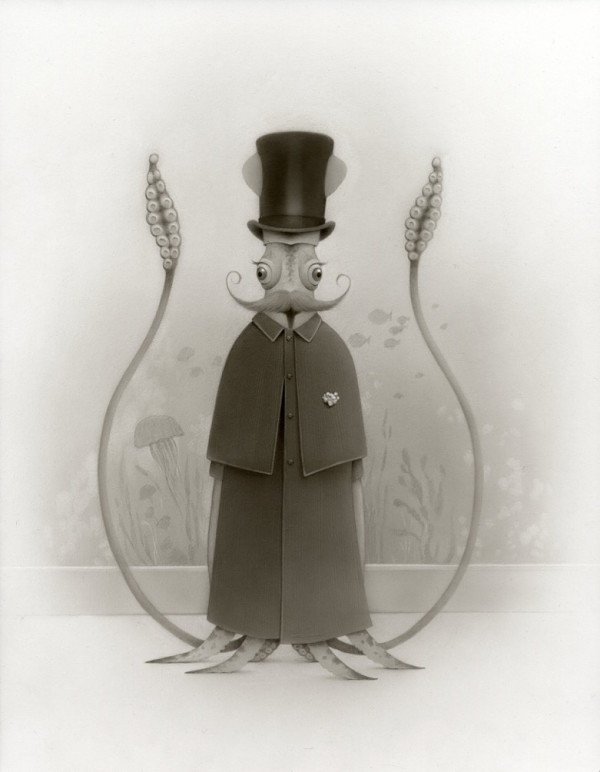 Squid Coachman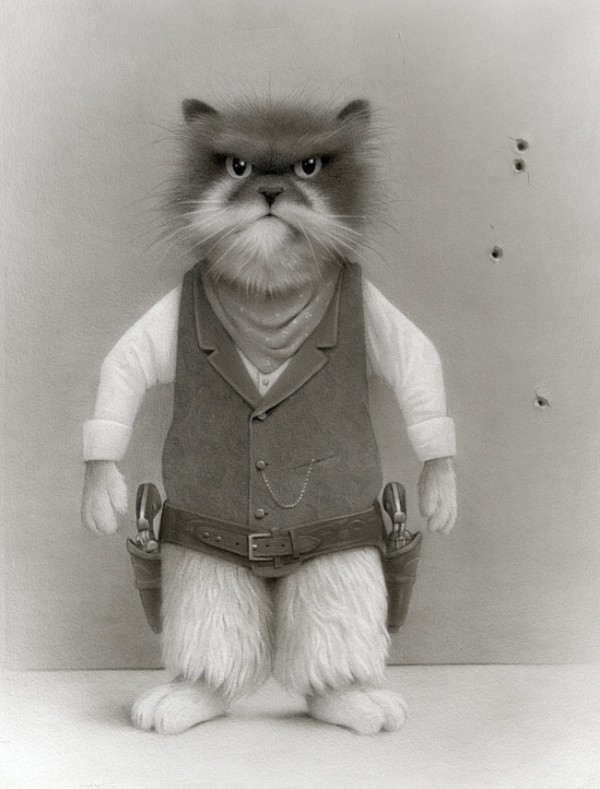 Stinky Out For Revenge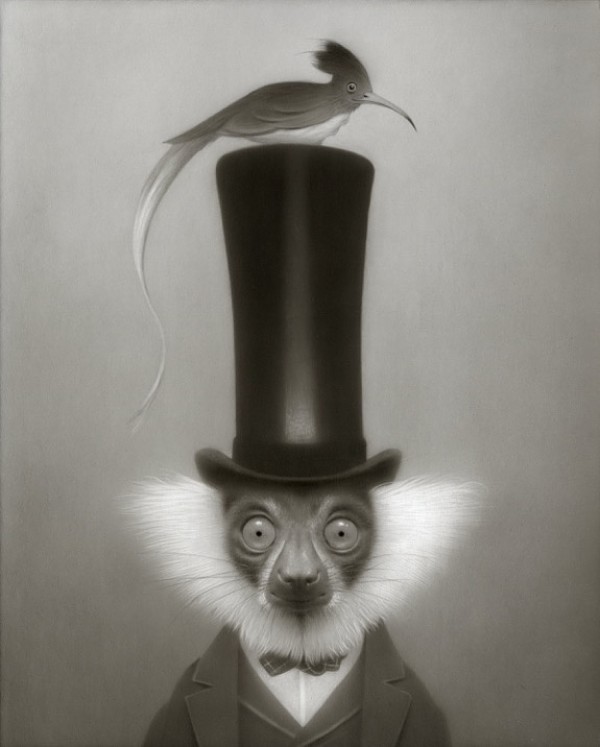 Bird Watching Lemur