Nourish your imagination, hearten your senses, and take a moment to enjoy the solo exhibitions of Phillip Singer, Daria Aksenova, Mall, and Joseph Weinreb, opening at Haven Gallery September 19th. There's so much magic to see and experiences in these beautiful collections… from gentle beasts and dreamlike moments to delicate details and mystical paper narratives, it's hard to resist the veritable cornucopia of inspiring surrealism.
Haven Gallery invites you to enter the creative spirit of each artist…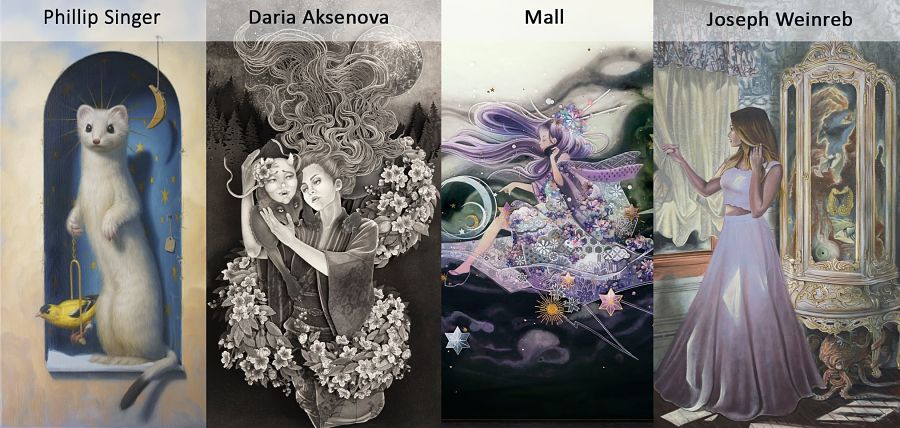 Phillip Singer | Daria Aksenova | Mall | Joseph Weinreb
Exhibition Dates: September 19 – October 17, 2020
** Please note that opening receptions are canceled for the time being and the gallery is closed during the state of New York's quarantine efforts. Haven Gallery will be offering virtual showings and tours of the upcoming exhibitions and are still shipping sold work on schedule **
Haven Gallery
155 Main St., | The Carriage House Square | Northport, NY 11768
For additional information and images, please contact Erica Berkowitz at [email protected]
Haven Gallery is honored to present "Sanctuary", a solo show of oil paintings by the 2020 Beautiful Bizarre Art Prize Winner, Phillip Singer. "Sanctuary" consists of eight original artworks that feature various species of animals cavorting in both the landscape and within interior spaces. The imaginative worlds found in Singer's work bend reality and beckon the viewer to re-think life and the world itself. This is so beautifully achieved by the artist's brilliant use of natural color, a fine dedication to detail, and an approach to painting found most notably within old master artwork. It is through the merging of the known and unknown by Singer's hand, that we are presented with a sanguine and tranquil depiction of our natural world.
Singer's surreal twist on what we know and have been conditioned to understand invigorates our imagination and expands our understanding of reality. Notions of surrealism intermingle with reflections on environmental change and highlight the adaptation of life and expression of hope. These visuals and their stories are a reminder to us, as humans, to think beyond what is directly in front of us and open our hearts and minds to the possibilities of not just the world around us, but that within ourselves.
Northport, NY– Haven Gallery is pleased to present Houston based artist, Daria Aksenova for her second solo show at the gallery. Aksenova's latest body of shadowboxes utilizes her affection for narrative as a link between animals and humans through various branches of folklore. Both visual and thematic elements of these stories can be found in the presence of clothing, masks and characters. Mythologies stemming from Russia, Japan and the Chinese zodiac are noted in the artists surreal characters and garb, while the her own personal narrative find itself woven throughout each shadowbox.
Mall, "Elements"
Northport, NY– Haven Gallery is pleased to present "Elements", a solo show of new work from Philippines based artist Mall. "Elements" is Mall's her second solo show at the gallery and will feature fifteen new mixed media resin artworks. Mall's resin work takes on the qualities of both paintings and sculptures as she alternates layers of paint, Washi tape and resin to create a suspended moment in time. Female protagonists in elaborate kimonos frolic, dance and intermingle with principals of nature such as flowers, patterns, animals. A nod to her exhibition title, the artist plays with elements of sky, earth, air and weather as a means to set the stage for her whimsical compositions. These gracefully painted moments in Mall's work are melodically alluring and designed to transport both artist and viewer into a world of dreams and harmony.

Mall layers paint and washi tape between layers of resin. She does this in trays and plates locally sourced in the Philippines. Her use of resin and its transparent nature allows her to build delicate layers that suspend her female figures amidst the natural world surrounding them. This technique allows for a three dimensional presentation highly inspired by traditional Japanese aesthetics, the stylization of anime and manga and their contemporary narratives.
Joseph Weinreb, "We're Not Meant to Remember"
Haven Gallery is pleased to present "We're Not Meant to Remember", a solo show of original work by Northport based artist Joseph Weinreb. "We're Not Meant to Remember" is Weinreb's first solo show at the gallery and will consist of 12 oil paintings exhibiting narratives ingrained in both history and mythology, that are presented in non linear and phantasmagorical constructs. Weinreb's work is known for its fusion of three time periods: the past, present and future. Bygone eras and lives intermingle with contemporary events while echoes of the future, specifically the human connection to space exploration, send ripples through our understanding of memory and time. Weinreb begs both himself and his viewer to question their own perception of sequential events and how our own memories alter our perception and being. What we retain, how these recollections change as they are passed down and how much they transform in the individual's mind, are factors of consideration and contemplation. A questioning of how much we truly remember and why, is toyed with and explored through Weinreb's body of work.
Time is a major theme found throughout this collection and the artists portfolio. Phases of life are represented through skeletal beings, futuristic landscapes, ebullient and strong female personifications and abundances of nature, resulting in a distortion of linear sequences. He links all of these elements together in these deeply personal yet universally manifested narratives that asks us, as humans, to rethink what we know and break down our personal tenets and convictions. Weinreb's playful juxtaposition of the past with echoes of the future, bridge the gap between what we as humans have learned and what remains beyond our purview during contemporary times.
Haven Gallery Social Media Accounts