Many things may have not gone to plan this year, but at least one thing has stayed stable – the annual BLAB! group show! Returning to Copro Gallery in Santa Monica, the 15th annual BLAB! exhibition features an exquisite selection of modern day artists in Fine Art and Illustration, many sharing new works. With a selection of original art to please an array of tastes, Monte Beauchamp, awarding-winning art director, artist and creator of the notable BLAB World, has once again curated a genuinely wonderful show.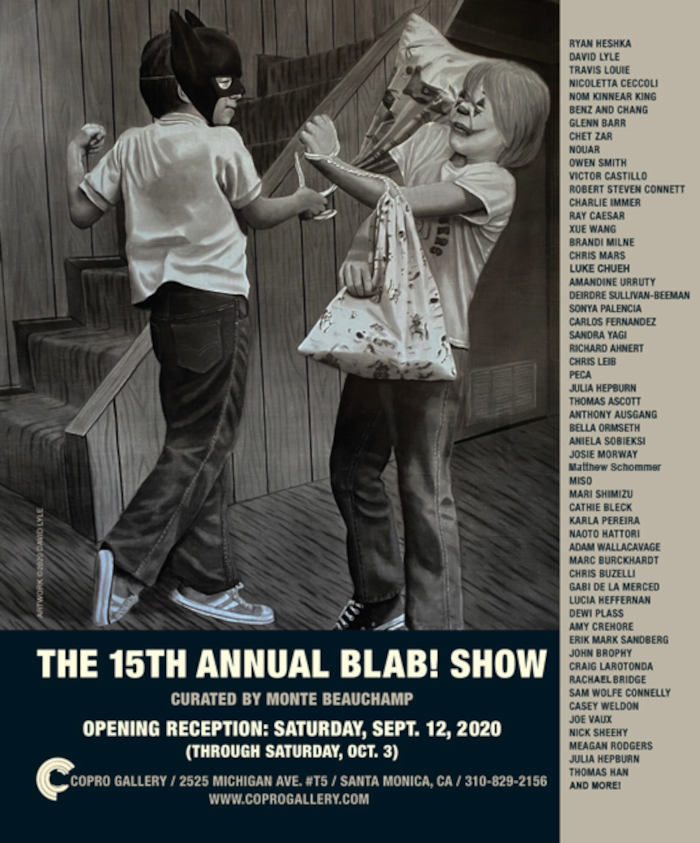 Exhibition Dates: September 12 – October 3, 2020
Opening Reception: Saturday September 12, 2020 | 1:00pm – 7:00pm
Copro Gallery
Bergamot Station Arts Complex, 2525 Michigan Ave, Unit T5, Santa Monica, CA 90404
Contact: Gary Pressman, Gallery Director Copro Gallery at [email protected] or tel: 310/829-2156.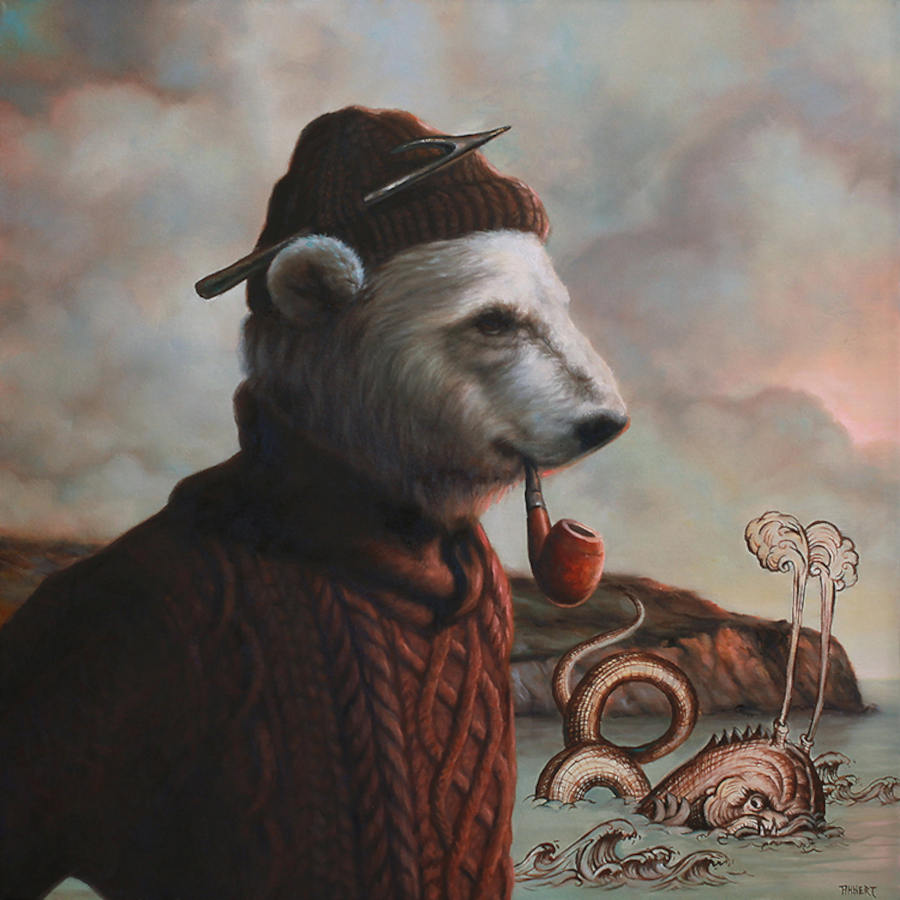 Over 60 exhibiting artists:
Adam Wallacavage, Amandine Urruty, Amy Crehore, Aniela Sobieski. Anthony Ausgang, Benz and Chang, Bela Ormseth, Brandi Milne, Carlos Fernandez. Casey Weldon, Cathie Bleck, Charlie Immer, Chet Zar, Chris Leib, Chris Mars. Christopher Buzelli, Craig LaRotonda, Danny Galieote, David Lyle, Deirdre Sullivan-Beeman. Dewi Plass, Erik Mark Sandberg, Gabi de la Merced, Glenn Barr, Jana Brike. Joe Vaux, John Brophy, Josie Morway, Julia Hepburn, Karla Pereira. Lola Gil, Lucia Heffernan, Luke Cheuh. Marc Burckhardt, Mari Shimizu, Matthew Schommer, Meagan Rodgers, Miso. Naoto Hattori, Nicoletta Ceccoli, Nick Sheehy, Nom Kinnear King, Nouar. Owen Smith, Peca, Rachael Bridge, Ray Caesar, Richard Ahnert, Robert Steven Connett, Ryan Heshka. Sam Wolfe Connelly, Sandra Yagi, Sonya Palencia. Thomas Han, Thomas Ascott, Travis Louie, Victor Castillo, XUE Wang – and more to be announced!
Please note: The 15th BLAB! Group show opens September 12, 1:00-7:00pm and continues every Saturday in September, open to the public for viewing the art safely. Only 10 people will be allowed in the gallery at a time, with social distancing and masks required. Please pre-book with the gallery to ensure entry.
Keep an eye on Copro Gallery's website for the virtual tour as well!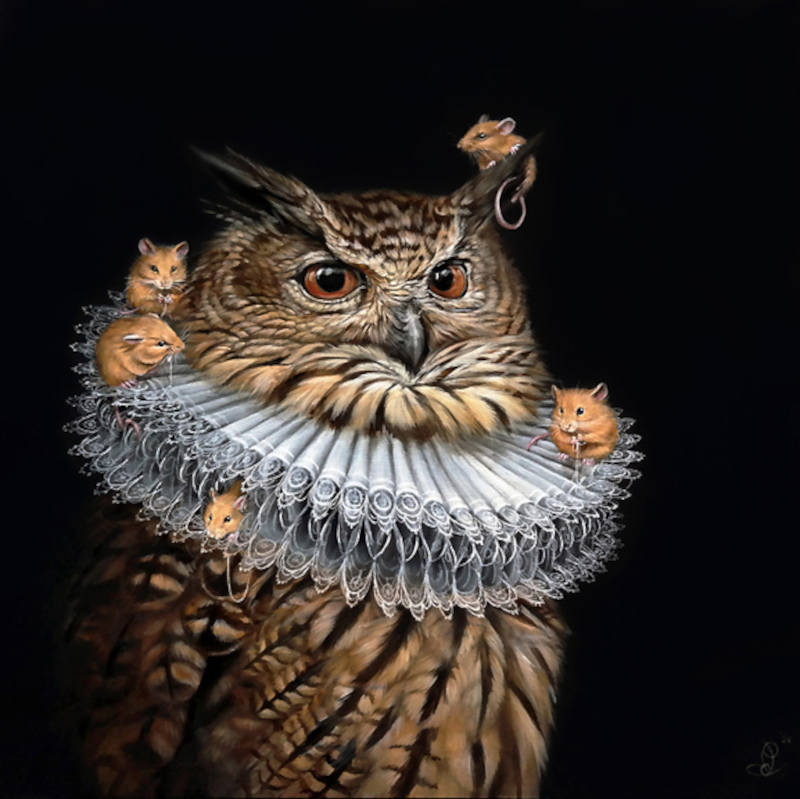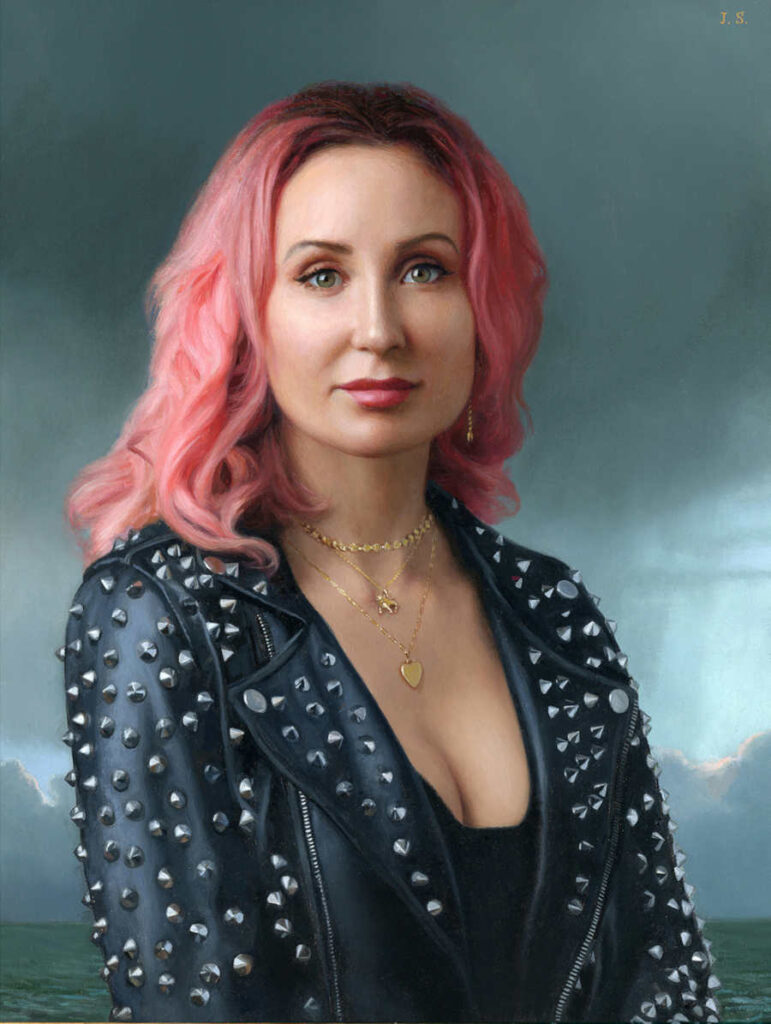 About the Gallery:
Copro Gallery was founded in 1992 by Joe Copro, Greg Escalante and Douglas Nason to support emerging artists and publish the highest quality limited edition prints. Copro Gallery also became a base for assisting and curating museum exhibitions which it continues to do.
Copro's Principle and Owner, Greg Escalante, continued to expand within the art world and co-founded Juxtapoz magazine in 1994. In 2005 The Gallery moved to Bergamot Station arts complex in Santa Monica CA with Gary Pressman as Gallery Director. Soon after, Douglas Nason left the gallery. The remaining owner Greg Escalante passed away in 2017. The gallery is now being Managed and Directed by Gary Pressman and still owned by Joe Copro.
The gallery is divided into two exhibition spaces, sometimes featuring a single artist but often two or three. Large group exhibitions are also featured often in conjunction with outside curators. In following with its original mission, Copro participates in International Art Fairs and curates outside exhibits to help promote their artists. Focusing on museum quality installations showcasing emerging artists, Copro also exhibits many established and master painters. Placing works in private collections throughout the world, Copro strives to assist collectors new and experienced in building the most exciting collections possible.
From the press release:
Curator Monte Beauchamp is an award-winning art director and graphic designer. He has served as a juror for American Illustration, The Society of Illustrators, Communication Arts, and Lürzer's Archive. He is the founder and editor of the graphics-illustration-comics annuals BLAB! and BLAB WORLD as well as many other books. His books include A SIDECAR NAMED DESIRE: Great Writers and the Booze that Stirred Them (co-authored with Greg Clarke). MASTERFUL MARKS: Cartoonists Who Changed the World and KRAMPUS: The Devil of Christmas, among others. They have been featured in Entertainment Weekly, Buzz Feed, Vanity Fair, The Chicago Tribune, The Huffington Post, The Believer, Print Magazine, and Publishers Weekly. In 2012, Beauchamp was awarded the Society of Illustrators prestigious RICHARD GANGEL ART DIRECTORS AWARD. This was for outstanding contributions in promoting and advancing the art of illustration.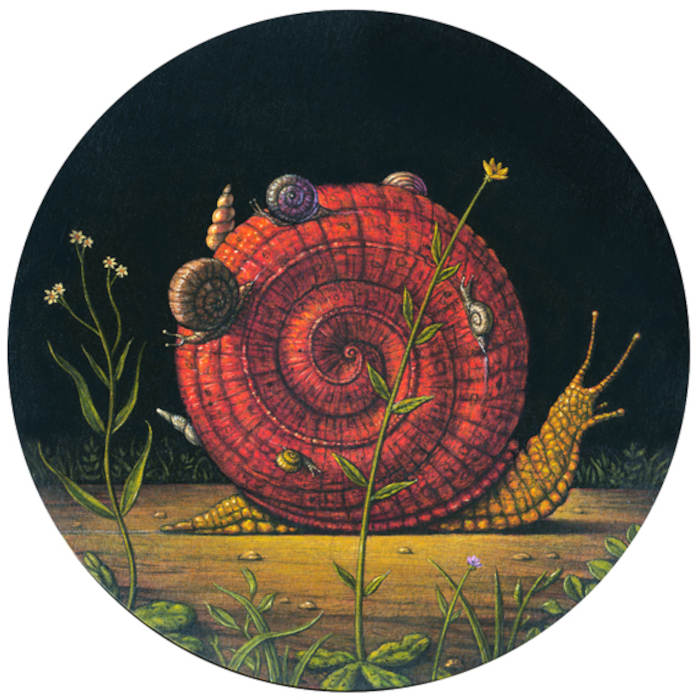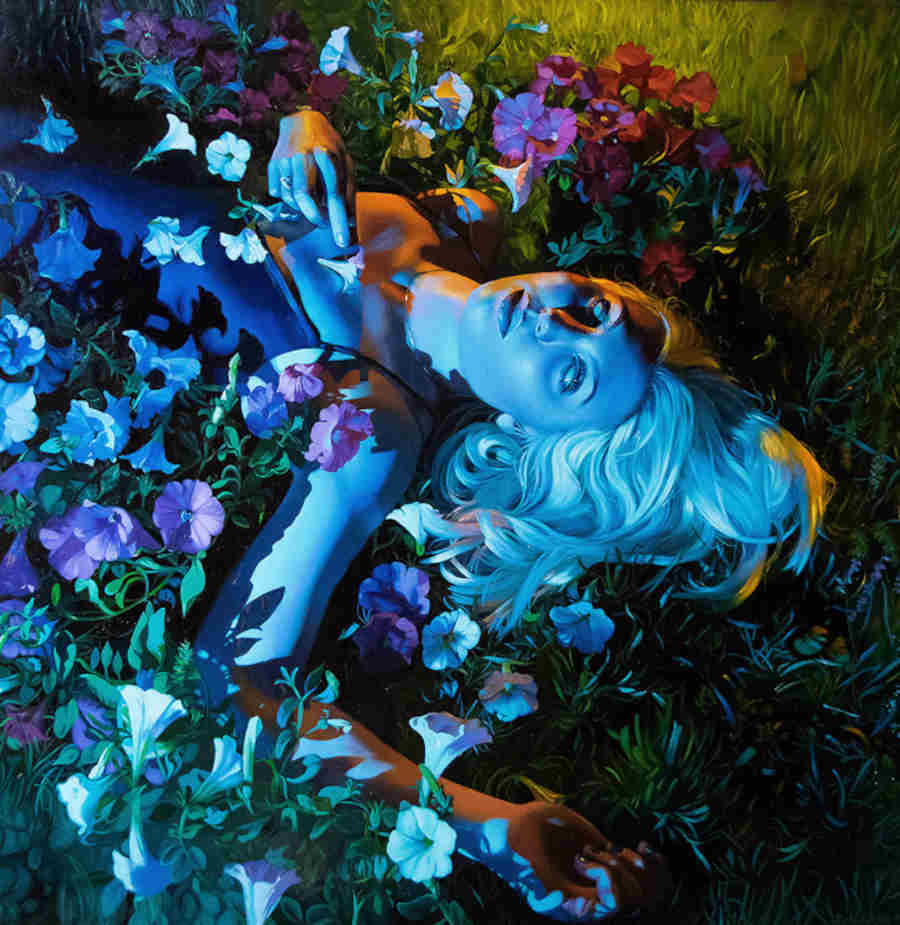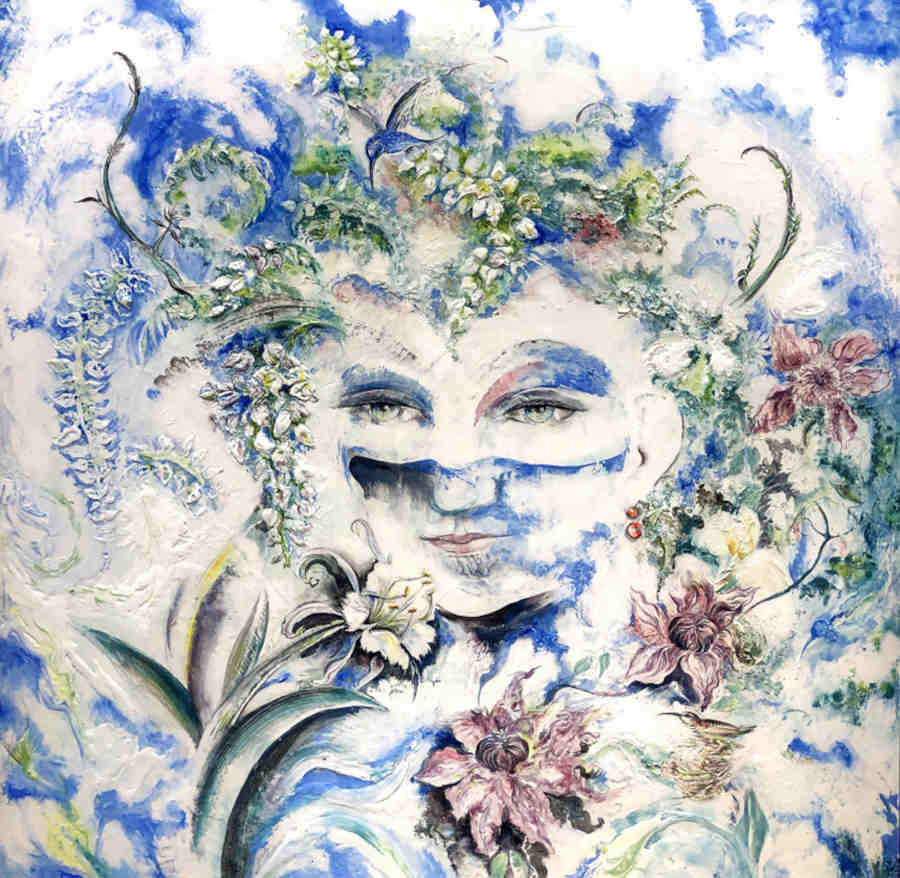 REVIEW OF THE FIRST BLAB! SHOW 2005:
"In this climate of consumer pollution and corporate framework, it is no small feat when an act of creative freedom rears its pretty head. So when something comes along that is completely unrestrained and devoid of commercial influences it is time for applause. And BLAB! magazine is one of the platforms for unharnessed art that deserves a standing ovation. Started in 1986 and now in its 16th edition, BLAB! is the brainchild of founder, art director, and designer Monte Beauchamp. A magazine/art book in appearance, but without a strict editorial voice or advertising of any kind, it's more of an unconventional medium through which select artists have the freedom to create and express whatever they want across a chunk of pages.
BLAB! started out heavy on comics but has expanded to include paintings and other works by countless outsider and fine artists. THE BLAB! SHOW, presented by Copro Gallery, features original artwork selections from the BLAB! anthologies. It's the first group show for the magazine, and if the growth of this refreshing visual platform is any barometer, it won't be the last."
Copro Gallery social media accounts