David Booth's work 'Unit' stood out to me and I think it might to you as well. I corresponded with Booth to find out a little more about his work, practice and his experience as a 2018 Beautiful Bizarre Magazine Art Prize Finalist.
Booth is a painter currently practicing at La Cathedral Studios in Dublin after completing his BFA at Wexford Campus School of Art in 2013. Booth has been developing his acclaim both nationally and internationally through his exhibitions and has managed to catch the eye of The Irish Times, the Evans painting prize (2016) and has upcoming solo exhibitions in Dublin and Parma, Italy. So do keep an eye out for that. Now let's talk art.
2019 Beautiful Bizarre Art Prize entries are now open! To be in the draw to win global exposure + over US$20,000 in cash and prizes, check out the details and enter today!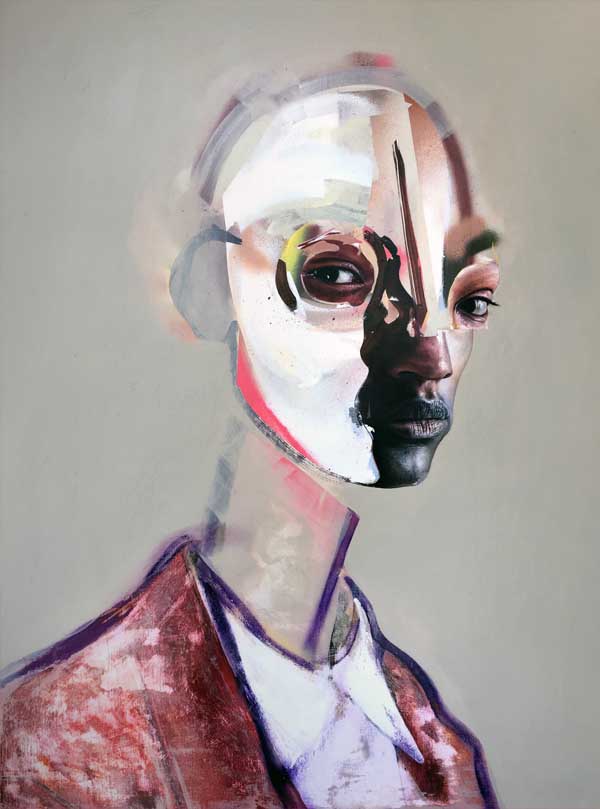 Unit
How did you catch wind of the BBM art prize, what you think of it? What was the experience like? Why did you enter? Did you think it was valuable? Why?
I first heard about the competition through Instagram. I have followed Beautiful Bizarre Magazines' page and saw the opportunity there. I have found the experience to be good as you are now asking me questions about my practice, and that must mean something. Also, I am grateful for the opportunity to show at the Modern Eden Gallery as part of the group show in 2019.
What made you choose 'Unit' for the prize? Who is the subject/source material of 'Unit'? What do you intend to convey through this depiction?
'Unit' for me is my latest and strongest piece to date. In it, I get to explore a style that I very much want to continue to pursue. A looseness mixed up with a more refined realism. Because of this, I felt it my strongest suit. The format of this painting is conventional in the context of its composition. However, it complicates the traditional essence of portraiture as the facial features of the subject are recognizably displaced in their correspondence to one another. Eyes, ears, and nose are placed in positions that are in juxtaposition with the profile of the body, so in effect, they create a jarring reality when appreciated as a whole. Facial features in this sense become anchors that open up a portal to a new sense of identity-based on a composite view of the subject. The portrait is not specifically anyone but is rather an attempt to challenge the multiplicity of identity in an effort to strip the subject of its persona with the aim to conjure a more collective relation. In terms of the application of paint, there is an evident process of continual erasure whereby the paint is added to the canvas and at a later stage removed once again. This application and removal of paint builds up layers that neither conceal nor reveal identity but stand more for the relationship between the finer details within the painting and those that are less certain. This means of displaying facial features represents a field of probability in terms of facial recognition and the discovery of something familiar in the abstract.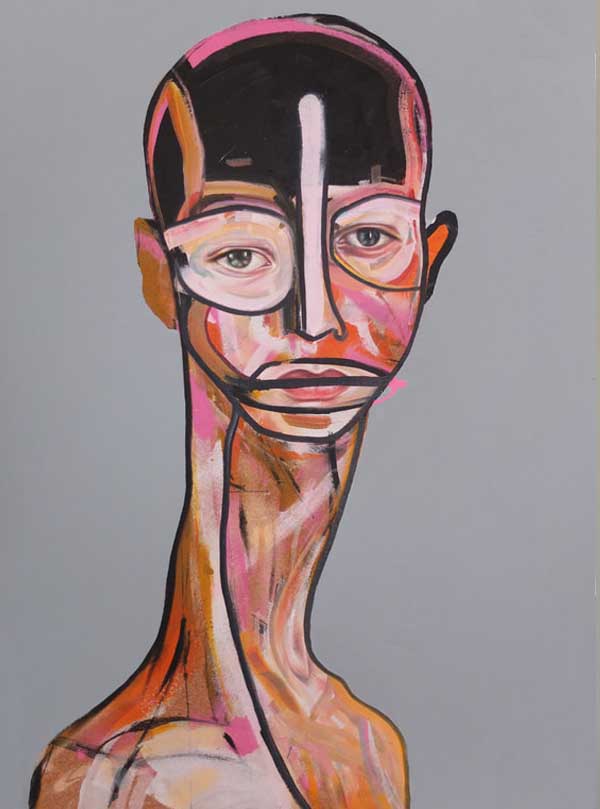 Untitled (framed and unframed)
Is there a reason you chose to display your artwork "untitled" with a decrepit frame?
The piece with no name ('untitled') was one I made while living in Porto, Portugal. All of the work I made there was on Cork Paper. This "canvas" choice came about as I wanted to find a solution to affording posting home paintings after they have been made; working on framed canvas felt an awkward and costly choice. This budgetary constraint led me to Cork Paper, which I found a wonderful material to work on and in the end directed the outcome of the works in many ways, as in some pieces I sliced and shift the segments out of line.
This process suited the cork very well. The old frame I came from Europe's oldest framing shop, which hung at the end of a street corner very close to my studio in the cities center. I used frames that had been lost in the attic of the shop for a show over there. This was a monotype of sorts, a singular occasion and unfortunately, I could not transport the frame with the piece. For that show, I used them as I felt they gave the work an antiquity, making the marks feel more decorative and unannounced as the subject matter is very bold and definite. Also, I believe it made for a great play between that of the typical frame in which a monarch or person of relative importance head would sit and that of the piece itself, which is alien and not specifically anyone.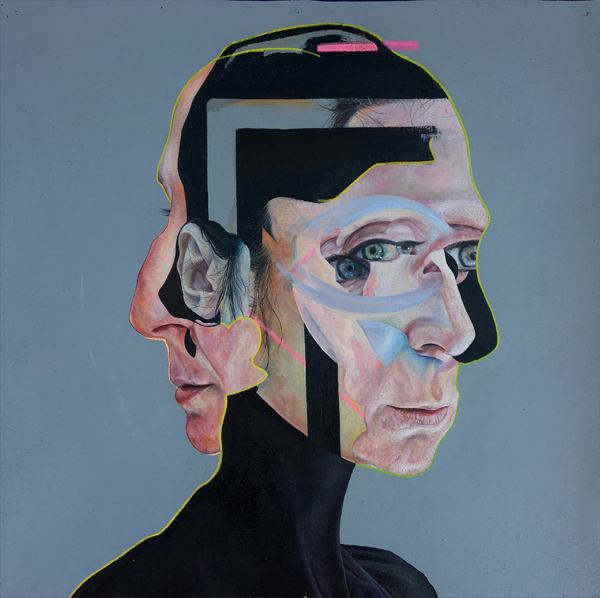 Uncanny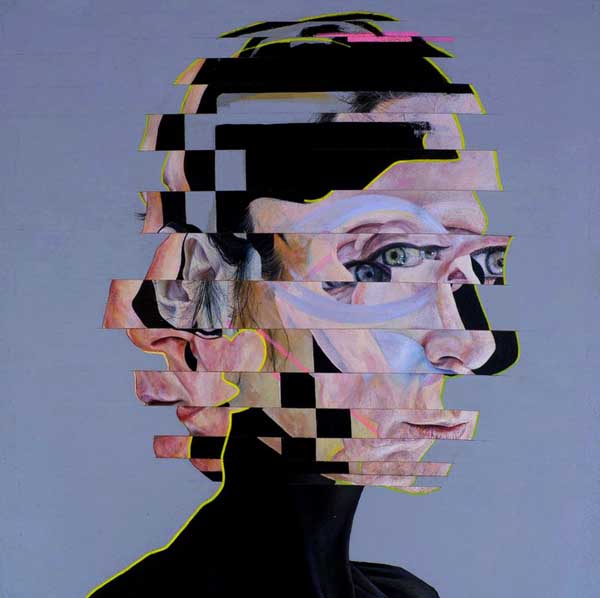 Uncanny (cut)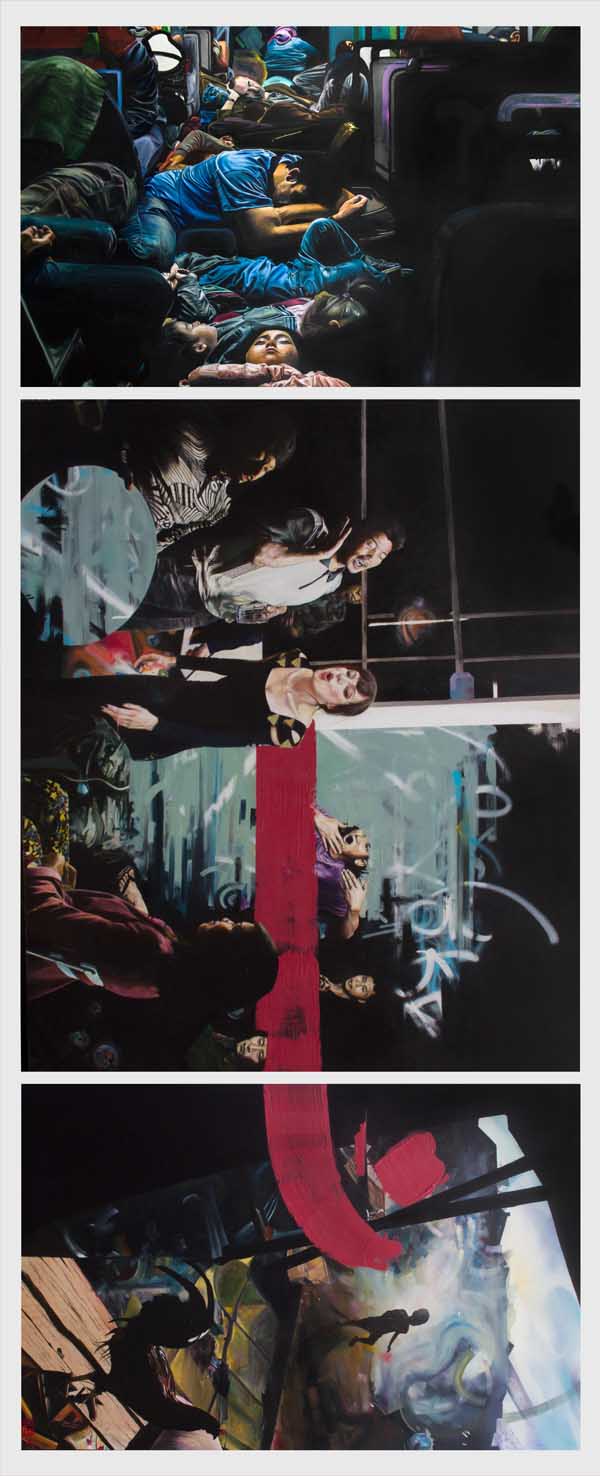 Clot Natal Aux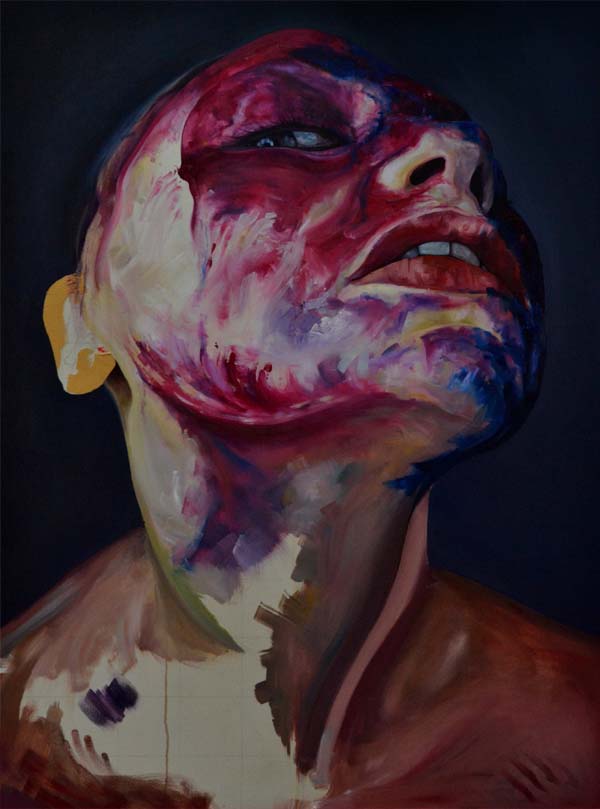 Cheek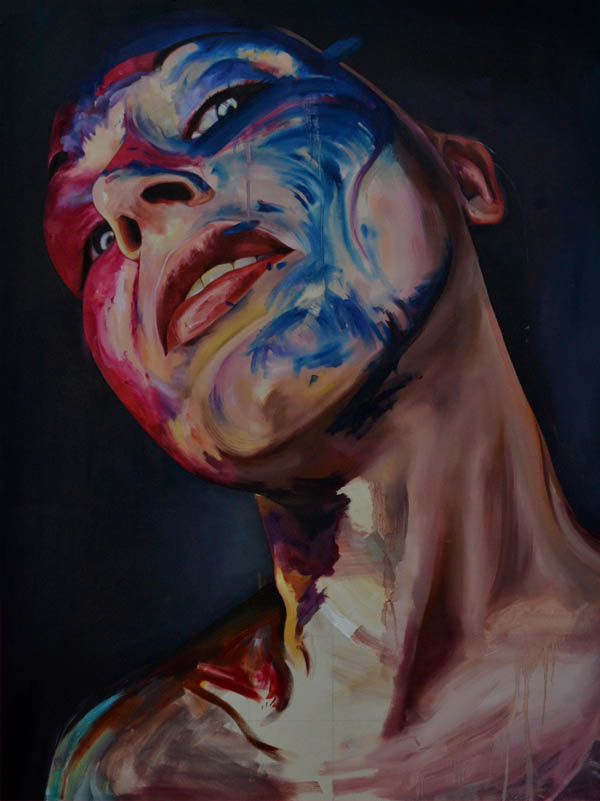 Thounge
Why do you vary so considerably in style across your works?
The shifts in my work and its style are an ongoing quarrel I have with myself. I believe I have always been influenced and excited by such a wide variety of content and concepts that my work has almost stood as an immediate but drawn out (excuse me) reaction and reflection of what was then and there, then and there. I hope in time to address the disparateness that exists from one work to another.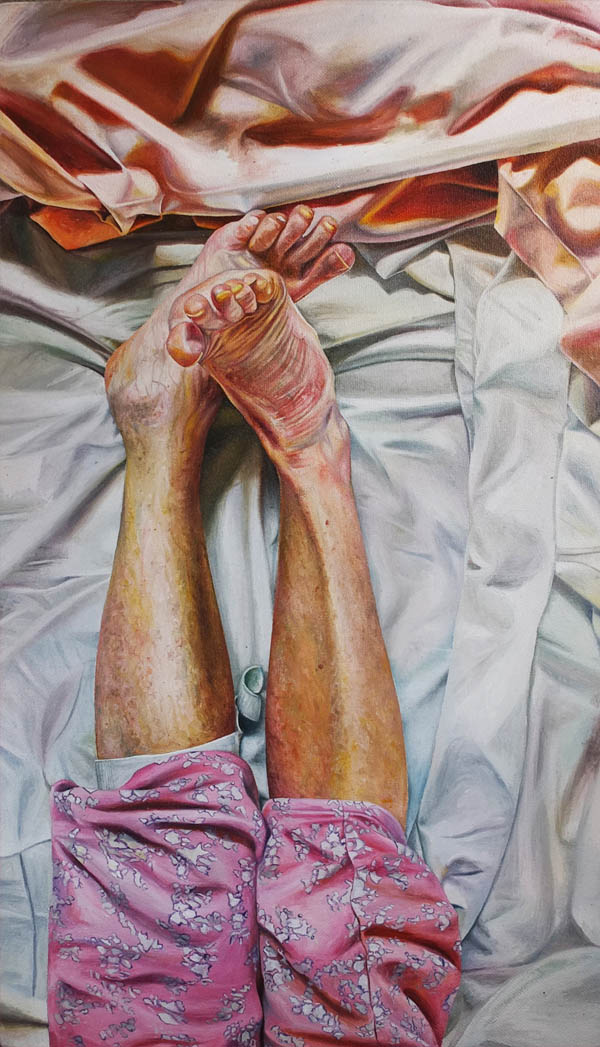 Mams Legs
Your painting "Mams Legs" is very beautiful, I'm assuming some things. Would you like to share that story with me?
The work 'Mams Legs' is, of course, my mams legs. She has had multiple sclerosis most of her adult life. Her legs are somewhat occupant, they exist, but they are cold and senseless. They twitch and curl, nerves fire random pulses. They to her are objective, attached but almost void of purpose. I found because of there limitations they obtained a separation. In that work, although they are her disability, I wanted to highlight there objective beauty, independent vessels with life of there own.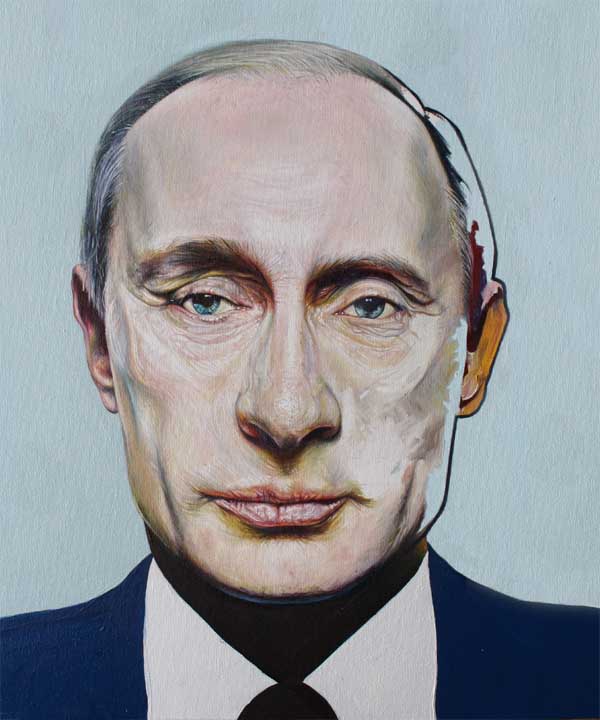 Putin