Ghosts haunt an ancient mansion on a frozen lake in Sweden. Courtly ladies of high society luxuriate in ethereal fields of flowers. Beautiful monarchs rule with different styles as varied as the colors of the rainbow. Some lead with grace, others with armies, and some with the blood of young virgins. All are brought to life by the vision and photography of Alexia Sinclair.
Alexia is an Australian artist, who creates highly detailed stories around historical and allegorical figures. As a young teen Alexia performed as a ballerina and so absorbed the drama and bravado of stage theatre. Her work has garnered numerous awards in Australia and the UK. She has exhibited her work internationally in locales such as Dubai, Sydney, Sweden and Korea.
I spoke to Alexia to take a closer look at her artistic process.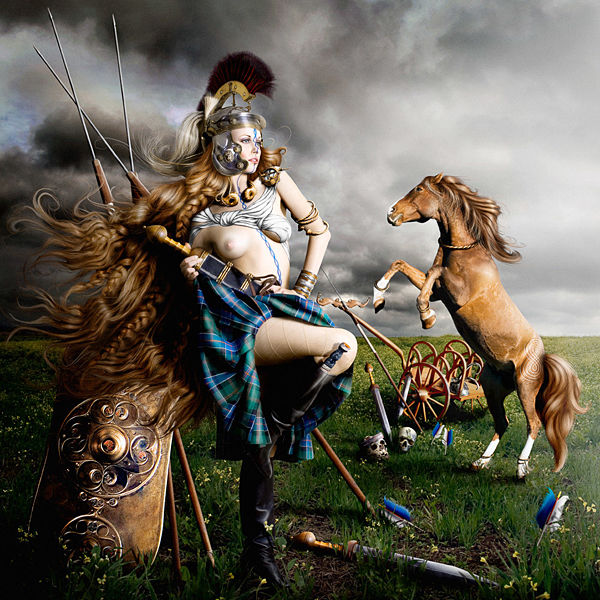 Your work is rich with history and interesting characters. With so much history, how do you choose which figures and stories to pursue?
For me, a series always begins with one figure. Usually some character, event or location that I've read about will pique my interest and I'll begin to imagine a scene that weaves an historical story into a contemporary context. Then I begin to research the theme to form a whole series.
The characters in your Regal Twelve series are so intriguing and unique. How and why did you choose the particular monarchs?
The series began with a portrait I produced of Marie Antoinette. I first exhibited this artwork in 2005, a year before Sofia Coppola's 2006 film made Marie Antoinette a household name. At the time, she wasn't obscure, but it was before every girl with an SLR and hairspray started titling their work Marie Antoinette.
The artwork had a big impact, partly because it was visually unique at the time, and partly because the work tells a story, through symbolism. The meaning or intention behind the work is important to me and it's one of the reasons that the work has stood the test of time.
I produced The Regal Twelve for my Master of Fine Arts. Long before picking up a camera and I put a lot of research into producing the series. It occurred to me that the series should encompass different kinds of female strength. There were those who fought their battles on the field, and those who fought battles in their palace court. Fashion, art and armour can all be devices for war and power and the women from The Regal Twelve all used these devices to survive in a time when women held very little power.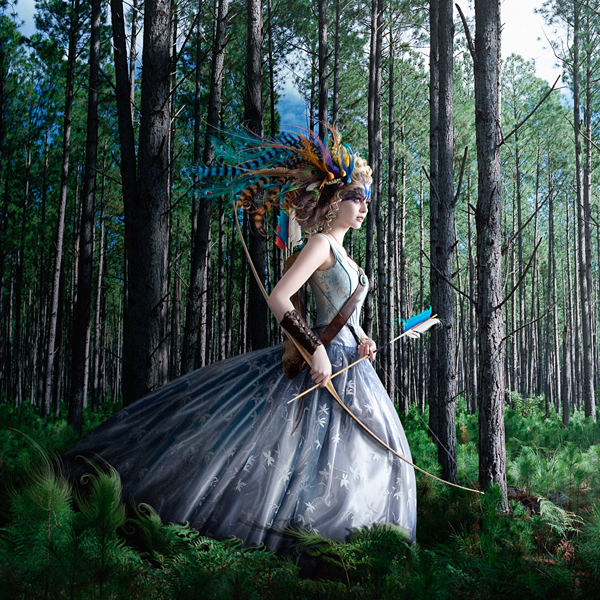 I understand that you shot your Rococo series in studio, and yet it feels so natural as if it actually took place outdoors. What process did you use to develop the sets, and re-create the feeling of being outdoors?
The big difference between shooting this project outdoors in natural meadows instead of in the studio is the density of and combination of flowers. Only certain flowers will grow together or at a particular time in the season, and when you actually look down on a field you'll see that flowers actually grow quite sparely. In 2013, we moved with our 3-month-old daughter to the Southern Highlands in NSW [New South Wales] with the aim to have space for making my costumes and shooting my sets and to grow flowers specifically for the Rococo series. In spring of 2014 and spring of 2015, we harvested the plants and combined these with exotic flowers from the flower markets, and arranged each unique background as huge floral still lives in the studio. Keeping the flowers alive under the heat of the studio lights, in the heat of Australia, was challenging. The combined scent of the flowers inside, with bees buzzing around and crickets jumping from flower to flower, was incredibly immersive for the models. My camera was hoisted 24 feet above the models, and I shot tethered from computer where I directed my role-playing models.
It was definitely more challenging than shoots I've done in natural fields. Making everything feel natural and not just plunked there, striking a balance between the elements, making each scene feel unique, keeping everything alive, not getting the models scratched up in beds of roses, all challenges! But to get the richness of the still life and uniformity of the series, a series of twenty floral sets was a challenge worth taking.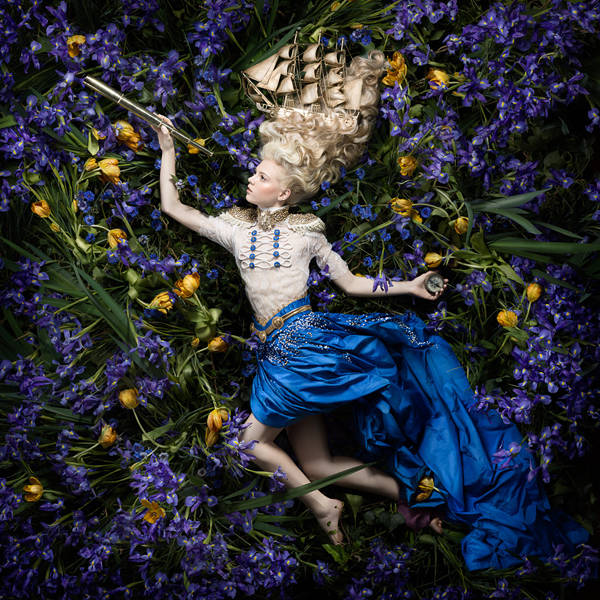 The light in your frozen tale series is so magical, especially the light coming from the windows. How did you achieve such magnificent quality of light?
I shot A Frozen Tale in a castle in Sweden, building up each scene with models and props, on location. I love natural light and usually aim to achieve a look of naturalness even when using artificial light. Castles are dark places and I shoot with a low ISO so when aiming for sharpness, I need to introduce light to avoid motion blur in my models. This has lead to me working with the camera locked down, shooting location plates of natural light and plates of my models surrounded by soft boxes and bounces. I combine these in postproduction, often brushing through additional atmospheric layers I've shot in the studio.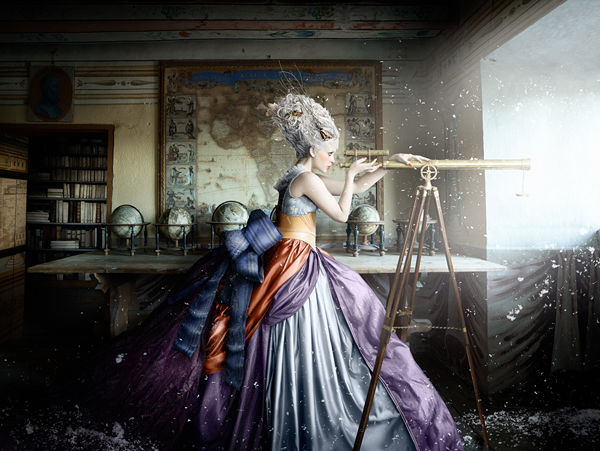 From all your series, what is your favorite shot and why?
I genuinely don't have a favourite, although there are probably a dozen that I prefer more than others. Á LA VICTIME from my Les Antoinettes series is one I'd like to hang in my home. She's hauntingly beautiful with a fascinating story and she needs to be experienced in print, because her subtitles are lost on the screen. I'd hang that piece next to PORCELAIN PETALS, which is another favourite, from my Rococo series. The next wall hangs BIRD IN THE HAND, THE BROKEN COMPASS, HERALDS OF SPRING, THE PERFUMED GARDEN. I won't go on! I really do feel so much for all of them because I devote so much of myself to them in the many months each takes to produce.
What lessons have you taken from Botticelli, Caravaggio and the Pre-Raphaelites?
Botticelli was part of a movement of artists who took the sitter from just a person, into a goddess, adding mythology, symbolism, pearls, elaborate hairdos, all of which were a fantasy and really not there. You can see his inspiration throughout all of my work.
Caravaggio's use of intense chiaroscuro (the play of light and dark) in his work has influenced the way that I light my work and work in postproduction. My often-dramatic staging and lighting are a way for me to return to the stage lighting that first influenced my creative mind as a young ballerina.
The story-telling, romance, floral elements, mythology and symbolism found in the work of the Pre-Raphaelites inspired me to begin to combine narration and role-playing in my photography. My first series of Ophelia inspired portraits, a character often associated with the Pre-Raphaelites, was first exhibited in 1995 when I was in art school, and I just grew into the artist I am today because of that series.
What do you find the most frustrating about being an artist today?
The availability of SLRs, immediacy of digital photography, and the introduction of the internet, has irreversibly changed the industry. While these three changes have many positive aspects, they also result in the devaluing of original thought and development of ideas, a propensity for meaningless imagery, and a platform for self-glorification.
There was a time when one didn't just announce that they were an artist, it was a title that was earned and given by those of authority. It was a time when making a photograph was a slow and expensive process, and that meant that you put a lot of thought and effort into making each frame count.
Having personally worked through the evolution of analogue to digital, and embraced these changes, I've come to the realization that sometimes less is more, a curated feed is more memorable, and no one really wants to see a photo of your coffee.
What is the most challenging situation you've faced, and how did you overcome it?
It's important to feel uncomfortable from time to time. Moving my family to London was hard, we all felt displaced. It will be difficult to move everyone back to Australia again too. But it's just something we wanted to experience with our daughter, before she begins primary school back home. It's been invaluable for all of us. While from the outside it may not appear like I've been really busy with my work, in reality, I've been going through a massive period of growth and evolution of my ideas and knowledge of art and history. I feel like I'm now ready to pounce on a new project with a whole new perspective.
How has becoming a parent influenced your art?
Becoming a parent has made me value my time more because I have so little of it. The industry is a dream factory and carrots are continually dangled with promises of fame and glory. But when you look at your child and think about all of the things you wish for them, it makes you think, fuck other people's demands, I need to think about the big picture and take the rose tinted glasses off. I started limiting myself to only working on the art that really mattered, to ME and ignore the demands of others. One such piece was a portrait I produced of my daughter, titled "Heidi" that was selected for the Taylor Wessing Prize and exhibited at the National Portrait Gallery in London. It's an obscure portrait that only shows one eye and is inspired by the Georgian Lover's Eye brooches on display at the Victoria & Albert Museum in London.
What's next for you?
I've been invited to exhibit the series in a palace in Italy but I'm keeping an open mind about what's next for the series and right for my career. As for what's next for me… I'm notoriously secretive!
Where can people find you?
You can find me on a few platforms: Website, Instagram, Facebook and Twitter.