This summer, Haven Gallery presents two mini solo exhibitions of two New Contemporary artists: Sasha Ira and Marc Scheff. Both shows feature some of both artists' most recent works: emotionally touching, intellectually stimulating, and imaginative portraiture in their own distinct styles. Sasha Ira's highly detailed drawings in elegant pared-down color palette are the polar contrasts to Marc Scheff's vibrant, textured, and multi-dimensional paintings. Equally strong in their impacts, their series of works are displayed alongside the gallery's current group exhibition: The Tempests.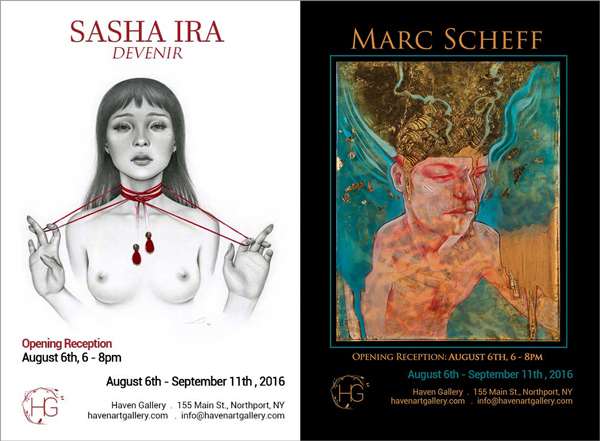 Exhibition Dates:
August 6 – September 11, 2016
155 Main St., Suite 4
(The Carriage House Square)
Northport, NY 11768
Hours of Operation:
Wednesday – Sunday | 12PM – 6PM
Sasha Ira: "Devenir"
Press Release:
Northport, NY Haven Gallery is pleased to present Devenir, a solo show of new drawings by Sasha Ira. Devenir focuses on Ira's quintessential gamines undergoing transformative stages in their lives. These females are in the process of "becoming" as each drawing visits various states of emotional change related to the mental, physical and psychological metamorphoses of life. Visual influences stemming from Japanese art and visual culture such as ukiyo-e prints, fashion, anime and manga are especially prominent in this body of work and further support the emotional vestiges encountered and expressed by these figures.
Devenir calls attention primarily to the choices one must make when life poses limits or restrictions. The use of binding elements such as chokers and strings primarily wrapped around her sitter's necks indicate elements of reservation and restriction. Despite these challenges, the presence of flowers representing growth coupled with her females gyrating movements lends to the notion that these limits are not as restrictive as they appear. Further, their suggestive, contemplative and oftentimes seductive motions, reveal that these women are in fact playing with these binding elements and as a result, ultimately asserting their own level of control within these situations.
Ardently expressive eyes revealing complex layers of emotional depth and intelligence engage the viewer and further reveal aspects of this control amidst the turbulence of change. Ira's women exude a nonchalant air of confidence and comfort as they themselves constantly evolve amidst the ever transforming world around them. These figures represent not only Ira, but all of mankind as everyday brings each one of us something new requiring a change not just within ourselves but within the world around us as well. How we handle these constants results in our continual evolution and inexorable state of "becoming" as human beings.
"I believe people are continuously changing and transforming; I myself in my work, with this show, and each piece that I do, even if that change is subtle." – Sasha Ira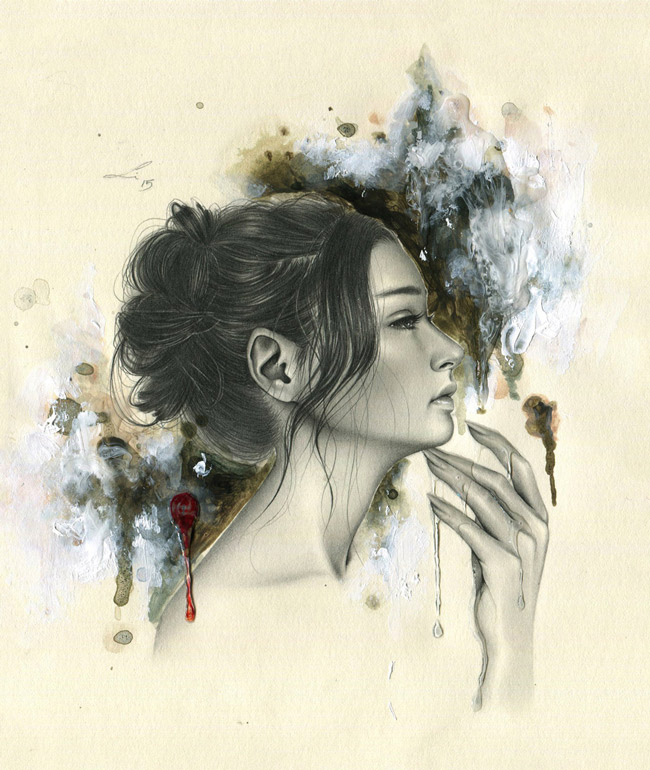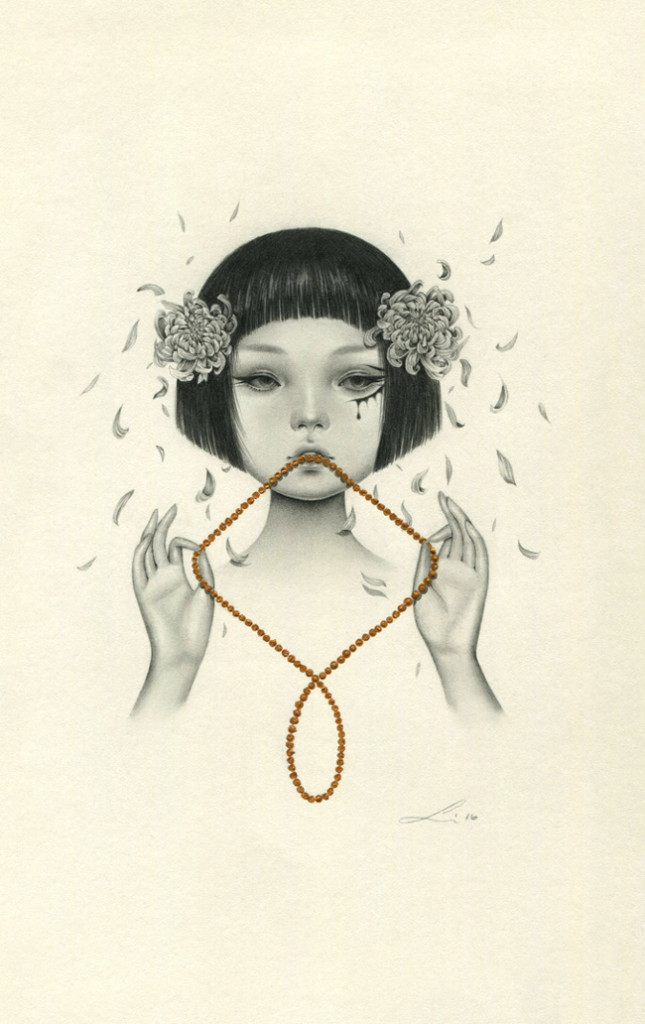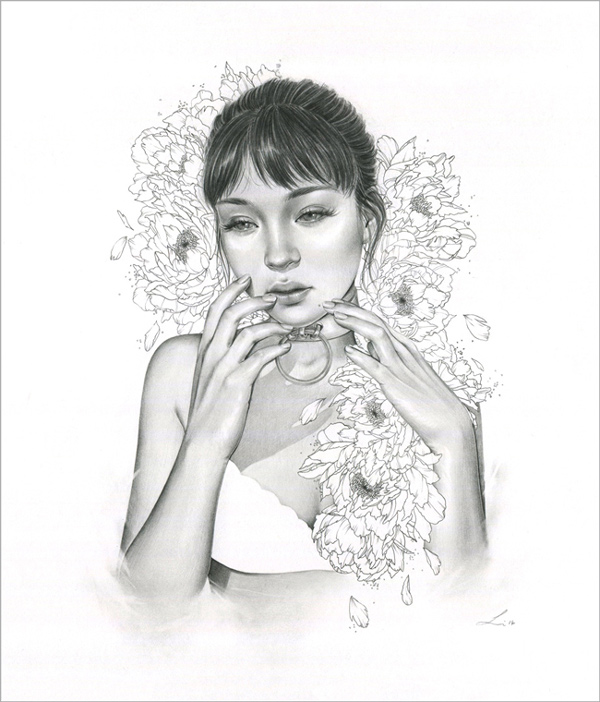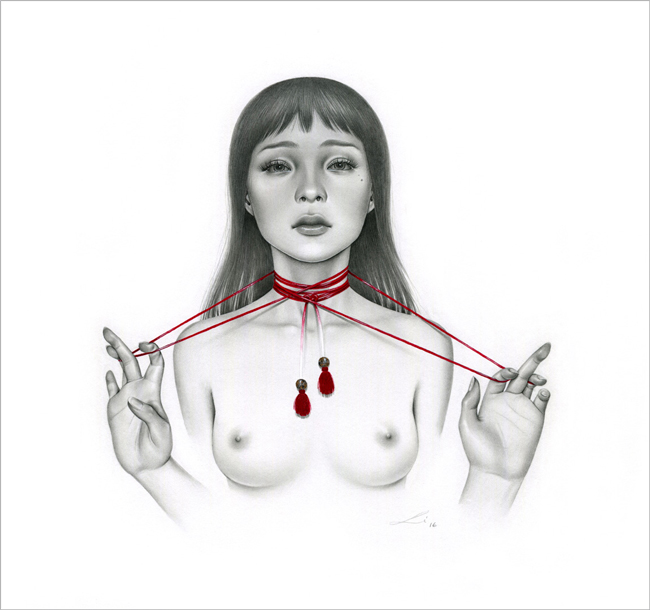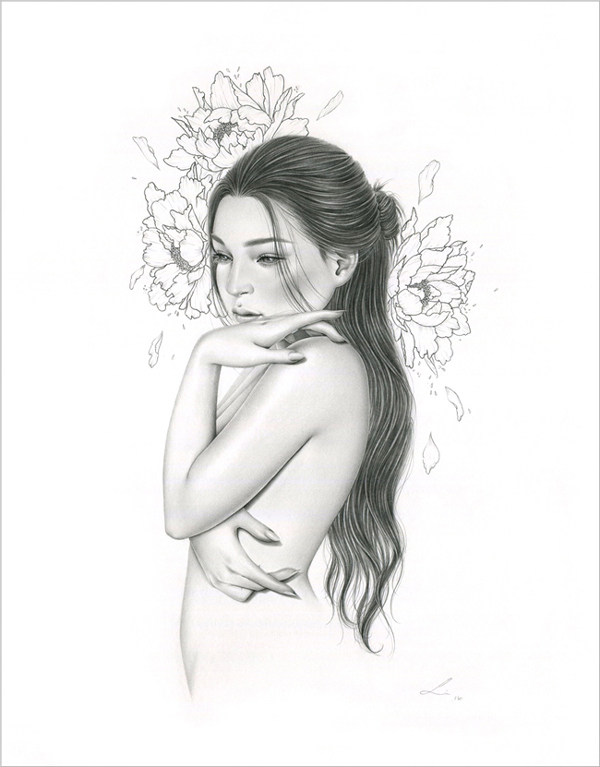 Marc Scheff: "Materialization"
Press Release:
Materialization is Scheff's first solo show with the gallery and debuts his new series of multi-dimensional resin paintings. Each painting combines layers of gold leaf, paint and pencil in between stratum of resin to create a multi layered effect. Visible through the resin is each application of medium layered on top of one another causing an emphasis on the sum of parts that in turn are necessary to make up the whole. This multi-faceted technique stems from the culmination of Scheff's artistic career thus far while simultaneously representing the many layers to the human psyche making up each and every one of us.
Materialization's emphasis on portraiture calls for a return to fundamentals for Scheff. This re-visitation to the foundations of drawing and painting embody a similar return to our own personal rudiments when experiencing the trials and tribulations of our day to day lives. With every occurrence encountered, we see, feel and react, adding layers and complexity to our person. Oftentimes, separating these responses from what matters most is required for us to move forward and grow. Yet, simultaneously, these reactions may also be pivotal to our individual growth and make up who we are as people. The "materialization" of Scheff's process
echoes this idea allows us to seek comfort in all that we experience for each layer is essential to the maturation and development of our distinct beings.
"Materialization is about the emergence of the technique itself, as it seemed to me to materialize out of disparate parts in a very fluid way. It's about my own personal materialization into a more grounded place of self-acceptance. It's about the material quality of the work and how the material itself is an integral part of the experience." – Marc Scheff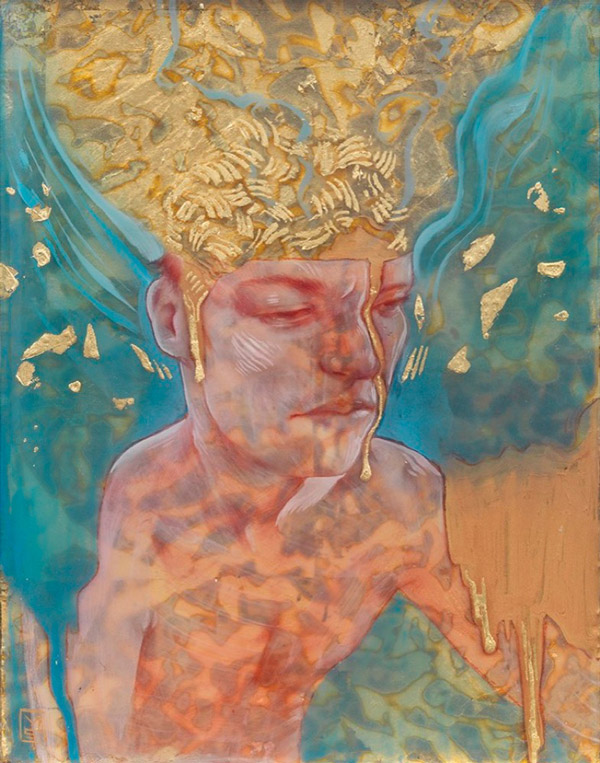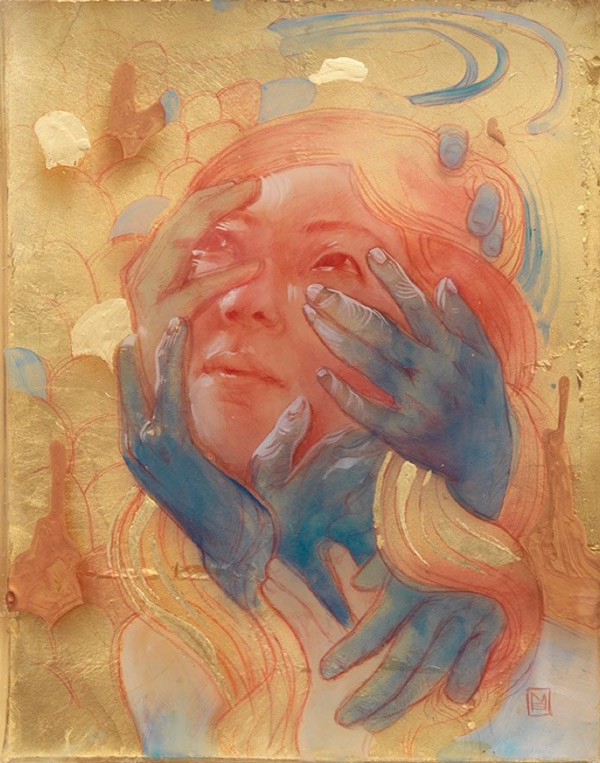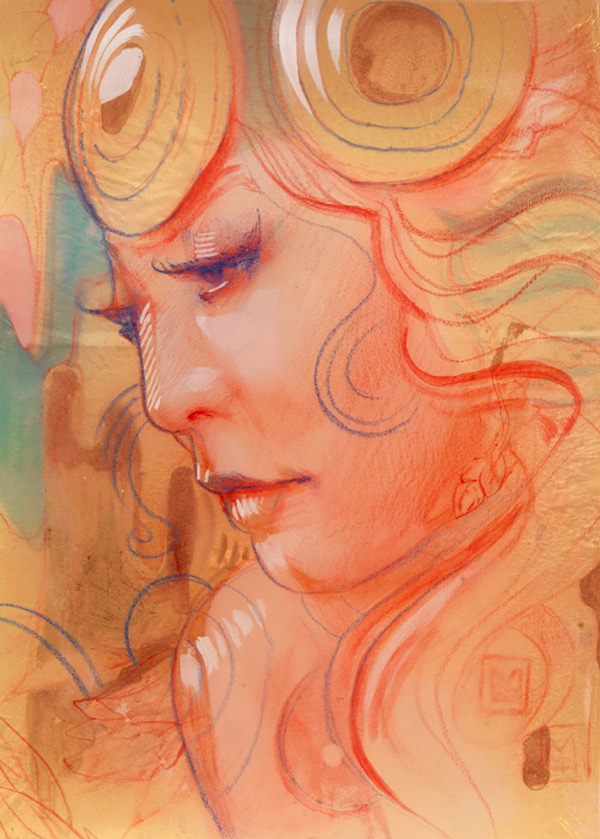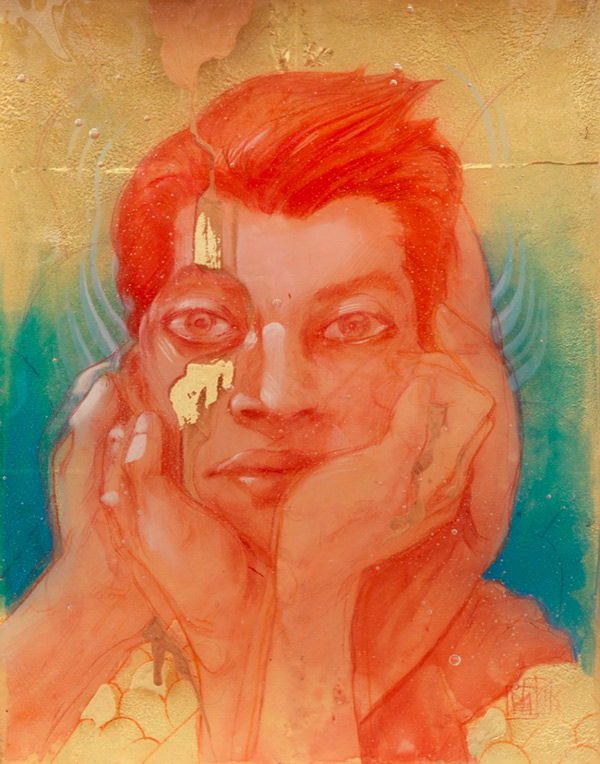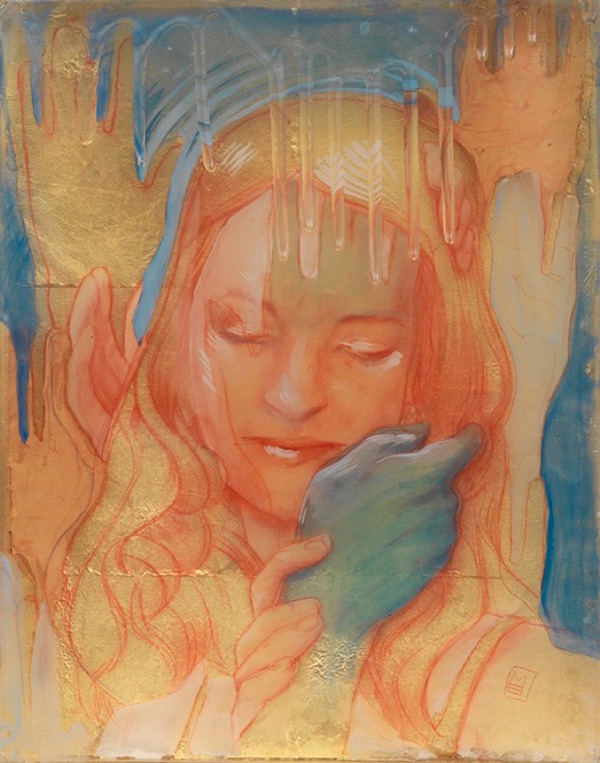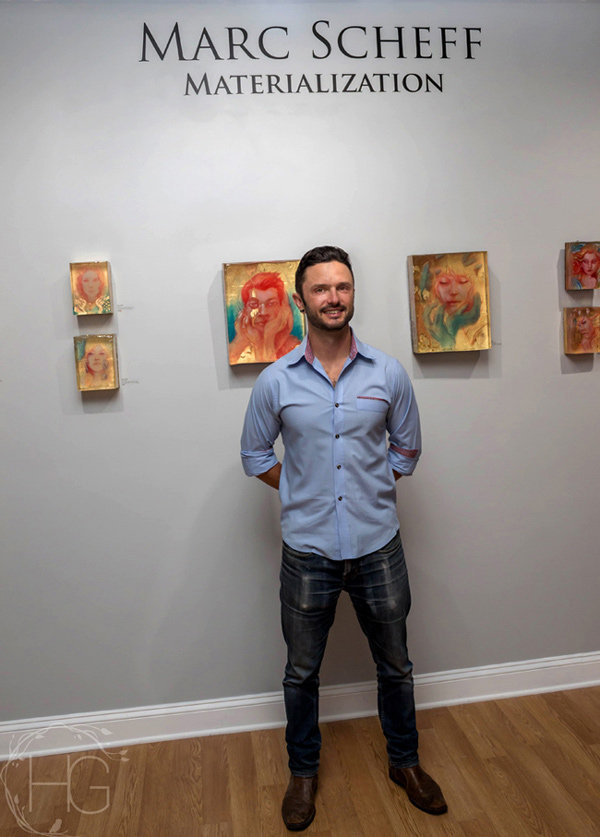 Save
Save
Save
Save
Save
Save
Save