I had the privilege of catching up with Australian Pop Surrealist Marie Larkin, where we had a chance to talk about life, art and how her journey began into creating her gorgeous big-eyed beautiful girls! Although Marie says, "Some might think of me as just a painter of "big-eyed" girls, but it goes beyond that for me anyway. I paint women because that's what I know."
Her body of work is undeniably centered on female characters that tell a story of fierceness and wisdom, not unlike Marie herself, who imparts some wise words and meaningful advice during the course of this interview. Marie is a Mother, Grandmother, teacher and artist, but beyond that, I found her to be thoughtful, engaging, and most certainly passionate about her work and the art world in general. Her work is full of colour and inspiration as she imbues her world into the narrative of her pieces and brings them to life in a magical, emotional way. I am mesmerized by the eyes in her paintings, and taken back to stories of my childhood. I want to jump in and play in this alternate world of beauty, brimming with girls, flowers and ponies! Keep an eye out for Marie's work later this year in the beautiful.bizarre curated show at Modern Eden Gallery "Femme to Femme Fatale". Her wonderful piece called "Force Of Nature" will be showing alongside an incredible lineup of artists.
"Femme to Femme Fatale"
Exhibition Dates:
17 September – 8 October 2016
Opening Reception:
Saturday 17 September, 2016
Modern Eden Gallery
801 Greenwich St,
San Francisco, CA 94133 USA
"My women are an undeniable feminine force, they are strong and empowered. They might be aloof, sad, angry, willful, seductive or sassy, but they are never weak, and they are never defeated. I think this comes from a place deep within. I have gone through some awful things in my life and you know what they say…if it doesn't kill you, it only makes you stronger. I am proud to think I am a survivor and stronger for it. My women think and while they may be alluring at times, they do not rely on their sexuality for appeal."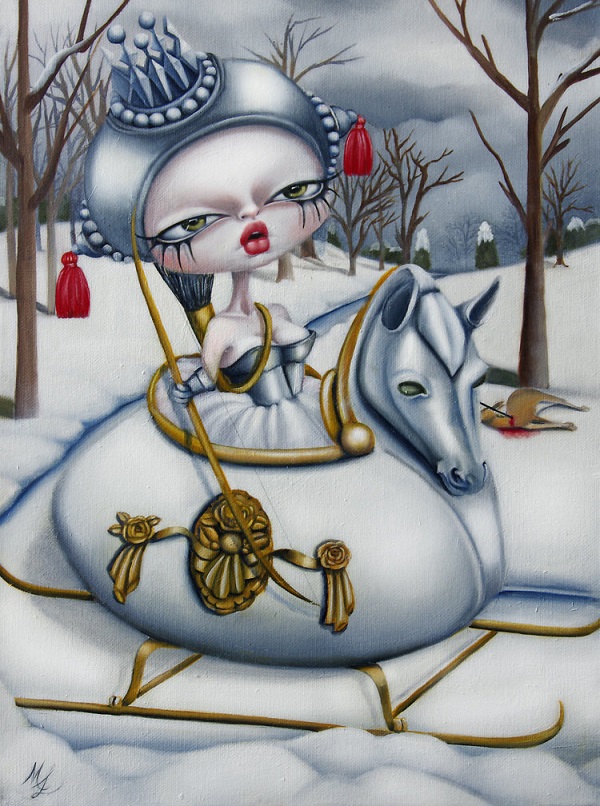 In Vehiculo Per Niuem
So I thought I might start with asking you the burning question – I know you have a background in embroidery and teaching but could you tell us a little more about your artistic background and explain your story to our followers.
I have a Bachelor's Degree in Visual Arts Education but I went to college in the 1970's and it was so loose I didn't really learn much there. I taught High School Visual Arts until I had my children and then moved in and out of teaching while they grew up. I also worked for a few years in the Regional Galleries as an Education Officer. I am retired now (only doing the odd casual day) but my years spent with teenagers were a privilege and a joy and I loved every minute of the thirty odd years I taught. I worked very hard and my students meant everything to me, so it is hard to do your own work if you are teaching. You can't have your head in two places like that. When I had my third child, I stopped teaching and that is when I took up the embroidery. It was something I could pick up and put down easily and pack away under the couch or whatever. The stories I shared were about my intimate life as a mother and I think they really resonated with people. I had two touring shows through Regional Galleries. Revealing Threads toured three Eastern States and it was the recipient of an Australia Council Grant that allowed me to travel to openings and give workshops. That was a very rich experience for me and I met wonderful people. I won the Dame Nancy Buttfield Embroidery Prize and The Namoi Valley Cotton Fibre Acquisitive Award. When my children became older, it became necessary financially to return to teaching. In 2009, I went part time and then left altogether to pursue my art once again.
What were your first inclinations toward that creative instinct, I know a lot of artists can't remember when they first started, they just always felt it was a "part" of them. Would you say that was how it was for you?
Yes, I drew from an early age. I kept some of the drawings I did from when I was around 10 or 11 and guess what…they were big eyed girls in fashionable clothes!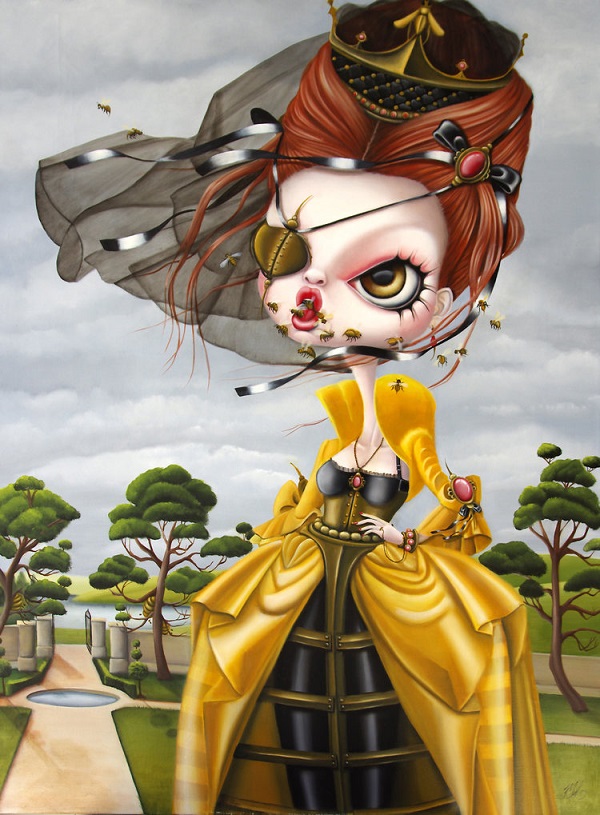 The Bee Charmer
I guess at 10 you might not have known what the 'big eyes' were and what they would later become…I was the same. I remember loving it from a very young age too! So even with all the accolades for embroidery, you decided to go back to painting. I adore your artistic style. Did it develop slowly or did you always lean towards pop surrealism?
Hard to say where my Pop Surrealist tendencies come from. I think for me there is always a reality in my work, in that it's not and never could be abstract. I have a great love of detail and rendering, so Pop Surrealism suits me. The narrative is enormously important in my work and again that fits with the genre. I think it was discovering artists like Mark Ryden, Mab Graves, Brandi Milne, Craola, Dilkabear etc that made me realise that was how I wanted to approach my painting. I only took up 'painting' as such in 2009, and oil painting in 2010. Obviously as a teacher I had painted but not like I do now so that has also been a huge learning curve, as well as familiarising myself with the enormous contemporary art world. My embroidery was fastidious. 196 stitches to every square centimeter. So detailed painting seems natural. I have never been seduced by a quick result. The girls in my paintings are important to create the narrative and mood. I am one of two sisters, I went to a private girl's school and from 2000 to 2010, I taught at a girl's school, so I have a very female construct of the world.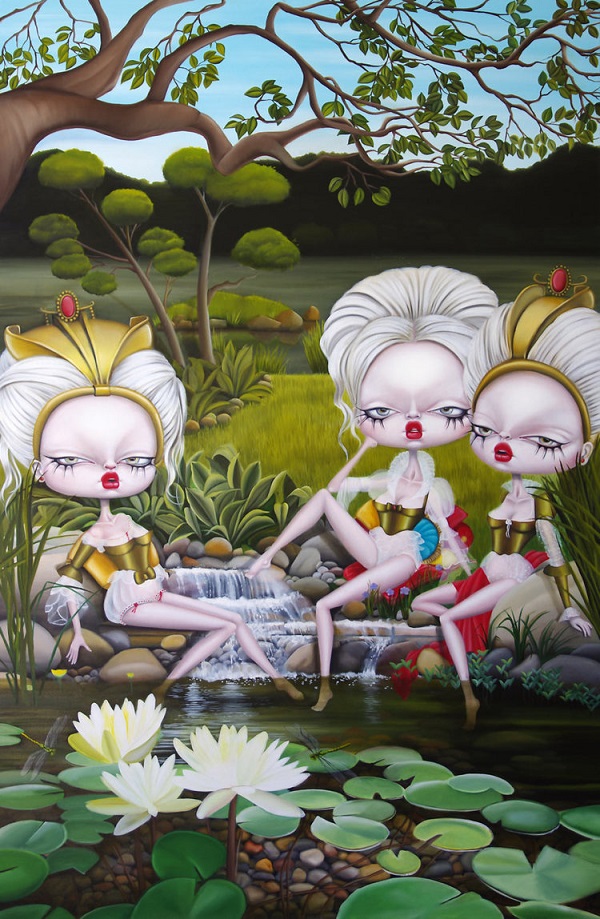 Lillies
I can certainly see that storytelling is an important aspect of your work, with that narrative in mind, how much planning goes into each of your paintings? Do you allow the images to flow freely, or is your work still influenced by your surroundings (as your embroidery reflected your life with your younger children and your role as a Mother at that time) I was going to ask about the influence of the girls in your work. I see that above and it makes complete sense.
Yes and no! My physical surroundings have no impact at all, even though I live under a huge rural sky, in a pretty valley just outside Tamworth NSW. I don't create intimate personal stories anymore, but like the Femme to Femme Fatale theme, my experiences find their way into my interpretations of themes. Childbirth and nurturing has been a large part of my life, with my own children and those I taught. It has become part of my life again with the birth of my grandchildren. Animals often feature in my works, as these are important to me now. I have four tiny dogs (three rescues) a lovebird, and three planted aquariums. I had horses up to last year.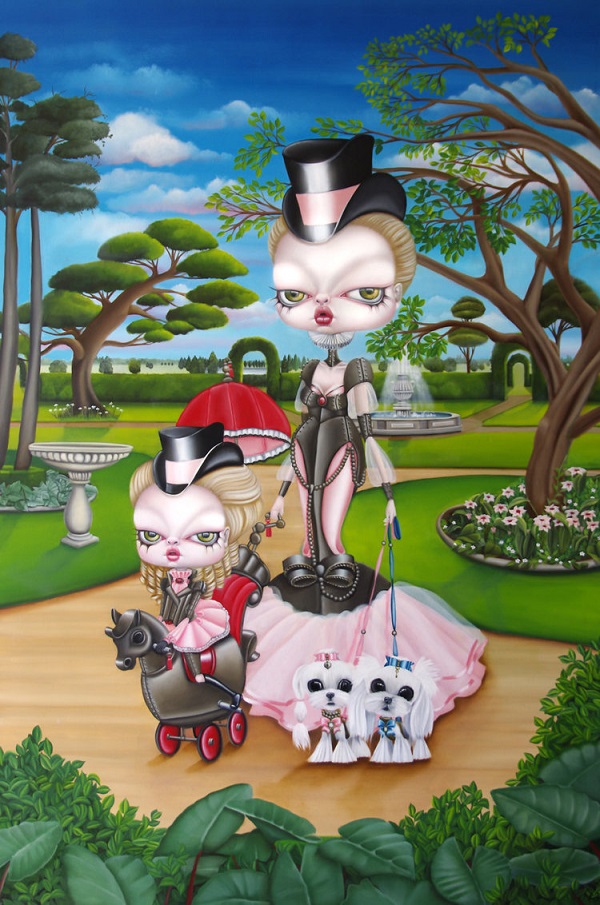 First Day of Spring
I am in love with your piece for the beautiful.bizarre curated group show at Modern Eden Gallery in September this year, and I was really excited to see some of the work you posted of the 6 mini pieces, the underwater themed ones! So ethereal, like a longing for the sea, this progress shot is wonderful and defines your work perfectly!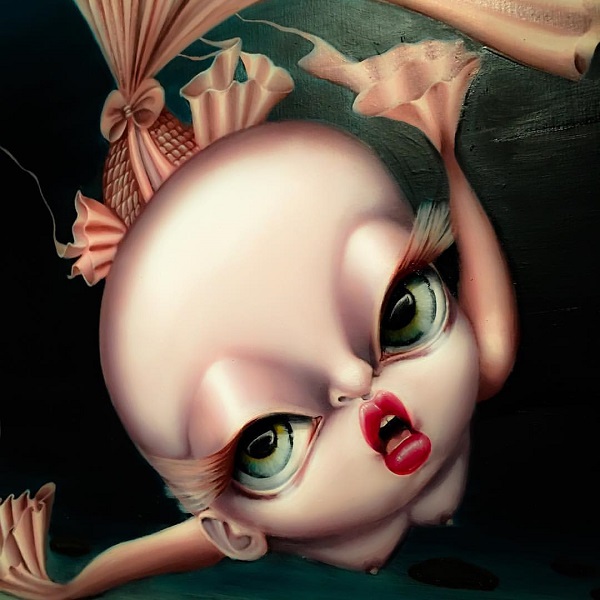 WIP of mini series
Do you have any rituals when you paint?
I'm actually painting in a planted aquarium background to my fish girl painting right at the moment, inspired by aquariums. I guess I do. I generally tend to do lots of tidying up and organising in the studio, before starting a new work/s, then the intellectual and visual research begins, lots and lots of thinking goes on as I turn ideas around in my head to see what sticks there. I tried a number of approaches and ideas for the Femme to Femme Fatale show. Some were radically different to what I ended up completing. But it was an idea and image I couldn't get out of my head, and I am just so happy with it.
It is an incredible piece, I am glad that image stuck with you, the feminine is represented beautifully, but our readers will have to wait and see the finished piece though!
I wanted to create a very positive image of woman for the show. Of what we can be, not what we are sometimes confined to. Of how 'large' we are like goddesses, not how small and insignificant we sometimes feel. It's not about childbirth or children as such, but about woman's' creativity and capacity to nurture. Her hand in all things abundant and living. We are life.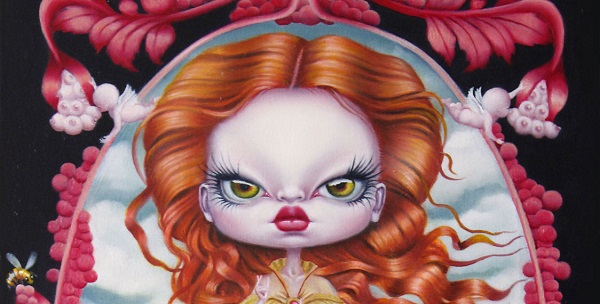 Force of Nature
This is a wonderful visual to share with our followers on being a woman, I know Danijela had this in mind when creating the show. It certainly draws a deep narrative, for men and women. It is going to be an incredibly moving exhibition! So I am inclined to ask you to impart some more wisdom as you shared this so beautifully, do you have any lessons learned or advice you received along the way for other budding artists or anyone creative?
It's very difficult to be a noticed painter in the contemporary art world. It is full of extraordinary artists, and you only have to follow beautiful.bizarre to see this. Every day I am seduced, awed and floored by the work I see through the internet. I am also painfully aware, and often anxious about my age but refuse to let my being over 55 make me invisible or irrelevant! While I often feel worried about my age, I also know it brings with it, experience and an ability to see beyond myself, which is important.
I've learned a great many lessons and am still learning. The importance of finding your own voice and a point of difference has been said many times so I don't need to stress that. I'm still working on that. Artists should be kind to each other, learn to roll with the punches and not let those punches knock you down, have faith in yourself and no matter how many rejections you get, and you will get them, keep trying to keep on. Easier said than done I know. I think it's very important to evaluate your own work and seek critique from others when you can. When I was an artist in the 1990's I found gallerists very helpful in this regard, but now, I think they are so inundated with requests and submissions from hopeful artists they can no longer give the time to critique, direct or nurture artists other than those they represent.
My art and it's success in the wider world are very important to me. I work very hard to achieve. Art for me is a spectator sport. Of course I make it through need, as all artists do, but I want to share it as well. I want my paintings to go out into the world to be enjoyed by others. It's an incredibly important aspect of the process to me.
Make art about what you know, speak from a place of experience, even if it's limited. That's why my embroideries from the 1990's were tiny, intimate snapshots of family life. Being at home with children was my life and it consumed me. It's also why those images resonated so much with audiences everywhere they were exhibited. The embroidery that won The Dame Nancy Buttfield Embroidery Prize ($5000 presented by the South Australian Governor) was about my decision not to have any more children and my way of closure through that decision. At the time, there was a bit of an outcry from the purists because it wasn't a technically perfect embroidery (the next entry was I can tell you!) but it was the intimate, personal and universal story it told that the judges awarded.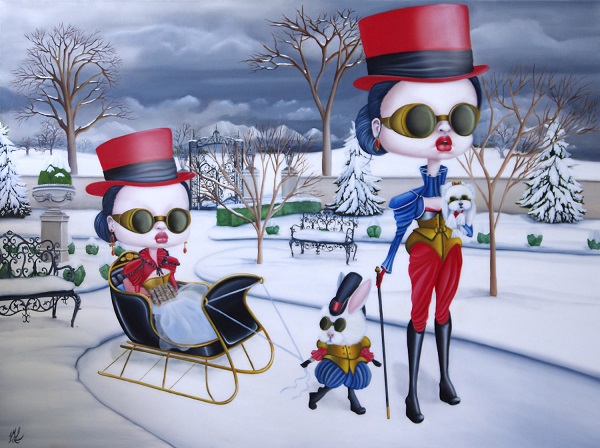 Winter Sleigh Ride
This is very true and, certainly, these challenges face many artists in the current climate. As far as age though, I think the paintings come first, I am still surprised when someone I thought was a man turns out to be a woman or vice versa! The work is sexless and ageless I guess! I won't take up too much more of your time, so one final question – I'll start it by saying, I hope your students realise how incredibly lucky they were to have you as a teacher! Your work is so relevant, and so much more impressive than the apples I remember painting in art school, which were a replica of my teachers fruit paintings – so as an art teacher it seems appropriate to ask you if you think anyone can learn to paint? Seems to be a lot of debate around this subject of late!
Oh yes I have strong opinions on that! Firstly, yes my students did appreciate me. They have let me know over the years in many ways. I often received cards, emails, or messages from students overseas telling me how much they enjoyed their art experiences in Europe etc remembering my words or passion, so I feel very blessed. It is so wonderful to be an integral part of young people's lives through those formative years, helping them to grow and achieve their goals. When students had to make the decision to take art as a subject, when it was no longer mandatory in their curriculum, they would ask me if they had the ability and talent to continue in the subject. I always told them emphatically, it didn't matter as long as they had something to say and a burning desire to get in the room and 'play with stuff'! If they didn't feel like that then no the subject wasn't for them. I have seen incredibly gifted students waste their ability and very ordinary ones find their voice and be extraordinary. I don't think it's a case of teaching anyone to paint. It's a case of showing them how they can create. A good art teacher is so in tune with their students, they tap into what that student can be passionate about, and that's where creativity starts.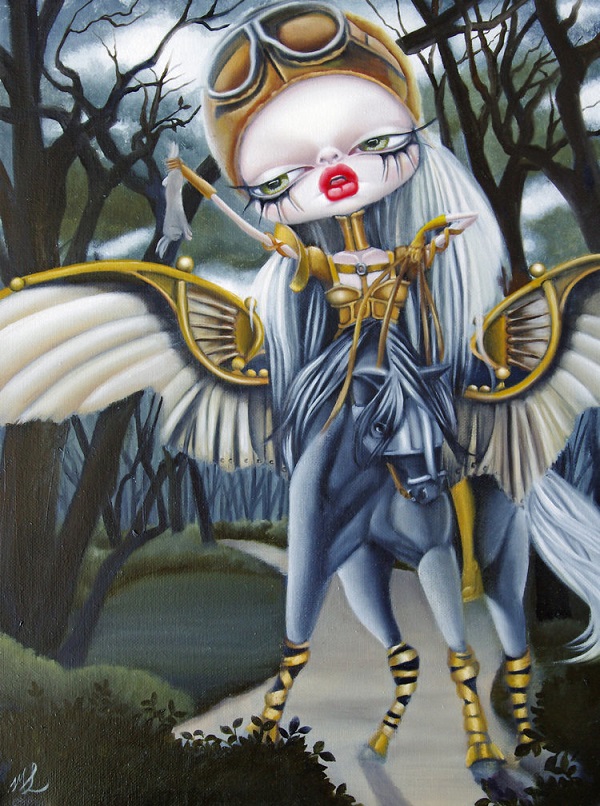 Ventura Noctis
Of course I am not surprised your students were so grateful, you seem to have so much to give and we can't ever have too much of that! Thank you so much Marie, I certainly got a lot personally from this interview with you today, so I am grateful. I feel inspired to keep creating and growing. I may even give painting another try! I am looking forward to your upcoming shows, can you tell us again what you have coming up so our followers know where they can see your amazing pieces?
I have a group show coming up in October at Penumbra Gallery and another beautiful.bizarre curated show at 19Karen Contemporary artspace next year. I have organised a pop surrealist show here in Tamworth next year, with an awesome lineup which I just organised for the fun of it and to promote the genre at Weswal Gallery – It's called 'Hide and Seek' and it's a Pop Surrealist / Lowbrow show featuring international artists. I am curating the show and I started by sending emails to my favourite and most inspirational artists in this genre, most of whom agreed to be in the show! Weswal is a small, delightful and well-respected gallery in Tamworth. The show is in October 2017 and I invited Danijela to come up to speak at the opening and officially open it. There is no one more suited in this country for the task!
I'm looking forward to meeting you next year! Thank you again for your time, I think your insight is wonderful and we need more people like you in the art world that help encourage, support and share their lives and feelings so honestly.
You can follow Marie and her work via her Webpage | Facebook | Instagram | Tumblr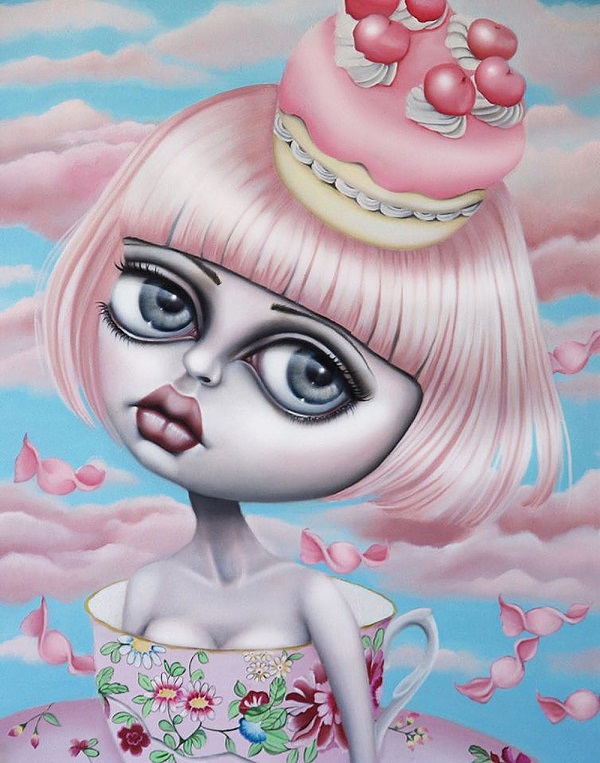 Tea rose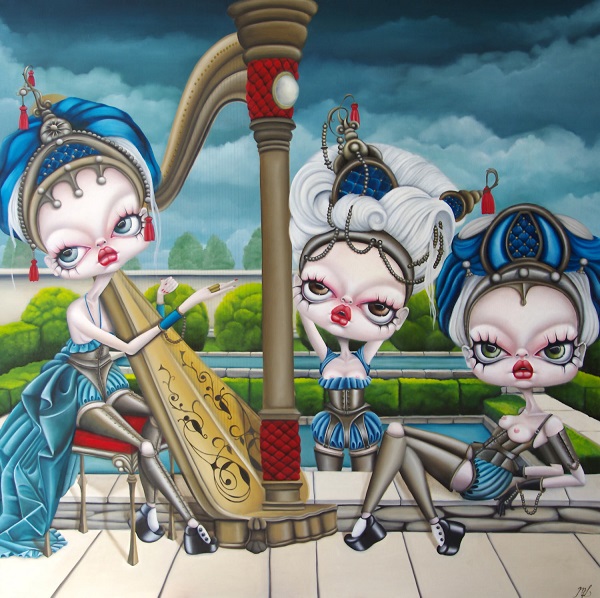 Summer Symphony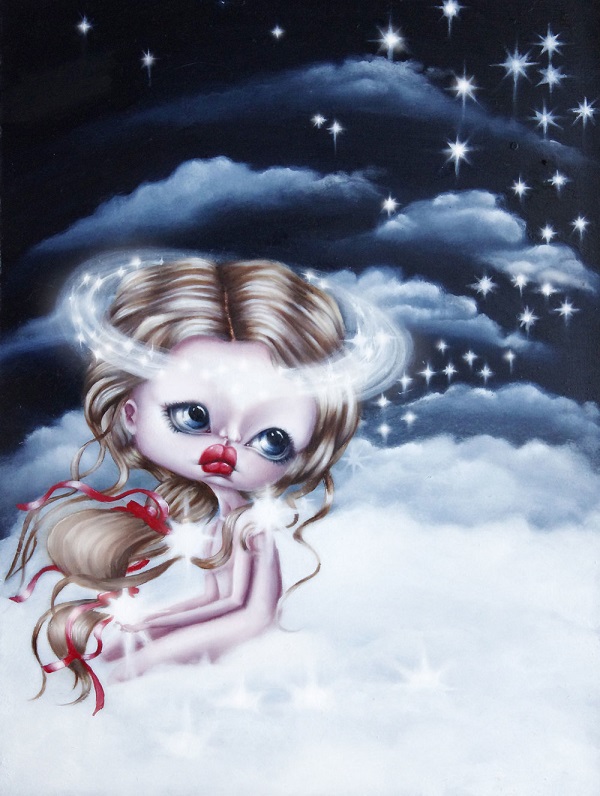 Celestial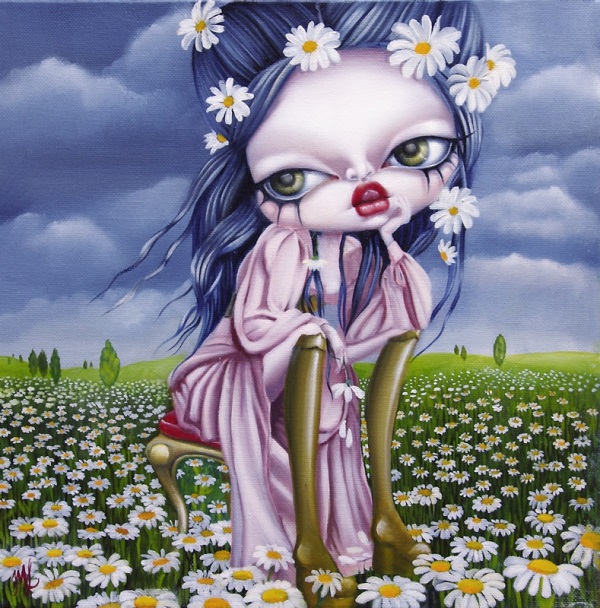 Field of Dreams
Save