Seattle-based artists Anomie Belle and Redd Walitzki have come together to create an absolutely decadent collaboration in alignment with Anomie's newest album, Flux. Readers are invited to experience 'Lovers', the first single from Flux. It is both an audial experience as well as a visual journey, in a celebration of music and personal exploration, created in tandem with a beautiful art book. Redd is one of the featured artists in this book and her piece is a vivid, dewy portrait featuring Anomie herself. We've asked them to share more about Flux, their process, and their creative connection.
"A haunting and darkly sexy portrait of beautiful alienation, Anomie Belle: Flux is an album listening event and visual art exhibition that explores disillusionment and the search for identity. The project features works from international visual artists inspired by Flux, the forthcoming album from multi-instrumentalist, vocalist, and producer Anomie Belle. The August 5th opening at Modern Eden Gallery will serve as a preview of the new music, which releases on August 26th." ~ Modern Eden Gallery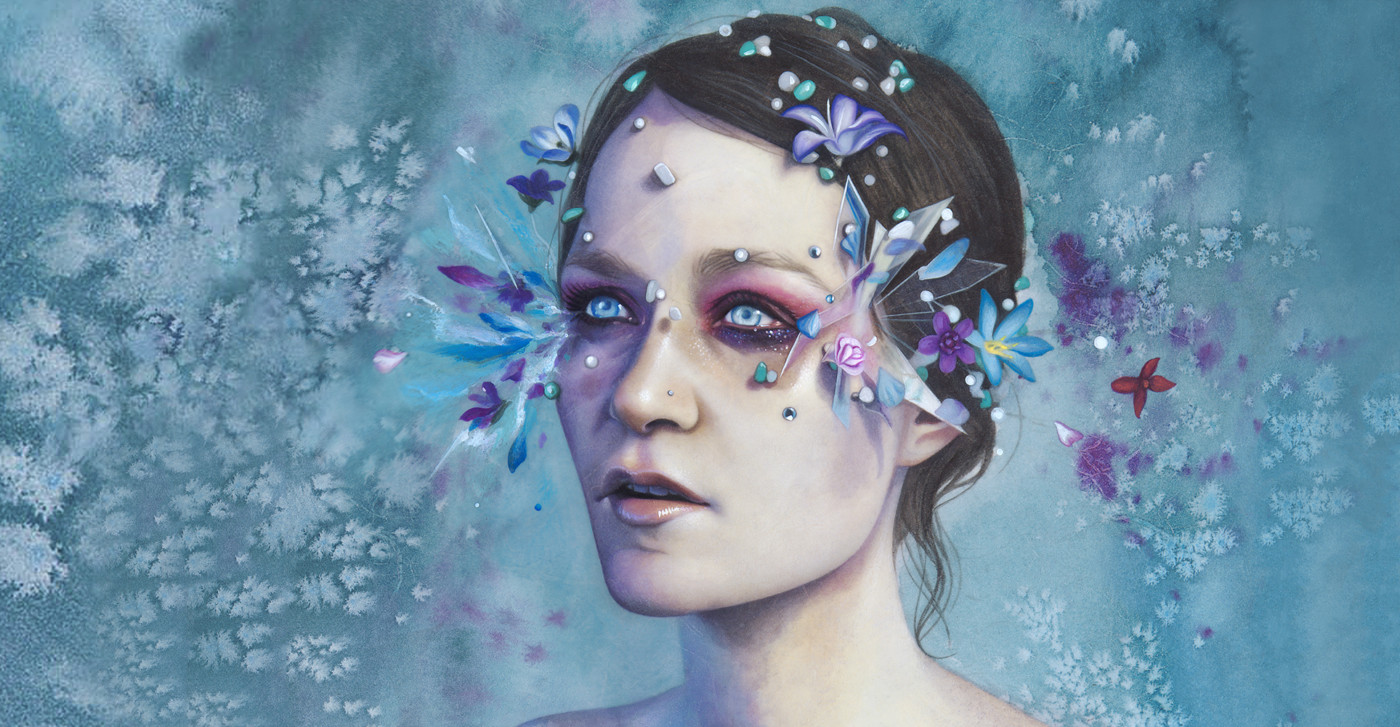 [youtube https://www.youtube.com/watch?v=7zYc24J3A8o&w=560&h=315]
Anomie, can you tell us a little bit about your new album and art book, Flux?  
A: This chapter of my life has been creatively inspiring and fueled by intimacy.  I've been reflecting a lot about identity and the consonance and dissonance of the isolation we all experience.  The result is an album of constantly evolving, dreamlike, intimate musical landscapes that express those feelings and experiences.  I connected with over a dozen artists to create an art book to accompany the album that also represent that.  Redd was one of the people I got really close to while making Flux, so she understands me… and the music deeply.  She captured so much of what this album is about in her perfectly surreal portrait.
How did the two of you come to work together?
R: Anomie and I began collaborating a few years ago, after serendipitously connecting and realizing we had a mutual admiration and understanding of each other's work. Flux was in its very early stages and my work was rapidly transforming. When Anomie started putting the art book together, I was delighted to have the opportunity to create a piece for her and wanted to capture both the sensitivity and strength that I relate to in her music. My hope was to create something that feels very iconic, and it's amazing that it gets to grace the cover of her beautiful album!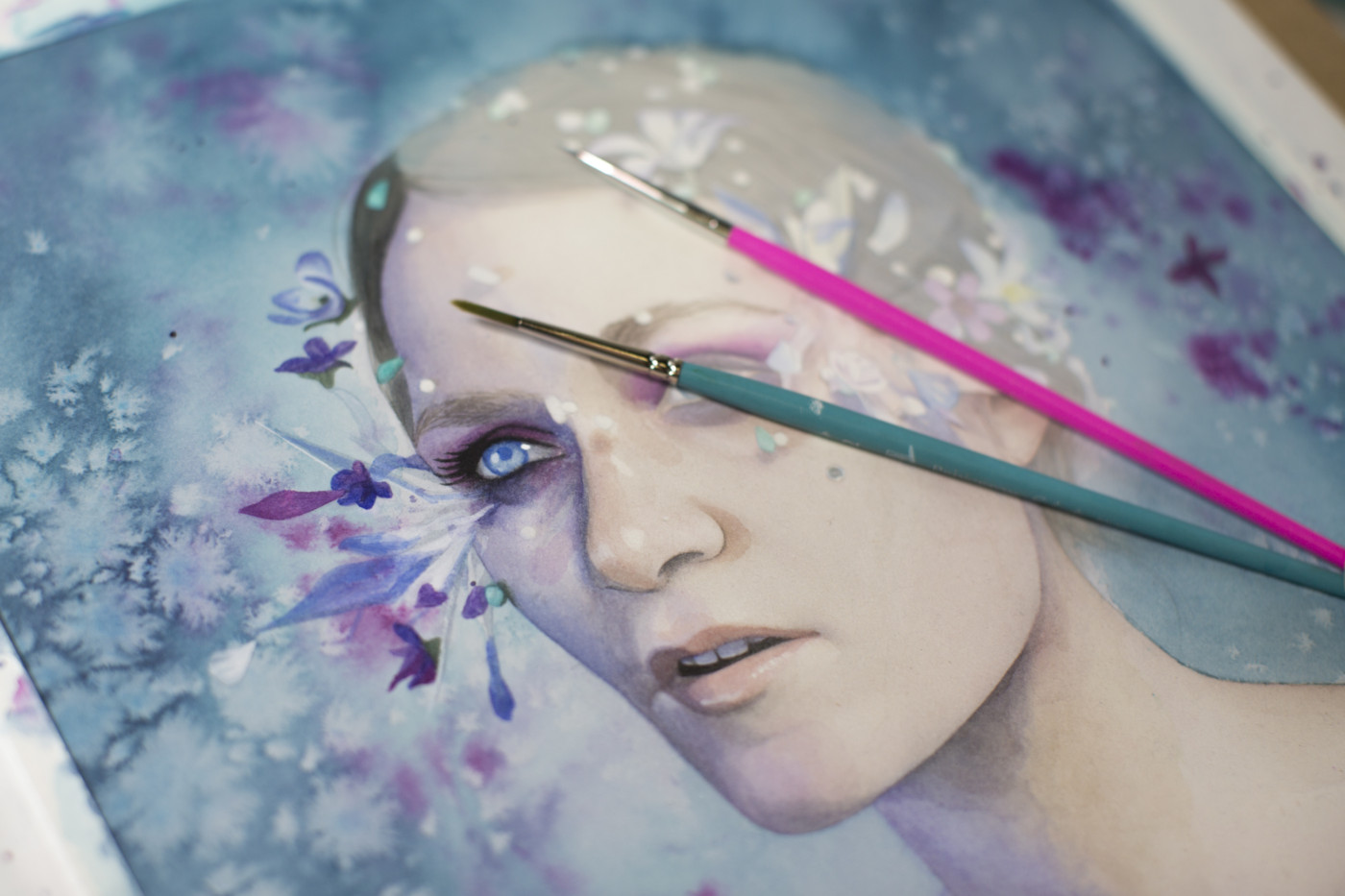 Are there similarities you share that made collaborating across genres feel more natural?
A: Not only do Redd and I inspire one another, we also care about and think about similar things. We're both enamored with the process of making art and are influenced by even the dismal, uncomfortable and grotesque aspects of our culture.  We each take that and create our own bizarre worlds within our respective art.  Yet aesthetically, there is an overarching attunement to beauty, and a sensibility and perfectionism in what we do.
R: We definitely share common aesthetic taste and explore similar themes in the subject matter of our work. There is an undercurrent of subversive sensuality in what we both do, and a dialogue that examines our consumer culture.  We are both drawn to the spirit and the spontaneity of artists who wield their art in ways that are both critical and emotive.
Could you tell us more about how you two have connected around your creative process?
R: There's a kinship in the ways we layer, remix and build our work in stages to create the final version. Both of our techniques allow a chance to capture spontaneous moments of beauty (a particular sound, a unique drip of paint), and then slowly refine the structure of the work around that, balancing the chaos of chance with the polished refinement of a carefully crafted final piece.  Both of us also create through an elaborate technical process; the product of many years of deliberate experimentation.
A: Yeah, we each find a balance between creating the thing we originally intended and being experimental so the work can take its own life. For both of us, the process of layering is what creates the unique textures and nuances.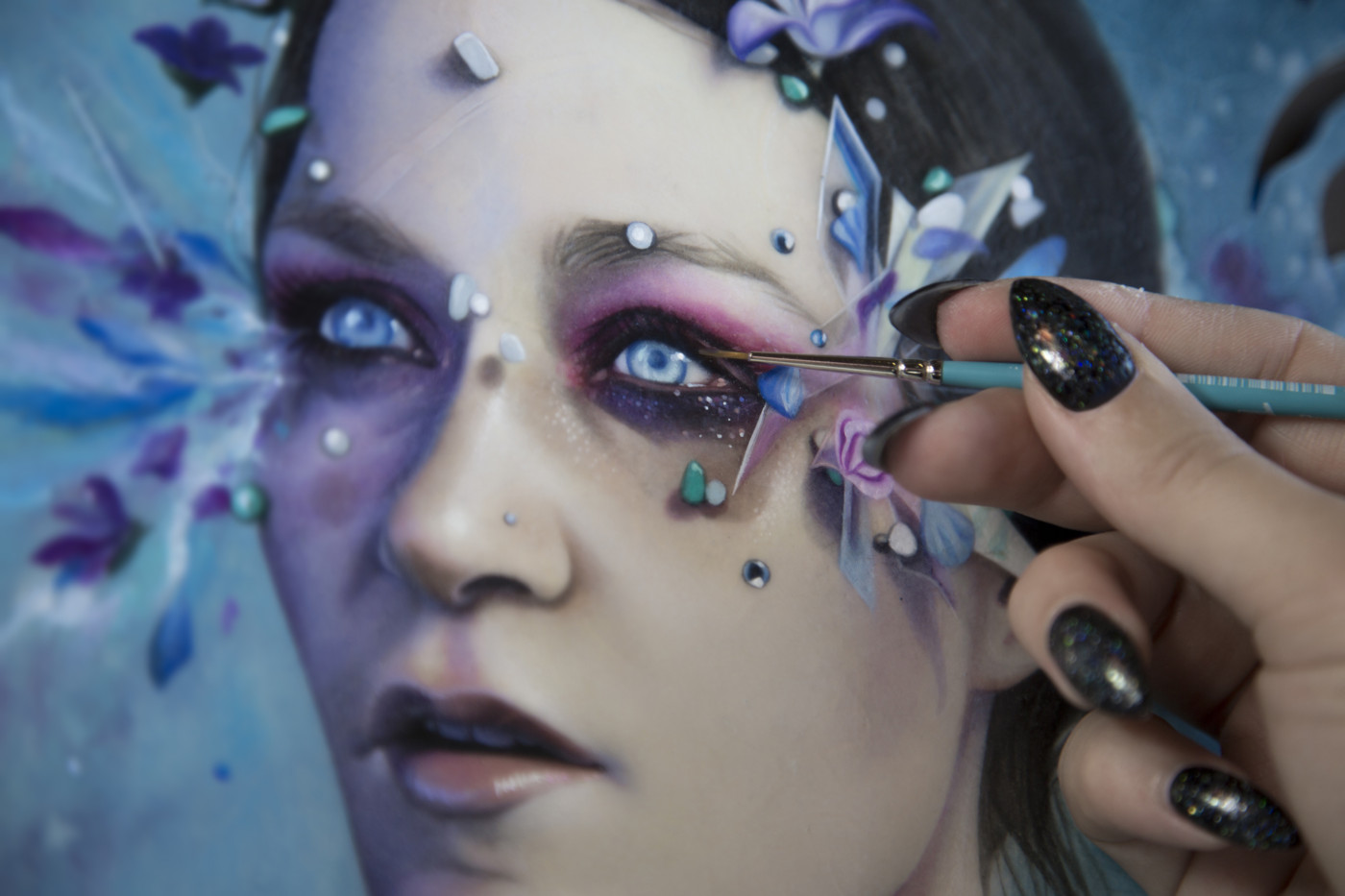 It sounds like technology plays an interesting role in process and layering for you both. How do you tend to use new technologies in your work?
R: It's always seemed to me that the greatest artists of their eras used every possible tool they had at their disposal to give their work an edge – like DaVinci experimenting with "oil paint," or Vermeer likely using camera obscura optics while painting.
A: I certainly wouldn't be making the kind of music I am without a computer and a bunch of other electronic gadgets, and Redd is using digital tools for reference photos and between stages of her process, and a laser cutter to create ornate designs that function as the "frame" of her works.  We are so fortunate to live in a time when we have so much control over what we can manipulate to create new possibilities.
R: This excitement for new technological advances is definitely something Anomie and I share, and we are both experimenting with new ways they can shape our processes all the time!  It allows us to approach our work like we are mad scientists!
Awesome! So where can we get Flux and find out more about it and the art book?
A: You can buy the art book and preorder the album at from my bandcamp page and find out more at my website.
R: You can see more of my paintings and learn about my process at my website.