Complex and detailed collages with pop culture vintage beauties, fiercely independent and submerged in earthy colours, are the best way for me to describe Handiedan's works. Tiny fragments that create a visual narrative that is nostalgic, with touches of dark vestiges. As the viewer, we stand back away from a piece and we don't see snippets and scraps, these are images made from fractured parts of something that once had another life, on a different page.
I spoke with Handiedan about her incredible upcoming exhibition at Jonathan LeVine Projects this October. 'The fourth dimension: Time' is Handiedan's most personal show to date and comprises a selection of new works sharing the artist's complex experience of passing and evolving through time.
Handiedan Solo Show
Exhibition Dates:
14 October – 11 November 2017
888 Newark Avenue | Suites 415 and 344 |Jersey City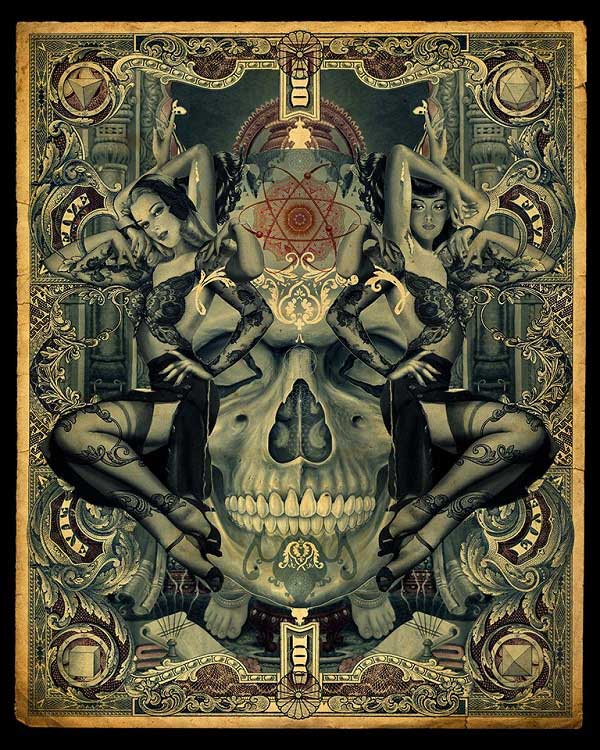 About the Show:
'The fourth dimension: Time' is Handiedan's most personal show to date and comprises a selection of new works sharing the artist's complex experience of passing and evolving through time. Handiedan's collaged bas-reliefs give visual form to the wonderings, memories, visions and unconscious associations stemming from it.
Deeply influenced by scientific and spiritual interests – from Quantum Physics, Cosmology and Numerology to Sacred Geometries, Metaphysics and Eastern Philosophies – her art embraces the various forms of vital energy endlessly permeating the universe and mirrors the eternal motion of life in its kaleidoscopic manifestations.
Recently Handiedan has focused on the Fourth dimension of spacetime as a privileged standpoint from where this perpetual and ever changing flow can be deeply perceived as a continuum.
Protagonists of the works are the iconic pin-ups clearly inspired by the burlesque universe. The artist digitally composes their bodies by assembling anatomical parts of different pre-existing pin-up images from the 1920-1940s, transforming them into images reminiscent of the Neo-Classical and Victorian ages, the Parisian Belle Époque, up to the 1940's and Post-War sexy imagery.
With luscious liveliness their forms bend in and out the background to personify Handiedan's investigation in femininity. They stand for the Lover and the Mother, embodying sexual freeing and tender love, strength and vulnerability. At once mistresses and goddesses, these creatures are endowed with a symbolic power that can be traced down to the archetype of Mother Earth (or Mother Nature) in which all ancient cultures identified the natural course of the circle of life with its transitory stages of birth, change, decay and renewal. Other recurrent images in the work refer to this: the skull, traditionally a visual reminder of death, and the butterfly, a living example of transformation and evolution.
Handiedan is always inspired by the the Golden Ratio, also known as divine proportion, whose presence in all realms from quantum levels to the eternal motion of planets and galaxies is proof of a universal law connecting everything. The pin-ups inhabit a visual world filled with Fibonacci spirals, fractal patterns, planetary charts and the sacred geometric form of the Flower of Life, all scientifically or symbolically representing the universal harmony ruling nature and life.
The pen drawings and doodles 'tattooed' on the bodies and in the background, like her cartoon-like alter ego, Amėlie, stand for Handiedan's personal involvement in this energy flow. The background also incorporates ornamental details like old currencies, stamps, music sheets, share certificates, science maps, playing cards and cigar bands collected from Handiedan's travels around the world and filled with hidden personal meanings. The vintage aspect of the items suggests their own hidden stories and the artworks release an evocative power both on a personal level and from a cultural point of view, ideally traveling through real and symbolic places distant in time and space.
Handiedan gathers all those visual fragments that trigger her own personal associations and digitally combines them on the computer following a fast-paced intuitive drive. The creative process shifts into a more meditative slow-paced stage as she assembles the printed layers of paper with refined craftsmanship. Each detail is printed on multiple sheets of paper that are masterfully hand-cut and carefully pasted over to reach a sculpted quality. The found collage material is also weaved and patiently pasted through the layers. While the collage technique naturally lends itself to the combination of the most diverse elements, the multi-layered depth gives material shape to the fourth dimension and enables to fully experience the interconnectedness of everything. As a result, Handiedan's art carries an organic unity and the visual motifs used by the artist harmonically coexist into a single yet richly complex experience that instantly strikes for its exuberant liveliness while the countless details scattered all over ask for the gaze to slowly wander and linger around it.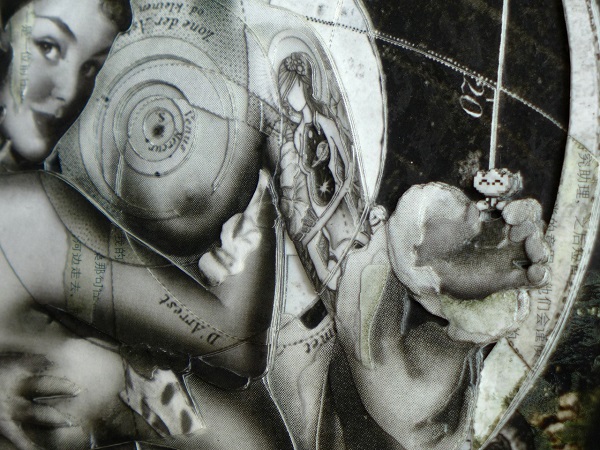 Firstly, in the unlikely event our followers may not know your work, can you tell us a little about your process and how you create your amazing pieces?
There are two phases in creating my collages. My creations are a complex layered 'cut and paste' mixture of both digitally and hand cut paper collages and found material.
The first phase consists in digitally put together the found imagery. Classic pin-up body parts over a backdrop of baroque and Victorian designs, culled out of international currency, old music sheets, insurance and share certificates, science and solar system maps and my own pen-drawn character and doodles.
This digital design is the basis for a series of hand cut collages.
The second phase entails re-building the basic design through multiple printing and 'weaving' original collage material with the printed paper layers. This again could be culled from international currencies and stamps, antique sheet music ornaments, playing cards, cigar bands, Asian newspapers, science maps, share certificates and whatever fits.
I keep collaging till the artwork stands out in a relief of paper layers, almost three-dimensional. Then I add some final touches through sketching and doodling on the piece and finally I mount the collage on a carefully selected ornamental frame "mostly antique" that becomes part of the artwork itself.
I am loving where we are headed in the art/VR movement. I know you recently worked on a VR project titled 'Handria'. This is whole new way to create, can you tell us more about this project and what was involved to create Handria?
Yes, thank you! I'm super excited about this development and movement and even more excited by being able to explore the possibilities of it. A great inspiration.
Last summer I was invited by RIOSD to be part of their VR project and to create a Handiedan's collage universe in VR with the Tiltbrush software. I went 'underground' for 55 hours into VR, creating a 3D virtual collage art & drawings universe, named Handria.
'Handria' has been presented by the RIOSD team at Edinburgh Fringe, Future Play Festival, that started the 3rd of August and runs till the 26th and I can't wait to show you more in the near future, when I'll be traveling to the US.
I'm excited for your solo show and to see your new mixed media hand cut collages at Jonathan LeVine Projects, in October. How is the preparation going for that show? Are you able to share any of the pieces or the theme with us yet?
The preparations are going very well and I'm super excited to show you the new art. The theme and show title is 'The fourth dimension: Time'. It will be my most personal show to date and comprises a selection of new works sharing my complex experience of passing and evolving through time.
It'll be influenced by my scientific and spiritual interests – from Quantum Physics, Cosmology and Numerology to Sacred Geometries, Metaphysics and Eastern Philosophies.
So many hours are spent creating your works, what's a day in the studio like for you? How do you keep yourself entertained while creating the collages?
I tend to keep it like a regular work with weekdays and try to keep up a healthy rhythm: 7-9 hours a day, 5 days a week. I listen to music, audio books, documentaries, movies, have a good walk or lunch break on the side of a canal, and watch the boats passing by.
Your vintage pin-ups feature predominantly throughout your work, where did your initial interest start, and what/who are your inspirations?
My strong fascination for all different kinds of old and vintage graphic material inspired me to start collecting and combine this imagery into one strong image. I'm always inspired by the (photo) graphic, collage and cartoon world.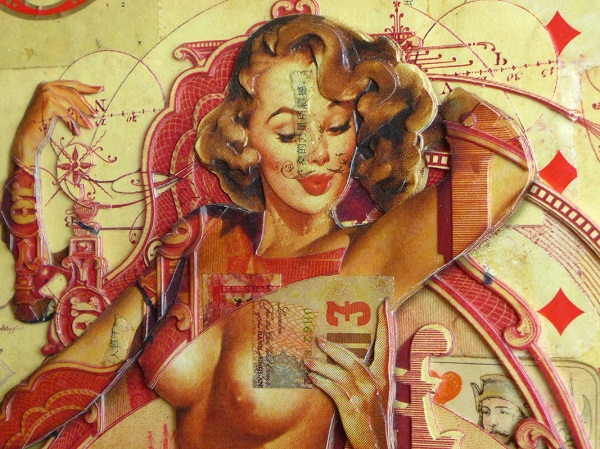 There are so many hidden symbols and meanings in your pieces, you can spend a lot of time viewing those details scattered throughout the background, I would love if you would elaborate on these patterns and symbols and why they are important to you?
Symbols teach you a lot about life, they tell the story of life and elaborate hidden stories that can't be explained literally. Examples of symbols that are strong subjects in my new work are the skull, the butterfly and the golden ratio. All of them refer to ideas of rebirth, growth, transformation, the eternal motion of life, energy, time, everything is (part of) the same all.
I can't finish without talking about your large scale murals, which are mind blowing and often in the perfect surroundings, featured on stunning buildings! How do you begin the process for these works? What's the hardest part about creating these walls?
After I receive the exact wall dimensions, I digitally design the piece for the wall. Bringing my pieces outdoors is not just an enlargement and just pasting paper on a wall, but it feels as an extension of my art. I want to integrate and fuse the image with the building. The building has to suite the image and vice versa. They correspond and become one. It's like my original collages: every piece has its corresponding frame. A fusion of artwork and frame. It is actually difficult to name the most difficult part, as I see the process as a whole. From getting the design with all the measurements into the exact fit for the building, till getting up in the lift, spending long days in unexpected weather while pasting the paper on the stone walls.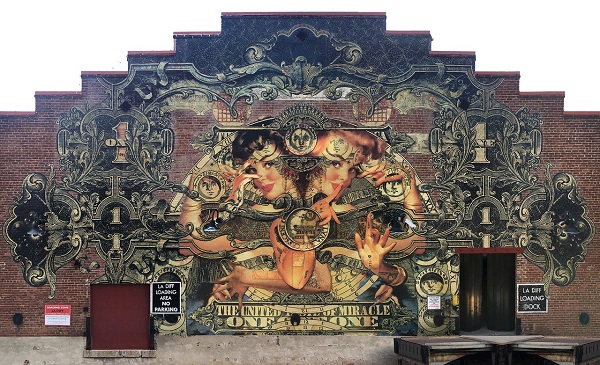 Apart from your upcoming solo show, what can we expect to see from you in the next year?
I will be working on new mural projects, a selection of group shows and I'd like to spend time to develop the VR Handiedan universe. This gives me so much energy and I am super excited to explore the boundaries of this new technique and looking very forward to share more with you!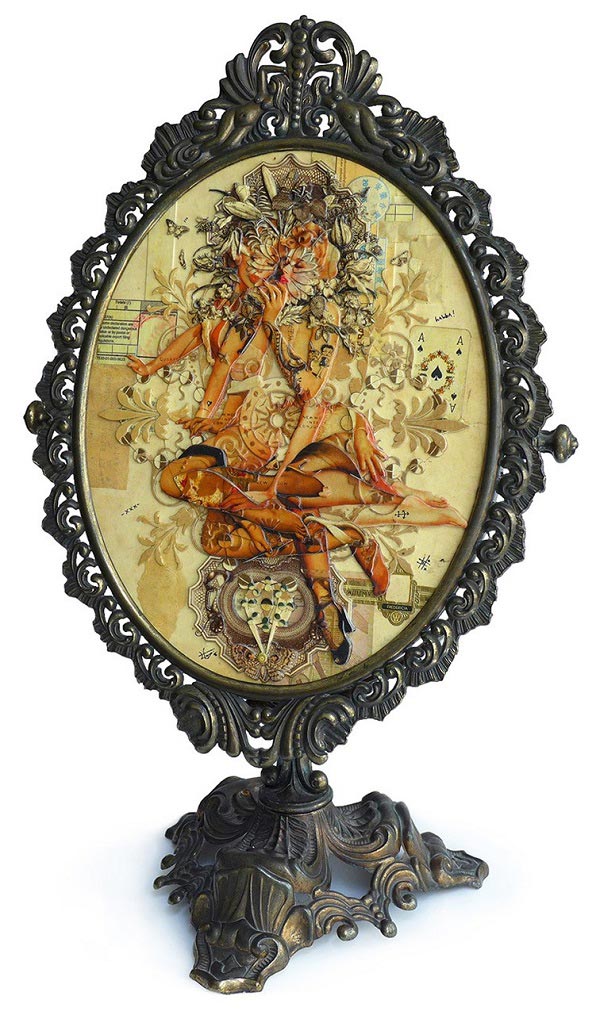 Save
Save
Save