With elegance and patience, Tenaya Sims brings forth Life from the depths of darkness, light, and history itself. In his first major gallery exhibition this Saturday, Tenaya Sims will be sharing a selection of works at Krab Jab Studio in Seattle, USA, which are the outcome of over two years of immersive creation.
Building on his time studying under Jeff Watts and Juliette Aristides, Tenaya has spent the last seven years developing his art school, The Georgetown Atelier, creating interactive workshops and teaching classical drawing and painting. With dedication and absolute finesse, he has continued to work on his own personal projects alongside his demanding day job. Tenaya's latest narrative series focuses on the female form within an array of mythological contexts. The results are mystifying. The size alone of his major oil paintings cause each piece to stand predominant in their own right; from the grand "Birth of Venus" to his strikingly sensuous "Semillas" – both standing at 8 feet tall – Tenaya is creating quite a name for himself in the art world. Exquisite details form new stories within each larger picture and are complimented in his latest show by a series of smaller artworks, marking his journey through unique portraits and new studies. Welcome to the Art of Tenaya Sims.
Krab Jab Studio has been creating a series of independent Artist Talks as a special way for audiences to connect more personally with the artist and gain a fuller understanding of the creator behind the art. Having proven extremely successful for previous shows, Krab Jab are once again adding to their Krab Jab Studio Presents series – Tenaya will be discussing his artistic processes alongside an exclusive first look at the solo exhibition itself. Refreshments will be provided, along with a chance to mingle with Tenaya Sims himself. Tickets are selling fast, so don't miss out.
Friday, June 10 | 7-9pm
$10 a person, $15 at the door – Tickets available at Stranger Tickets
Artist Reception:
Saturday, June 11 | 6-9pm – Artist Talk: 7.30pm
Exhibition Dates:
June 11 – July 3, 2016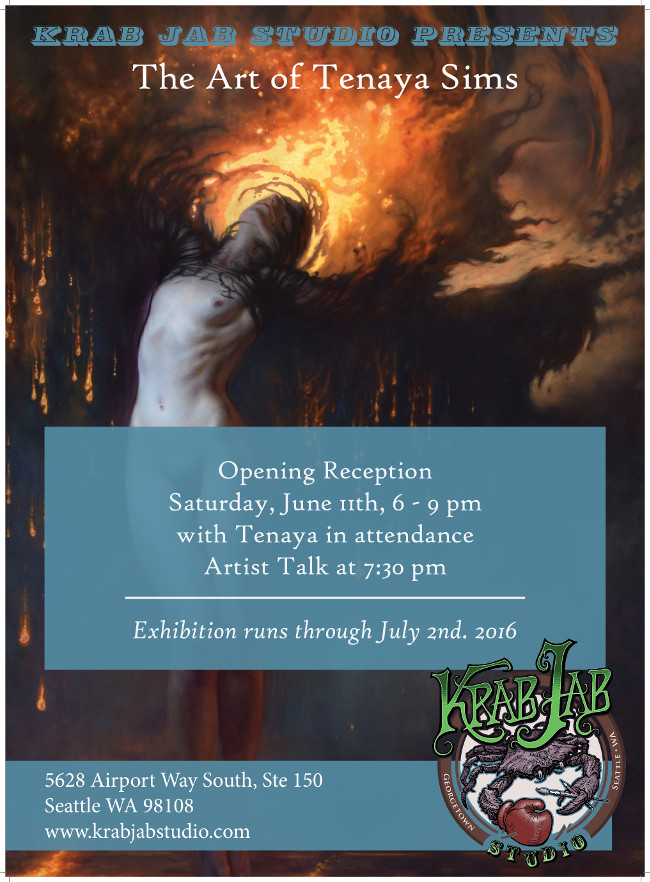 5628 Airport Way S, Ste 150, Seattle, WA  98108
Hours: Wednesday – Saturday, 1-6pm
"Catch him at the right time, and Tenaya will talk your ear off, and maybe even listen a bit to you as well. He likes to discuss how people are connected and how we get in each other's way. He likes to be challenged, despite the frustrations that usually ensue. He's happy to share the guidance… [and] happy to explain the systems and the process that he's developed, but the one thing he can't seem to talk about is the meaning behind his work. [Tenaya] has mentioned that there are times, sometimes years after it has been completed, that he begins to uncover the anthropology of one of his own works. Maybe the heart of the matter here is that Tenaya expresses himself visually. Attempts to verbally explain don't complement the work; they betray it.
All this is not to say that, in terms of subject matter, he creates on the fly. It's exactly the opposite; he investigates, often to the point of exhaustion. He deliberates intensively. But these internal juggles are instinctual rather than articulated. I myself tend to think of the artist as a vessel for creation, and I see this reflected in Tenaya. Knowing him well, you begin to see how his curiosity fuels his inspirations, and you also understand how it becomes a flood, often making direct influences impossible to identify. Maybe the work is new, but the story is old; the story being that the work speaks for itself." – The musings of Tenaya's partner, Kelly.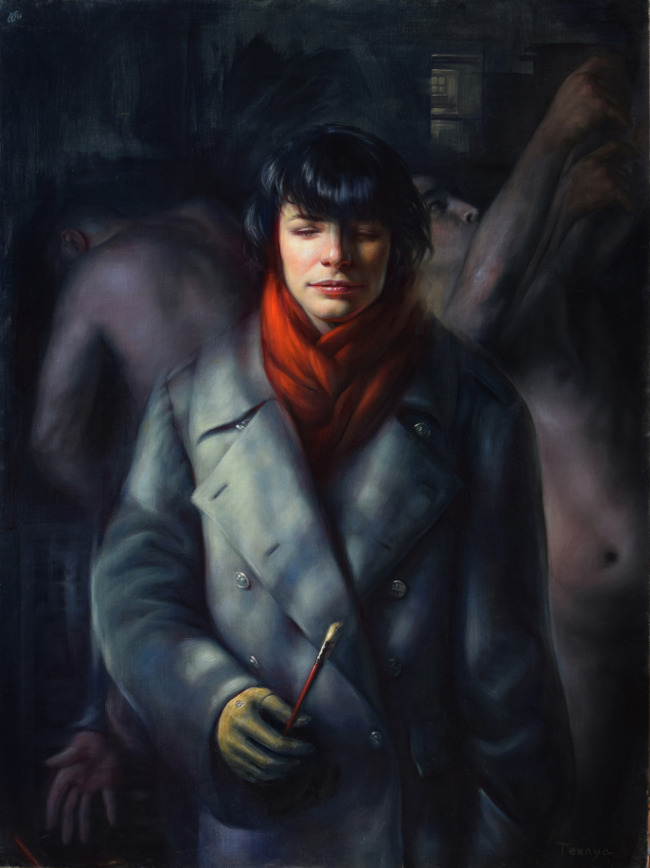 "Maquette", oil on panel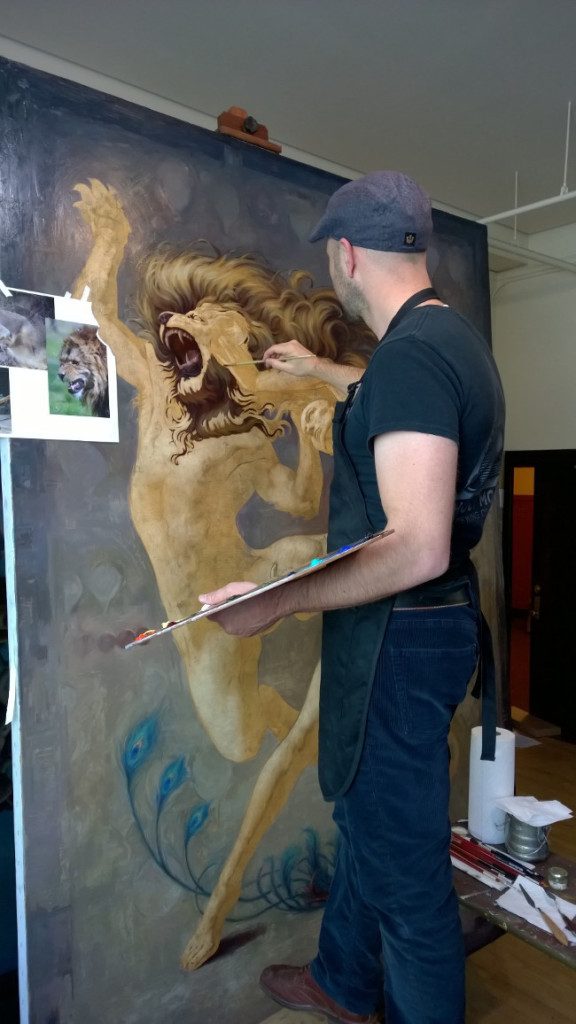 WIP I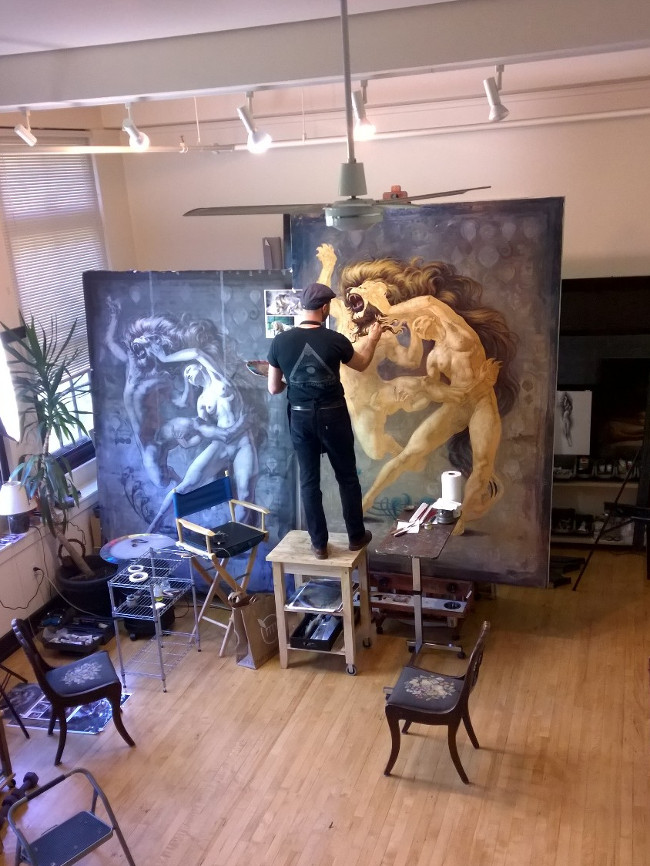 WIP II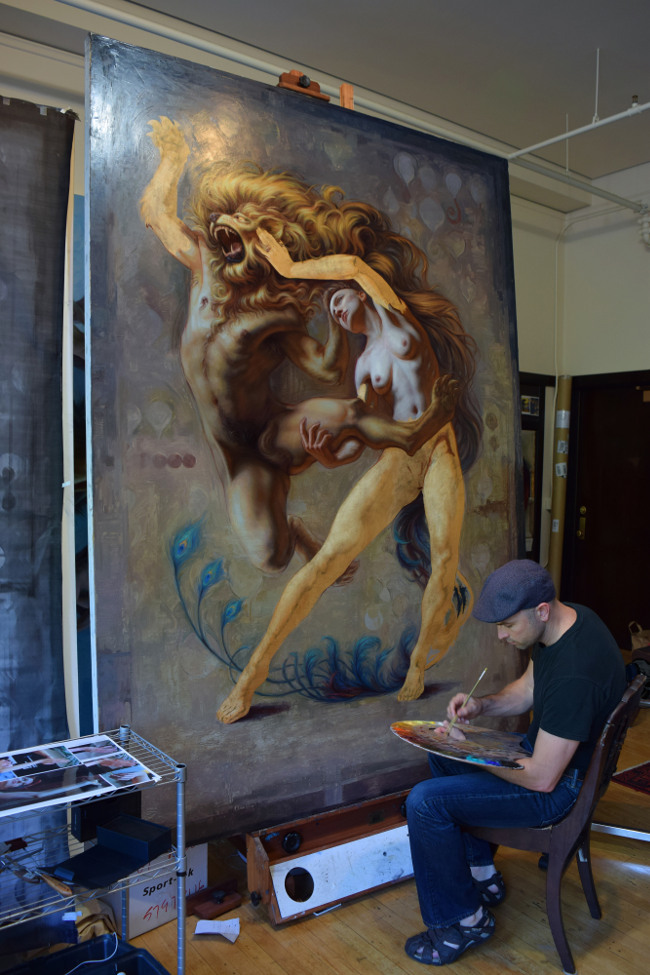 WIP III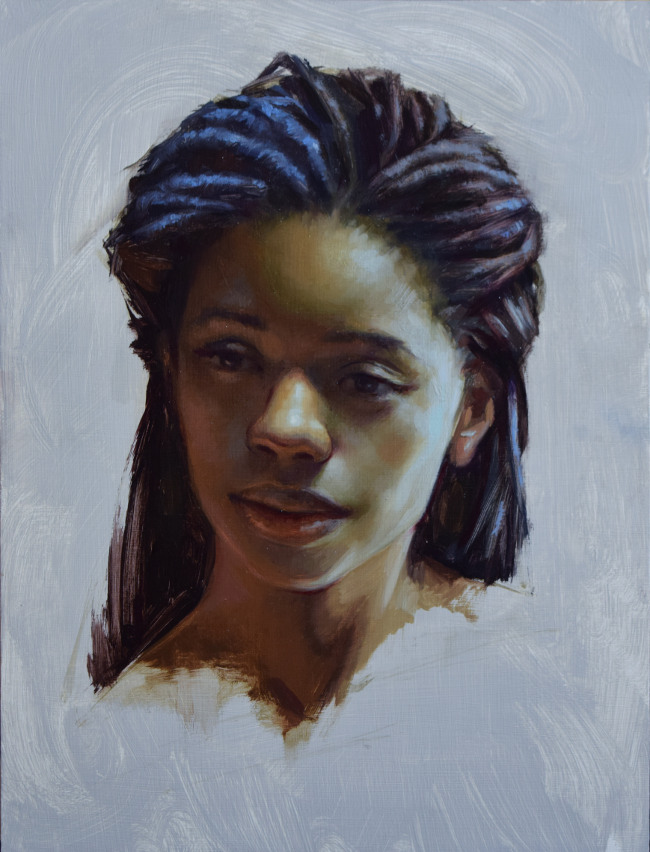 Sienne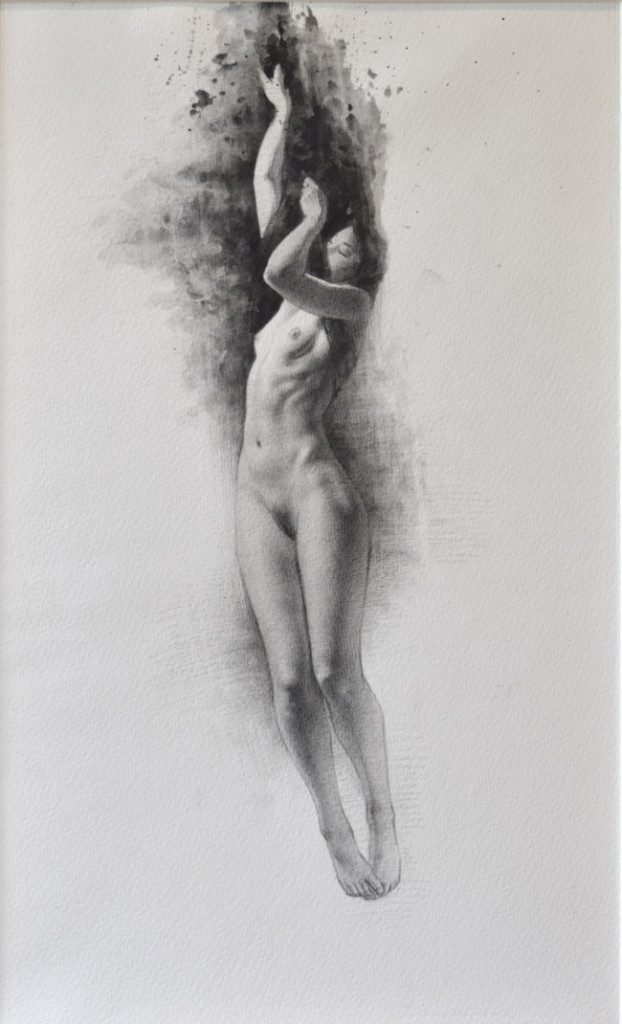 Figure Study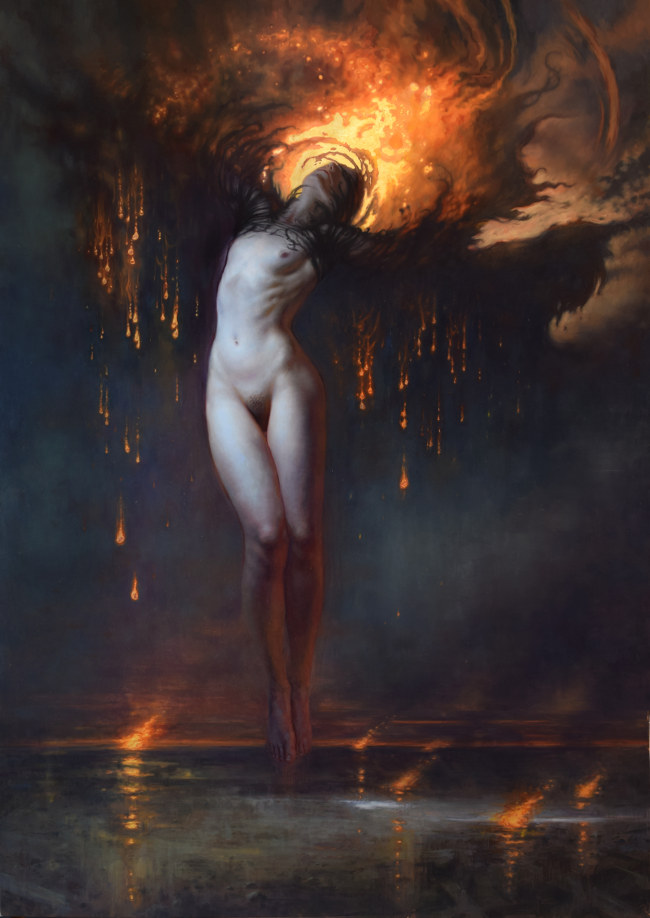 "Semillas", oil on panel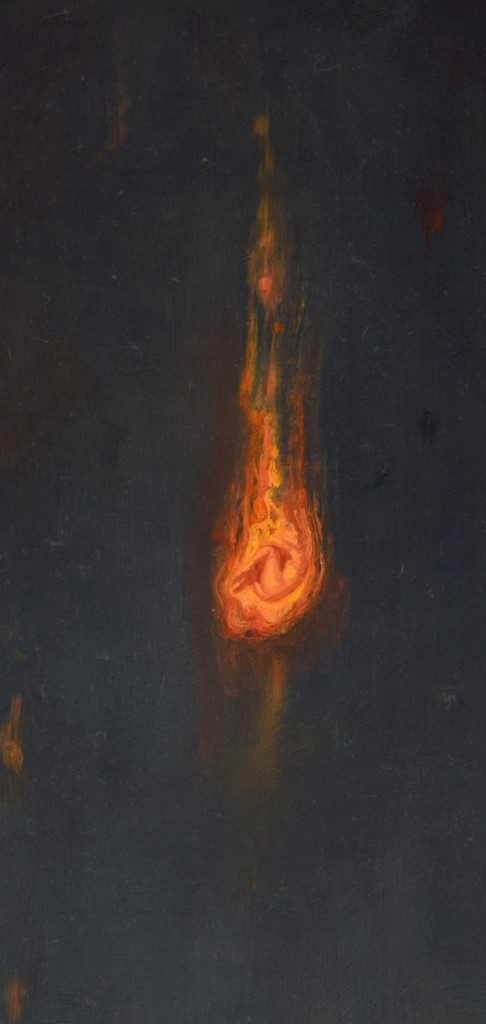 "Semillas" – close up detail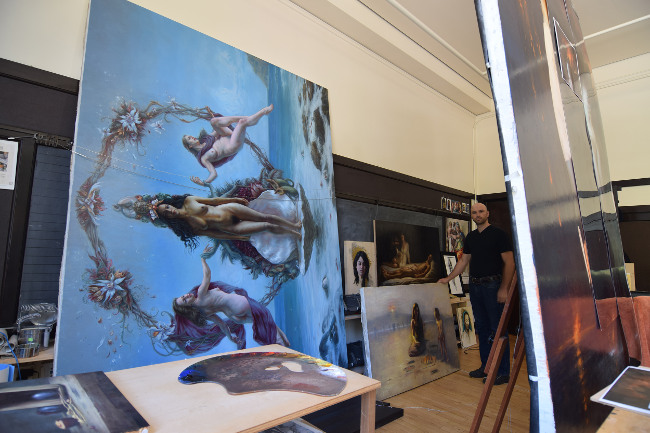 In the workshop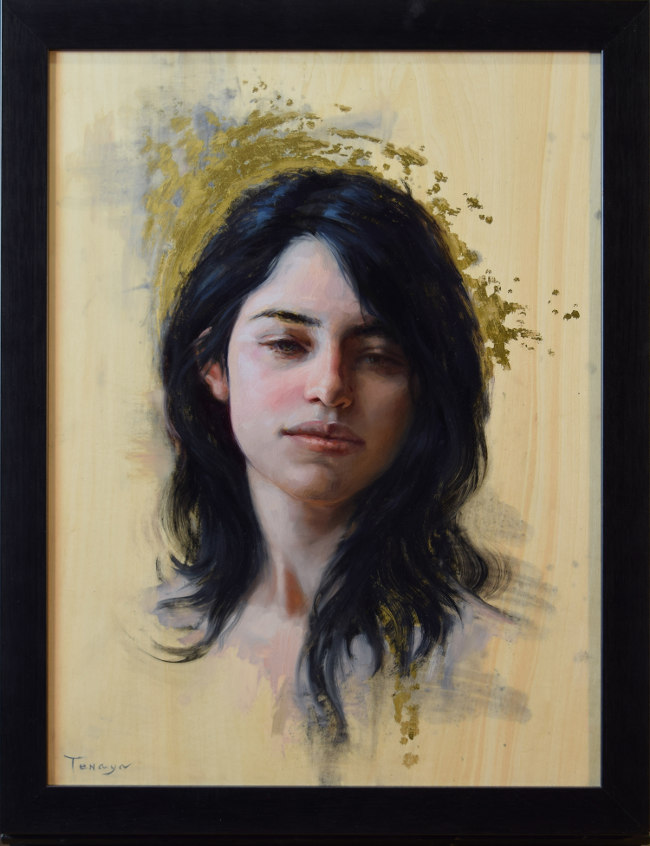 "Lysandra", oil and gold leaf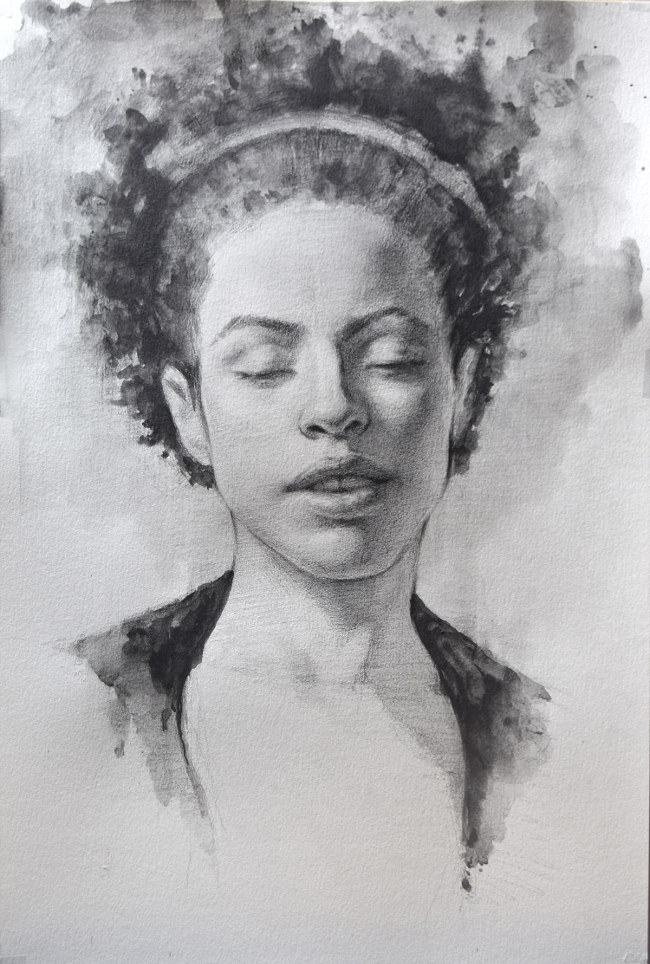 "Cameron" – watercolour and pencil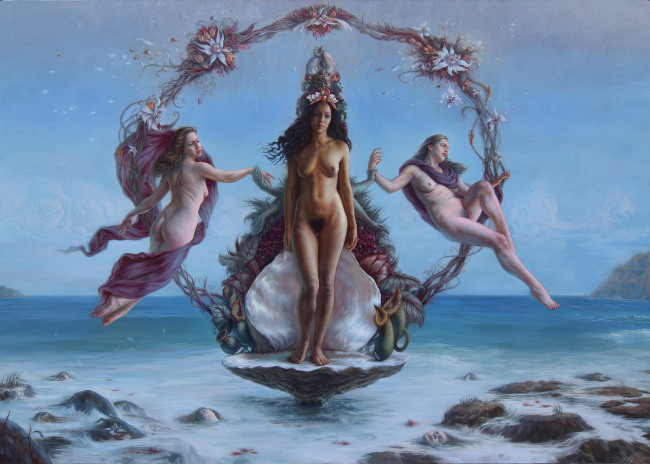 "Birth of Venus" – oil on panel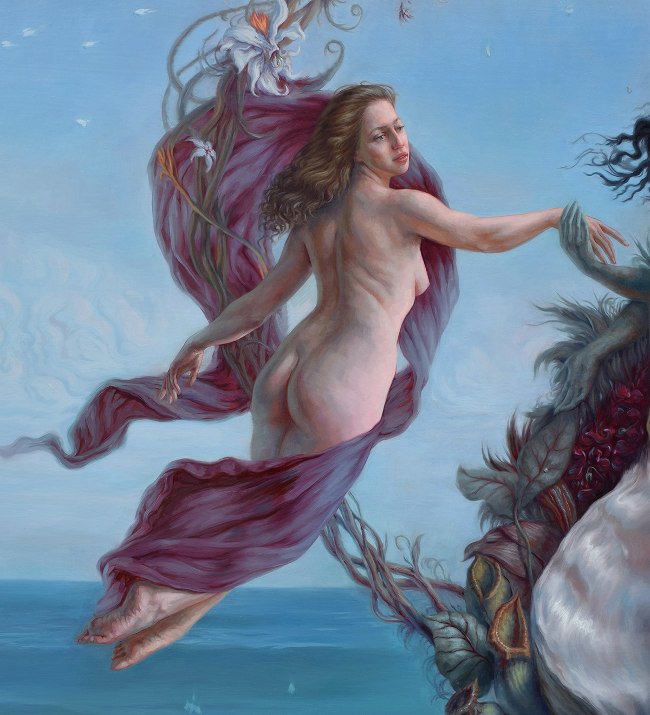 "Birth of Venus" – close up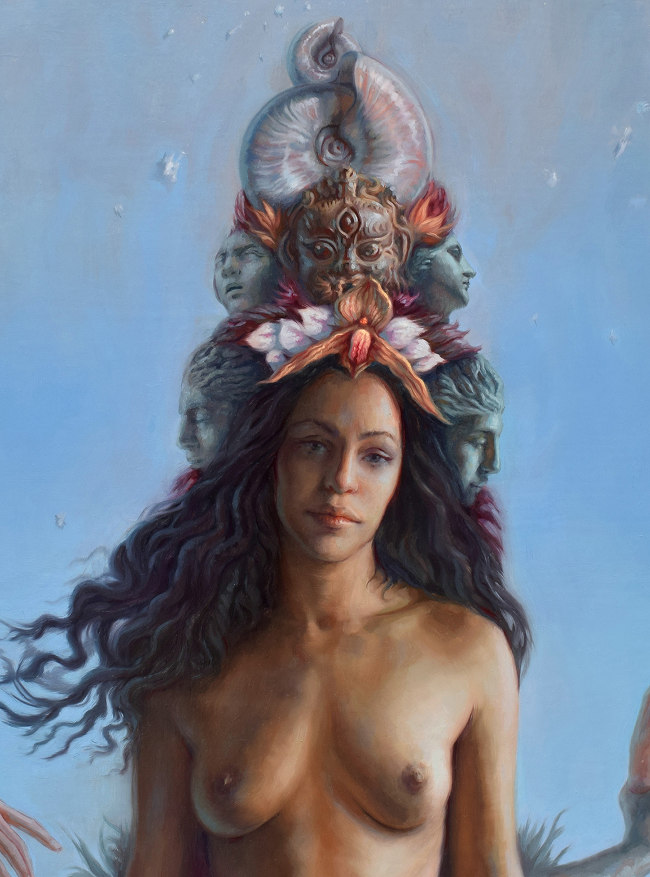 "Birth of Venus" – close up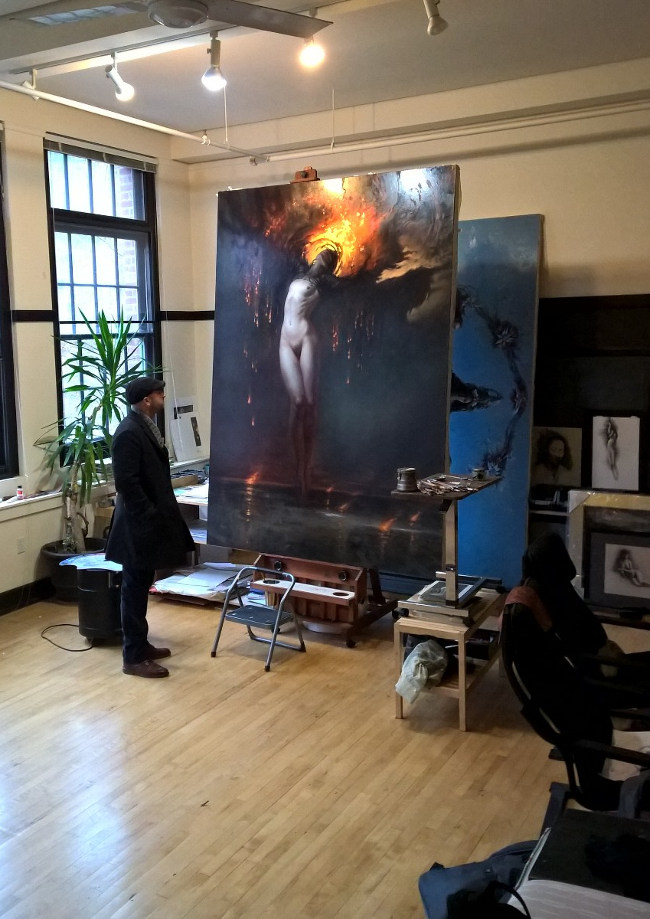 "Semillas" and Tenaya Sims
Save