Vanilla Gallery is pleased to present 'aestheticism' a group exhibition curated by Australian contemporary art magazine beautiful.bizarre's Co-founder and Editor-in-Chief, Danijela Krha. The show title refers to an in depth exploration of the beautiful.bizarre aesthetic, rendered through the use of different mediums, themes and materials.
The exhibition was conceived to celebrate these artists' unique way of expressing their imaginations by transfiguring reality. Apprehending the viewers' perception of beauty, these artists have conceived of a way of seeing and filtering beauty without labels or categories. 'aestheticism' will surprise and perhaps even astonish.
What is and isn't beautiful is a running subtext to 'aestheticism' – almost as a quiet reminder that perfection lies in the coexistence of opposites, that both beauty and ugliness, like night and day, play an important, interesting and intricate role in balancing human consciousness in the vastness of the universe. Vanilla Gallery and beautiful.bizarre seek to find a common language in this balance – and this aesthetic – and celebrate our intriguing and enlightened findings. The final result, rather than on paper or on canvas, will take form in the eyes of the beholder.
With this exhibition, both artists and curator aim to emphasize that everything considered to be beautiful oftentimes goes unnoticed because it's either undetectable or taken for granted. Life is defined by a certain flow of energy – heartbeats resonate in our ears from every corner of the globe. What we can hear, if we listen are many forms of beauty speaking to us, each joined by a common interest in exploring the art of making art.
"Beauty, like all other qualities presented to human experience, is relative; and the definition of it becomes unmeaning and useless in proportion to its abstractness." Walter Horatio Pater
Opening Reception: 5pm – 7pm | April 9th, 2016
Exhibition Dates: April 4th – April 23rd, 2016
Admission 500 yen

Exhibition rooms A and B
TOSEI Bld.B2F, 8-10-7
Ginza Chuo-ku Tokyo, 104-0061
Japan

For pricing and to enquire about any of the 60 works,
email Yoko at [email protected]
More details & regular updates at the
Facebook Event page Aestheticism // Vanilla Gallery // Tokyo Japan // 4 – 23 April 2016
Exhibiting Artists

Aran (Japan), Bella Harris (USA), Caitlin McCormack (USA), Ciou (France), Craww (United Kingdom), Dihaze (Ukraine), Freaks Circus (Japan), Garth Knight (Australia), Haruna Hijikata (Japan), Jel Ena (USA), Julie Filipenko (Israel), Kristin Shiraef (USA), Leslie Ann O'Dell (USA), Mandy Tsung (Canada), Maria Menshikova (Russia), Midori Hayashi (Japan), Mimi Scholz (Germany), Mira Nedyalkova (Bulgaria), Miu Vermillion (USA), Naoto Hattori (Japan), Nina Y (Ireland), ONEQ (Japan), Sam Ectoplasm (Canada), Shin Taga (Japan), ShirrStone Shelter Dolls (Russia), Tom Bagshaw (United Kingdom), Tomomi Sakuba (Japan), Tsubaki Torii (Japan), Yukiko Hayashi (Japan), Zoe Lacchei (Italy).
"It is such an incredible honour and pleasure to work Yoko from Vanilla Gallery, and with so many inspiring creatives from around the world and across multiple mediums to bring to you 'aestheticism' in Tokyo this April.
I'm particularly excited to have this opportunity to introduce exceptional new contemporary artists to the Japanese art scene and, conversely, to showcase Japanese artists to beautiful.bizarre fans and the international art market. Art should always be a reason for cultural exchange and should convey both meaning and purpose; we believe this exhibition accomplishes that ideal.
This exhibition also represents an opportunity for me to explore the beautiful.bizarre aesthetic while building around it an audience interested in investigating the multifaceted aspects of art-making. Driven by an irrepressible desire to not only mine this wonderful – sometimes dark, sometimes whimsical – realm in all its forms, the exhibition affords us the opportunity to bring to light art works and artists that deserve to be seen.
The artists I selected for this exhibition are incredibly creative and talented: their intense, psychologically-charged works, besides being technically impeccable, are conceived to replace verbal communication with a visual language capable of transcending the limits of ordinary communication. The theme 'aestheticism' allowed the artists an opportunity to explore the beautiful.bizarre aesthetic, to consider what represents beauty across cultures, continents and mediums. To explore both the culturally accepted notions of beauty and those dark hidden places inside our hearts that are drawn to the evocative darkness, to the odd things, to the macabre, and to the sharp and visceral moments of our experience." ~ Danijela Krha, Co-Founder & Editor-in-Chief, beautiful.bizarre
We are now delighted to reveal below just a small selection of the 60 works (two per artist) which will be on view at Vanilla Gallery from next week!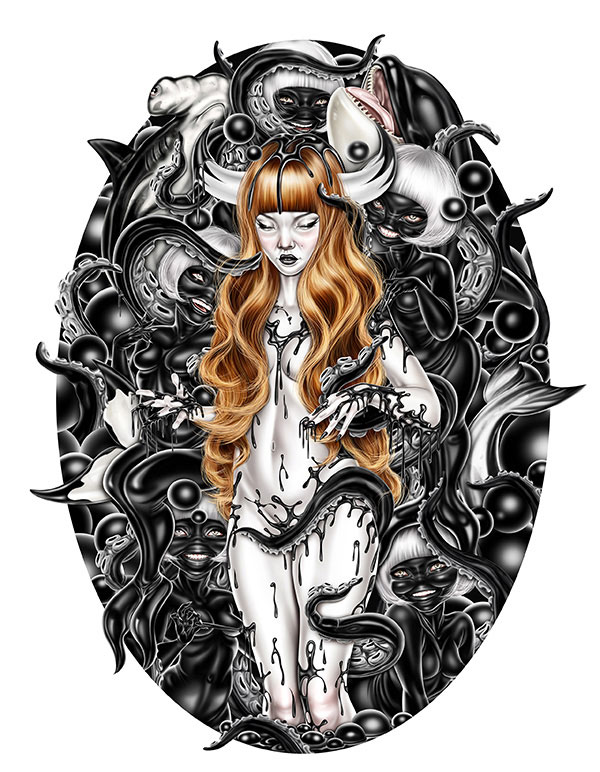 Mimi Scholz
Mizu-Ha-No-Me, 2016
Digital Painting, Edition 1 of 1.
Printed on 300 gr. Hahnemühle museum paper, UV light protected and acid free, 30 x 40 cm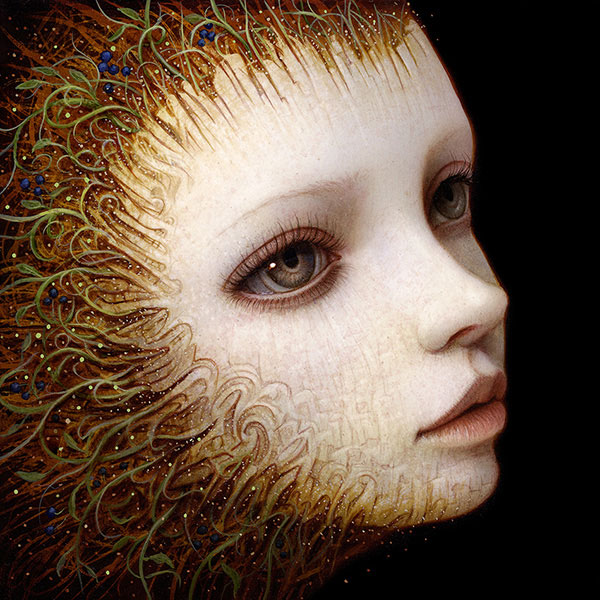 Naoto Hattori
Recollection, 034
Acrylic on board, 6 x 6″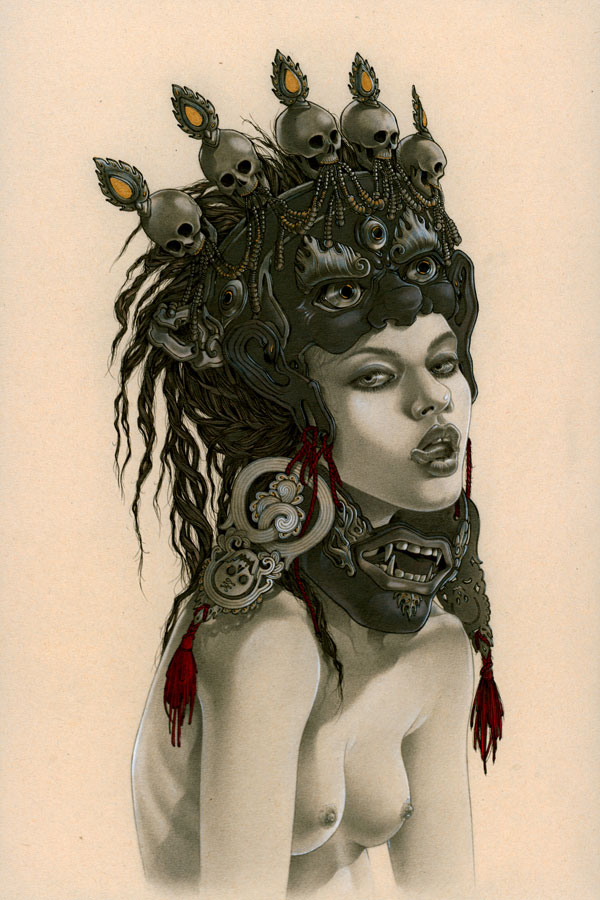 Zoe Lacchei
Dagiraz Girl, 2015
Mixed media on recycled paper, 20 x 30 cm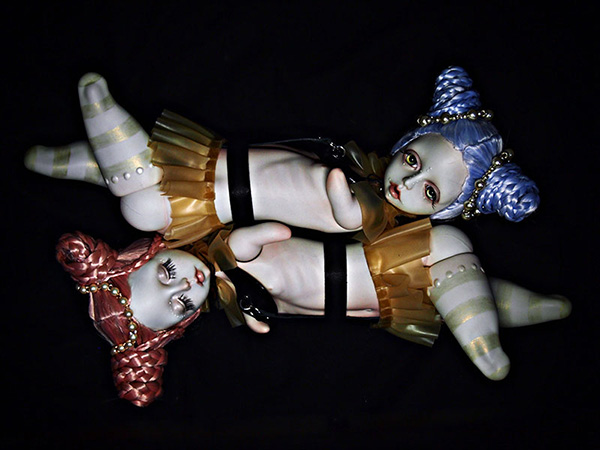 Freaks Circus
LUNACY Saku (eyes open) & Tsugomori (eyes closed), 2016
Handmade Ball Joint Dolls, Bisque, chemical fiber, glass eye, 40 cm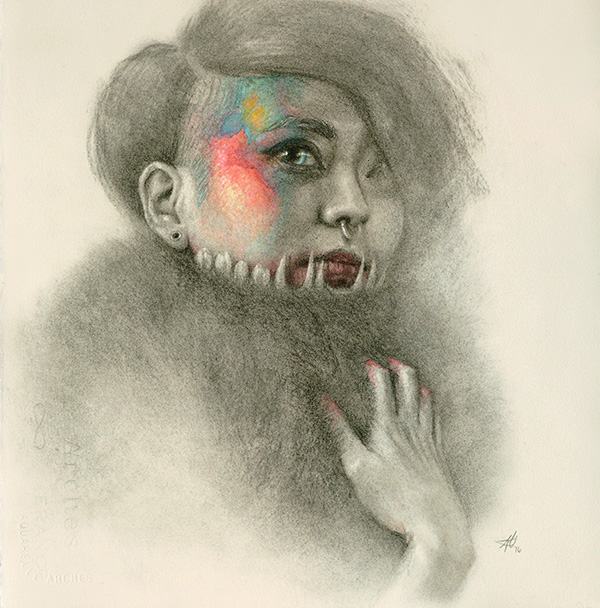 Mandy Tsung
Stratus, 2016
Watercolour, charcoal & graphite on 300 gsm Arches paper, 30 x 30cm
Garth Knight
Arachne 2 (Lee), 2016
Edition of 5. Type C print, 53 x 36 cm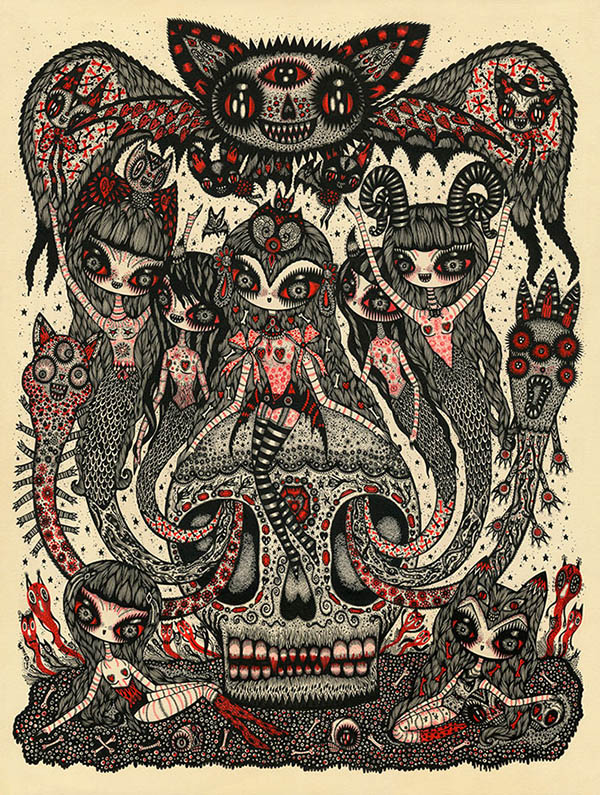 Ciou
Death Song, 2016
Ink on paper, 12 x 16″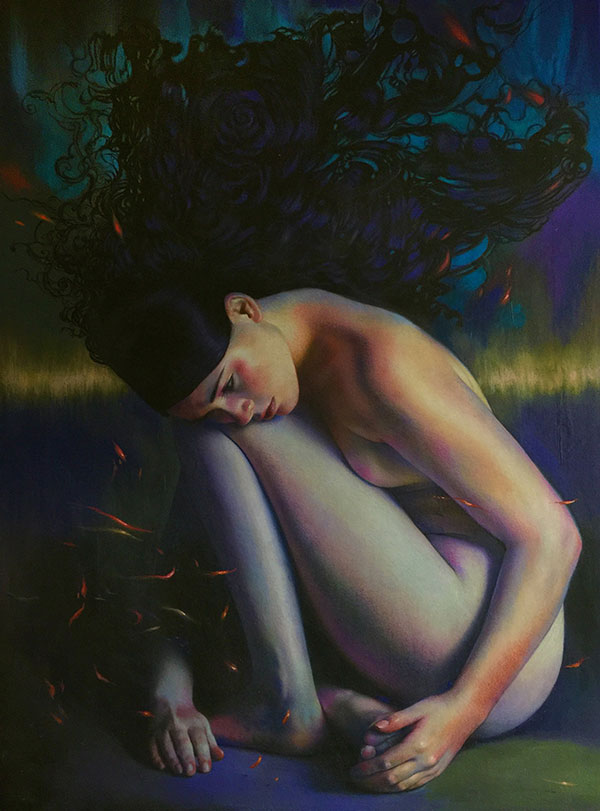 Jel Ena
Phoenix, 2016
Acrylic, watercolour, wax pastel, colour pencil on paper
mounted on board, 324 x 470 mm

ONEQ
SHINOBU, 2016
Mechanical pencil on sketchbook, 195 x 600 mm
Leslie Ann O'Dell
Saint, 2016
Digital. Limited Edition of 5. Velvet Rag 100% cotton, 20 x 20″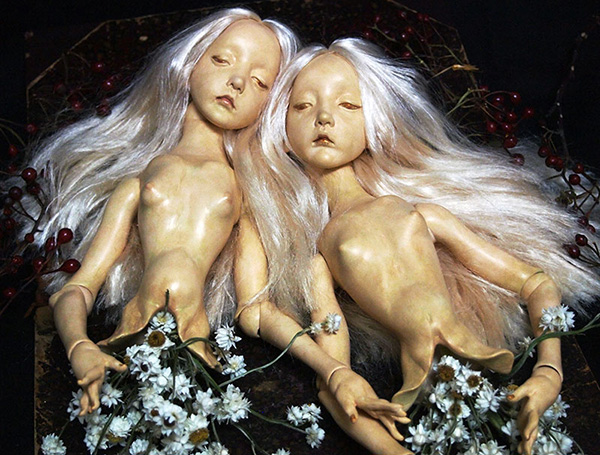 Hijikata Haruna
普遍の誓い A Universal Pledge, 2016 & 永遠の悲しみ Eternal Sorrow, 2016
Handmade Ball Joint Dolls. Clay, acrylic, oil, silk.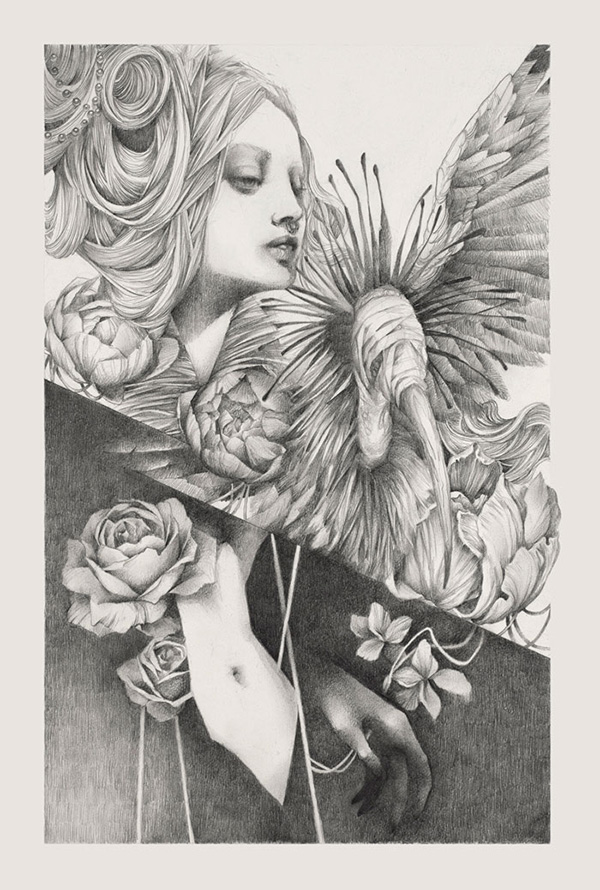 CRAWW
Venerate, 2015
Graphite on Fabriano paper, 56 x 39 cm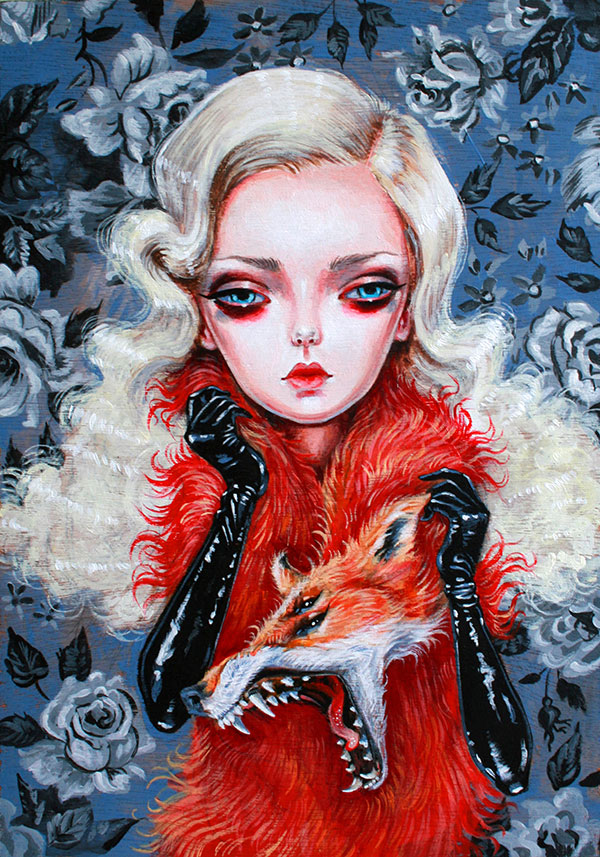 Julie Filipenko
Lovesick Lullaby, 2016
Acrylic on wooden panel, 21 x 30 cm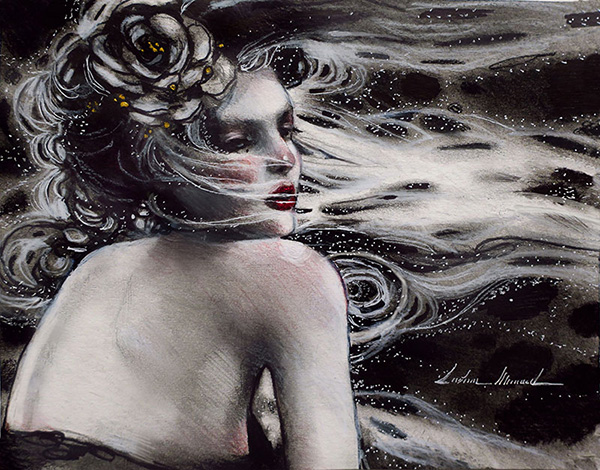 Kristin Shiraef
Last Glance, 2016
Mixed media on Hot Press Charcoal paper board, 8 x 10″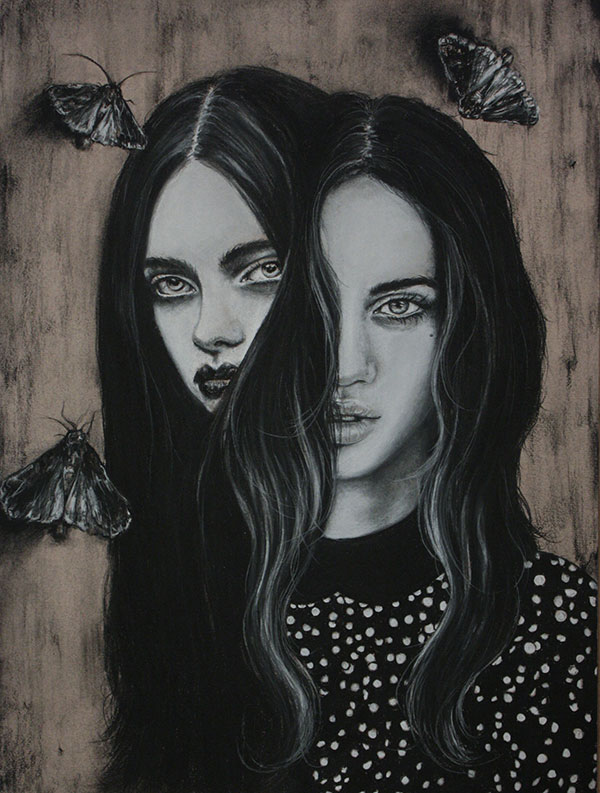 Bella Harris
Thornheart, 2016
Charcoal, graphite, carbon, and pastel on tinted paper, 12 x 16″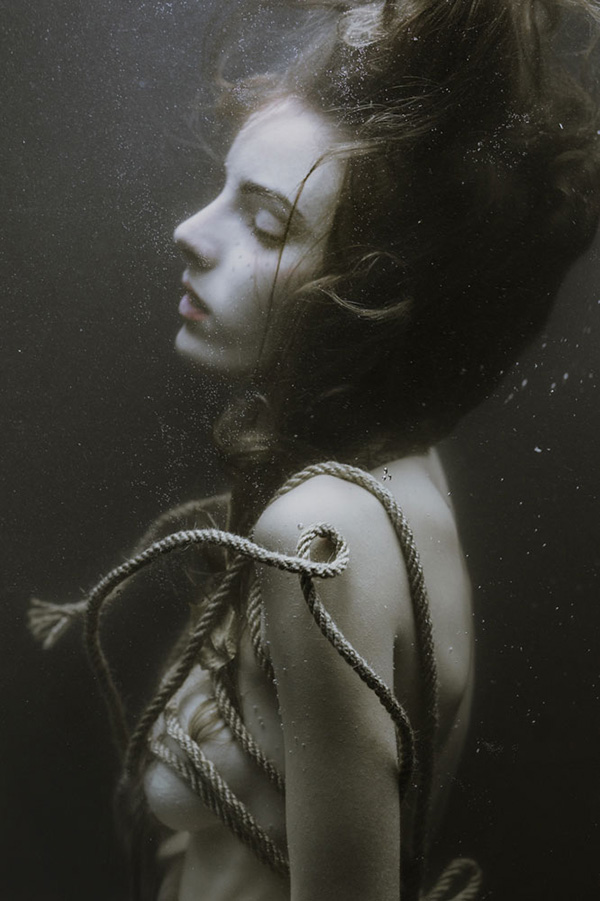 Mira Nedyalkova
Bitter Moon, 2015
Photograph printed on Paul Klee Fine Art paper, 35 x 43 cm. Limited edition 5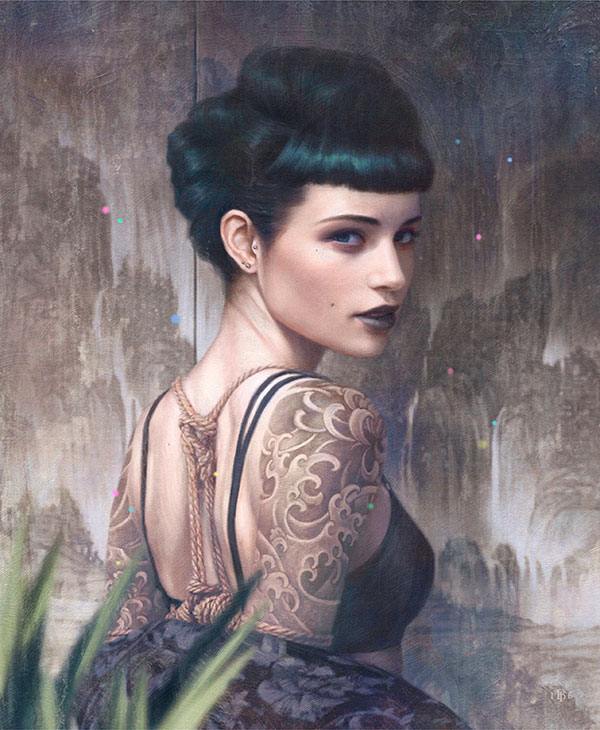 Tom Bagshaw
Deeper Water, 2016
Digital Painting. One off hand embellished print, mounted on board,
varnished and framed, 15 x 17″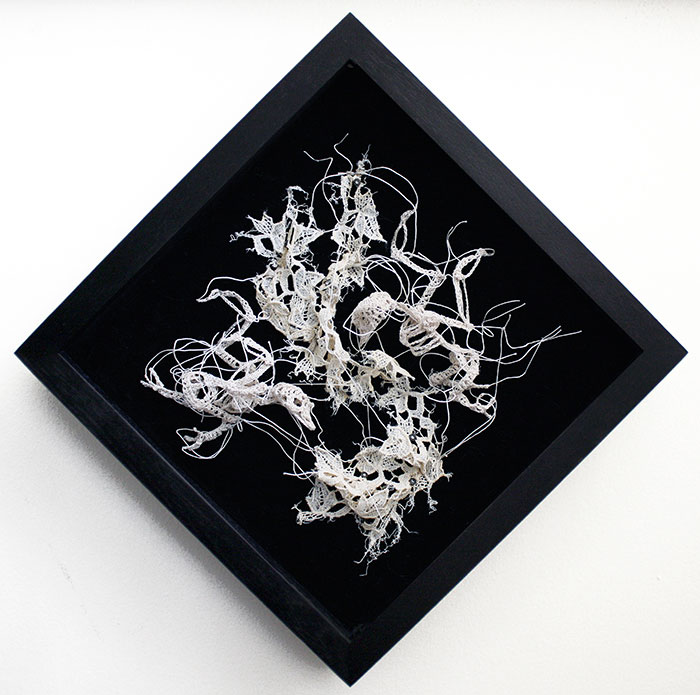 Caitlin McCormack
The Web in Her Nest, 2015
Crocheted cotton string, glue, velvet, steel pins, antique lace remnant, 11″ x 11″ x 2.25″ framed
Save
Save