Sensual. Mysterious. Intimate. Enchanting. This is the work of Mary Jane Ansell.
Ornate Venetian masks, military costumes adorned with gold epaulettes, and baroque details echoing throughout portrayals of love, loss, friendship and rivalry. With an aristocratic temperament, exuding the relationship between feminine wiles and masculinity, each distinctive portrait voices a language open to interpretation.
There is an exhilarating, slightly surreal, sensation that rushes through my veins when it comes to interviewing an artist I hold in high regard.  That feeling was far from lost when I had the honor to speak with Mary Jane Ansell for her feature in the beautiful.bizarre December Issue 011, now available in print and digital download in our online shop.
Delving deep beyond the traditional 'Artist Statement', I discovered personal aspects of her life and work that I may never have known otherwise.
Image credit Bella Harris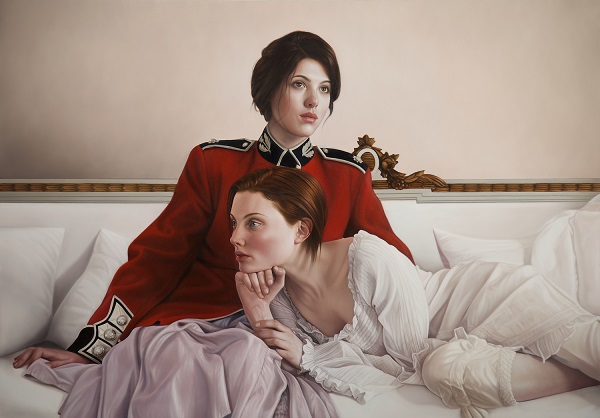 Nice to meet you…
Was there anything from your upbringing that you feel led to this creative journey?
My grandmother was an artist. She studied at the Slade School of Art in the early part of the 19th century, in an age when it was still relatively unusual for women to study art. I'm lucky in that I've come from a family that has always supported my choice to follow a career as a painter. Although I didn't get to see much of her work until after she died, she had at one point, worked as a portrait painter and later as an illustrator producing work that was uncannily similar to my own early work at school.
How old were you when you began drawing and painting?
It started as early as I can remember! I have very early memories of creating little scenes and stories to go with them. Later, when I could hold scissors, I would cut them out so that I could animate them for my parents and then at primary school, I can remember how nice it was to entertain the other kids with those stories!
We all start somewhere. What 'jobs' did you have before becoming a professional artist? Worst job ever?
I worked throughout college at various jobs, waitressing and bar work, anything to pay my way through my degree.  After I graduated, the world of illustration fundamentally changed as computers and computer-generated images took over the industry.  I had realized during my degree that I did not really want to be an illustrator. I had begun painting portraits and figurative paintings in my second year and spent more and more time in the life drawing room so my work was changing at that time anyway.  While focusing on producing a new body of work, I also retrained myself to make the most of evolving the digital revolution, and started to work as a digital animator and took on freelance design work to fund my painting until about 2003/2004 when I had enough commissions coming in and was selling enough work to be able to paint full time.
My worst job ever, and I have had a few, was probably the time at college that the only job I could find was working in a burger bar despite having been vegetarian for eight years. That was tough!
Getting personal… 
What is life like at home, outside of the art studio? What are your hobbies and other interests?
I love music so I go to shows and to the theatre as much as possible. I don't tend to watch too much television but love films. We have a great art house cinema just around the corner. We are so close to a huge amount of little independent venues, and London is only a short train ride away so there is so much really on our doorstep. But I also love getting out into the countryside or down to the seafront to just walk around and explore… it helps me process ideas and relax.
I share my home with my partner Richard, a musician, and our two cats Eva and Milo. We're actually in the process of moving to Devon to a much bigger place with more room to work. I'm looking forward to finding a new routine soon.
If you created a portrait in your own resemblance, what would she look like?
Somewhere between 'Liberty Leading The People' and 'Whistlers Mother'. Seriously, I used to paint myself a lot and found it an incredibly effective way to learn how to capture a likeness and then how to develop a narrative around one character.
Favorite movie?
Too many to mention! It completely depends on my mood. My ideal Sunday afternoon would probably be watching a classic Hitchcock…maybe 'Rear Window' or a 'Cat on Hot Tin Roof' with Paul Newman and Elizabeth Taylor, or something by Jean Jeunet, Luc Besson or Wes Anderson.
Guilty pleasures?
If they were that guilty, I probably would not describe them here! Maybe watching cookery programs in the bath. However, that's more multitasking than a guilty pleasure.
Pets?
I have to have my cats nearby me in the studio. One sleeps under the easel but the other is going through a phase of 'trying to balance on top of my easel', which is pretty disconcerting to say the least!
Inside to the studio…
What would you say is your artistic ethos?
To make sure that it is yourself that you are trying to impress, to keep trying to improve with each piece, and to stretch yourself beyond what you thought you were capable like of doing.
What has been the most challenging piece you have worked on to date?
A portrait I did of my father, exhibited at the BP portrait award in 2013, was challenging for several reasons. Firstly, because technically it was incredibly intricate to capture all the aspects of the tiny wave of the check jacket he was wearing. I could see that pattern in my sleep for days if not weeks! Also, because it isn't until you paint each millimeter of your parent's face that you realize how many memories are entwined into each one.
You begin with a charcoal sketch then develop a monochrome Grisaille underpainting until you're ready to build color. When and why did you begin using this technique?
I've always loved Ingres and when I saw his Grisaille for La Grande Odalisque around 2005. I was fascinated by the idea of trying that process and I found it gave me a way to create the eggshell smooth texture that I love to see in the paint surface along with a much more delicate muted pallet and way to build up intricate detail. It creates a foundation under the paint layers that's impossible to recreate in any other way. More recently, I have wanted to bring more colour and drama and work on a larger scale so I have been working the underpainting layers less as my palette changes.
How many paintings do you work on at a time when you are not preparing for an exhibition?
It's actually been several years since I've had a period of time when I wasn't preparing for an exhibition, but I've always liked to work on at least 4 or 5 pieces at a time. It stops me from focusing too much on any one piece and distorting any problems out of proportion. It also keeps me productive, and I like the way it allows me to apply the lessons I'm learning into one piece quickly over to another.
Why oil on aluminum panel?
In 2004, I was commissioned to paint a portrait for a family living in Burma where the humidity was 85 percent. I needed to find a painting support that could resist being damaged by those levels of humidity, so I spoke with the conservation department at the Tate, who regularly use aluminum composite panel to mount their photographic collection because it so stable and archival. I initially mounted linen on the panels but soon found I really enjoyed working on it without  the linen.
Because readers love the specifics… what is your go-to brand of oil paint? Glaze? Varnish?
I use a combination of oil paint brands including Old Holland, M Graham, Gamblin, and Michael Harding. They each produce specific colours that I prefer. Over the years, I have amassed a huge collection of different brands but those are my favorites. I really like the range of glaze and mediums that Gamblin produces, as an inveterate experimenter I love that you can mix each of them together to adapt them to your own preference much of which avoids solvents that react very badly to turpentine.
Do you have any studio rituals?
Starting with coffee, I listen to radio six pretty much all day but I have an almost Pavlovian response to listening to the previous night's episode of the Archers as I lay out my palette and get ready to start work.
Events & Exhibitions…
So far, what has been your most memorable career milestone?
I think probably the feeling I had on leaving my London Gallery having just hung my first solo show in 2006. I remember walking in the sunshine, having not slept for two days, exhausted but oddly quiet and deeply satisfied. I think those are rare moments so I really appreciate the memory of that still.
Your career flourishes, but even the most successful have dreams they hope to accomplish. What's one of yours?
There are many things I'd like to achieve! Actually, I'm in the process of trying to achieve something in my practice that I've been working towards for a long time, which is to work with less influence from outside in terms of current commitments and deadlines. Sometimes, it's incredibly useful to have the focus of working towards a show. It can also make it more difficult to freely experiment with new directions.  Moving to a new home and studio in rural Devon, where I have a huge amount of space, peace and quiet, and a bunch of ideas for paintings before my next show is an exciting prospect.
Follow Mary Jane Ansell
Twitter | Instagram | Facebook