Brad Kunkle is a Brooklyn based traditional and mixed media artist who composes romanticised settings of a spiritual or ritualistic nature. Brad uses oil on canvas to create the majority of his artworks, which are then further embellished with gold and silver leaf. The leaf is masterfully worked onto the artwork to not only enhance the voice of the artwork itself, but also to imbue the artwork with an almost magical essence which is transformed through the intelligent use of light and also the viewer's perspective relative to the artwork itself, the leaf shifting and glittering in the light as the viewer experiences the artwork from various angles.
This technique brings the focus from the painting itself to the viewer and their experience of the artwork. The focus on the experience of the viewer is a technique common to great surrealist artists, which Kunkle has incorporated intelligently into his abstract realism perspective of traditional oil painting. Other inspirations are more easily recognised in the artist's works, from the use of a narrow palette nodding to French Grisaille , through to the strong connection between the use of light reflective leaf and old silvery Daguerreotypes.
Kunkle's works evoke a sense of nature and energy moving through the scene often surrounding and enveloping a gentle and feminine subject in a dream-like narrative of nature and beauty. This energy is further enhanced through the use of leaf and the play of light, creating a tangible movement and liveliness to the scene.
Brad's 3rd solo exhibition at the beautiful Arcadia Contemporary gallery is open this week from the 11th of December. For more of Brad's intriguingly beautiful works, and information on upcoming exhibitions please visit his Facebook page or website.
Brad Kunkle
The Belonging
11 – 28 December 2014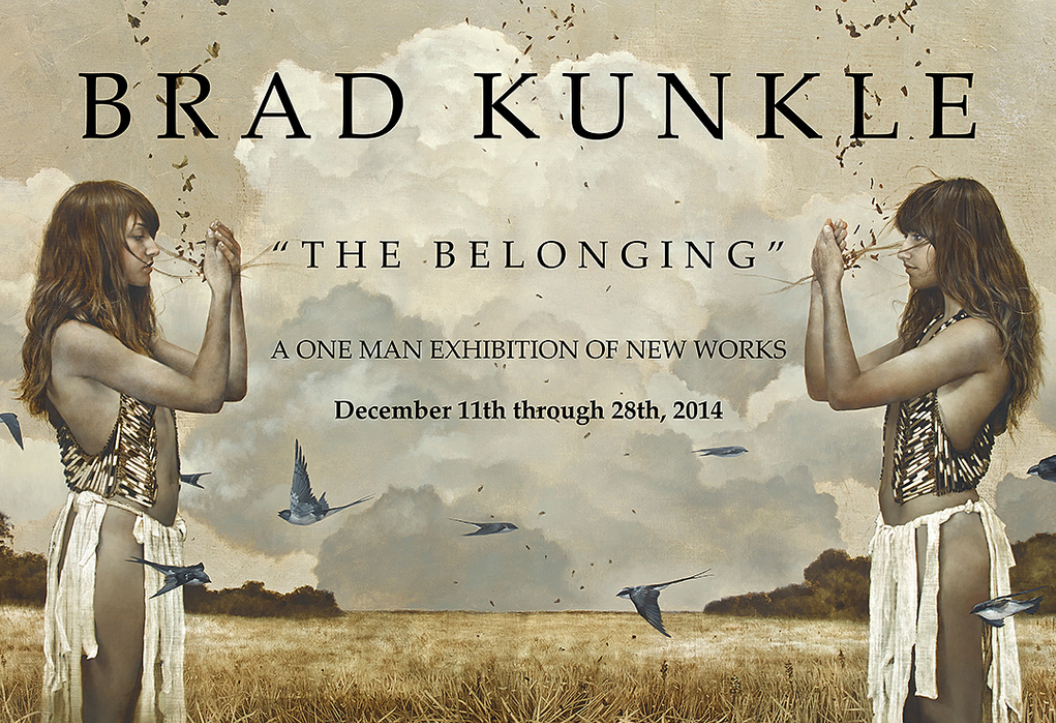 51 Greene Street
New York, New York 10013