Future Gallery has become an influential artistic core in Lake Orion, Michigan, bringing together a host of delights to take you into new realms of surrealism and beauty. Their mission? To bring a better understanding and conversation on the current era of Art Culture while creating a voice for local artists – and boy, are they succeeding!
In their latest curatorial adventure, the gallery opens its doors this Saturday, June 23, to three very special exhibitions: "Chromagenesis" by Aja Trier, the long-awaited duel feature "Himitsu", a collaboration between Yishu Wang & Margaret Morales; and Future Gallery's group show "Mythos", back by popular demand. This enticing selection of artworks promises to have something for everyone – there's never been a better time to visit!
Aja Trier's "Chromagenesis" | Yishu Wang & Margaret Morales' "Himitsu" | "Mythos" group show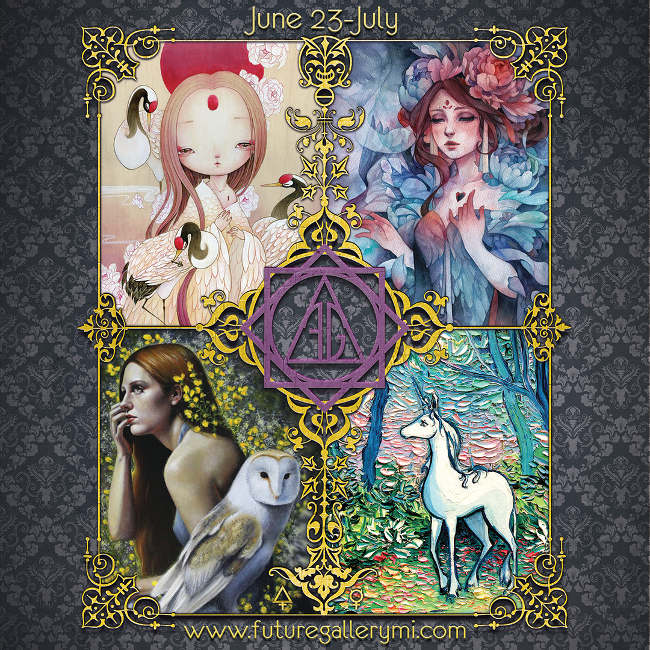 Future Gallery
16 N Broadway St, Lake Orion, Michigan, USA
Opening Reception:
June 23, 2018 | 8pm
Exhibition Dates:
June 23 – July 2018
Online Sales:
June 24 |  Noon EST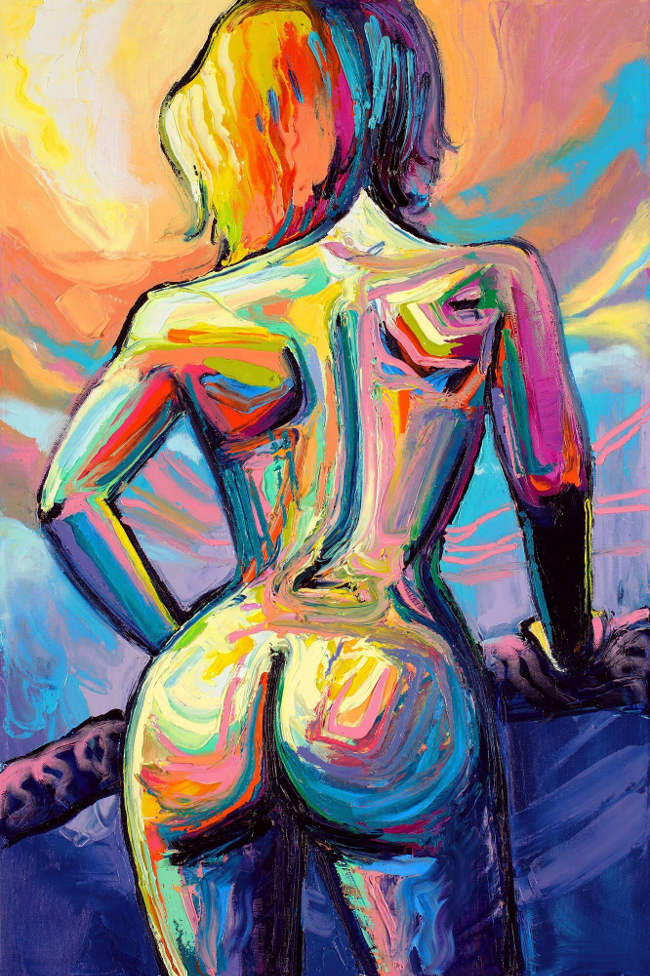 Aja Trier – Horizons
Earlier this week, I had an impromptu interview with Aja Trier to celebrate her solo show at Future Gallery and find out more about Chromagenesis:
Hi Aja! Thanks for chatting – the pieces for Chromagenesis look amazing! So, how long have you been working on the pieces for the show? 
For about 6 months now. It went by so fast!
Are there any particular themes being explored in your latest solo show?
The work is about colour and texture and movement. There's nothing heavy about these pieces. I want the viewer to get lost in the paint to the point where they swear they can feel it. Every single piece in the collection, except perhaps the Princess Mononoke piece, is light hearted. I hope the viewer engages on another level with the work because of the textural qualities of the paint and the highly saturated hues used. There is no deep message in these works – it is all about escape. I am not looking to challenge the viewer with this series of works. It's about being able to look at a piece of art and forget about the world that exists outside of it for even a moment.
You're known for your highly textured mixed media pieces; what was the journey like discovering the ways different mediums react together? Do you have a favourite medium?
I remember way back when I first started painting, brushes just weren't doing it for me, and I stole my partner's spatula from the kitchen and starting laying on blobs of thick paint to the canvas. I've always enjoyed the visceral nature of paint application, be it via a palette knife, pouring on, or that trusty spatula. I've always liked pushing chosen mediums as far as they could go, laying on paint as thickly as possible and then lightly gliding a transparent hue over top in a dance without creating a muddy mess. In college I discovered testors enamels – the kind of paint used on model cars – and poured them on mirrors over and over and over. Later on I tried spray paint, spraying entire cans onto canvas and mixing it around using gravity. Over time I have played with all of these together and added resin and then glitter. It's all about exploration. Sometimes it works; sometimes it is a disaster – but each experiment leads to understanding.
As for a favourite – oil paint is an old friend. A friend I know extremely well. Resin and glitter and alcohol inks are newcomers – party animals who lure me out quite often that I make huge, satisfying messes with.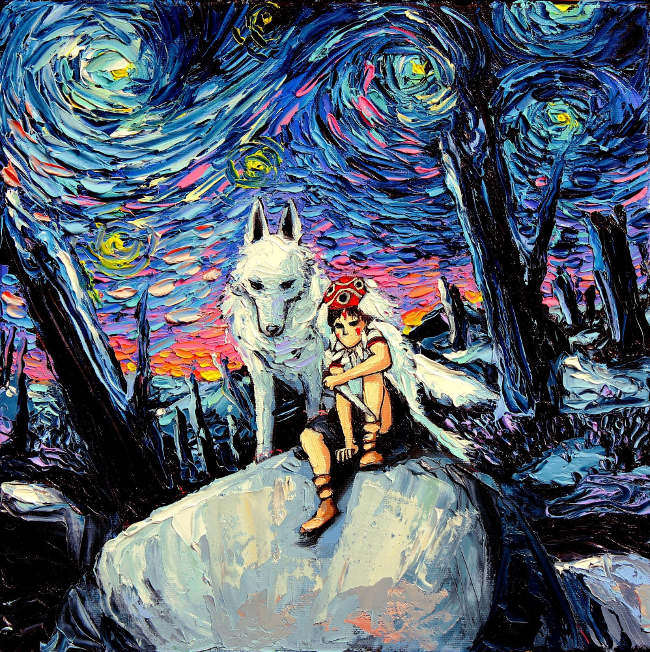 Aja Trier – Van Gogh Never Met The Princess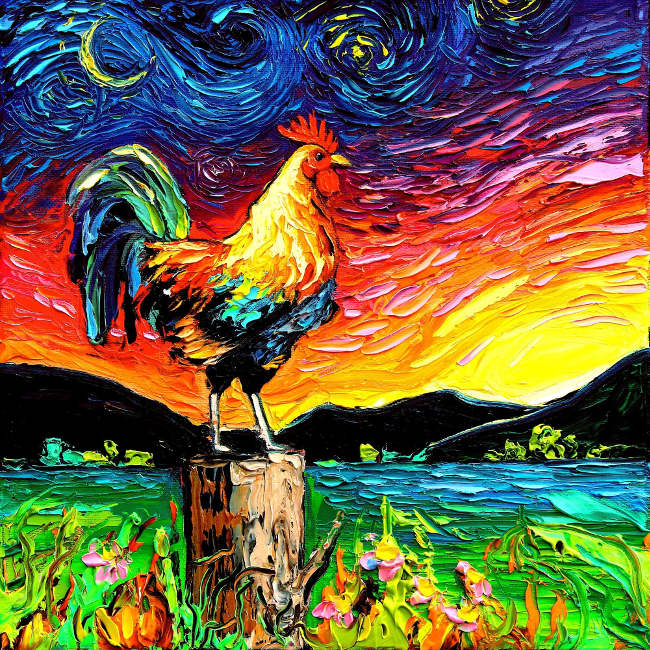 Aja Trier – Starry Starry Morning
On your website, you share some of your influences including Susan Rothenberg, Audrey Kawasaki and Vincent van Gogh.  Are there any muses that audiences may find surprising?
I am a huge collector (like, to the point of being damn near obsessive) and own over 50 originals displayed all over my house from such art heroes as Jeff Soto, Kelsey Beckett, Hikari Shimoda, Tran Nguyen, Amy Sol, Sarah Joncas, Charlie Immer, Stellla Im Hultberg, and Redd Walitzki among others. I don't own any prints – just originals. I feel like there's an aura to each original piece. I don't necessarily think this is surprising, but being surrounded by these artworks on a daily basis breathes inspiration into my very existence. I can only hope my work does the same for others!
Can you share a bit about your process when designing and creating a new piece?
Pieces always come at a whim in terms of conception – I come across reference material that speaks to me and I design the piece around it. It's funny – each style of my work comes about in exactly the opposite way. The oil paintings in "Chromagenesis", and all of my oil paintings, start with references that are laid out before hand, then colors are laid down in acrylic, and finally I use the palette knife and thick paint in sort of frenzied manner. It goes from really precise to really chaotic throughout the process to the finish.
The mixed media pieces are super chaotic in the beginning to lay down a background, and then the reference is fleshed out and the process gets more and more precise until completion. I like the duality of this – it really depends on the mood I am in initially on what sort of medium I am going to use, because the medium dictates the process.
What would you say is your favourite thing about creating a new painting?
The possibilities. Each new piece is a moment for me to surprise myself, and I really enjoy that uncertainty.
Is there anything in particular that we should look out for in your pieces exhibiting in Chromagenesis?
Juicy paint and bold colour. These works are so thickly painted the oil pops off the canvas in peaks and valleys that have to be seen in person to be truly appreciated!
As far as any interesting stories, the Unicorn pieces are part of an ongoing tribute mini-series of works dedicated to my favorite movie when I was a child, The Last Unicorn. The backgrounds in that movie were simply amazing to me as a child – everything looked so dreamy and the colors used in each stage of the movie consciously sought to emphasize the mood of each scene. I found the whole presentation to be a work of art and it was one of the first things I can remember drawing inspiration from as a child creating my own work. When I released my first few pieces in the series, the official Last Unicorn page on Facebook approved my work and promoted it, which was such an honor to me, that they appreciated my work in even half as much a way as I did the artists who created some of my favorite imagery from my childhood.
What is it like working with Dave and the Future Gallery gang?
They are a super cool group of folks dedicated to the success of the artists they represent!
________________________________________________________________________________
To find out more details and see the full pieces for sale from the "Chromagenesis" solo show, "Himitsu" duel feature and "Mythos" group show, be sure to contact Future Gallery via their website. The full list of available pieces will go live on the Future Gallery store on June 24th at noon EST.
Edit: Aja Trier's featured paintings were updated on this article on 21.06.2018.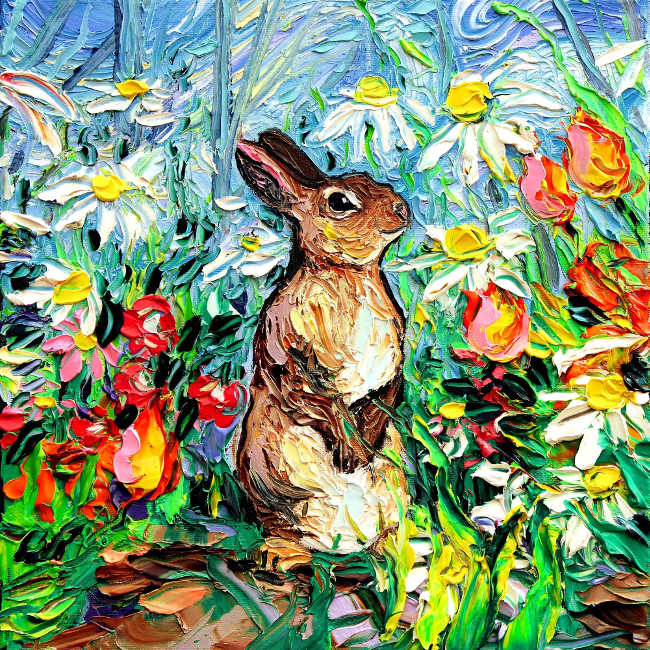 Aja Trier – Cottontail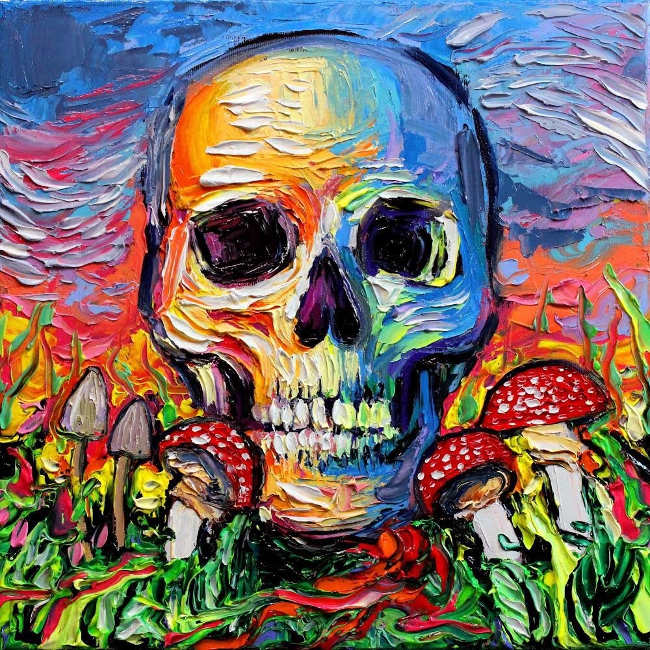 Aja Trier – Back to the Earth
Margaret Morales – Secret Love Station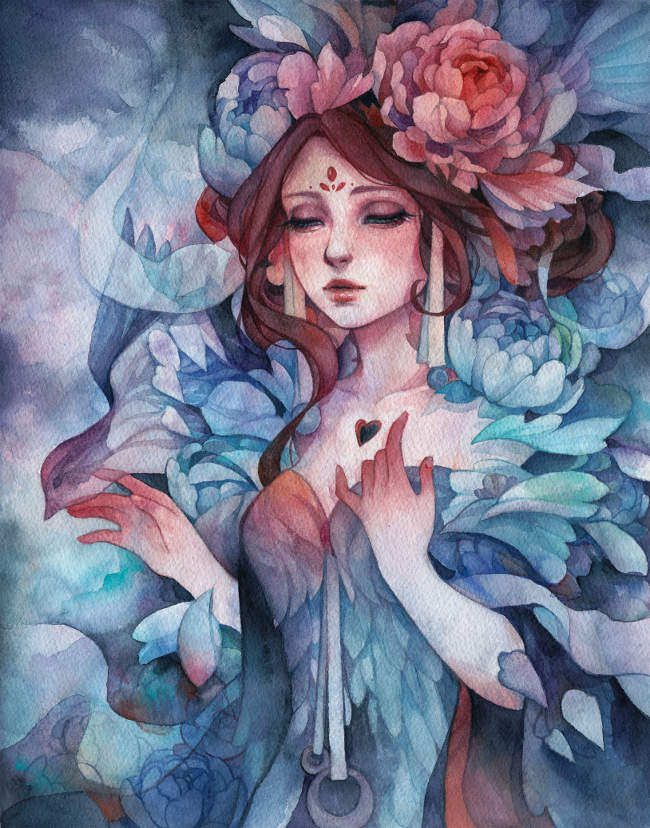 Margaret Morales – Lullaby Touch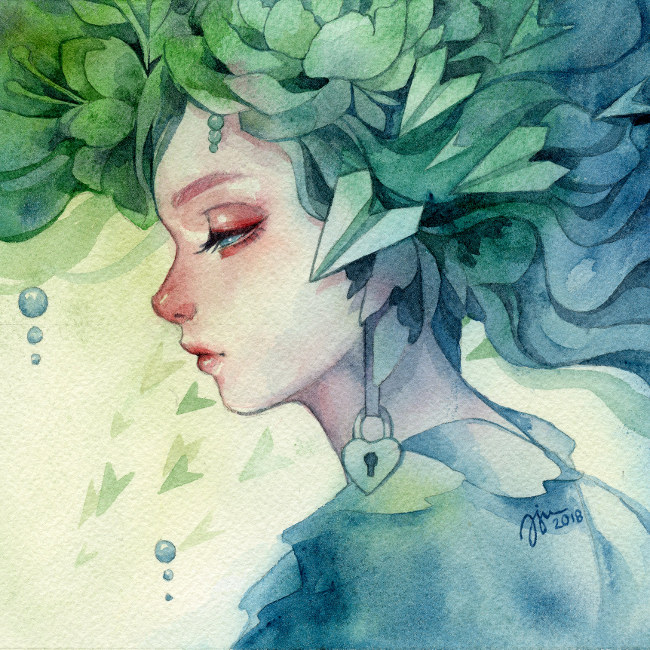 Margaret Morales – Closed Heart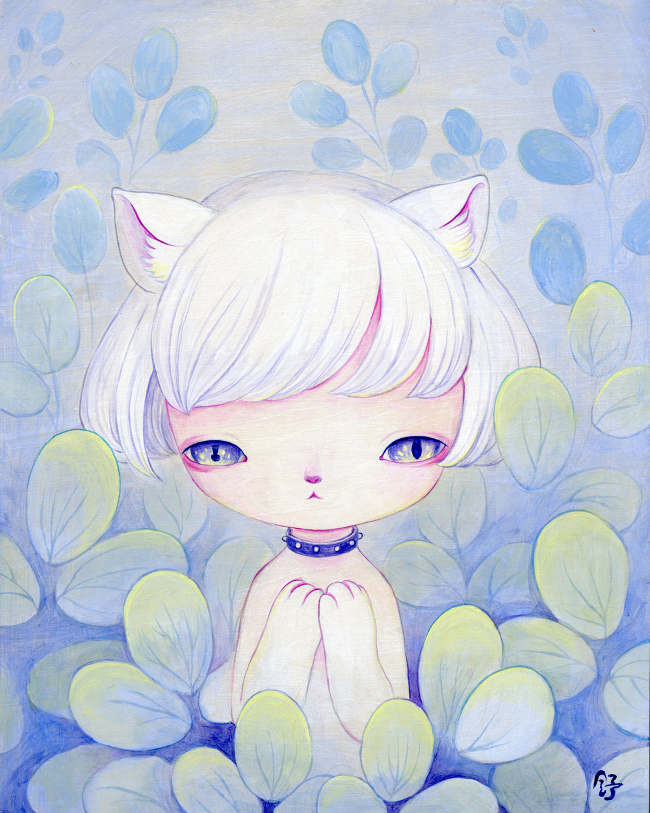 Yishu Wang – Kagi-I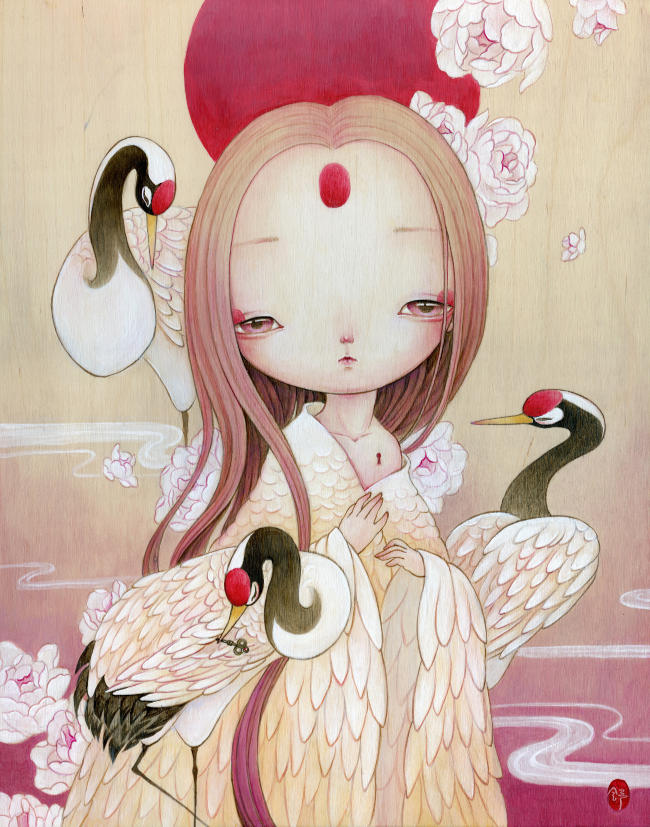 Yishu Wang – Tsuru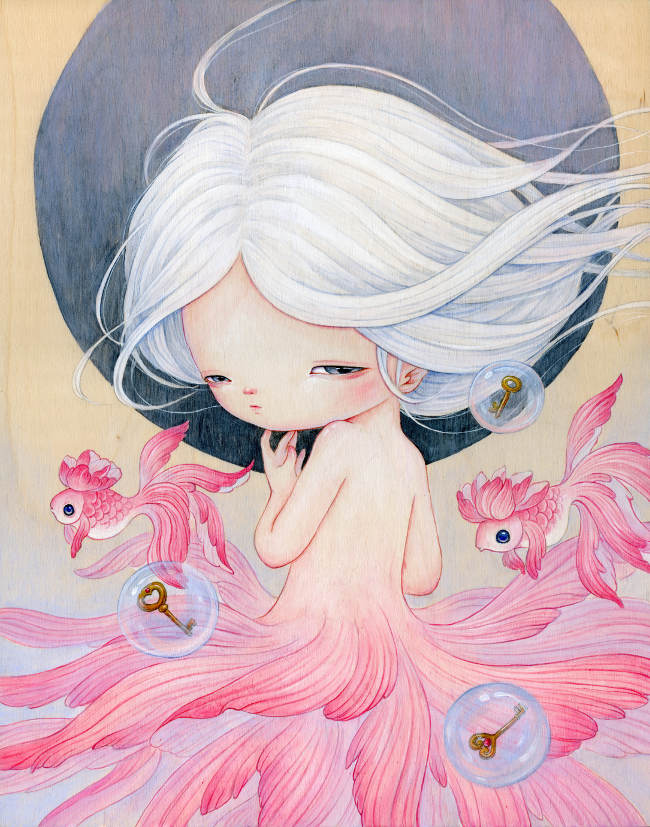 Yishu Wang – KinGyo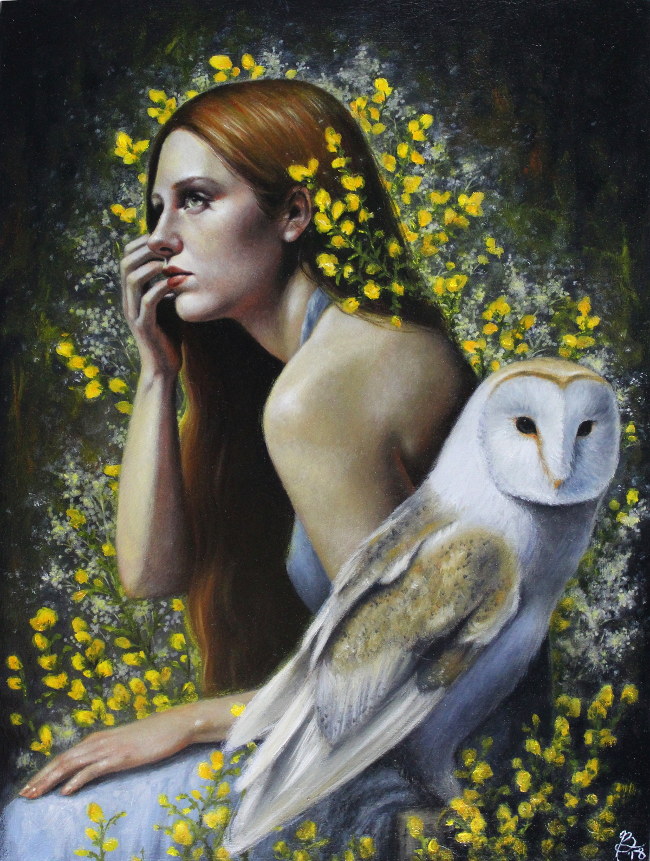 Elizabeth Brynn – Blodeuwedd (Mythos group show)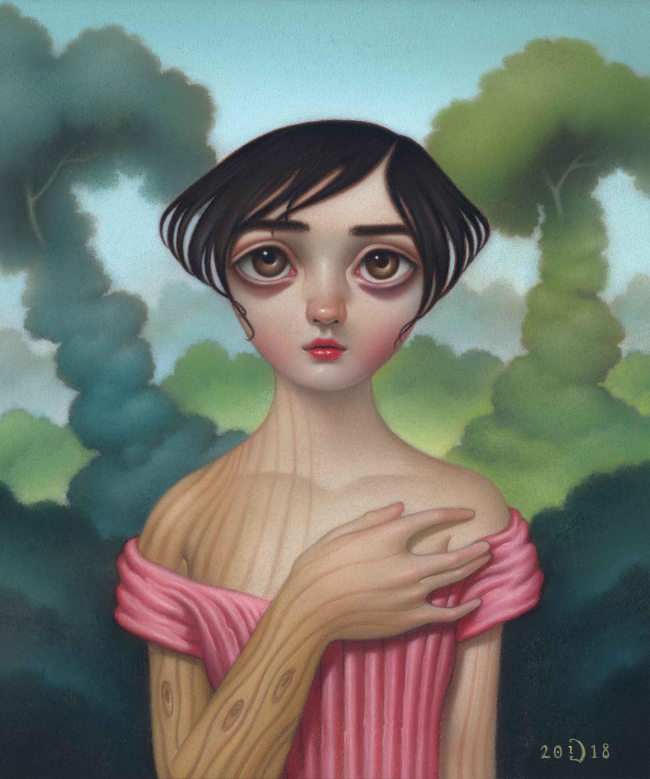 Declan Lee – Daphne (Mythos group show)