This Saturday July 8, Copro Gallery unveils new artworks by Tex Buss, Mike Egan and Nick Sheehy. These three solo shows invite you in their uniquely surreal worlds, each personally exploring the depths of darkness and life and interpreting this in their own styles. Tex Buss and Mike Egan will be in attendance at the opening on Saturday night, making this an opening to remember!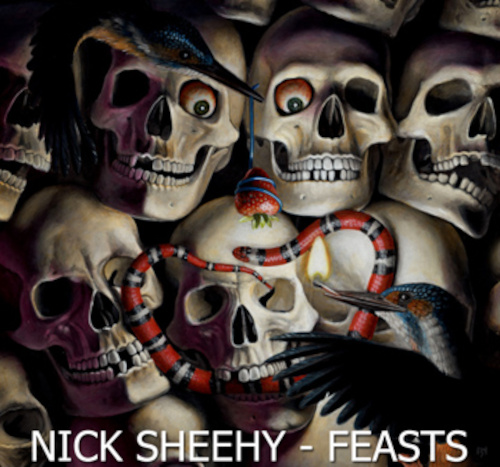 Copro Gallery
Bergamot Station, 2525 Michigan Ave, #T5, Santa Monica, CA 90404, United States
Phone: 310 829 2156
Opening Reception: Saturday July 8, 2023 – 6:00 – 9:00 p.m. Tex Buss and Mike Egan will be in attendance!
Exhibition Dates: July 8 – July 27, 2023
For more information, email Gallery Director, Gary Pressman at [email protected] or call 310-829-2156.
TEX BUSS 'FUGUE STATE'
Copro Gallery presents a solo exhibition by artist Tex Buss. This will be her first exhibition at the gallery and features her most recent oil paintings. Tex's work is both illustrative and figurative, and features elements from the natural world. She began studying art at the School of Visual Arts in New York, with a focus in photography and painting. After College she travelled and worked as a painter of signs and portraits. Her love of art took her into varied directions, including an ongoing career in tattooing at Red Kestrel Tattoo, as well as oil painting with a heavy focus on figurative work. Tex has been tattooing in San Francisco for over 25 years.
This body of work is the result of being forced to rest at 150 miles per hour. To nap on a galloping horse. Of having no other option than to crawl inward on oneself and confront that dark place with all its horrors, both acute and mundane, as well as its revelatory beauty, to get through to the other side. It is the press for freedom, as well as the disassociation—the fugue state—that occurs when it cannot be reached. It is the exhale after a wild ride. How did we get here? What the hell just happened?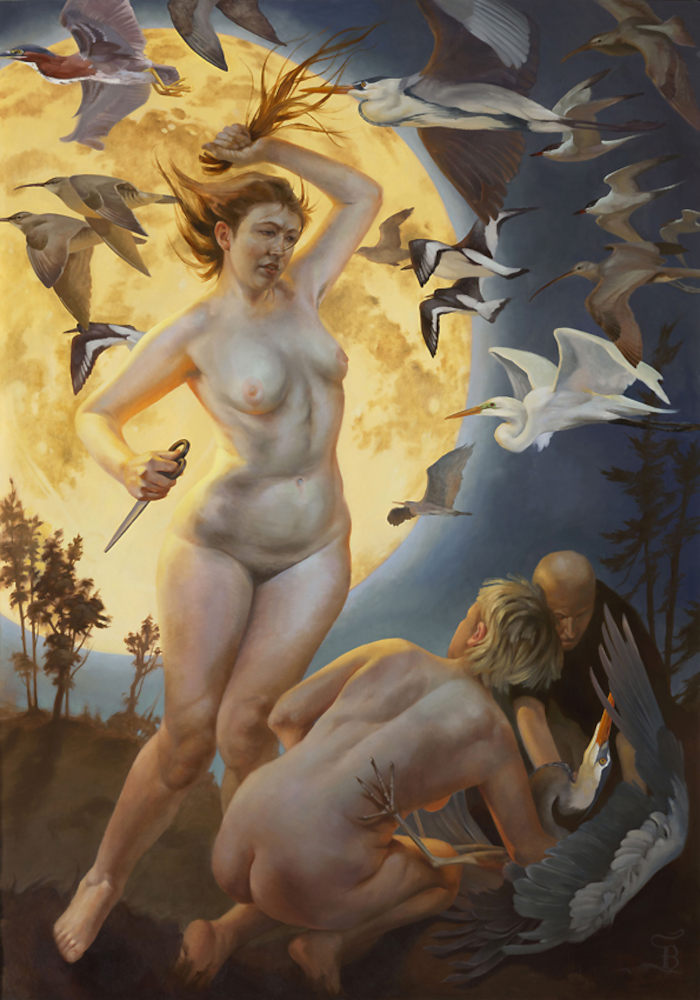 NICK SHEEHY 'Feasts'
For his second mini solo with Copro Gallery, Nick Sheehy presents 'Feasts'. Nick is an Australian-born artist and illustrator living in London. After studying bronze sculpture in the wilds of Tasmania, Nick gave up on art only to re-discover his love of drawing whilst living in London, sparked by an interest in the city's low brow art, illustration, street art, and graffiti. In his work, Nick explores the dreamlike, sometimes semi-autobiographical scenes and oddball characters that echo from his childhood imagination. Employing a laborious technique, building up layers of texture and thin colour, his work infuses precision and attention to detail with random abstraction and clumsiness.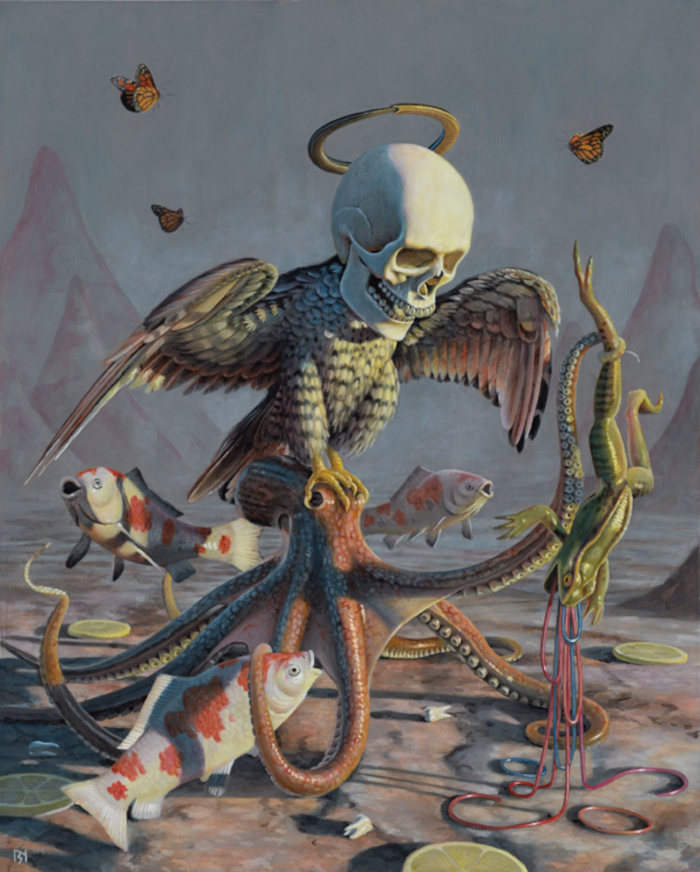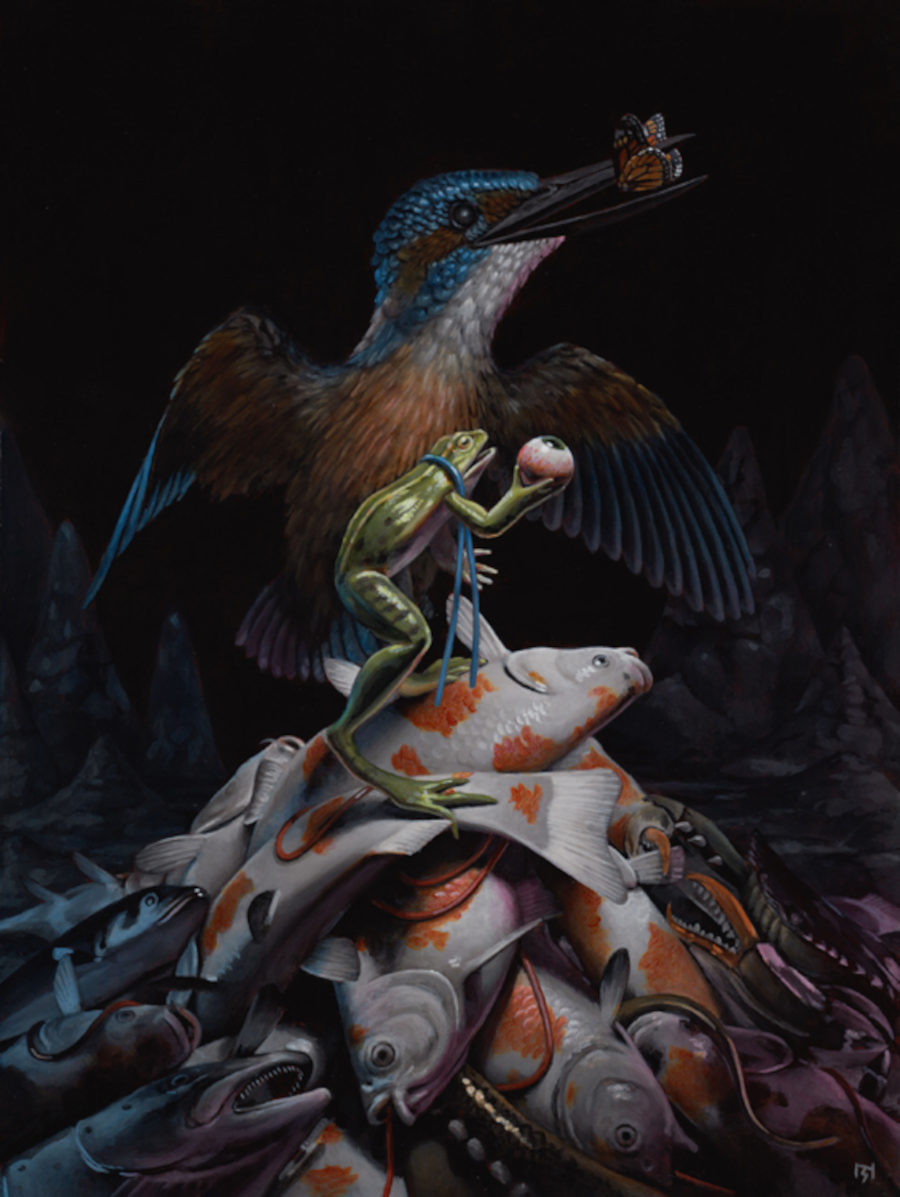 MIKE EGAN "Spirit Animals"
For his first solo exhibition at Copro Gallery Mike Egan's 'Spirit Animals' consists of a body of work all connected to the theme.
'Spirit Animals' are meant to guide and protect us on specific journeys. I wanted to do a series of paintings about animals and how they play a role in my world as an artist and human being. In this series I've created a world full of black cats, wolves, snakes, lions and more. I choose powerful animals that make me feel stronger. These paintings are about the spirit animals and how they help me in certain situations.

However, if you look deeper, these paintings are about me and what I face in my life. Like everyone I can struggle with depression, anxiety, fear, and they can affect how I live my life. By making the art that I make I am able to empower myself and lift myself. You could say that the artwork in this show is my "spirit animal" and it's been inside of me this whole time.
Mike was born outside of Pittsburgh, PA in 1977 (a reason why you'll find those numbers recurring within his artworks). "As a kid, I was really shy but eventually found art that helped me find my voice." He shares. "I took art classes throughout high school and decided to pursue a degree in fine arts after school. I went on to college at Edinboro University of Pennsylvania, two hours north of Pittsburgh. I focused on printmaking at the time, which is where I learned about artists like Jose Guadalupe Posada and the German Expressionists like Kathe Kollwitz. I loved woodcut printing as it offered bold black line work and a graphic quality that I'd later use in my paintings. After I finished school, I did not have the necessary supplies to continue making my prints. Instead, I turned to painting. I'll be honest, in the beginning my paintings were bad. Like REALLY bad, but I enjoyed making them and I continued to learn what worked and what didn't.
"In the meantime […] I eventually got a job as an embalmer out in Reading, PA. The hard thing about being an embalmer is that you're always on call, so when someone passed away my phone rang, and I had to go to work. I spent a lot of time alone in my apartment waiting for said phone to ring. A lot. This is where I learned to craft my paintings and style. I started to take influence from my printmaking days in 2000, as well as my appreciation of traditional (American and prison style) tattooing and used it to create new work with bold lines and dark imagery. Once I started to paint in that style, things really started to click for me. I felt like I had finally found my voice as an adult.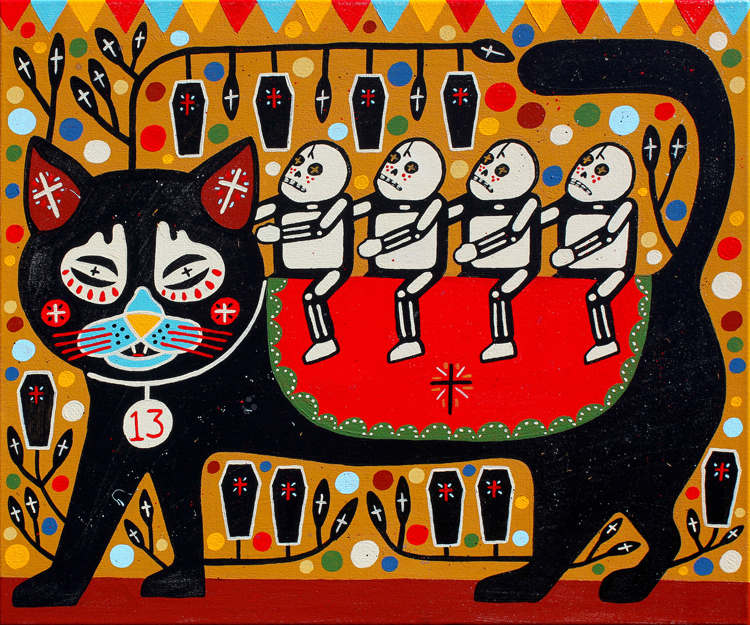 "During 2006, a friend of mine put together a gallery show in Pittsburgh and offered to include my paintings. I sold three the opening night, and I was so excited and realized that maybe I was onto something. I used my love of religious imagery, my experiences dealing with life and death, and my love for skeletons and devils to make my art. Since then, I've been working with galleries and collectors all over the world, as well as the opportunity to work on some really cool projects and collabs across other mediums as well."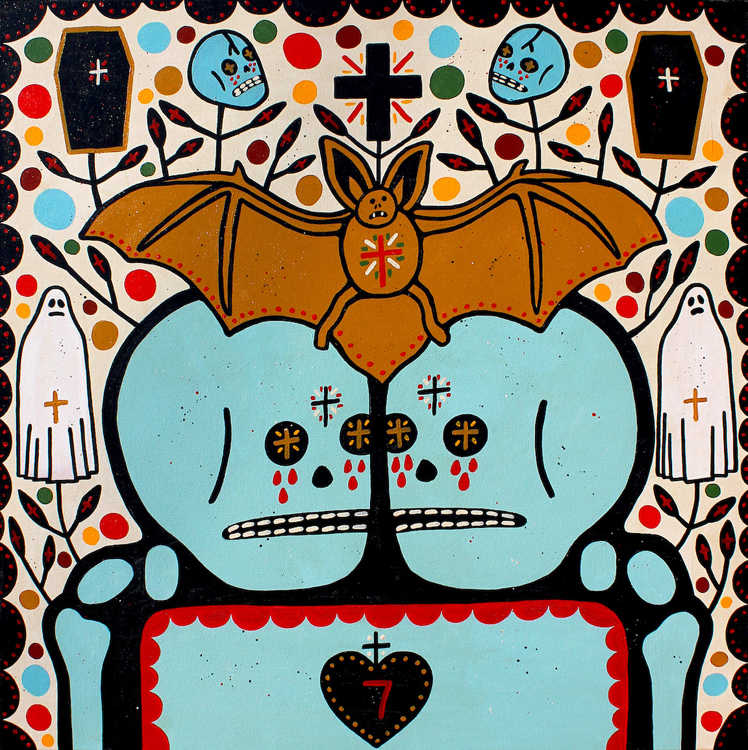 About Copro Gallery //
Located at Bergamot Arts, Copro Gallery is divided into two exhibition spaces, sometimes featuring a single artist but often two or three. Large group exhibitions are also featured often in conjunction with outside curators. In following with its original mission, Copro participates in International Art Fairs and curates outside exhibits to help promote their artists.
Focusing on museum quality installations showcasing emerging artists, Copro Gallery also exhibits many established and master painters. Placing works in private collections throughout the world, Copro Gallery strives to assist collectors new and experienced in building the most exciting collections possible.
Copro Gallery Social Media Accounts