Like the far side of the moon, mystery simmers as an eerie tingle shivers over you like a foreboding whisper. Deeply-rooted in a realm where darkness dominates, The Dark Art Emporium invites you to join them this weekend as they honor not one but two exciting solo exhibitions: Peemonster, "The Hybrid Children" and Michele Melcher, "The Villagers".
Angels, demons and memento mori unite…from charming illustrative tales of melancholy to symbolic tropes of life and death, view each collection in their entirety by visiting The Dark Art Emporium website!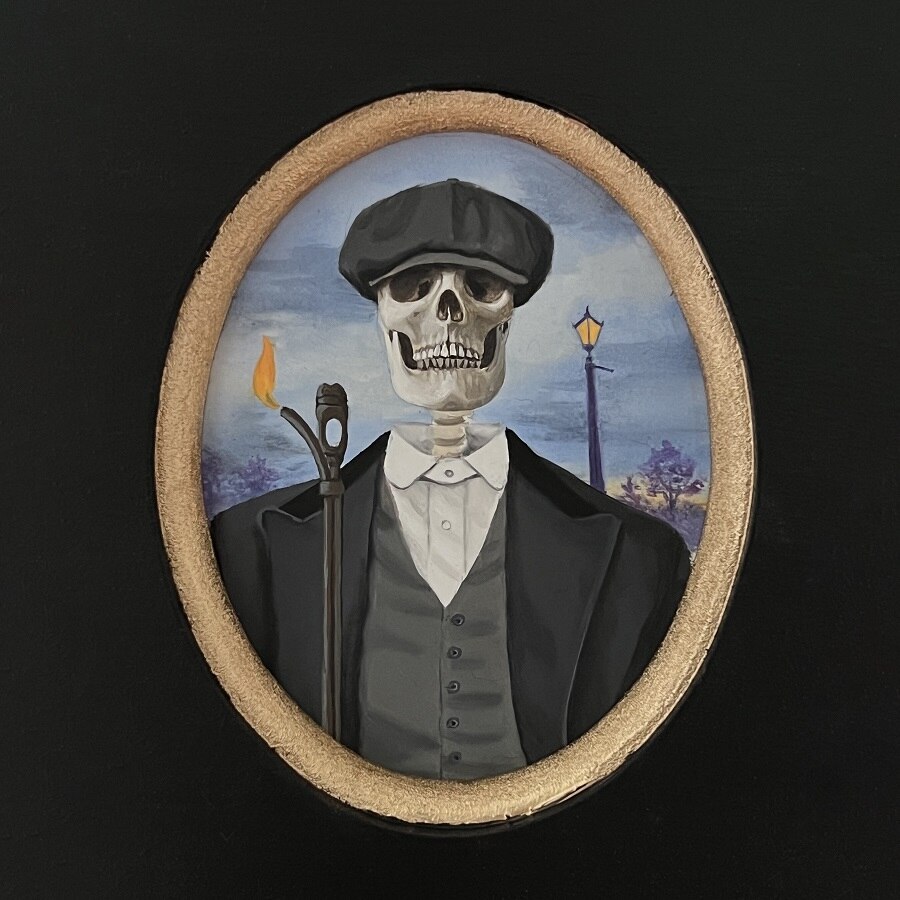 Time travel and see previous exhibitions – view available artworks by visiting their website! If you haven't discovered The Art Pit DAE Podcast, now's the time. The Jeremys (as in Jeremy Schott – Owner and Jeremy Cross – Assistant Director) discuss all things art, music, movies, and more. Episodes are available to stream using Soundcloud via The Dark Art Emporium website or their YouTube channel.
Opening Reception: Saturday, July 8, 2023 | 5-9pm
The Dark Art Emporium
121 W. 4th Street, Long Beach, California 90802
Friday & Saturday 12 – 7pm | Sunday 12 – 5pm
Located in Downtown Long Beach within The 4th Horseman
For additional information and purchase availability please contact [email protected]
---
Peemonster, "The Hybrid Children"
The Hybrid Children I
The story revolves around Gabrael, one of the Arch's Angels of Haven, who develops empathy for Arael, a girl wrongly bound into a demon in Hale by another angel, Yurael. Gabrael saves Arael from death and has his wing shot out by Yurael for making contact with a demon, becoming stuck in Hale with Arael.
Close contact between angels and demons leads to different consequences: the angels experience lust and corrosion (a breaking down of the angel's coding which is contagious amongst angels), while the demons experience 'bliss'- the feelings of joy, happiness, and peace that they have been cut off from as demons. What ensues is known as 'corruption', which ends with the demon consuming the angel in order to free itself from torment.
However, Arael, who had a horrible life before becoming a demon, does not want to corrupt/consume Gabrael to free herself. Instead, she remains close at his side to feel the peace that she has never had. Gabrael's corrosion process is slowed due to his initial empathy for Arael, and he continues to care for her, his coding now perceiving her as an innocent being. Their love for one another deepens. Eventually, Yurael informs Gabrael that his failure to corrupt will result in his manual destruction by Haven.
In a selfless decision, Gabrael chooses to fully corrupt for Arael before Haven can destroy him. Arael does not consume him, and so his shattered pieces erupt and fall from the sky, each piece transforming into a hybrid child—a new being with both angelic and demonic traits. The hybrid children, born holy, yet cursed, endure the conflict of energies bound within their DNA. Inevitably, they bear both a halo and horns- two very heavy crowns inherited from their parents.
Arael is heartbroken by Gabrael's sacrifice but soon discovers that he has left behind a parting gift– her children, little pieces of him that go on to continue to provide her peace in his absence. Among the dozens of hybrid children is one she calls Spesael, who has one good wing and one malformed. Arael favors him because he reminds her of Gabrael the way she knew him—with one shot-out wing.
The Hybrid Children mostly don't have wings because Haven's Council bound the gene in the Arch's Angels to prevent entry into Haven by any future offspring (the wings are their keys into Haven).. so instead, the most you see in the hybrid children are deformities of wings, if any– except for Spesael, who has one good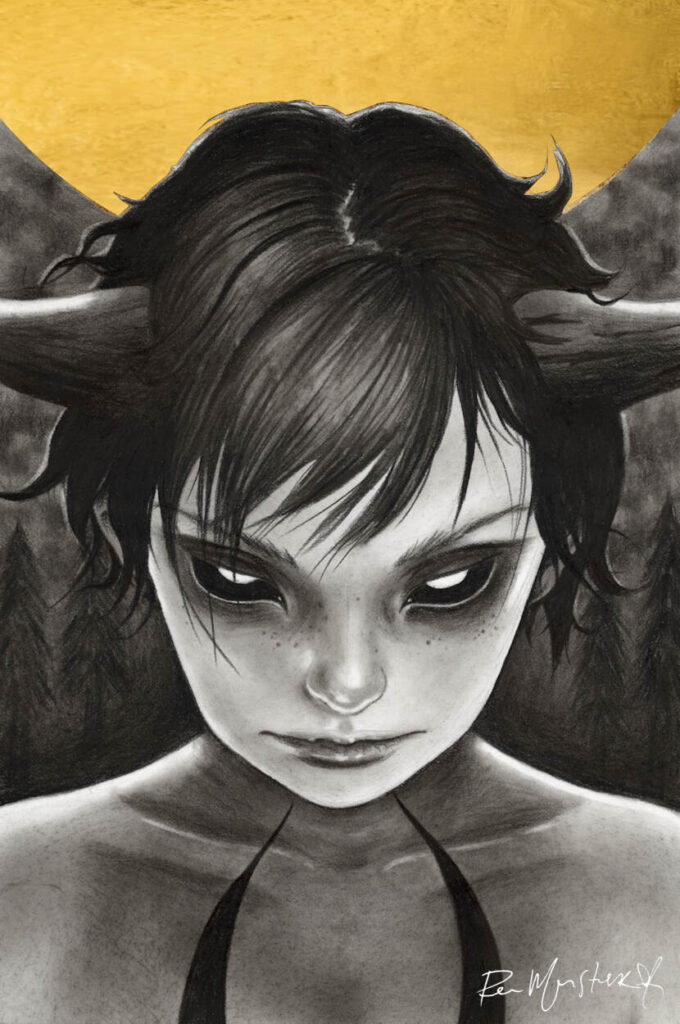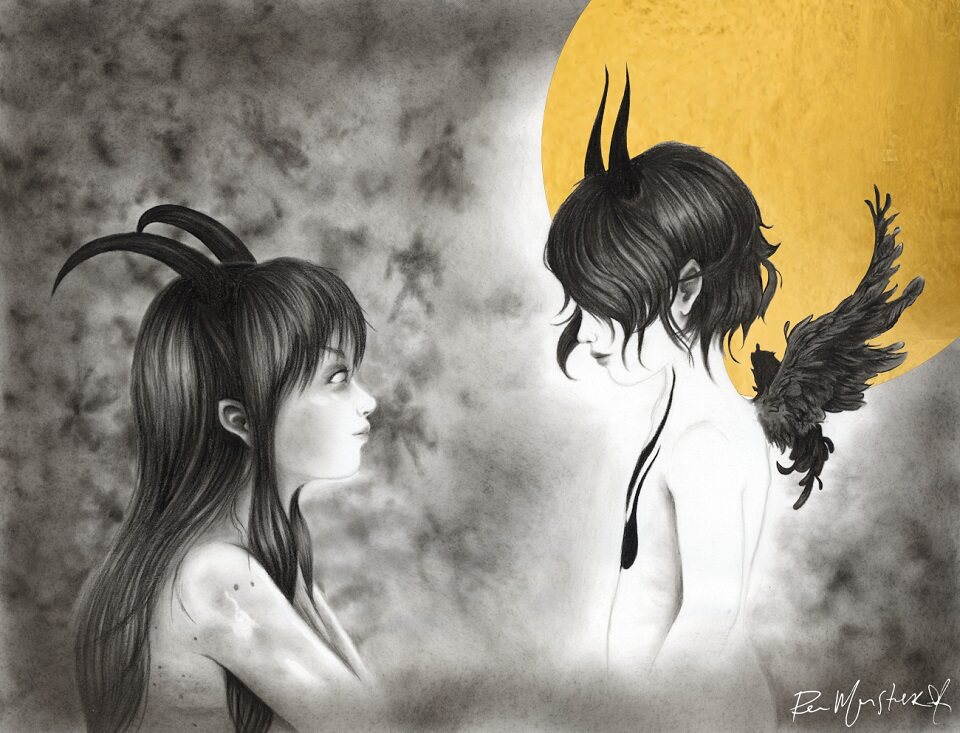 Michele Melcher, "The Villagers"
This collection is based off of weird old, mostly defunct jobs or positions of people who lived in a community or village of the past. A few of the jobs are still in existence today (Preacher/ Professional Mourner) believe it or not!

Michele Melcher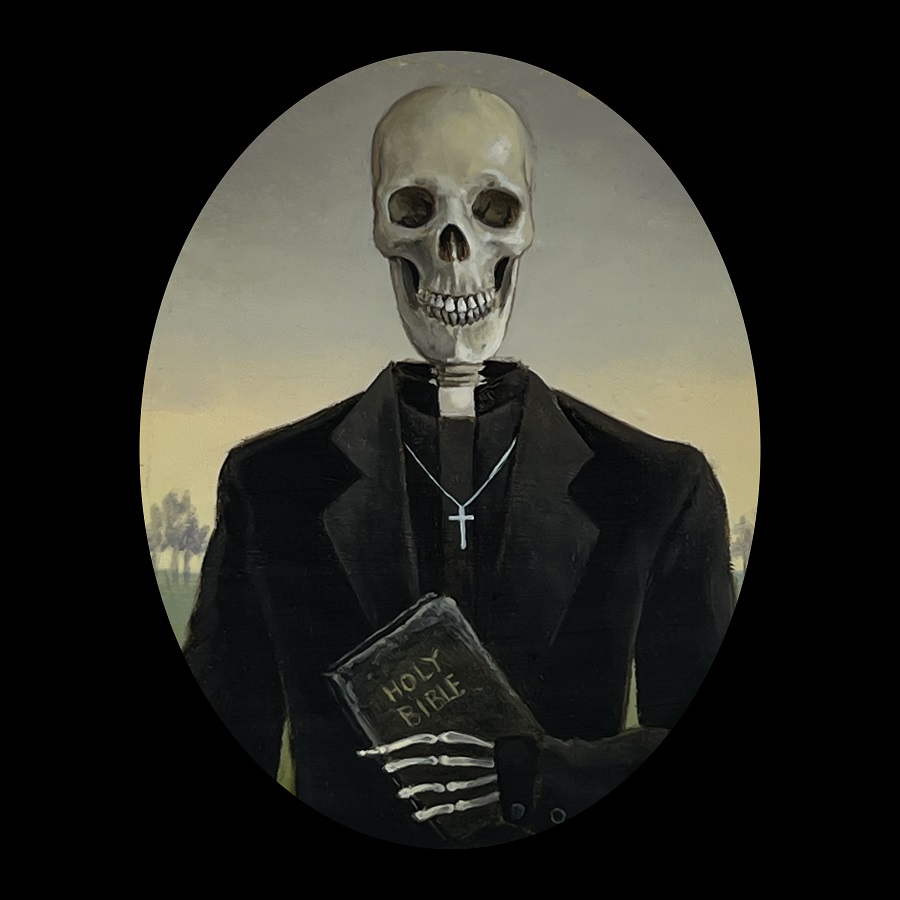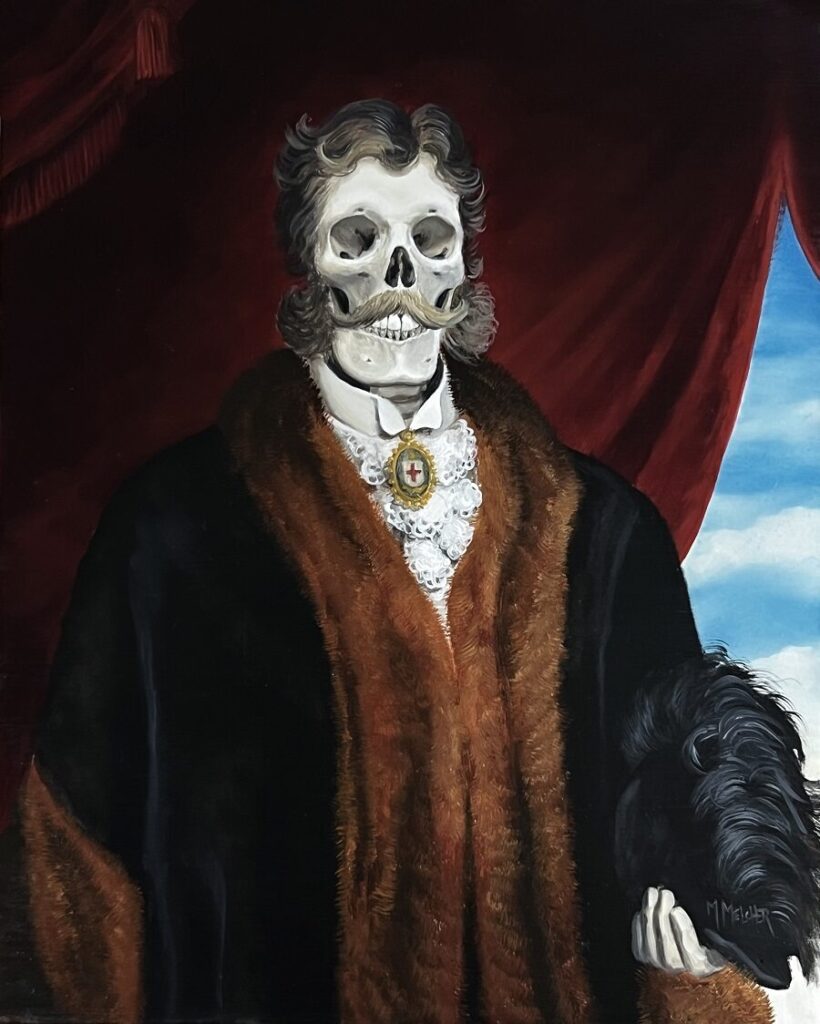 The Dark Art Emporium Social Media Accounts