Copro Gallery is one of those significant venues where one can relish in exoticism. With the curatorial ability to fuse very different styles, Copro Gallery manages to provide a special harmony within its group shows. Elements from each artist chosen are blended, and common ground is found.
Copro Gallery's 5-person exhibit, which opens this Saturday 23rd March, is no exception. Featuring artists Christopher Ulrich, Stephanie Inagaki, Robert Bowen, Stefanie Vega & GERMS, prepare for a beautiful display of the extraordinary.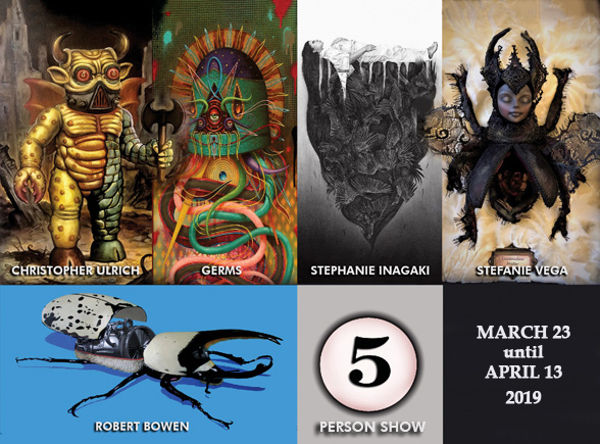 Exhibition Dates:
March 23 – April 13, 2019
Opening Reception:
Saturday March 23 , 2019 – 6:00pm-10:00 p.m.
All artists will be in attendance!
Copro Gallery
2525 Michigan Ave. T5, Santa Monica, CA 90404
For more details contact Gary Pressman, Gallery Director, on 310-829-2156 or email: [email protected]
Prepare to step into the surrealist works of Stephanie Inagaki as she shares some of her recent artworks, bringing esoteric grace to her darkly enjoyable graphite and ink illustrations. Robert Bowen takes you on a self-reflecting journey into the darker side to human nature, exploring our impulse to meddle with nature to create something new. Christopher Ulrich merges traditional symbols of Catholic Christianity with mythology, magic and symbolism, creating a selection of stark yet strangely enjoyable paintings. If that wasn't enough, GERMS (a.k.a. Jaime "Germs" Zacarias) creates a playground of fascinatingly complex creations which can't fail to brighten up your day, and if you are a fan of dolls be sure not to miss out on Stefanie Vega's works. She breathes new life into the old art of doll making, cross-breeding the unexpected, to produce a new generation of dolls who dwell in the dark as much as the light.
Bios from press release at Copro Gallery:
Sun of Saturn
Christopher Ulrich was born in Los Angeles and had a Catholic school education through high school, attended Loyola Marymount University, and was about to go to The ArtCenter college with a scholarship, but instead changed his mind and journeyed around Asia for 2 years. It turned into a quest for a better understanding of himself and a search for what he wished to communicate through his art.
He first exhibited a painting in March 2005, (the Demoneater prototype) for the Alex Grey Chapel of Sacred Mirrors benefit at the Hollywood Athletic Club in California. Arising from the response to this he began to work on his major Demoneater series, which became the first of three major series of paintings.
Ulrich is influenced by the richness of ancient mythology, the mystery of alchemy, esotericism and magic, the Jungian interpretation of symbolism, and a strong reaction to Catholic Christianity. After the Demoneater exhibition in 2007 he worked on the second series of this project entitled Illuminator: The Royal Wedding which was exhibited in 2010 again in Los Angeles, and later on The Reckoning: The Christ Chronocrater Project which was shown in 2012.
His work draws to some extent from American comic books, the illustrations for fantasy novels, and is also informed by his study of classical western art.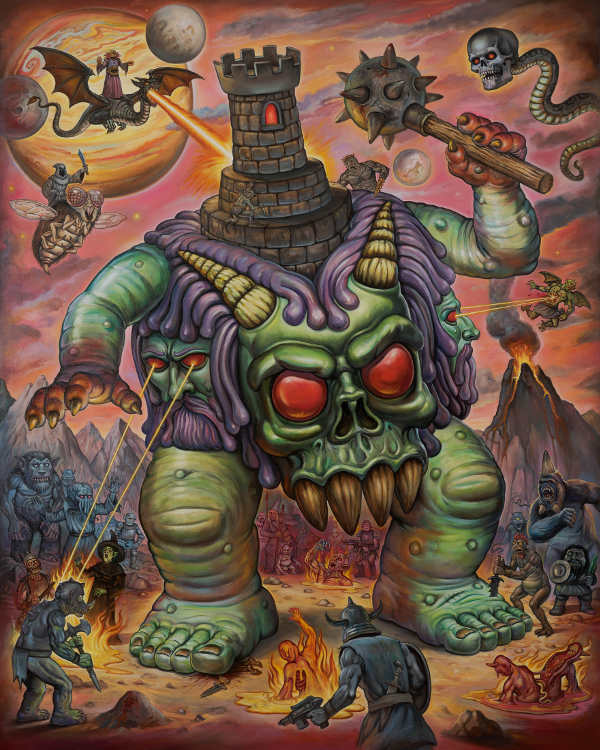 Doomkopf; Under siege in the outer realm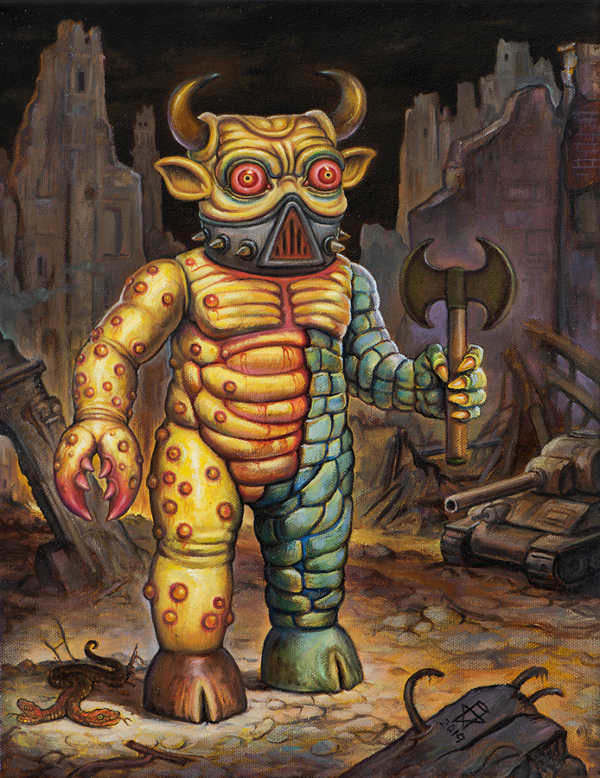 Labyrinth Lord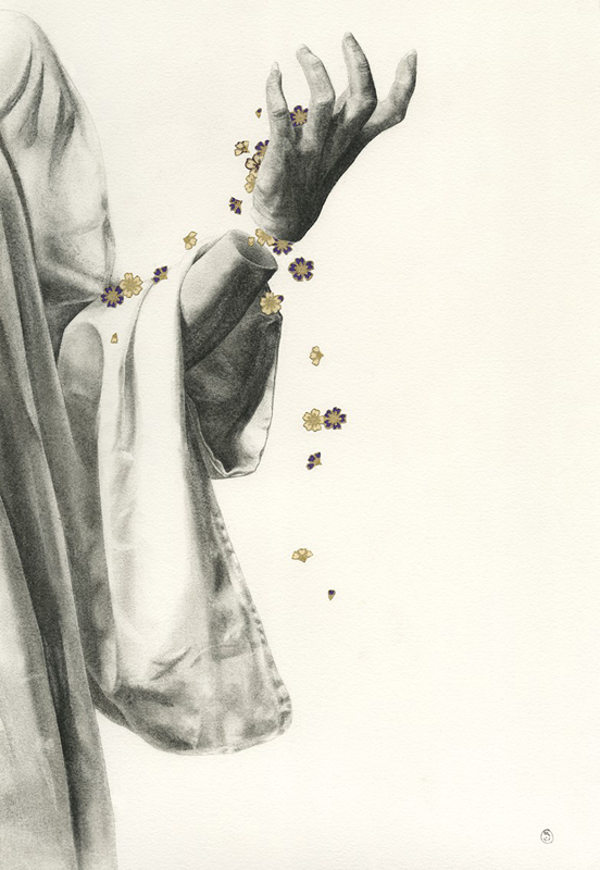 Blossoms (white)
A Southern California native, Stephanie Inagaki received her Bachelor of Fine Arts from Boston University's College of Fine Arts and her Master of Fine Arts from the San Francisco Art Institute. After studying abroad in Italy and living in major cities around the United States, she has returned to her roots to establish herself as a multifaceted artist in Los Angeles.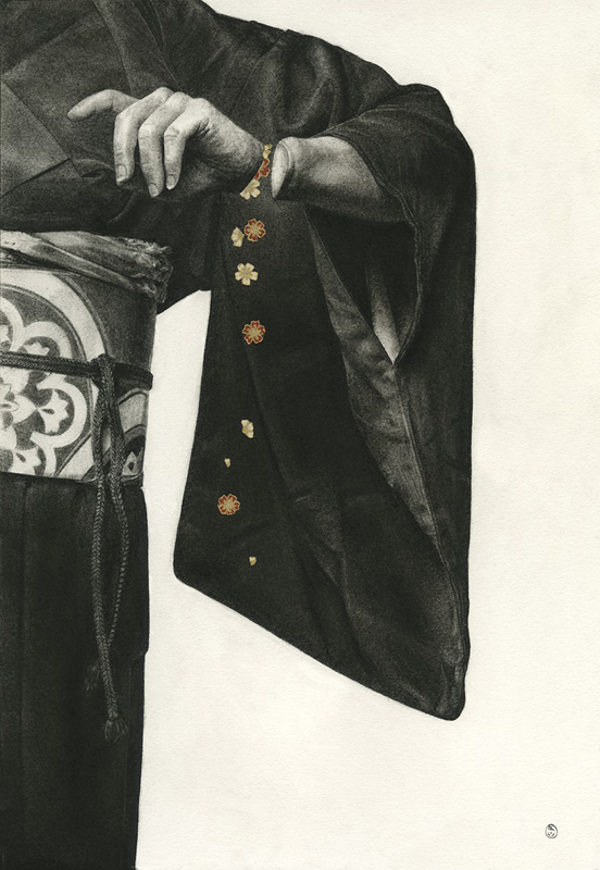 Blossoms (black)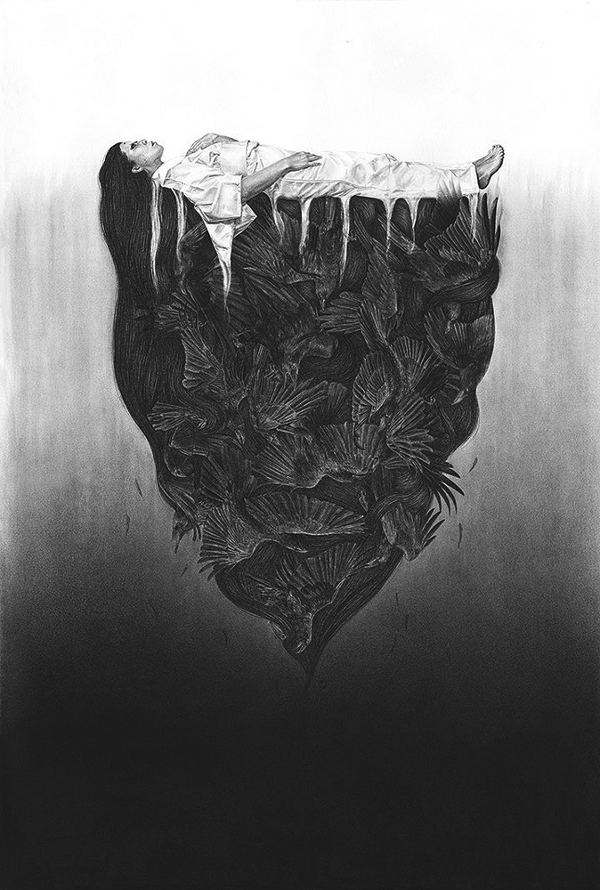 The Passage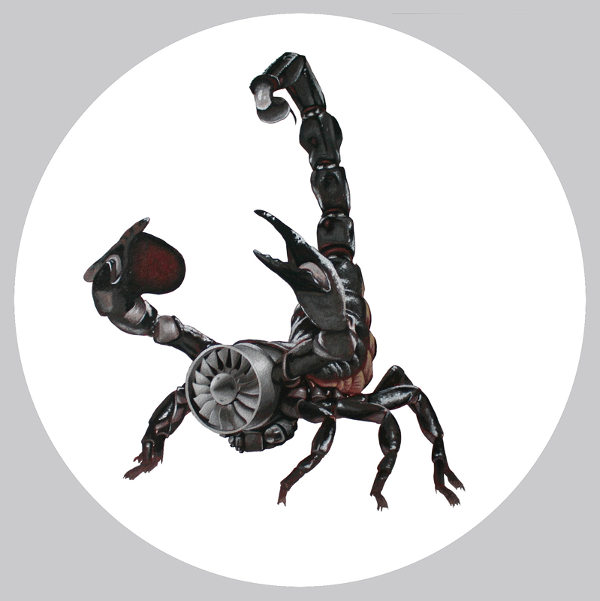 Scorpion – Ottis
Robert Bowen's work is a strange, swirling brew of colorful contradiction that is not easy to define or even understand, but that seems quite the point. Throughout his body of work, Bowen takes familiar iconography and handily corkscrews it with his own unique brand of humor and distinct painting style. Bowen's ability to re appropriate contradictory symbols into unsettling situations puts him in league of his own. He continues to walk the line between charming humor and blasphemous sarcasm with symbolic imagery that leaves the viewer both curious and confused. -Stacey Ransom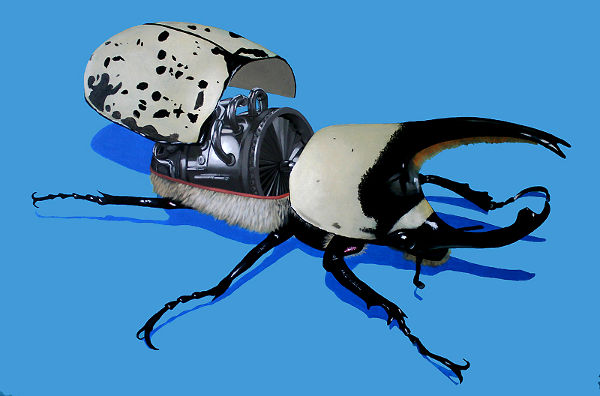 Bruce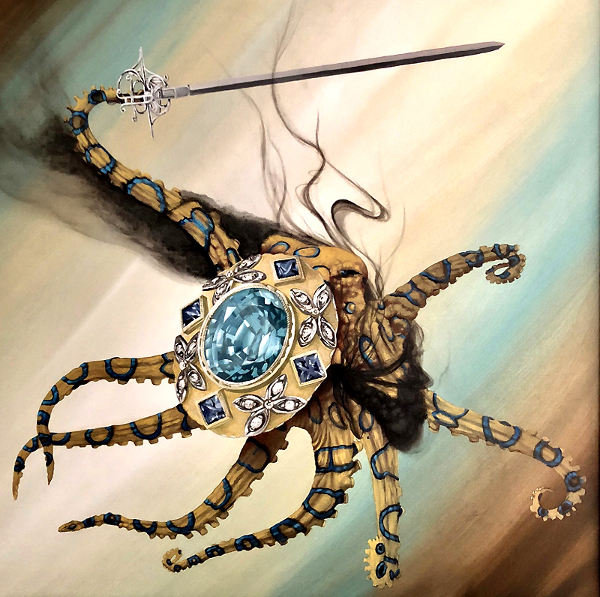 The Guardian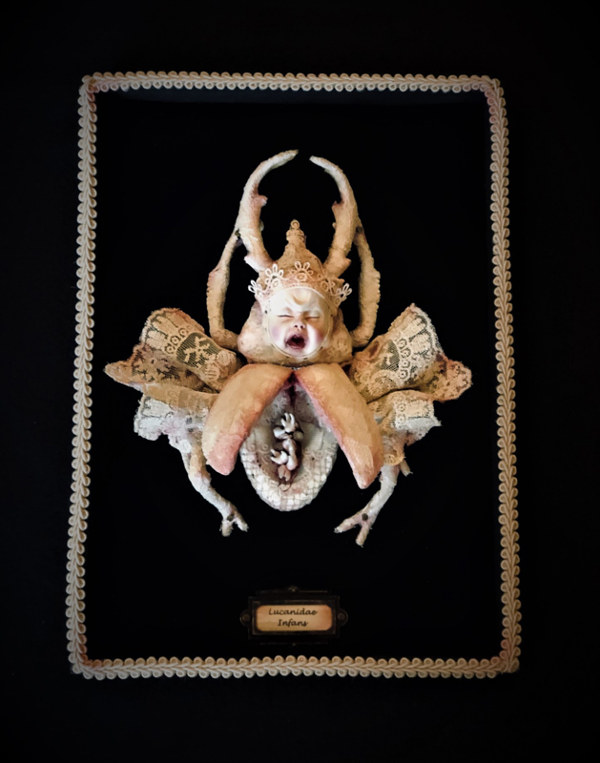 LUCANIDAE INFANS (First of the Triple Goddess Beetle)
I considered my early artwork "desconsos" – symbolic markers of small deaths – whose creation was the practice of honoring the sorrow that surrounds loss. But they were also love notes to the suffering. The foundations of these earlier pieces were the split stems and leaf scars of the Queen Palm, gathered from the streets around my home in Venice, California. What emerged from the broken little carcasses were wise and ancient sentinels in the form of a very old medium: the mask, the totem. Gradually as the work progressed, personalities emerged which naturally led me to work more with skulls and bone. They spoke to me. Their inner strength and wisdom reminding me of my own mortality (memento mori) and as the work began to deepen I was serenaded by haunting lullabies from long ago.
As a child, I would escape into a world of faerie stories. I found that in that time and space everything was clear and everything was possible. So, drawing on an enormous pool of forms, archetypes and folklore, a new hybrid was born. This rogue taxidermy, of sorts, with porcelain doll parts became a cross-breeding of the unexpected. A departure from the familiar, both hypnotic and genuinely disturbing, the characters began to tease me as to the nature of their true identities .Escaping from tales that left profound impressions in my earliest childhood memories, they continued to weave their spell over me showing up as something truly personal. Although each composition expresses its own unique story, "bird energy" deeply resonates with me and therefore is one of my reoccurring themes.
Like the resurrection of the forgotten, they tell the stories from the Soul of the World because they jar the collective memory we have of imagery and symbolism. They offer a hopeful promise of inspired healing. This collection gives new voice to an age old doll tradition that insists on singing its own song.
LUCANIDAE PROMISSIO MORTIS (the Promise of Death Beetle) (Second of the Triple Goddess Beetle)
The Saddest Tale (music box)
Ziggy
Jaime "Germs" Zacarias is a Chicano artist and South L.A. native who has captured the essence of Los Angeles and Chicano history through a myriad of futuristic designs and three-dimensional characters. One of his greatest mentors is Chicano artist Gilbert "Magú" Luján, the founding member of Los Four, which was one of the first Chicano art collaborative's to be exhibited at a major American museum in the early '70s, notes art collector Paul Dunlap. "He liked to nurture young artists. Magu was one of my mentors. He taught me a lot as far as how to behave, how to be a troublemaker, just show up to art shows, have beers, make a mess, break things, tag on things," says Zacarias. "He just taught me how to compose myself and start focusing and making better art work."
If you take a closer look at his pop surrealist paintings, you'll catch a glimpse of hidden messages in the form of eyeballs, bacon, and robots. You might even see an image of an iPhone with an emblem of the Los Angeles Dodgers or the Virgin Mary. "Sometimes I like hiding stuff in there. Combining old things to make them new again," says Germs.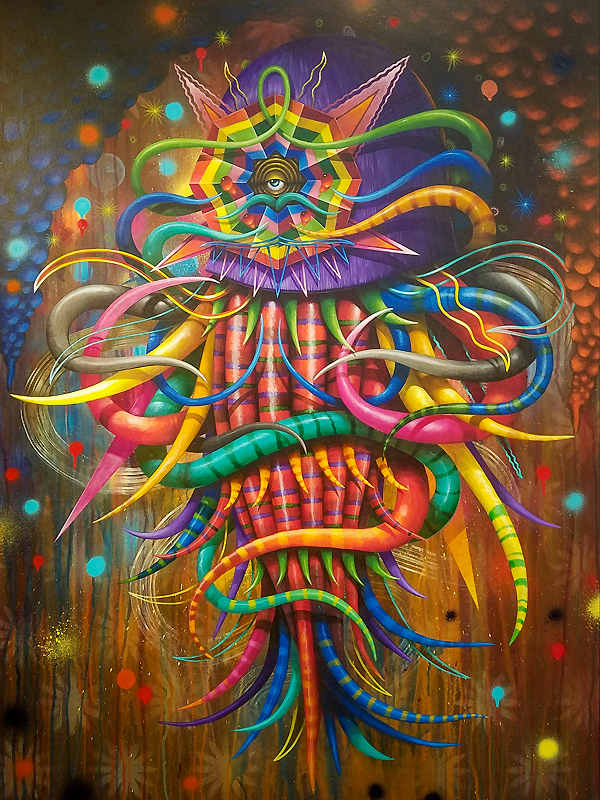 Tekashi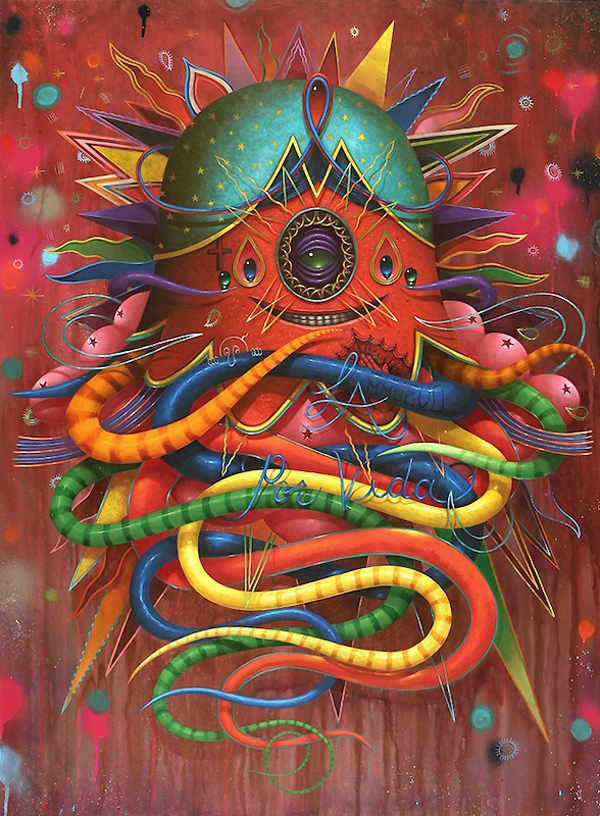 Por Vida