Beautiful Bizarre Magazine issue #33 artist Adrian Cox returns in his largest solo exhibition to date: 'The Brush and the Torch' at Corey Helford Gallery. Known for the strange and ethereal world he has created, Adrian Cox produces works which encourage us to shake off the shackles of habitual and automatic thought processes. His works pique interest with his use of vibrant colours and fantastical scenes, inviting you to settle into each and take the time to absorb every detail. Yet on top of this, the world he has built – "the Borderlands" – has become a whole new realm of epic mythology.
While his paintings can be enjoyed as they are, we can also interpret the stories he paints and review our own lives through this new lens. The beauty lies in the fact there is no right or wrong way in which to enjoy Adrian's works. "This exhibition can be viewed without any further context;" Adrian Cox explains. "However, it can also be positioned within the mythology that I've crafted over the course of my career."
As a narrative painter, I've always been acutely aware of this tension between knowing a work of art and experiencing it. Although I don't see these two paths as mutually exclusive, I recognize that context alters how we experience stories and I've created these paintings with both approaches in mind.

Adrian Cox
Opening Reception: June 3, 2023 | 7:00 pm – 11:00 pm
Exhibitions Dates: June 3 – July 8, 2023
Corey Helford Gallery
Main Gallery, 571 S Anderson St (Enter on Willow St)
Los Angeles, CA 90033
(310) 287-2340
https://coreyhelfordgallery.com
Visiting Hours: Thursday-Saturday, 12:00 pm – 6:00 pm
For inquiries, contact the gallery via [email protected]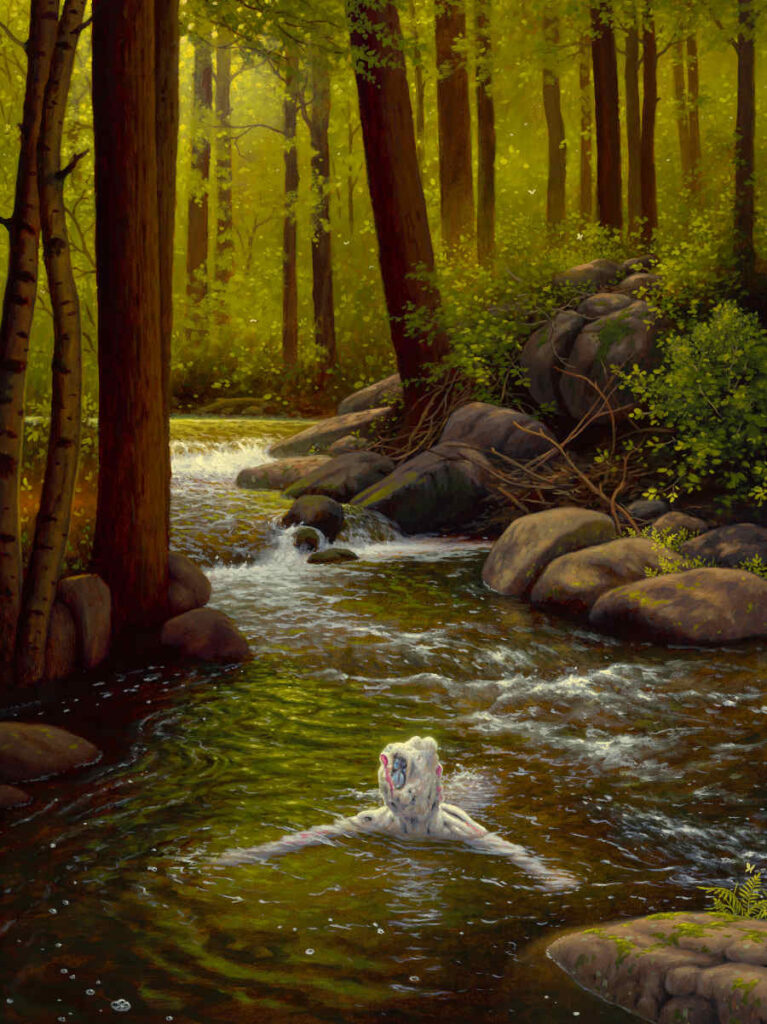 Adrian Cox: Understanding the background world of The Borderlands
"The protagonists of the mythology that I've created are beings known as Border Creatures." He shares. "These creatures are both physically and spiritually an extension of the landscape that they inhabit. Their anatomy combines human traits with those of the Borderlands and they serve as caretakers of their wilderness home. These strange but peaceful creatures are artists, gardeners, poets, scientists, and mystics. When they dream, the landscape dreams with them. The Border Creatures are antagonized by the Specters, blue spirits of pure energy that are led by the Spectral King.
These spirits casually burn the landscape that they walk upon and are alienated from the world that they inhabit. The Specters perceive that which is other as a threat or as a resource reducible to its usefulness. The war between the Border Creatures and Specters is a conflict between two distinct ways of being in the world.
"From this struggle, a third group known as the Spectral Witnesses were brought forth into the Borderlands. These rainbow-hued spirits were once Specters, but they were transformed when they bore witness to a mystical revelation. This revelation was a spiritual awakening for them, but it also destroyed the worldview that had given them purpose and identity as Specters. These rainbow Witnesses now wander the Borderlands, seeking a path to redemption."
Ultimately, The Brush and the Torch is an exploration of nature and the source of creativity. Adrian adds: "The story that unfolds in this exhibition suggests the importance of cultivating internal imaginal landscapes and depicts spiritual development as an engagement with the world rather than a departure from it. Ultimately, however, I created these paintings to be symbols for something beyond the reach of discursive thought."
The Borderlands [the mythical setting seen in his paintings] exist outside of me and my intentions as an artist, so I invite you to find personal meaning in this mythic world."

Adrian Cox
The Brush and the Torch by Adrian Cox will debut on Saturday, June 3rd from 7:00 pm – 11:00 pm in CHG's Main Gallery. Open to the public and free of charge, this will show alongside a four-artist show (featuring mini-solos by Tarntara Sudadung, Robert Palacios, kelogsloops, and Yuka Sakuma) in Gallery 3.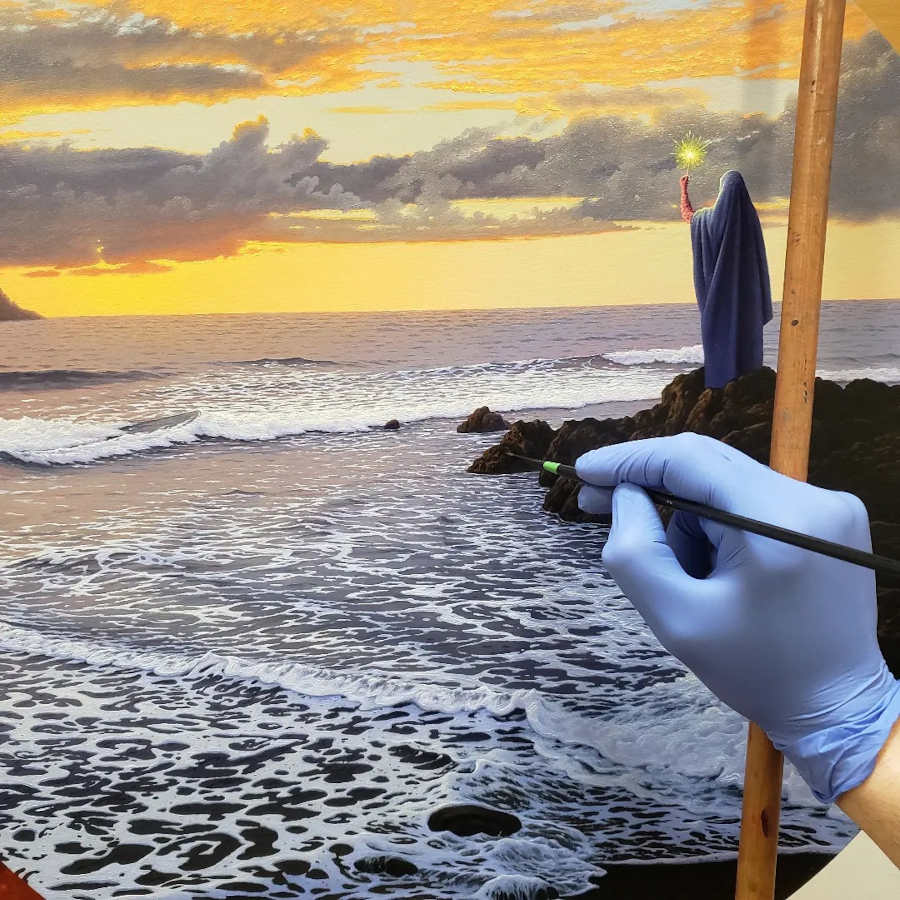 About Corey Helford Gallery:
Established in 2006 by Jan Corey Helford and her husband, television producer/creator Bruce Helford, Corey Helford Gallery (CHG) has since evolved into one of the premier galleries of New Contemporary art. Its goal as an institution is supporting the growth of artists, from the young and emerging, to the well-known and internationally established. CHG represents a diverse collection of international artists, primarily influenced by today's pop culture. Collectively, their artists encompass style genres such as New Figurative Art, Pop Surrealism, Neo Pop, Graffiti, and Street Art. Located in downtown Los Angeles in a robust 12,000 square foot building, CHG presents new exhibitions approximately every six weeks.
Corey Helford Social Media Accounts