Close your eyes. Take a deep breath and let your imagination drift into the creative composition of two distinct artists and their visual imaginings. This weekend, Thinkspace Projects proudly celebrates the opening of Jack Shure, Soul Sanitizer and Reen Barrera, Cluster Fudge. Immerse yourself in these spectacular new bodies of work and let it pique all you artistic senses.
Still want more? Thinkspace Projects has a full schedule of online events for all exhibitions, including virtual tours, live streaming, interviews and much more… so be sure to follow their blog Sour Harvest to stay updated! If you're looking to add to your budding collection of art, take a moment and visit their store to view available inventory.
Opening Reception: Saturday, June 5, 2021
Exhibition Dates: June 5 – June 26, 2021
* masks and social distancing required / live DJ + Party Beer Brewing Co. open next door
Thinkspace Projects
4217 W. Jefferson Blvd., Los Angeles, CA. 90016
#310.558.3375
Los Angeles, CA (May 19, 2021) – Thinkspace Projects is thrilled to present Jack Shure's debut solo show with the gallery. This exhibition is coming on the heels of two very successful endeavors between Thinkspace and the Colorado artist. Having debuted his work during 'Aloha, Mr. Hand,' the gallery's first show of 2021, and with work currently on display at 'Decade of POW! WOW!" group exhibition at the Bishop Museum in Honolulu, Hawaii, this solo show continues the momentum and the partnership perfectly.
'Soul Sanitizer' is a collection of work created to represent how Jack Shure views and digests the world around him. Made up of an amalgamation of styles and subjects, Shure creates an intentionally cryptic narrative of his own personal journey from childhood to parenthood. Using art as a tool for comprehension and processing, the act of creating work becomes his "soul sanitizer," the vehicle for healing and introspection.
My work is a distilled reflection of the significant moments, lessons and inspirations of my life. Pulling imagery from both my childhood, currently and perhaps the future simultaneously. I want my pictures to tell a story that is not an obvious one, but one that takes a moment of contemplation and discovery while pushing boundaries of ugliness and beauty. It invites the observer to recognize that one cannot exist without the other. To me beauty is a choice by way of transmutation thus, only existing through perception. Because of this my work is organic in a way that it is constantly evolving and transforming itself.

Jack Shure
Shure embraces the ambiguous in his work, inviting viewers to interpret the pieces as they will, emphasizing that no idea is incorrect. The subjective nature of his pieces is a large part of the appeal, pulling from his early influences of American subculture and aesthetic to create something much greater than the sum of its parts. 'Soul Sanitizer' is Shure's west coast solo debut, opening his work up to a new demographic and new interpretations.
About the Artist // Jack Shure is a Colorado-based artist who has dedicated his life and work to telling stories through his work, but not the obvious narratives. He creates pieces that inspire contemplation and interpretation, pushing the boundaries of ugliness and beauty. With shows including the 'POW! WOW! Decade' at the Bishop Museum in Honolulu, Hawaii, 'Bull in a China Shop' at the Tchotchke Gallery in New York, and the Amsterdam Gallery Weekend Show in The Netherlands, Jack Shure is well on his way to taking his work to people all around the world.
Los Angeles, CA (May 19, 2021) – Thinkspace Projects is thrilled to present Reen Barrera's newest solo show, 'Cluster Fudge.' Following his most recent show at Pintô Art Museum in the Philippines, Barrera is bringing his work to Los Angeles.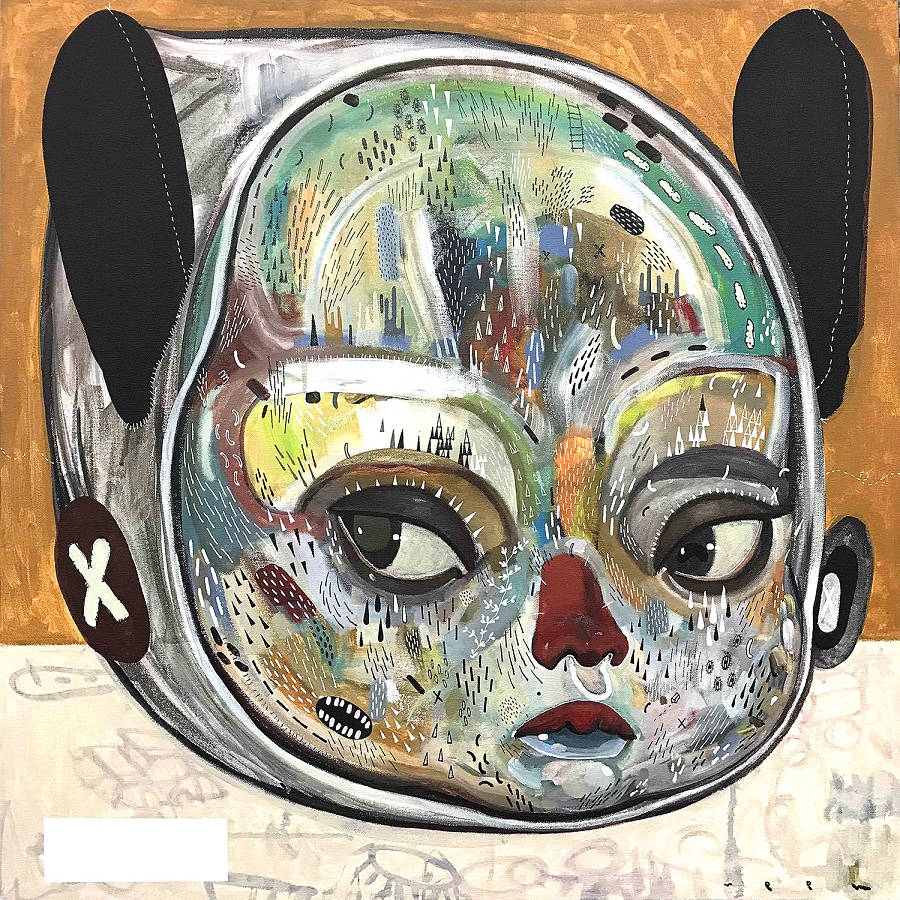 Barrera has taken the idiom "it's written all over your face" to heart and beyond, crafting his work around a central character he created early on in his career as an artist. Ohlala embodies Barrera's thoughts, displaying them through a variety of colors painted on the being's face. This serves as a mechanism to silently communicate, focusing on the unspoken rather than what is loud and clear.
'Cluster Fudge' is a collection of work that pulls from facial expressions, allowing Barrera to turn experiences into artwork, taking the literal and mixing it up with symbols and patterns. Through acrylic, oil, and aerosol he crafts this work, embracing accidents like drips, smudges, and splatters, allowing these to lead him to the final product.
In some artworks, I discreetly take socioeconomic classes. Some people are born rich, mid class, some are poor. But the common ground is, everybody has no choice but to deal with it. So I cover all their heads with a canvas cloth to give OhLala the freedom to paint their own symbols on their heads as if they are designing their own fate. And I guess that is what we all have in common, the power to make things happen for ourselves.

Reen Barrera
Using Ohlala as the great unifier, Barrera tackles the idea of difference and circumstance, removing all physical indications and allowing a blank slate. He effectively creates a universe where Ohlala could be anyone, even Barrera himself. In what is quite possibly Reen Barrera's most personal collection to date, he represents and depicts several experiences that have helped create the artist that he is today, all with Ohlala as the subject.
About the Artist // Born in Paris, France, in 1990, Reen Barrera spent his childhood recreating his favorite cartoons with papier-mâché'. As a teenager, he repaired wooden church statues and would keep the excess wood scraps to make toys and figures out of. He naturally circled back into this practice after graduating from art school. With "Ohlala' being the omphalos to his universe, Barrera presents a colorful commentary based on personal experiences.
Thinkspace Projects Social Media Accounts