Dreamy. Edgy. Reflective. Immerse yourself in the exploration of visual creativity and captivating composition with Millo, "At The Crack of Dawn" and Mando Marie, "Tell Me All About It", opening this weekend at Thinkspace Projects. Harnessing your attention, the engaging imagery and fervent storytelling of each artist sets your imagination ablaze. Steeped in a wanderlust of surrealism, let the thought-provoking anecdote of these wonderful new collections awaken the dreamer in you.
Still want more? Thinkspace Projects has a full schedule of online events for all exhibitions, including virtual tours, live streaming, interviews and much more… so be sure to follow their blog Sour Harvest to stay updated! If you're looking to add to your budding collection of art, take a moment and visit their store to view available inventory.
Opening Reception: Saturday, May 1, 2021 | 3pm to 8pm
Exhibition Dates: May 1 – 22, 2021
* masks and social distancing required / live DJ + Party Beer Brewing Co. open next door
Thinkspace Projects
4217 W. Jefferson Blvd., Los Angeles, CA. 90016
#310.558.3375
Millo, "At the Crack of Dawn"
Thinkspace Projects is thrilled to present a new solo exhibition from Italian artist, Millo. This is Millo's fourth solo show and U.S. solo debut. Beginning on May 1st, the painter and muralist will bring several of his works to the Thinkspace gallery in West Adams, effectively bringing a bit of new Italian culture to Los Angeles. 'At the Crack of Dawn' is an exhibition built around the ephemeral point in time just before waking when everything is whimsical and the lines between dreams and reality are blurred.
Just before the beginning of a new day, there's a fleeting moment where dreams remain alive. All my new works come from there, as unconscious feelings passed through the haze of the shadow till the glimpse of light, shaping what is silent.

Millo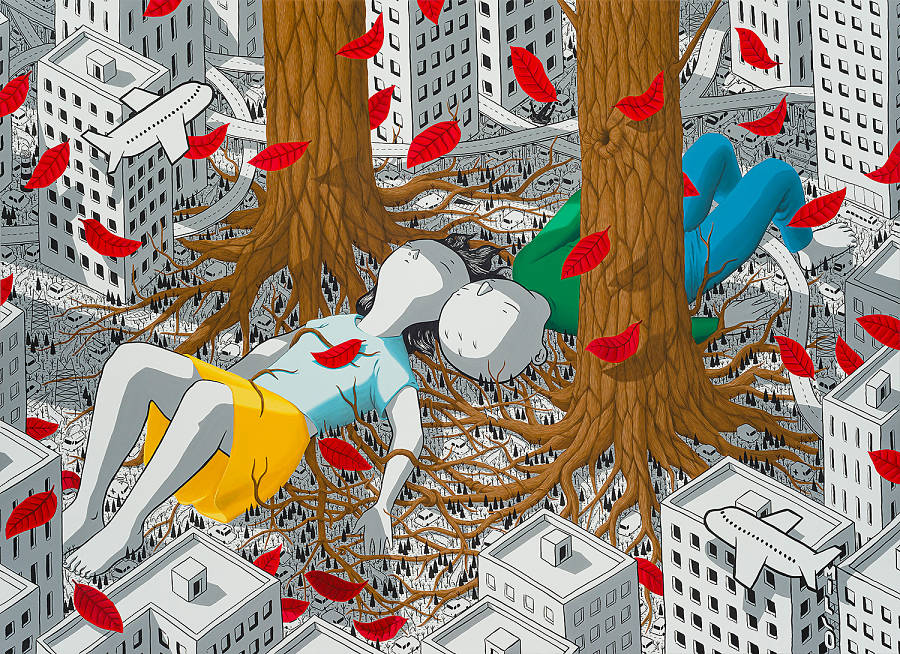 The circumstances of this past year have played a huge part in the creation of this show. The initial shock of being scared and stuck gave Millo time to reconnect with his own imagination, and focus on what people globally were simultaneously doing: dreaming. This exhibition, from internationally renowned muralist Millo, is a collection of works in his signature predominantly black and white style. With detailed monochrome cityscapes and color pops to highlight the subjects, Millo creates the moment just before waking in a series of breathtaking scenes. The friendly inhabitants of each scene float above their urban settings displaying a blend of dream and reality. He crafts giant characters who are out of scale and often clumsy, confined to an urban habitat that forces them to invent new ways to live.
With close to 100 murals still riding around the world, Millo has become an icon, known for his simple black and white lines, dashes of color when necessary, and architectural components. This show marks Millo's U.S. solo debut. Thinkspace is honored to display this collection from one of Europe's most renowned muralists.
About the Artist // Millo is an Italian street artist, born Francesco Camillo Giorgino in 1979. He is known for his predominantly black and white large-scale murals found the world over. His artworks are characterized by child-like figures, simple monochromatic lines combined with a dash of color, and elements of architecture. Millo has taken part in several street art festivals and NGO art events all around the world. His murals can be seen in USA, Canada, Russia, China, India, Australia, New Zealand, Thailand, Argentina, Bolivia, Chile, Polynesia, Morocco, Spain, Portugal, UK, Netherland, Belgium, Germany, Luxembourg, Norway, Denmark , Finland, Poland, Slovakia, Lithuania, Belarus, Hungary, Ukraine, Cyprus, Georgia, Greece, and Italy. His works have been exhibited in Los Angeles, Chicago, Berlin, London, Amsterdam, Milan, Rome, Florence and more. His works on canvas are also part of two permanent exhibitions : Urban Nation Museum of Contemporary Art in Berlin, and Straat Museum for Graffiti and Street Art in Amsterdam.
Mando Marie, "Tell Me All About It"
Los Angeles, CA (APRIL 13, 2021) – Thinkspace Projects is honored to welcome Mando Marie back for her second solo show with the gallery. Beginning on May 1st, enter the world of Mando Marie's 'Tell Me All About It.' Pulling inspiration from classic Golden Book era illustrations, she crafts a world reminiscent of childhood adventure and wonder.
Bringing a contemporary edge to the innate elements of nostalgia, Mando works primarily with spray paint, stencils, and collage elements. She incorporates these elements of street art juxtaposed with the familiarity of the picture book inspired world to create work that is both edgyand comforting. Her paintings frequently feature repetitive and mirrored imagery, eliciting a dream-like quality that is simultaneously pleasing and haunting.
Mando is a true original. Her ever-present subject matter – animals, children, and everyday objects – walks a fine line between 1950's nostalgia and unnerving narratives that call into question our own memories and interpretations of childhood. She does this with a beautiful blend of humor and pathos.

Jill Hartz, the Executive Director Jordan Schnitzer Museum of Art in Oregon
About the Artist// Amanda Marie, known internationally by her artist moniker Mando Marie, is an American painter and stencilist currently based in Portugal. With solo exhibitions and public art projects all over the world including Basel, New York, London, and Miami just to name a few, Mando Marie has created a name for herself in instantly recognizable characters and a contemporary spin that reflects her street art savvy. Mando Marie can be found at www.seeyouthroughit.com and @seeyouthroughit on social media.
Thinkspace Projects Social Media Accounts