We are all the product of our experiences. The decisions we make and the stories we weave are often affected by thousands of past moments, large and small, even if we aren't conscious of this. At the end of a long day, we fall asleep to quiet our minds and switch off from the chaos. But here, things get even more interesting. As we sleep, the day's activities lurch and meld to be processed by our brains and stored as memories. The dreamworld takes over. This personal universe, unique to each of us, is made entirely from our own experiences – yet rarely can we control it. Even more rarely do we remember it. And for me, it is all of this that makes NY based artist Jon Jaylo's paintings so special. His paintings are not only an active way to process his experiences, but a selective concoction of dreamworld symbolism mixed with conscious contemplations.
By merging these two cognitive states, Jon Jaylo has created an entirely new realm when we refer to art as a visual diary.
Having painted professionally for 14 years, Jon's paintings have travelled the world exhibiting in Hong Kong, Singapore, Korea, Australia, across Europe and the US. The way in which Jon picks apart his dreams and memories build scenes that are deeply personal to him, yet curiously alluring to the viewer. Each painting is carefully designed. Look closely and you will see repeating symbols, which reflect his philosophical ruminations and self-awareness, depictions of conversations he has had with loved ones. The ticking clock, for instance, reminds us we are all on borrowed time. It's easy to get lost in the cryptic symbolism laid before us on the canvas…
Yet what makes these paintings even more fascinating is the realistic edge, which he brings to the surreal narratives unfolding. It helps to make the unbelievable believable. In a way, we are brought back into the dreamworld, though this time stepping into someone else's dream. And what more personal connection can there be than that?
I was lucky enough to chat with Jon and learn more about his life as an artist so far – we hope you enjoy.
Interview with Jon Jaylo
From my understanding, many of your paintings are inspired by your dreams. While I have the odd amazingly strange dream, many are rather mundane… how often does the dreamworld provide you with new material?
In my early days as a painter, I used to have those strange dreams more often. I remember the first thing I would do was to try to record every detail as much as I could and write it down either on a piece of paper or on my phone just before the story disappeared. There are dreams that can easily get lost as soon as I wake up but there are those that stay for longer. I still have some of those dreams in my notes from years ago that I haven't even painted yet.
I have to add that there are other dreams that seem so uninteresting when I talk about them. But the moment I transfer it to the canvas, it gives a whole new and different perspective.
Are you the kind of dreamer who is aware that they are dreaming?
As I look back, there were a couple of times that I was aware I was dreaming. There were also a few moments where I felt I was able to somehow influence or direct where the story was heading or how it was supposed to end.
Cultural exchange
As well as dreams, I imagine there are a lot of other life influences which are imbued into your works. For a start, you grew up in the Philippines and now you live in New York – these are two very different cultures! Do you feel that your cultural experiences have had a direct influence on your art?
Yes, they were definitely sources of inspiration in most of my paintings. It is easy to absorb what is happening around me and paint that experience on my canvas. I have travelled the world and I can definitely say that every time I'm in a different place, that experience will be automatically infused into my art. I still dream of living in Japan and Paris someday; I wonder how it will change my art.
That reminds me of the statement on your website: "My life is so surreal it would be a waste not to paint it". That intrigued me for sure! Can you share more on this?
I personally think I am still clueless as to why I'm still alive and how I even got here. As far as I can recall my life was filled with chaos, a lot of moving places, ups and downs and difficult challenges. I did dream about being a painter when I was still a kid but during those times, I never knew that I needed to exhibit my works, nor that I would be able to travel. I was just happy I could create art.
As you grow older, you create new goals and although I have shown in many galleries around the world, one of my goals was to hold a solo exhibit in a museum. I remember I wrote that on my social media account and my website when Melissa Walker finally told me that my show in California Center for the Arts was finally approved. Sam and Melissa from Distinction Gallery helped me fulfill that dream. Up to now it is one of my most special and cherished shows.
Imagine a young kid from Manila, Philippines, ending up exhibiting his work in a museum in San Diego, California… now that is surreal!
Sincere congratulations on that exhibition Jon, that is certainly something to celebrate. Sticking on the theme of surrealism, you've listed artists including Rene Magritte, Paul Delvaux, Gustav Klimt, Frida Kahlo, Dalí and William Bougereau as influencing you. Was surrealism something that you were introduced to as a child, or was it a discovery later in life?
When I was growing up, we had this one book about all the famous painters and their works; I was only around 4 or 5 years old. During that time, I had no concept of what art was, nor did I know what a painting was, or who the painters were. All I know is that I was looking at a book full of wonderful images and it widely opened my eyes and imagination. Out of all the paintings, from the masters on that book, Dali and Magritte's work stood out to me during that time. Little did I know that was my very first introduction to surrealism.
Translating concepts into art
Can you share how you develop your list of initial ideas into a finished painting?
Almost all of my concepts come from my dreams, personal experiences and sometimes themes that currently surround us. With my solo shows, I usually pick a certain theme for the whole collection.
Each story of the painting can stand on its own, but when you put them all together you can tell that they belong to that one theme I initially created. It's like putting all the pieces of the puzzle together to complete this one, whole image.
I wonder, what is the most difficult thing for you about creating art?
Arranging and choosing the concepts, making studies, deciding on the right symbols and elements for the painting, giving importance and emphasis on the meaning of the story – these are the elements that take so much of my time. For me, they are the very soul of my paintings.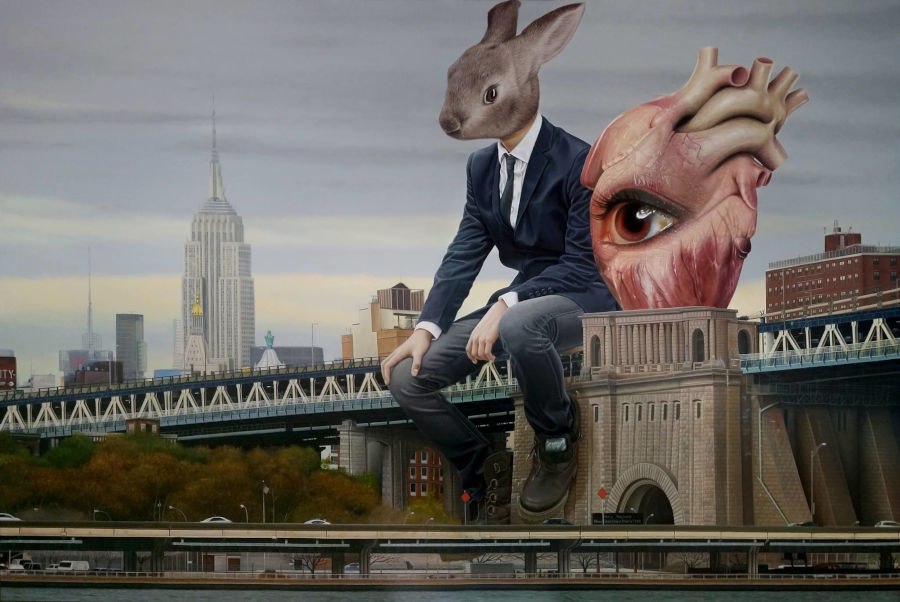 Are there any artworks you have created which are particularly special to you?
There's a few and very special artworks that are very dear to me, especially if the painting is about my family. "The Answers To All The Riddles You Left Me" is very special for me. It was exhibited in Venice, Italy, in 2019. The story is about my one and only daughter. I hope that one day when she's all grown up, she will seek for answers, know the truth, and finally understand the other side of the story.
A lifelong bond
What are some of the most memorable moments in your career as an artist so far?
Although I dreamed about being a painter from a very young age, I never really thought I would end up as one, never mind having the chance to exhibit my works even in the Philippines!
Never in my wildest dreams did I imagine that one day my works will be exhibited in Hong Kong, Singapore, Korea, Australia, Germany, Italy, Paris, Switzerland and here in the US. I was also able to see up close most of those famous paintings from the book that introduced me to art when I was a child. Aside from meeting all the different people, artists and art enthusiasts from around the globe, I guess the most special and unforgettable part of this journey was that I was able to bring my sons with me to my shows. We were able to travel the world because of my art.
Those shared memories will last forever.

Due to the ongoing pandemic, Jon Jaylo has declined all invitations for future exhibitions until further notice. Keep up to date with Jon's upcoming plans as they develop by following him on his socials.
Jon Jaylo Social Media Accounts