April was another exciting month for stippling queen, Juliet Schreckinger. Having already wowed audiences through her previous group and solo shows throughout 2022, Juliet, a prominent name in the fields of contemporary animal art and illustration, was back again with a handful of new, unique works.
"I had the honour of being part of two amazing openings. Firstly, the 11-year anniversary show at Arch Enemy Arts in Philadelphia throughout April. Secondly, the 'EXISTENTIAL' show in Portland, Oregon, has just opened! 'EXISTENTIAL' takes place across both Antler Gallery & Talon Gallery, who have teamed up with Thinkspace Gallery for this special exhibition!"
Dates: April 7th – 30th, 2023
'EXISTENTIAL' at Antler Gallery & Talon Gallery, curated by Thinkspace
Dates: April 27 – May 21, 2023
The Cephalopod Forest: Arch Enemy Arts
Arch Enemy Arts' latest show was a huge success. The theme was celebration, "because we were all so happy to celebrate eleven years of success for an incredible gallery!" Juliet Schreckinger explains. For the exhibition, Juliet created 'The Cephalopod Forest', a piece which took her over 200 hours to complete!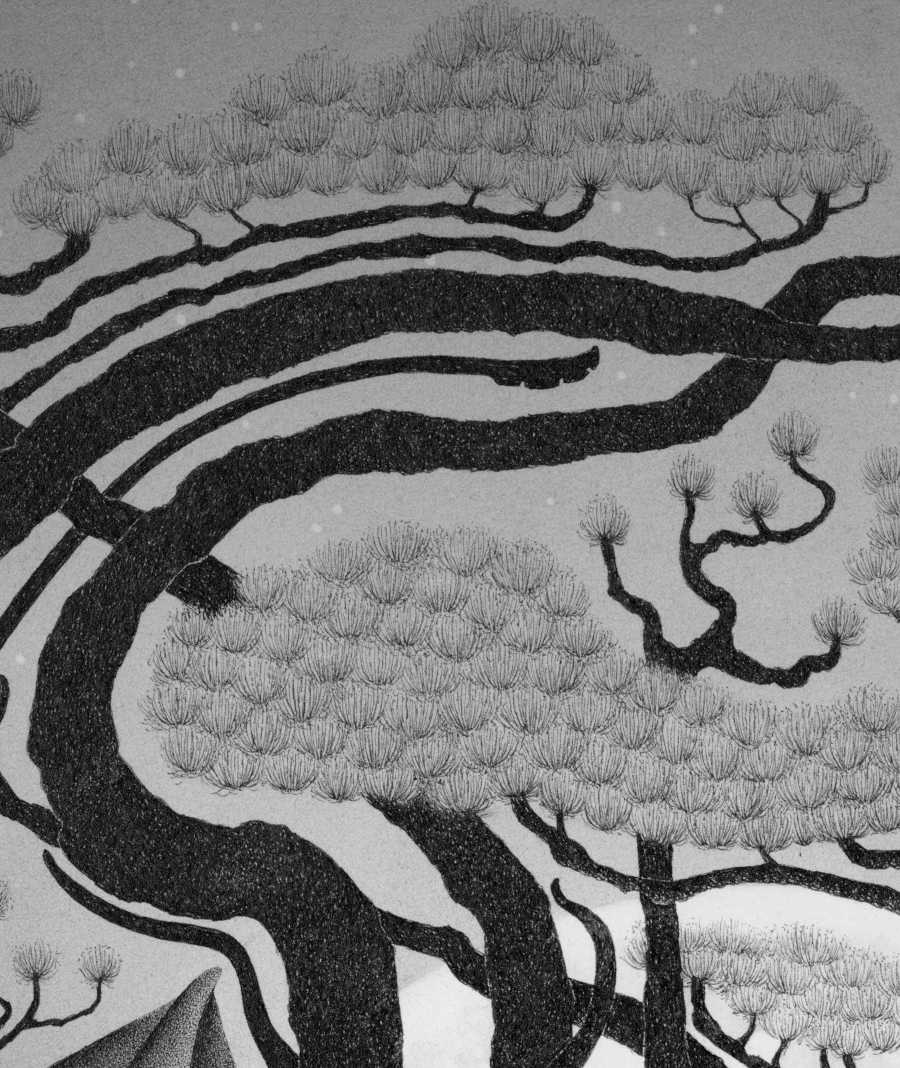 "I traveled to the West Coast this past fall, and during a hike in the woods overlooking the Washington coast I came across this special octopus-shaped tree." She shares. "I sketched it from life in my small sketchbook, and then took my concept sketch back to my studio and began working on the final piece."
This one was so special to me because I had such fond memories sketching the initial idea in the woods. I felt very connected to it from start to finish. The cephalopods featured in this piece are William the Giant Squid, Bumble the Dumbo Octopus, Vasey the Vampire Squid, Oscar the Octopus, and Clarence the Cuttlefish.
'EXISTENTIAL': Antler Gallery & Talon Gallery, curated by Thinkspace
'EXISTENTIAL', which is currently on show, showcases the work of over 70 internationally renowned artists. 10% of all sales are being donated to Born Free USA Foundation to help raise awareness and funds for the world's endangered species. The Foundation is an amazing organization which Thinkspace – another wonderful gallery who has curated this show – has had a long-standing relationship with. For this special exhibition, Juliet created two pieces focused on endangered species. The first piece, titled "Empty Sea", is about the North Atlantic Right Whale.
"There are less than 350 North Atlantic Right Whales left in the world." Says Juliet. "They are magnificent, important creatures that deserve protection. Commercial whalers had hunted Right Whales to the brink of extinction by the early 1890s. The whales gained their name from being the right whales to hunt as they were easy prey and floated when they were killed. Today, their leading causes of death are entanglement in fishing gear and vessel strikes. Furthermore, increasing ocean noise levels from human activities has interfered with their communication methods and stress levels.
"I created this piece with the idea that all the right whales had risen above the broken world and the way they had continually been mistreated and left behind an empty sea.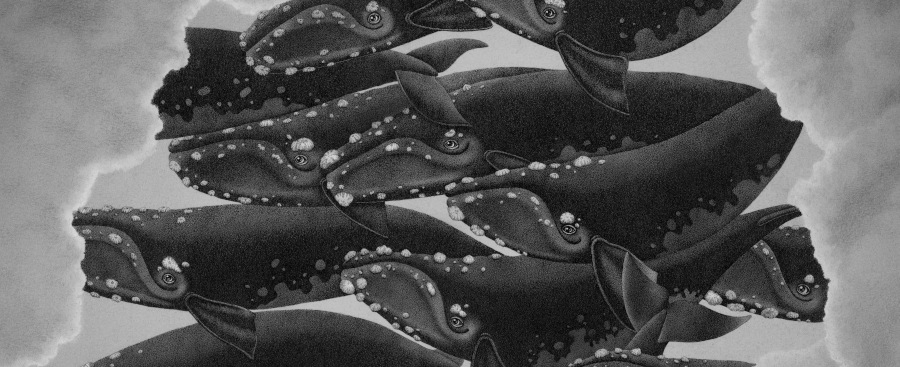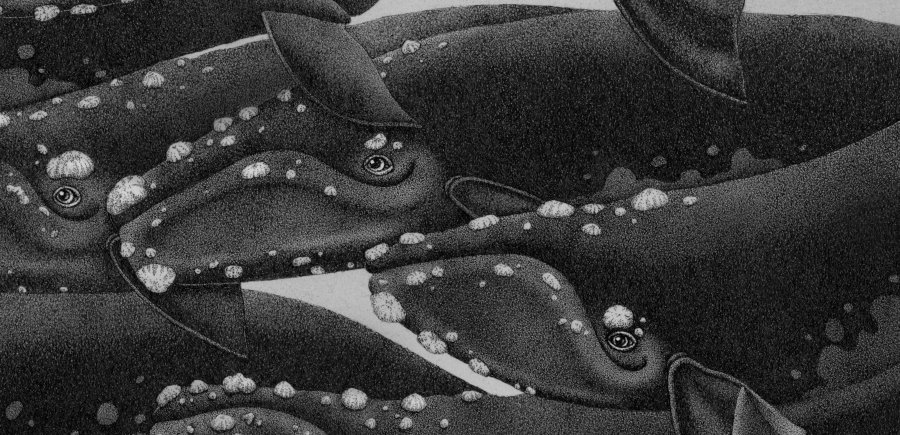 "The second piece I made for this show is titled 'Peter the Pangolin and Fable the Sierra Nevada Red Fox'. It focuses on two endangered species: the pangolin and the Sierra Nevada red fox. This type of fox can be found in the Southern Cascades and the Sierra Nevada, and in 2010 it was estimated there were about 50 left in the wild. They have extremely soft fur and were extensively hunted before bans were put in place to aid in their protection. The pangolin is one of the world's most critically endangered species due to animal trafficking, as their scales and claws are extremely valuable.
Although they are from totally different parts of the world, these species have both faced tremendous loss and decline due to human actions. In my mind, they are friends; they understand what one another is feeling and give one another the space to communicate those feelings. Fable and Peter set off to find a place that is theirs alone. without any threat of humans lurking over them. They are adventuring into the unknown, trying to make the best of a broken world that has let them both down, so they instead can lift one another up."

Juliet Schreckinger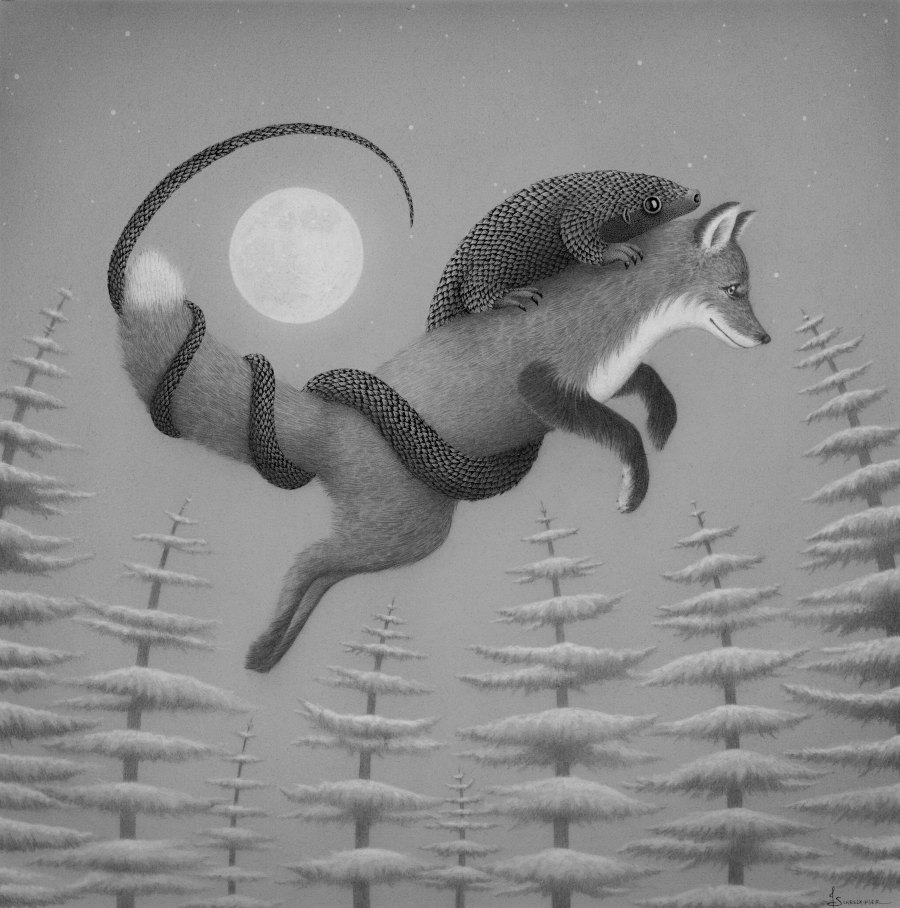 Interested in purchasing one of Juliet's original artworks? Be sure to contact Arch Enemy Arts for their 11-Year Anniversary Exhibition, or Antler Gallery for 'EXISTENTIAL' directly. 'EXISTENTIAL' will be on show in Portland until May 21, 2023.
Juliet Schreckinger Social Media Accounts