Since childhood, the wonderous world of fairy tales, folklore and mythology have filled our everyday lives whether it be through books, film, museums or even our theme parks. Centuries old stories have become an integral part of the human experience. As children, we are taught morals and ethics through stories of magic, mystery and heroism and while many outgrow these tales, for some, the magic of these stories follows them into adulthood.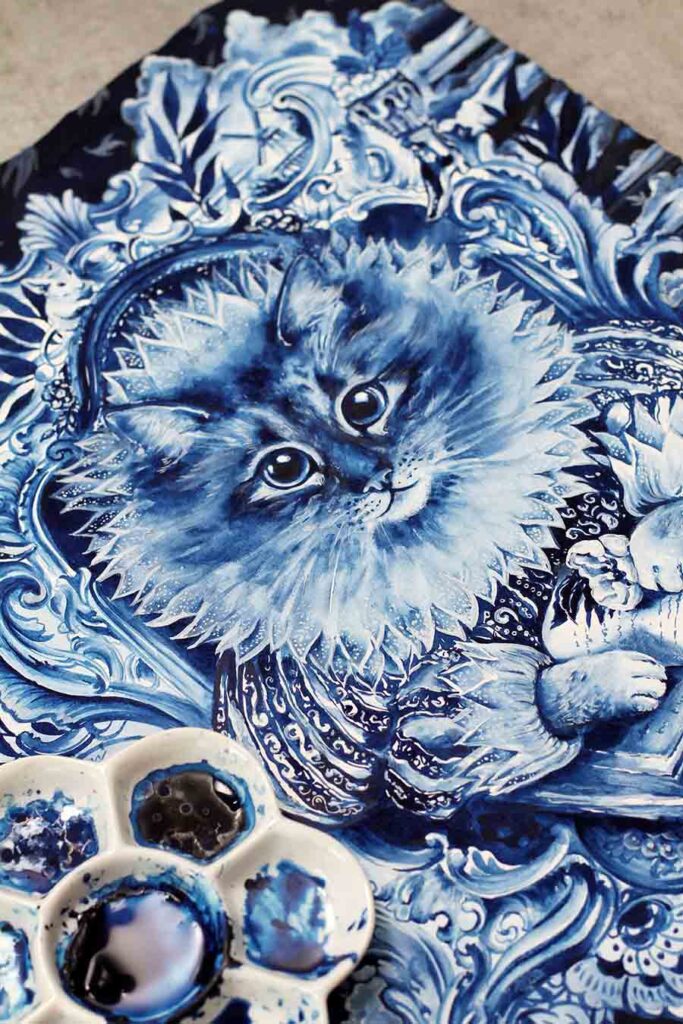 Award winning contemporary artist Anna Sokolova continues to surround herself with the magic of fairy tales sharing a life-long passion for them through her art. Her fantastical magical realism style lends itself to this genre of storytelling especially when paired with the timeless hues delft blue featured in much of her work. The Berlin based artist has had great success collaborating with Netflix, Wired, ImagineFX and Maison Margiela and has written her own book Brilliant Inks. But for Anna, there is nothing quite as magical as fairy tales and folklore. This passion has never left her as "fairy tales are full of wonders" with its "enchanted forests, magical creatures, heroes and villains."
Books are such valuable objects. When I moved from St. Petersburg to Berlin several years ago with my husband, we took a suitcase full of books!
Growing up in Leningrad, modern day St Petersburg, Anna discovered her love for fairy tales, folklore and mythology. "As a child I remember diving into books for hours exploring the incredibly detailed and sometimes frightening illustrations by Ivan Bilibin for the fairy tales of A. Pushkin. Honestly, I didn't put much attention into the text back then." Anna continued exploring these tales and would fall head of heels in love with Ruslan and Ludmila, an epic Russian fairy tale told in six parts. Alongside tales from her homeland, Greek and Roman mythology became a notable point of interest as stories from these ancient periods are "something that we talk about in everyday life since so many names and phenomena are tied to these legends." The "absolutely striking" work of the Brothers Grimm and Hans Christian Andersen also shaped her passion especially when these tales were accompanied "by paintings from the golden age of illustration."
Delving deeper into her passion for this subject, Anna explains she's "especially drawn to literary fairy tales mixed with folklore" which is a "tradition that emerged during the Renaissance and held symbolic and subtle levels of narration." "I'm charmed by their rich aesthetics, often combining idyllic beauty with a darker twist. Most importantly, folk tales and fables offer a deep understanding of human experiences transcending time and space. As well as myths and legends! Our deepest fears and aspirations haven't changed over the centuries, and it's incredible to meet the same relatable characters in modern day. Most of the artwork we see in the Louvre, Uffizi and Hermitage are interpretations of myths, legends and religious stories with characters that are ancient. It's interesting that original fairy tales are much more dangerous and frightening than the adopted safe versions that we know today." While many frightening aspects have been removed in modern times, Anna finds these tales "inexhaustibly stirring [her] imagination with ornate costumes, fantastic creatures, precious artifacts, and heroes' journeys."
The most precious part of being an artist for me is cherishing the fact that art as a practice is never-ending.
Anna's current catalogue of work often features fairy tale characters reimagined as cats encased in intricate frames that add narrative qualities to her work. "I'm drawn to the mysterious nature of cats" she explains. "Not surprisingly, cats have such a long history of cultural significance" making them a perfect fit for the theme of her work. This idea blossomed from the Russian creature Behemoth after being invited to participate in the Cat Art Show LA. "The ideas of depicting Behemoth materialised instantly as if it had already been waiting for me for a while. The dark satire 'The Master of Margarita' by M. Bulgakov is my favourite book. Behemoth's appearance as a giant black cat is deceptive and is also the origin of the name. Full of sarcasm, this furry shapeshifter, or a werecat, has a hypnotic look that causes chaos and hallucinations. He can be brilliant philosophical, and at the same time, full of roguishness." "It isn't easy to paint [cats], and you never know the result, but it will always be unique!"
Since Behemoth, Anna has reimaged many characters including Persephone originally created for the Ethereal Orchard for WOW X WOW Gallery. Persephone is a striking but subtle interpretation of the Greek goddess featuring an elegant feline encompassed in an ornate frame of flowers, fauna and of course, pomegranates. "Greek mythology is something I've always been interested in from as far back as I can remember. The story of Persephone (Proserpine) inspired Pre-Raphaelites and I was immediately memorized by their vision. Ah, and those pomegranates! Persephone is a dual deity. Goddess of the underworld and the symbol of immortality surrounded by pomegranates and flowers. Her journey depicts the cycle of the seasons descending in winter and emerging in spring to the world of the living."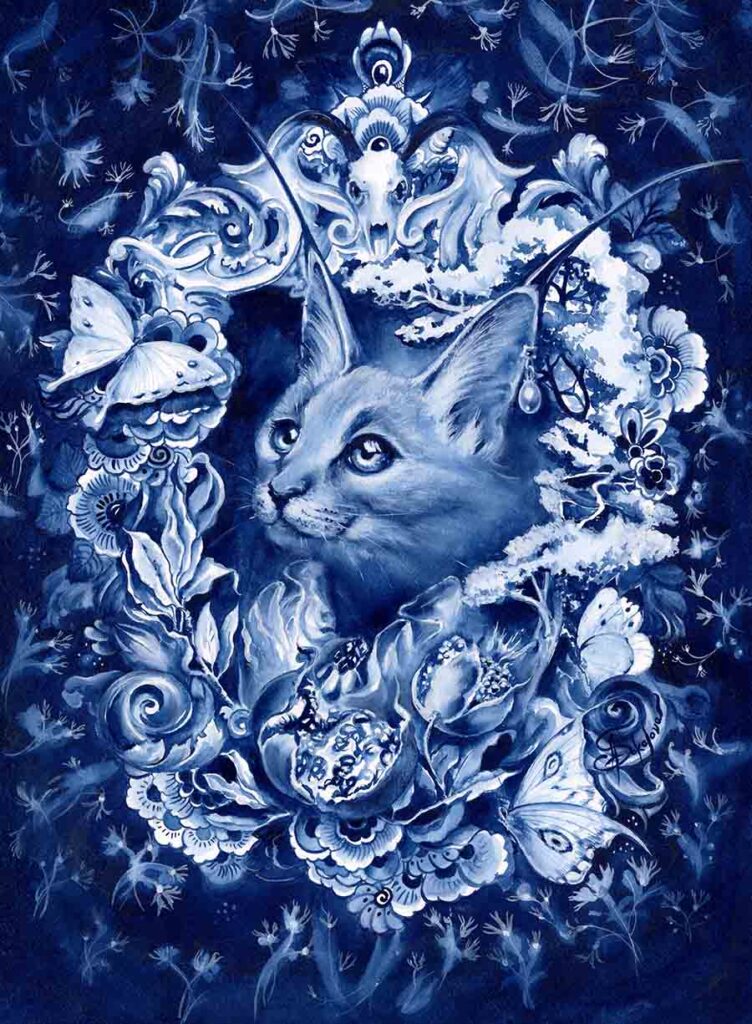 Anna has reimagined the iconic Puss in Boots in her painting of the same name. These days, Puss in Boots is known for his role in the Shrek franchise but Anna's interpretation offers a regal version of the character. Originally created as promotional material for Rachel Kapelke-Dale's book Ingenue, Puss in Boots showcases a majestic Puss encompassed in a storybook style frame to reflect his 17th century Italian heritage. She describes this as a dream project expanding on how it came into fruition. "We live in such crazy times, and it has been a very tough time for obvious reasons. So many horrible and incredible things have happened, and I'd been thinking a lot about what future moves I should make for my art practice on both business and creative sides. We also have a small child, so time management was a top priority. And suddenly, I got such a heart-warming letter from the writer Rachel Kapelke-Dale who saw my work online. She read in my interview (for Beautiful Bizarre mag!) that I'd love to illustrate fairy tales, and that's why she decided to reach out! This was cosmic energy in action! This kind of collaboration is so fruitful."
Her most recent painting The White Cat, inspired by the French literary tale of the same name, follows an enchanted queen who "lives in a fantastic castle in the woods inhabited by intelligent cats." Using a mixture of tempera and watercolour on cotton Anna brought this story to life combining "a classical fairy tale feel with a modern twist." Her interpretation portrays the queen as a white fluffy feline adorned in all the jewels and fancies a royal could ever ask for.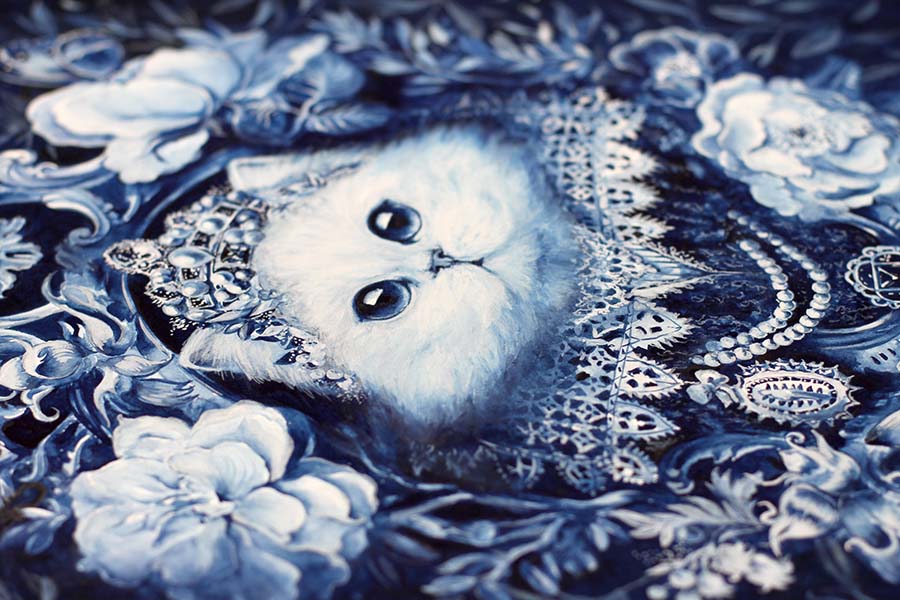 Alongside Anna Sokolova's many cat paintings, she paints human characters with just as much exquisite detail as seen in Vasilisa the Beautiful, a Russian fairy tale inspired painting created for the Codex Obscurus artbook and Tarot deck project. The piece features a curious but wary Vasilisa clad in shades of pink and crimson as the forest and its inhabitants blanket her from the dangers that lurk nearby. What started as a Kickstarter campaign and art contest became an excellent opportunity for Anna to flex her creative muscles as the project's theme centers on folklore and fairy tales.
"The art world is so intertwined, and at the same time, there are so many niches" explains Anna. "Artists working in a magical realism style and overall fantastical imagery often painted for books and games are often united by the level of skill and thematic interest." This painting "was such an adventure!" she exclaims. "I chose the Vasilisa the Beautiful tale and asked my friend to model for me in the woods in Berlin. Then I used mixed media, including tempera, oil, and gouache to interpret the legendary artwork by Ivan Bilibin where Vasilisa is holding a skull after leaving Baba Yaga's izbushka. It's the stamp of a memory of so many creative children. Scary, yes, but not horrifying!"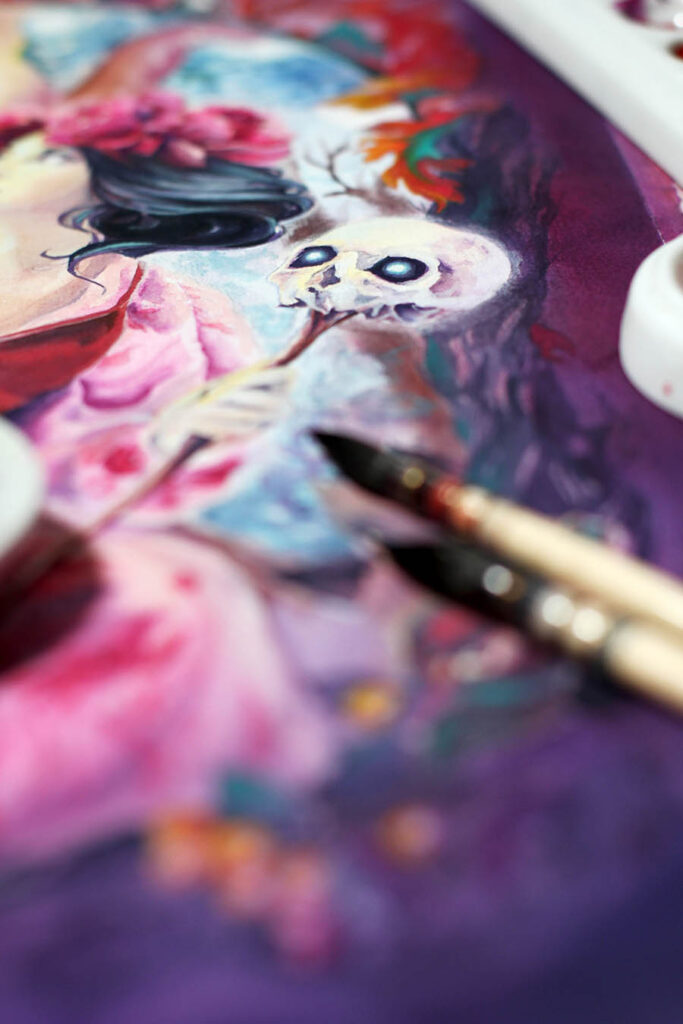 With such a passion for stories, the obvious topic of books had to be discussed. Books and fairy tales go hand in hand. While these stories are rooted in oral tradition, today we see these tales bound in beautiful editions to keep them alive. "Books are such valuable objects" declares Anna. "When I moved from St. Petersburg to Berlin several years ago with my husband, we took a suitcase full of books! And no, I'm not referring to the Only Lovers Left Alive movie. It was just so natural to bring our treasures along! I have a few beautiful classic editions and some illustrated artbooks and I hope to collect some original fairy tale editions someday!"
I'm charmed by their rich aesthetics, often combining idyllic beauty with a darker twist. Most importantly, folk tales and fables offer a deep understanding of human experiences transcending time and space.
Anna also has a passion for fashion after collaborating with Maison Margiela. This project allow her to hand-paint designs and create a range of garments that were used in A Folk Horror Tale, a film based on an original concept by John Galliano and directed by Olivier Dahan. "It's fascinating how the art world is interconnected" she exclaims. "When looking at my art heroes like Alphonse Mucha and Marc Chagall, I kept coming across their work for fashion magazines. We know that in early Renaissance, most of the masters were creating paintings, jewellry, and frame designs, so it makes perfect sense." After working with John Galliano and Maison Margiela and finding it to be "a fantastic experience of creativity and artistic freedom" Anna finds herself wanting to delve further into the fashion world. "Having my artwork on some garments in the future would definitely be a fantastic collaboration."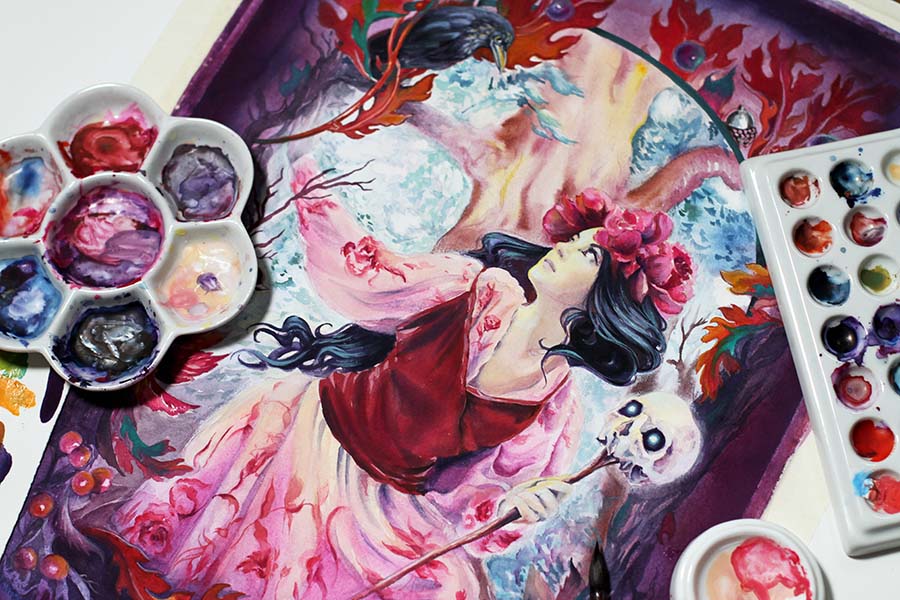 When looking at Anna's fairy tale future, the possibilities are endless whether it be through fairy tales, fashion or anything else Anna's heart desires. The story of her life has already been filled with magic and this artistic magic thankfully never stops. "The most precious part of being an artist for me is cherishing the fact that art as a practice is never-ending. You don't retire from the things you love so much, it may change form, medium, or anything else over time, but it keeps emanating your creative expression and unique point of view. When I reach a goal, I just wait for the new one to emerge without rushing it. Our memory is unreliable, so it's essential to keep some track of the events and appreciate them."
Anna shares how she has a "very-very big scary dream of publishing a fictional picture book." "Like any artist, I would love to create my own fictional tale with a contemporary feel and a bit of a nostalgic aesthetic. This idea visits me so often, and the hero is already telling his story. Yes, I do hide some manuscript pieces under the to-do planner with 'safe and defined projects'." While this idea might seem big and scary Anna believes that the right time will come when she can unleash this story into the world. I'm sure when she finally releases it to the world it'll be just as full of magic and wonder as all her favourite fairy tales.
Anna Sokolova Social Media Accounts
Anna Sokolova's Brilliant Inks Book