Issue 42 of Beautiful Bizarre Magazine, with Eric Fortune's enigmatic painting, "A Want To Believe", on the cover is on sale now! Contact one of our Stockists or Shop Online, but don't miss this special Issue. Take a peek at what's inside below.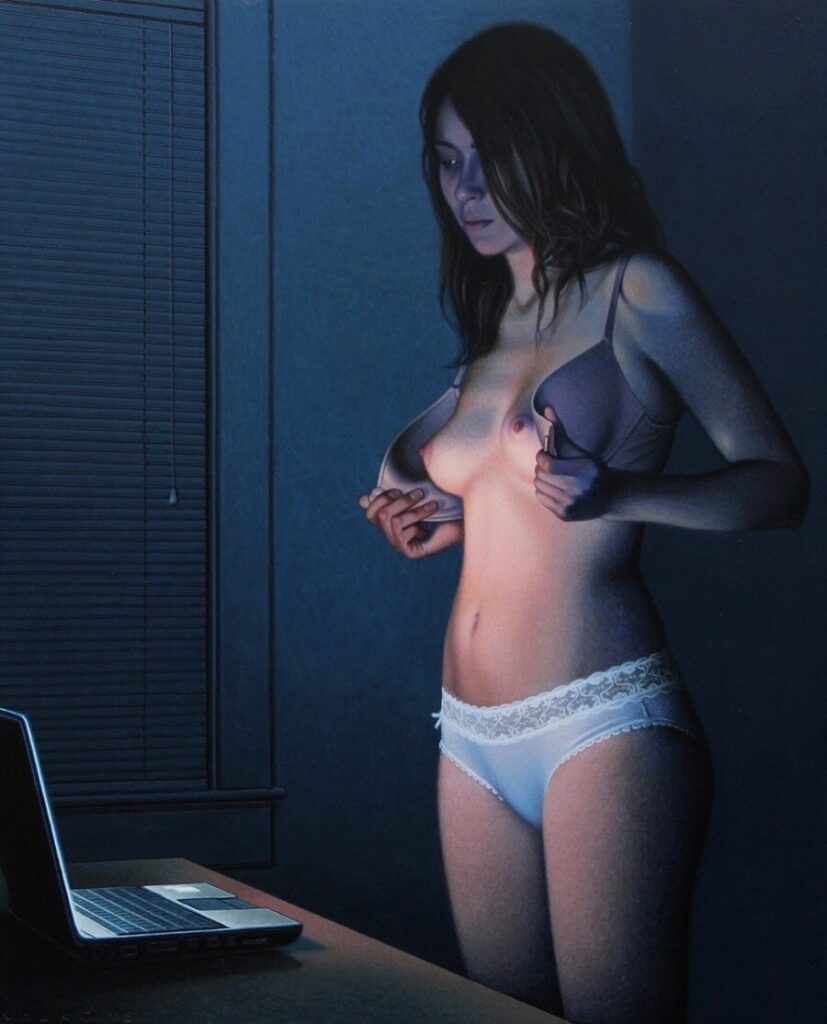 Issue 42
Inside this Issue, we delve into the work of Andrew Valko is a master in hyper-realism and representational art, who has cultivated a unique style that radiates the essence of photography whilst merging cultures and overlapping artistic techniques. To gaze upon an Andrew Valko painting is to be consumed by a quiet wave of nostalgia for the long abandoned American dream.
We also learn about Legend MAD magazine artist Richard A Williams, who gives us further insight into his artistic process as he tantalizes audiences with his sultry muse, burlesque aesthetics, and elegant compositions. In an era where a stray nipple must be censored and can get you banned from social media sites, nudity has become, once again, a very controversial topic. Amusingly, despite the various layers of clothing we adorn ourselves in, we are all naked underneath.
Issue 42, cover artist, Eric Fortune creates an emotional connection with the viewer of
his work. Eric's style is truly his own, built on themes both the fantastical and very much of the world that we live in. His luminous works successfully bridge the hard logic of present day life with the flights we all take in our imaginations, making our wishful thoughts tangible, and bringing us tales that inspire and provoke.
Take a closer look into the dreamy world of Aron Wiesenfeld as he paints fleeting moments suspended in a delicate balance between the realms of nature and urbanity: bypasses, forests, greenhouses, and railways. His canvases evoke a sense of restraint and minimalism, with spare and muted hues. Singular figures, adrift and unencumbered, often inhabit Aron's creations. Lost or found, their destination remains uncertain.
In this Issue, we celebrate our new Artist Directory! The Beautiful Bizarre Artist Directory is the premier platform for discovering and connecting with the most exceptional, innovative and skilled artists working in various mediums and styles. A global network that brings together artists, collectors, galleries, curators and media. Through our comprehensive and curated list of artists, we present the best artwork from around the world. Want to join? You can do so here.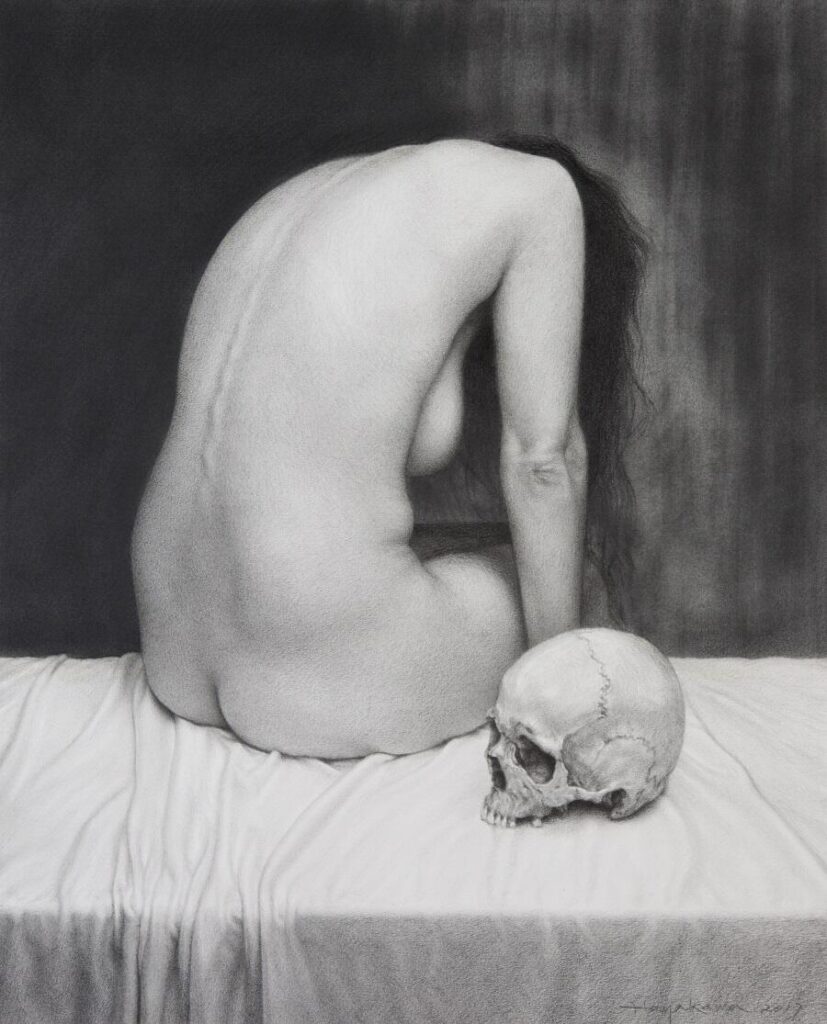 Inside Issue 42, Alex Garant takes us through the creation process of one of her incredible artworks, from ideation to completion in our Path To Creation.
Get inspired as we learn what Leesa Hickey, Director of Side Gallery, would like to add to her personal collection in this Issue's Curator's Wishlist.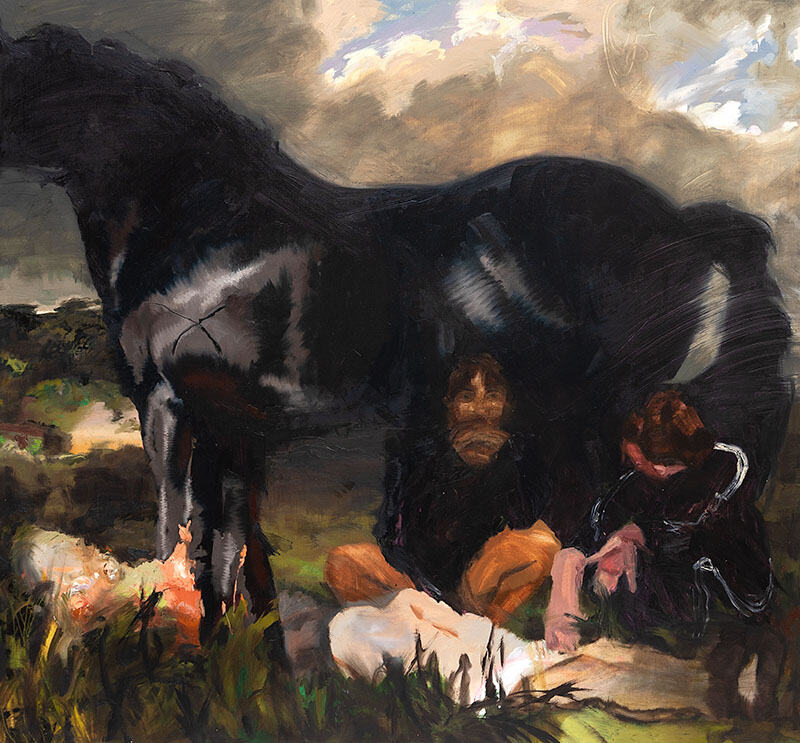 In this Issue, Japanese sculptor, Yoshitoshi Kanemaki captivates with his extraordinary wood sculptures that delve into the concept of "ambivalence". His work beautifully portrays the conflicting emotions and hesitations that are inherent to the human experience. He shares insights into his artistic journey, creative process, collaborations, and the profound meaning behind his sculptures.
Next let us deep dive into Travis Louie's innate storytelling. His signature aesthetic flirts with the same part of our mind which finds sepia and black and white filters seductive. Beyond the period-era aesthetic, there's a youthful playfulness and vitality about the surrealism and cute critter characters in Travis' paintings.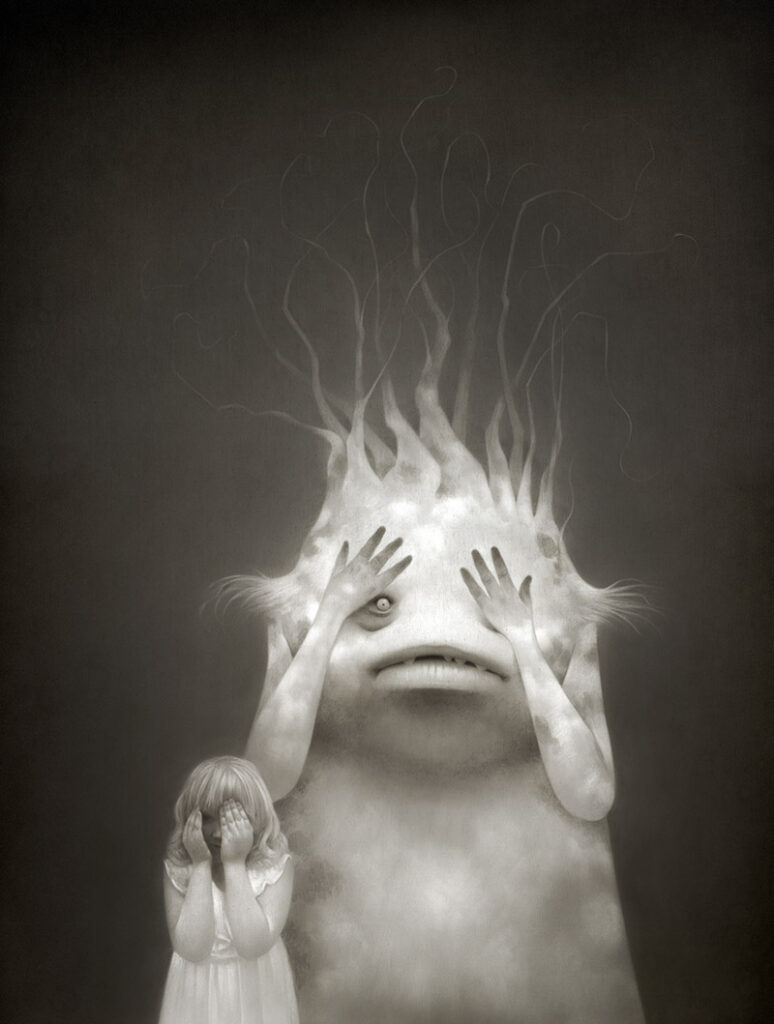 Tina Spratt's mastery has fluttered the hearts of many around the world. Her eye for the subtle
nuances of this integral visual provides many additional layers to her already-captivating portraits. Her use of illumination generates an inviting warmth, a gentleness, and greatly enhances focal points to draw the eye. Inside Issue 42, we delve into the magnetism of her work.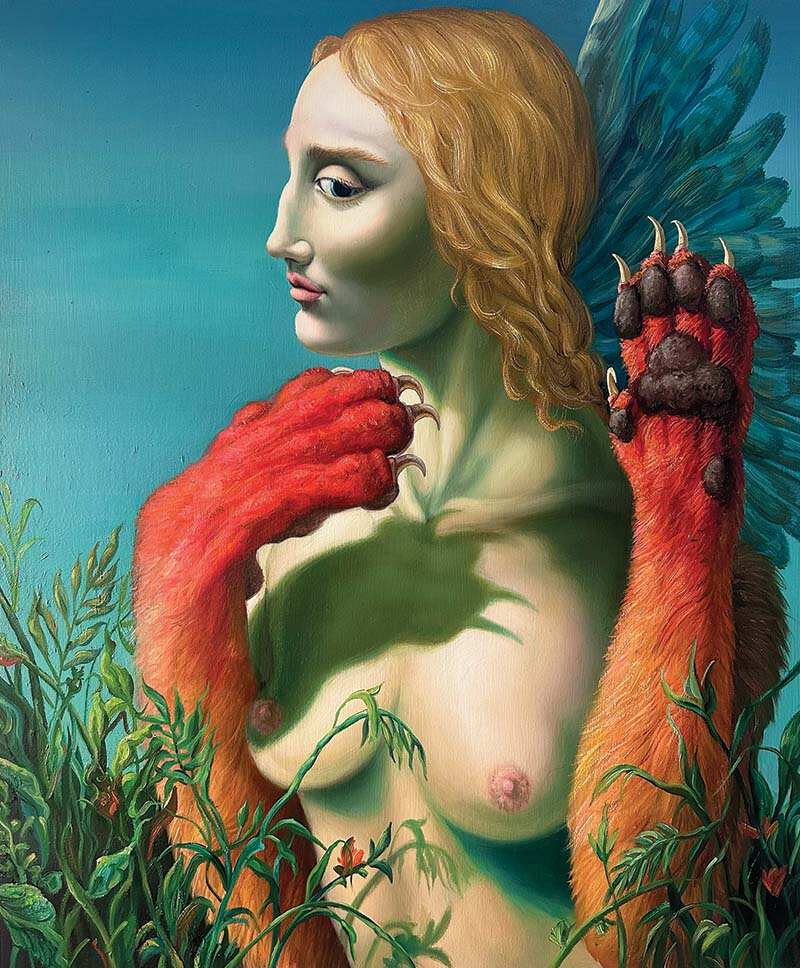 Never short on inspiration, Angela Gram takes us on a journey with her animal creatures that seem to be in total communion with the landscapes they inhabit. Her paintings collectively examine the current state of this relationship where the realm of the mind distorts, allegorises, and projects onto the subject of nature within society and also through the lens of contemporary art.
As well, in this Issue of Beautiful Bizarre Magazine, we see that Naya Kotko's photography which is as intriguing as it is unsettling. Naya taps into the electrifying darkness of modern acceptations of the goth aesthetic with ease. Her photographs include what we can identify as witches. Majestic creatures of the dark. Powerful feminine energies, simultaneously piercing through the darkness and moulding it.
Travel further and learn about Michael Bergt, who through a careful combination of sharp lines and cross-hatching, uses precise strokes to whittle images depicting subjects as old as Hellenistic Greece. The classic combination of black and gold, while prevalent across many artistic movements and mediums, combined with Michael's signature style, harkens to Greek vase paintings.
French visual artist, Bastien Lecouffe Deharme, mesmerizes us with full page reproductions of his dark fantasy digital paintings, inside this Issue's inspiring Lookbook Editorial.
In the Quick Q & A editorial, we ask six artists: Kremena Chipilova [2nd Prize Winner, RAYMAR Traditional Art Award, 2022 Beautiful Bizarre Art Prize], Sooj Mitton, Kristy Moreno, Monica Ikegwu, Laurie Hogin, and Sofia Bonati to answer the same questions:
How do you approach the creative process and what is your process like?
What's one of your biggest regrets as an artist?
What impact has the contemporary art scene had on your work?
How do you engage with your audience and foster a relationship with your fans?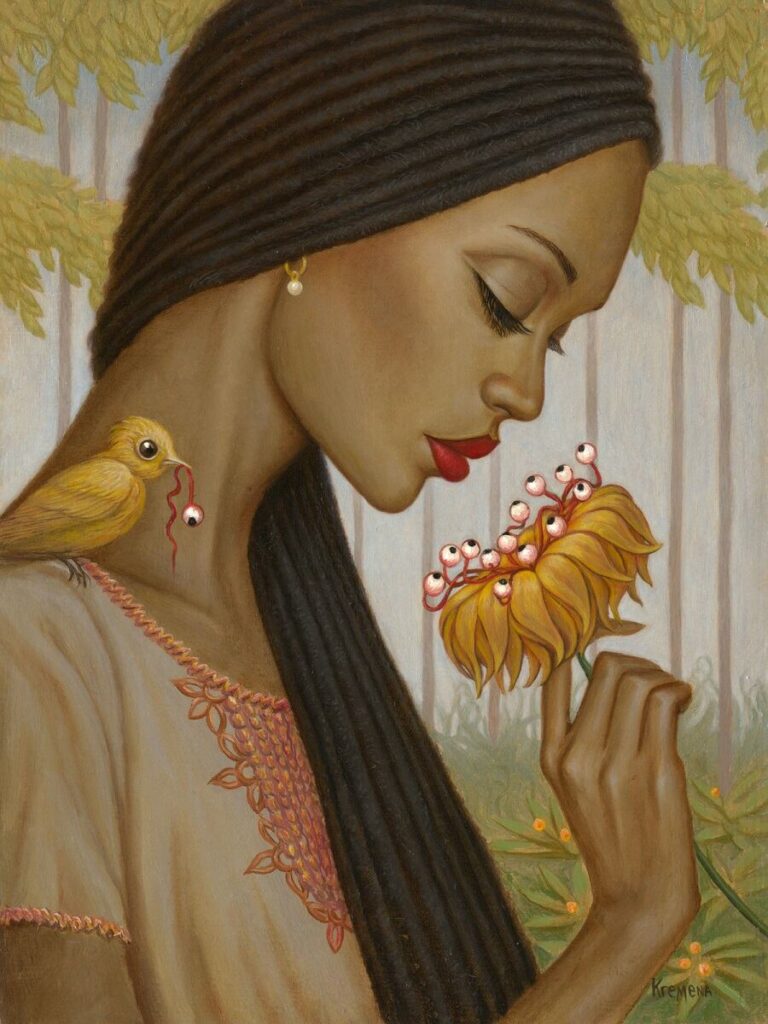 In this issue's Letter from the Editor, our Editor-in-Chief, Danijela Krha Purssey reflects on this year's Beautiful Bizarre Art Prize, and the exciting new Emerging Artists Award, which she and Richard Purssey, her husband and Beautiful Bizarre Magazine's Co-Founder,
have personally sponsored. To further drive her inspiring mission to champion artists from around the world, you now have the opportunity to vote for the People's Choice Award from the 140 short-listed Finalists [25 per Award category: Digital Art, Photography, Sculpture; 50 from the Traditional Art Award category; and 15 from the Emerging Art Award category]. Voting closes on 7 September, so don't miss your opportunity make your voice heard!
We further learn that this year's curated exhibition that corresponds with the 2023 Beautiful Bizarre Art Prize is being held at Haven Gallery in Northport, New York, in November this year. This exhibition, Serendipity, will exhibit the works of over 70 of the world's best representational artists, plus this year's Beautiful Bizarre Art Prize Winners.
Additionally, she touches on the many exciting projects in the works including our 2nd exhibition at Copro Gallery, Los Angeles, in May next year, negotiating our 2025 and 26 exhibitions, and the ongoing pleasure of welcoming new artists to the Beautiful Bizarre Artist Directory.
We also highlight more of the artisan fashion designers that have caught the eye of our Deputy Editor and Editor-in-Chief, in this Issue's Some of our Favourite Things editorial.
And last but not least, enjoy a collection from Our Community, featuring some of the amazing hash tagged #beautifulbizarre artworks from our social media of over 1 million followers!
All this inside Issue 42 // September 2023, which showcases some of the best and most inspiring emerging and mid-career artists of our time.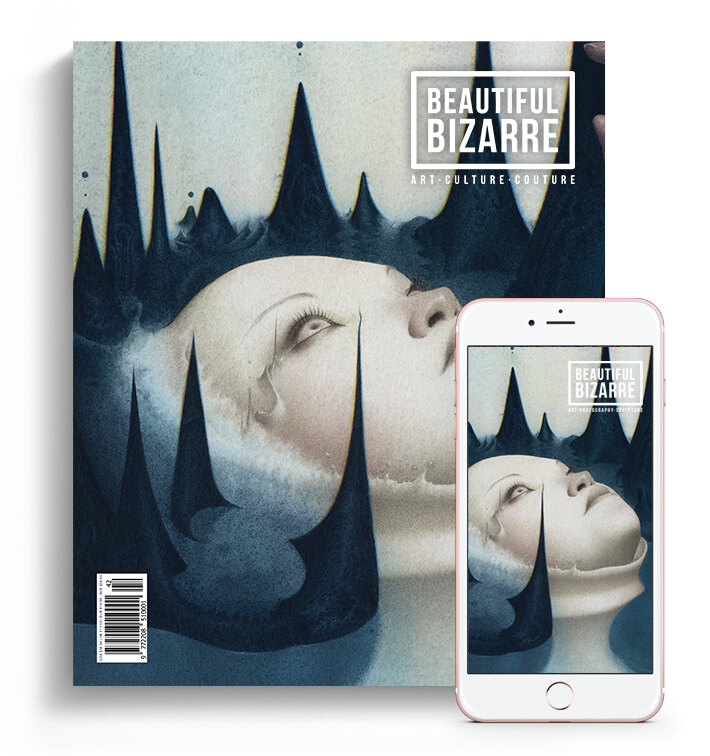 Visit our online store and enjoy Beautiful Bizarre Magazine Issue 42.