Roses are red, Violets are blue – Thinkspace Projects has something special for you. It's hard to believe we're already heading into February – a time of year when Valentine's Day chocolates and heart emojis pique our sweetest sensibilities in abundance for this beloved tradition. So why not look to the holiday with a deepened ingenuity and fall in love with art instead?
Join Thinkspace Projects in celebration of new solo exhibitions by Yasuhito Kawasaki, Hello Bear-Chan!, Noritoshi Mitsuuchi, Pheneomenon, and Caroline Liu, Stages of Grief. But wait, three's more….if that wasn't enough, get excited because the roster also includes Into the Wild, a new group exbhition curated by City of Talents!
Thinkspace Projects also offers a full schedule of events, interviews, and much more to keep you and your creative needs fully immersed and satisfied – so be sure to follow their blog Sour Harvest to stay updated on all the artsy things you love! If you're looking to add to your own collection of art, please take a moment and visit their online store to view all available inventory.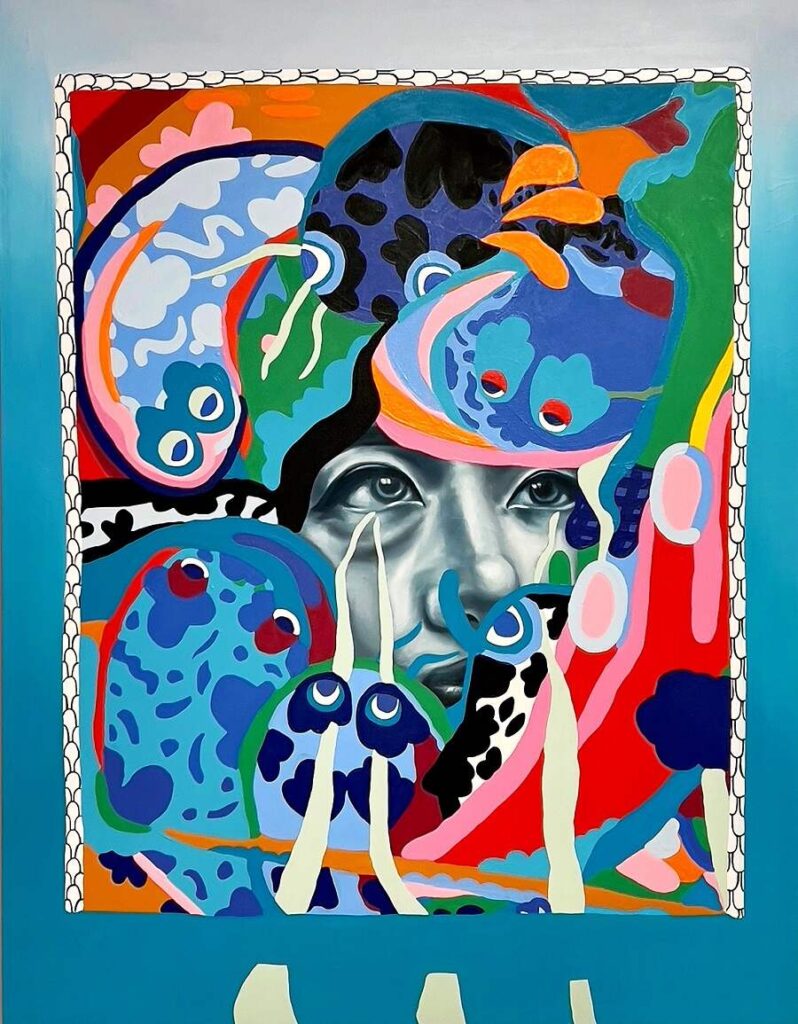 ---
Thinkspace Projects Presents
Yasuhito Kawasaki | Noritoshi Mitsuuchi | Caroline Liu
+
Into the Wild
Opening Reception: Saturday, February 4, 2023 | 6-10pm
Exhibition Dates: February 4, 2023 – February 25, 2023
The opening reception celebration features DJs Venice Beats, an open bar, free drinks from Liquid Death, 'Courtyard Sessions' featuring live painting from Quiralta + a mini artist mart curated by GoopMassta, grub from The Roll 'N Bun crew, and Video Projections from the Digital Debris team.
Thinkspace Projects
4217 W. Jefferson Blvd. | Los Angeles, CA 90016
#310.558.3375 | Tues. – Sat. Noon to 6PM
thinkspaceprojects.com
For all inquiries please contact the gallery via email at [email protected]
Search their hashtags: #thinkspaceprojects #thinkspacegallery #thinkspacefamily
About the Gallery //
Thinkspace Projects was founded in 2005; now in LA's burgeoning West Adams District, the gallery has garnered an international reputation as one of the most active and productive exponents of the New Contemporary Art Movement. Maintaining its founding commitment to the promotion and support of its artists, Thinkspace has steadily expanded its roster and diversified its projects, creating collaborative and institutional opportunities all over the world. Founded in the spirit of forging recognition for young, emerging, and lesser-known talents, the gallery is now home to artists from all over the world, ranging from the emerging, mid-career, and established.
The New Contemporary Art Movement, not unlike its earlier 20th Century counterparts like Surrealism, Dada, or Fauvism, ultimately materialized in search of new forms, content, and expressions that cited rather than disavowed the individual and the social. The earliest incarnations of the Movement, refusing the paradigmatic disinterest of "Art" as an inaccessible garrison of 'high culture', championed figuration, surrealism, representation, pop culture, and the subcultural.
By incorporating the 'lowbrow,' accessible, and even profane, an exciting and irreverent art movement grew in defiance of the mandated renunciations of "high" art. Emerging on the West Coast in the 90's partly as a response to the rabid 'conceptual-turn' then championed on the East Coasts, the Movement steadily created its own platforms, publications, and spaces for the dissemination of its imagery and ideas.
---
In Gallery I, Thinkspace Projects is thrilled to present Yasuhito Kawasaki's debut North American solo exhibition entitled 'Hello Bear-Chan!'. Deftly working with both paintings and ceramics, Kawasaki is experiencing a meteoric rise with collectors around the world. Using a casting technique he has honed over years of work, he is known for his trademark sculptures of innocent looking children. While the visuals vary, each is a self-portrait, drawing on some element of himself.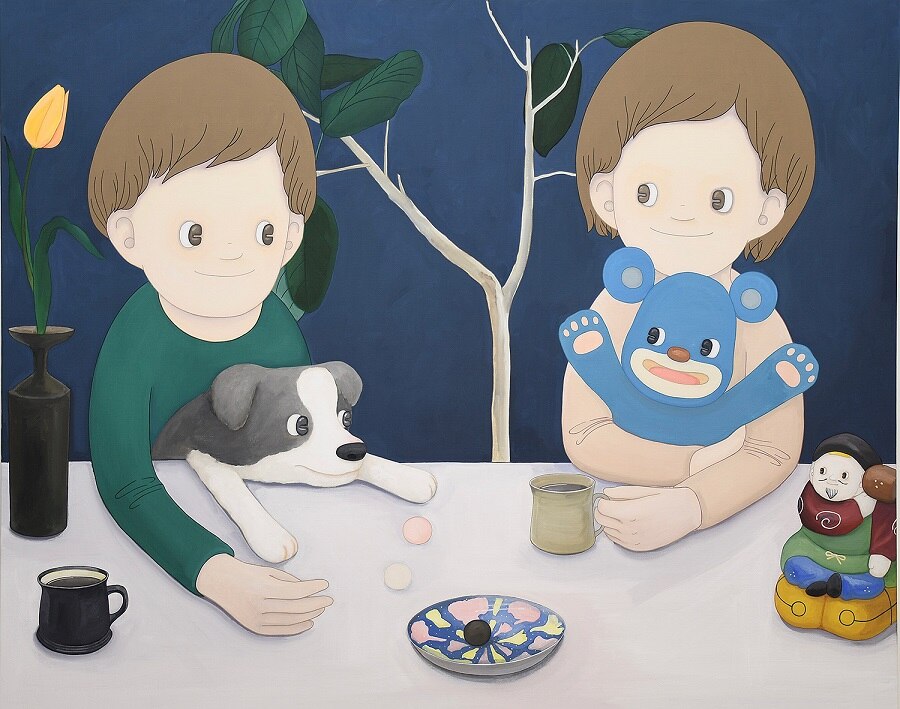 Artist Bio //
Born in Saga in Japan in 1983, Yasuhito graduated from Kanazawa Art University in 2010 with a Master of Art Degree in Casting. Using the technique of casting that he continued to hone through the years as an artist, he is known for his trademark sculptures of innocent looking children. For the artist, these characters are self-portraits, whether direct caricature renditions of himself or of other people and sometimes animals. In his perspective, one subconsciously sees others as extensions or semblances of the self.
Many of Yasuhito's self-portraits are influenced by family members, whom he spends the most time with In his works, the inner character and emotions are as important, if not more than the external form. The expressions of the characters, colours, textures and the settings that he creates for each piece seem to narrate their inner thoughts and various states of emotions, each telling their own intriguing story.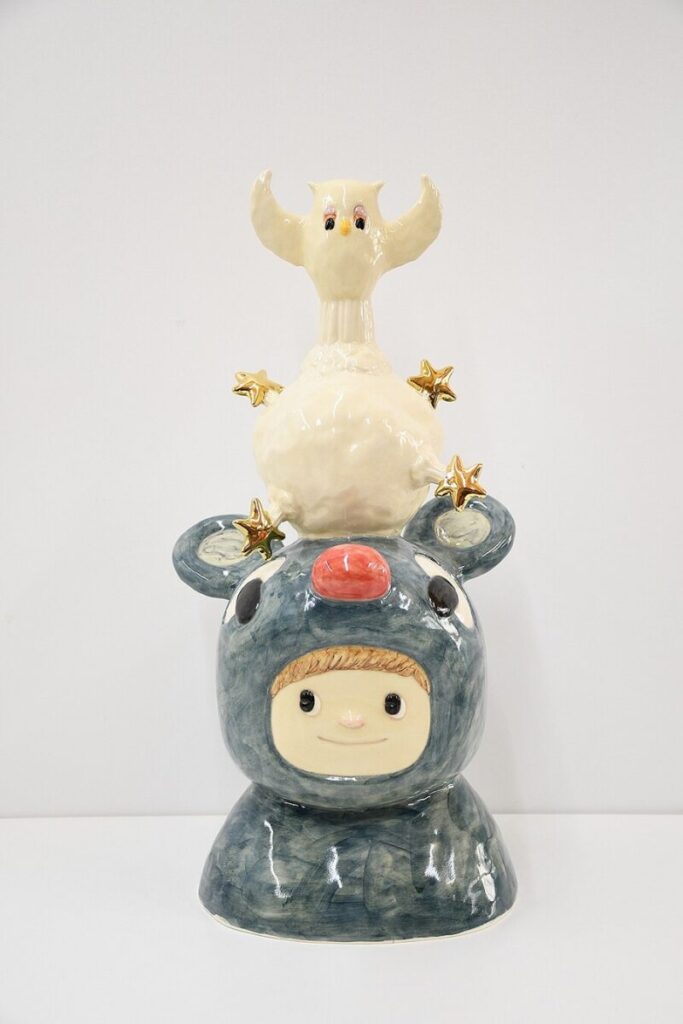 In Gallery III, Thinkspace Projects is pleased to present 'Phenomenon', the debut west coast U.S. solo exhibition of from Japanese artist Noritoshi Mitsuuchi. Resembling children's drawings, or, perhaps more accurately, an adult's interpretation of a child's imagination, Mitsuuchi taps into the aspects of youth that often fall away with the responsibilities of adulthood. Drawing heavily on the inspiration of pop culture and ancient art, Mitsuuchi creates work reminiscent of Japanese folklore and European fairy tales.
I create art that stimulates the viewer's memory and imagination by focusing on beauty that may be subtle, yet surely exists in the vast history of art.

Noritoshi Mitsuuchi
Artist Bio //
Noritoshi Mitsuuchi (b. 1978, Osaka, Japan) currently lives and works in Tokyo, Japan. Past solo and group shows have been exhibited at Bill Brady Gallery, Miami, Galerie Zberro, Paris, France; Ascaso Gallery, Caracas, Venezuela; Galerie Ovo, Taipei, Taiwan; Waluso Gallery, London, UK; Gallery Ascend, Wong Chuk Hang, HK; ELIGERE, Seoul, South Korea; GR Gallery, New York, NY; and Ascaso Gallery, Miami, FL.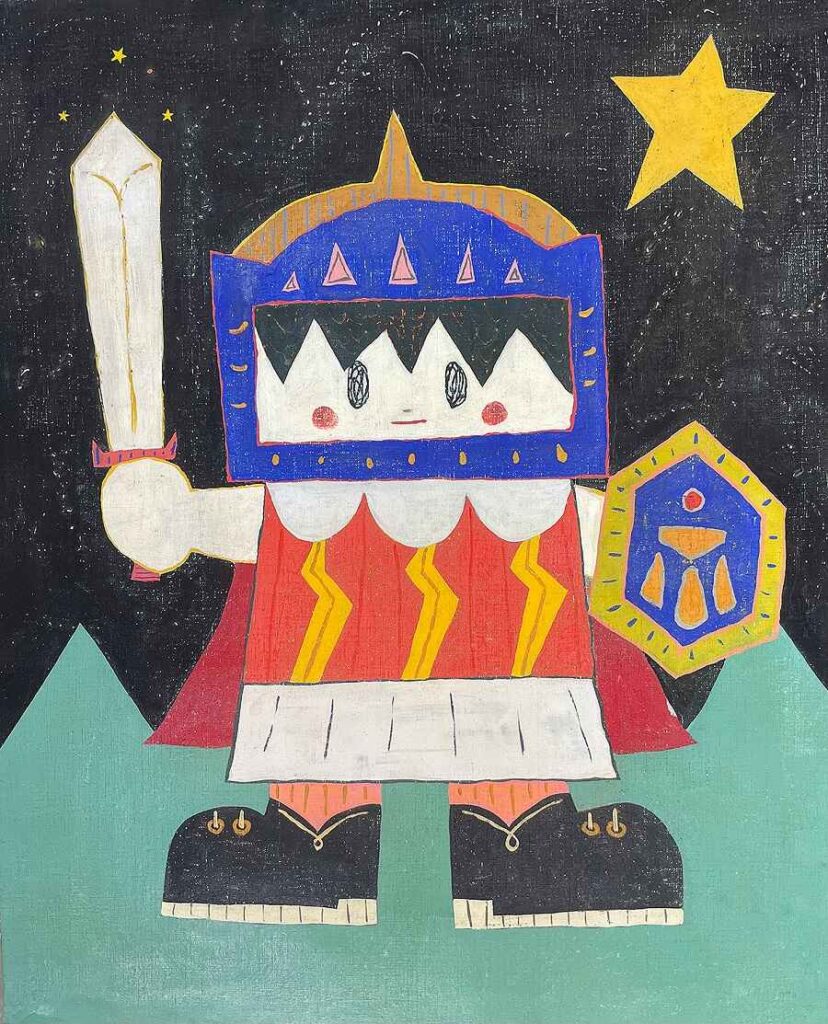 Gallery IV features Caroline Liu's 'Stages of Grief'. The painter, muralist, and fiber artist uses her work to explore and hold onto her personal memories following a severe concussion that left her short term memory damaged. Her work is the result of a therapeutic practice, allowing her to explore and preserve her own identity. Cultivating a mixture of happy and sad moments, fear, comfort, and intimacy, she crafts overtly saturated narratives. This show in particular deals with grief and loss, serving as a visual journal to share feelings of confusion and love lost.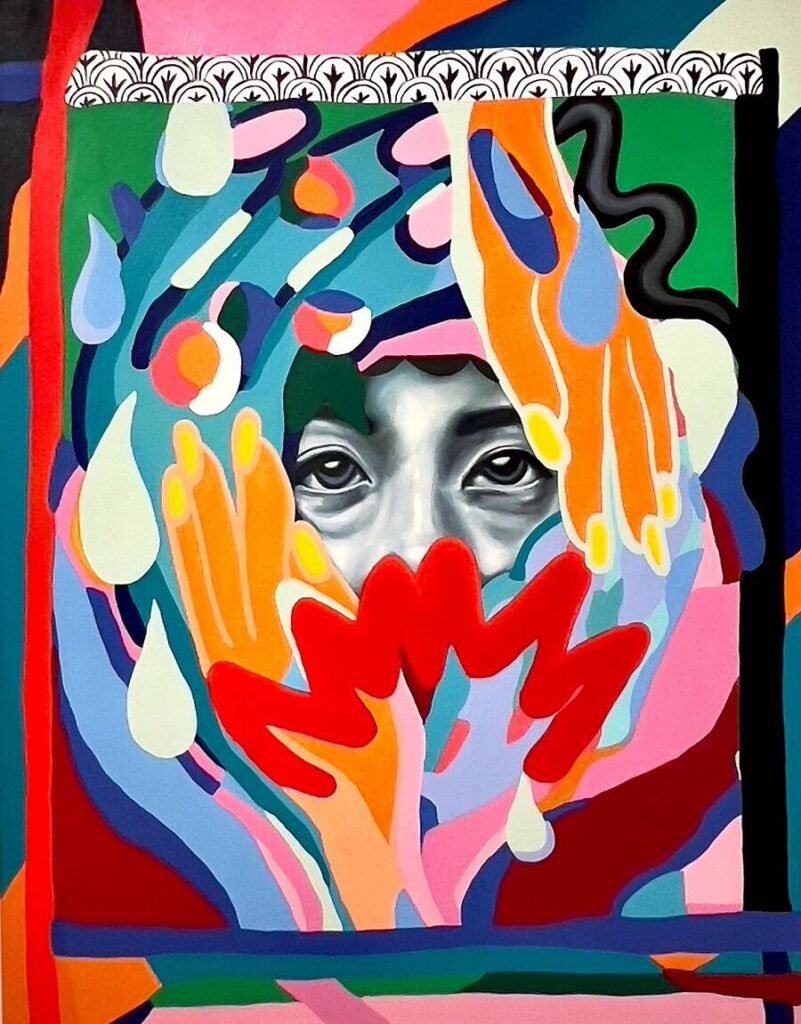 Artist Bio //
Liu has a strong personal aesthetic and has exhibited work in galleries all across the Midwest and the Southwest. She has painted murals throughout the Chicagoland Area, as well as for large companies such as Adidas, Vans, and Goose Island.
Liu holds a BFA in Painting and Drawing from the University of New Mexico and has exhibited work in galleries all across the Midwest and the Southwest. She spent a good chunk of her 20's in Chicago where she painted murals throughout the area, as well as for international companies such Google, Facebook, and Vans.
In collaboration with City of Talents, Thinkspace Projects presents 'Into the Wild' in Gallery II. The group exhibition is curated by Jean Claude Geraud, the founder of City of Talents, Toulouse, a contemporary and urban art agency. Featuring new works from Clémentine Bal, Humbly, Diren Lee, Jade Kim, Kwang Hyun Kim, Mackcha, Keigo Nakamura, and Byun Sehee, the group exhibition unites the works of artists from all around the world. Full of childhood memories, nostalgia, vivid colors, and forgotten worlds, the artists compliment and juxtapose each other in pursuit of a complete experience. From Bal's whimsical sculpted characters to Nakamura's existentialist paintings, the show is full of diverse representations of innocence and youth.
City of Talents is a contemporary and urban art agency ran by Jean Claude Geraud in Toulouse, France that champions young contemporary artists, with a focus on the rapidly developing Asian scene.
Clémentine Bal short bio //
Clémentine Bal is a visual artist living in Val-Revermont. She was born in Paris in 1979, grew up in Savoie and graduated from the School of Fine Arts in Annecy. She uses sculpture to create imaginary characters, mixing shapes observed in nature. The clean lines of these creatures, as well as their meditative expressions and delicate postures give them a lot of softness. Clémentine imagines spirits in everything, so faces can appear on volcanoes, objects or plants. Inert material comes to life, layer after layer. These characters evoke the manga universe, the creatures of Miyazaki, traditional Japanese statuary, like little deities, gentle and sensitive.
Humbly short bio //
Humbly invites the audience to tap into their inner child – the child that demands to be comforted, to be encouraged, to be loved. As adults, the world is our sandbox, and we are forced to dive right in headfirst. In a situation such as our inevitable adulthood, the best we could do is to enjoy the ride.
Diren Lee short bio //
Diren Lee is a visual artist working with painting as her primary medium. Her paintings portray empathy between humans and endangered species, abandoned pets, implying feelings and stories of people worldwide on all of the creatures. She composes her artworks with bold colours and lines, which completes a delicate harmony. Dreams and reality collide on her canvas, comforting our souls and healing our wounds.
Jade Kim short bio //
Jade Kim (b. 1981 South Korea) is a visual artist working with paintings and sculptures to create his character "MIN", an animated version of his wife. His wife's personality and characteristics inspire his works. He also portrays the rapid change of the world we live in and how it sometimes gets out of control. Dreamy eyes, child-like features and innocent traits characterise MIN. She is often portrayed as a protective and loving character. A peaceful ambience overshadows Kim's paintings aiming to find common grounds with the viewer to sympathise about.
Kwang Hyun Kim short bio //
Kwang Hyun Kim (b. 1982 South Korea) creates visually captivating surfaces through his obsessiveness with craftsmanship. The female figures in his paintings are portrayed with odd facial expressions that percolate feelings of passion, emptiness and loneliness. His work is inspired by his father's work as a cartoonist as well as Buddhist art. He received a Bachelor's degree in Fine Arts from Kyungsung University (2010).
Mackcha short bio //
Mackcha (Thai, b.1998 / aka Macky Chararat Saraaporn) painting feelings with endless lines. Saraaporn's "dramatis personae" – the protagonist of her creative universe – is "Chalotte", a young lass iterated across a series of artworks, like an ever-growing fractal of lines, colors and faces. Chalotte is Mackcha's fictional counterpart, derived from the multidimensionality of her personhood. Typically styled in blue and white.
Keigo Nakamura short bio //
Visual artist Keigo Nakamura (b. 1984 Japan) works primarily with paintings which concepts' are based on existentialist philosophy and psychology. Through which he portrays what he believes is essential to live a meaningful life. Keigo graduated from Tokyo University of the Arts in 2010.
Byun Sehee short bio //
Byun Se-Hee (b. 1990, Jeju Island, South Korea) is a painter whose works are filled with characters that are inspired by childhood imagery. Her vivid colours and bold contours portray her paintings as if they are illustrations from children's books and 90's cartoon shows taking the viewer back in time to that age. The narratives in her paintings are closely related to childhood memories and emotions. Se-hee leaves room in her works for the viewer to decode the symbols and objects and create their own story from them.
Enjoy a selection of INTO THE WILD works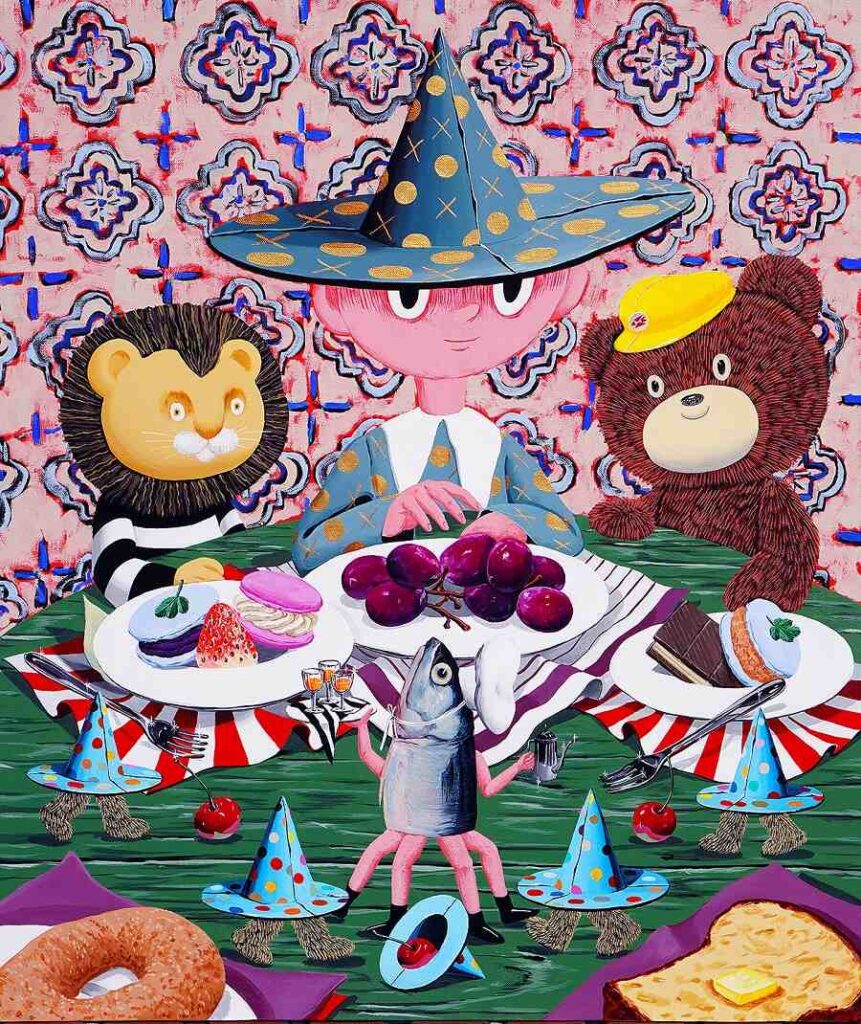 Thinkspace Projects Social Media Accounts