Issue 39 of Beautiful Bizarre Magazine, with Jana Brike's evocative and impassioned painting "Dusk in the Garden" is on sale now! Contact one of our Stockists or Shop Online, but don't miss this special Issue.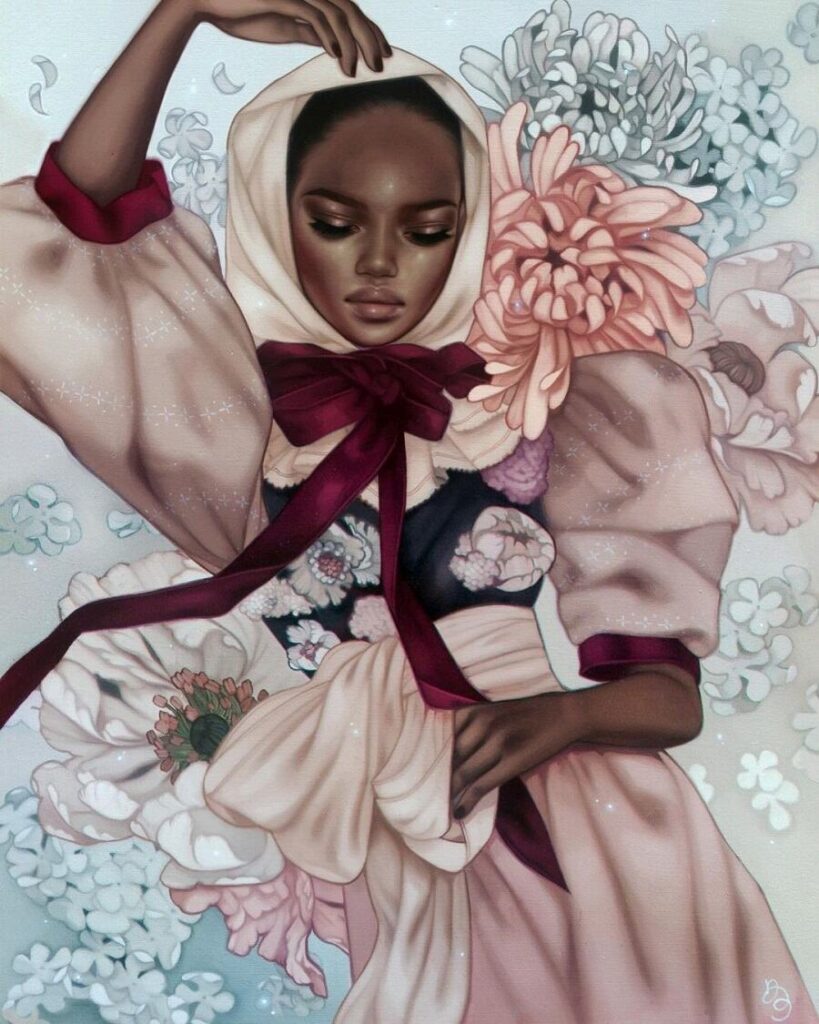 Inside this Issue, we enter the artist's garden of Kelsey Beckett, whose fashion-laden portraiture manages to balance beauty and power: femininity as strength, not fragility. And no matter her medium of choice, her technique remains flawless, almost airbrushed in effect.
In these troubled times of pandemic, wars, climate change-induced disasters and runaway inflation, we all need something to lift our spirits and lighten our hearts. Let us introduce you then, to the perfect panacea for what is occurring in the world today, the uplifting and joyful works of the Grand Prize winner of this year's Beautiful Bizarre Art Prize, painter Kristin Kwan.
Cover artist Jana Brike forges an emotional connection with the chapters of our life, which have shaped and defined us. Each painting is imbued with intensity, depth, and rawness of the emotional meaning. This is art which deserves to be understood and cries out for interpretation. There are intentional meanings here to be deciphered. Jana's brushstrokes are the runes in which her life's diary has been written. The landscapes are transportive and evocative of another realm and another time, one in a perpetual Spring: an Eden where nature reigns supreme and uncorrupted.
We also take a keep dive into Ukrainian artist Denis Sarazhin's painting practice, and speak to him about how the war in his home land has affected not just his art but also his life. "I wish that nobody knew what war felt like."
In this Issue's Artist + Artist editorial artist couple Senju Shunga & Anna Maia share an intimate conversation about life, love, and living and working together. Even though both artists are heavily influenced by Japanese art and aesthetics, they life on the other side of the world in Sweden where they have carved out their own little piece of Japan. Theirs is a fascinating tale of two gentle souls clashing against the cultural norms, and, as you'll see, their conversation brings up many insights into what it is to be an "outsider" within your own home country.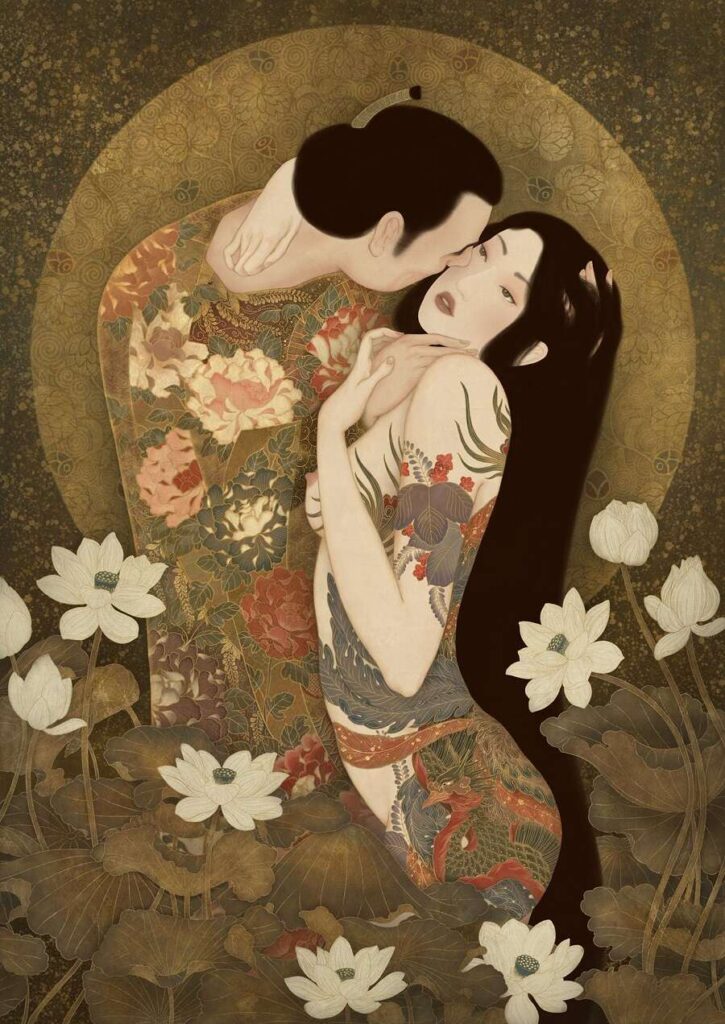 Transport your imagination as Teresa Oaxaca takes us through the creation process of one of her incredible paintings. We discover her vision and watch it unfurl like a flower in this issue's Path To Creation.
We learn what Esther Koch and Hans Bos, Founders of KochxBos Gallery, would like to add to their personal collection, in this Issue's Curator's Wishlist.
Take a glimpse into a world where four-legged creatures are unbothered by the hardships of life. Only joyous expressions of curiosity and playfulness exist in this realm. To a cat lover, there is nothing more spectacular than laying one's eyes upon the wonderful paintings of Phoenix Chan.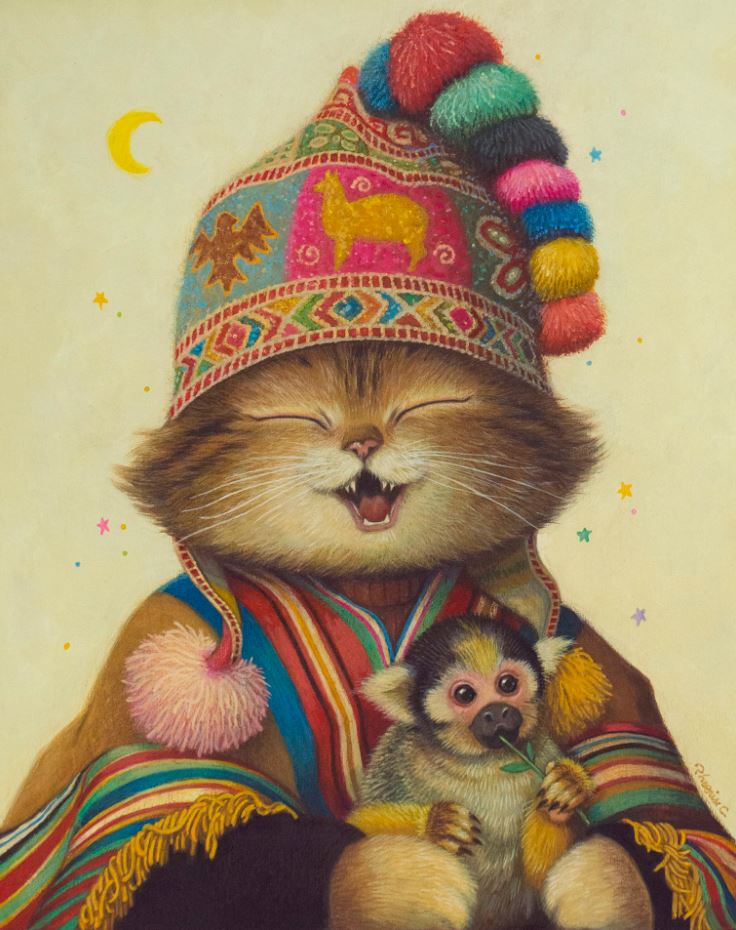 We also dive into Australian artist Hannah Flowers' creations on canvas, wood, and skin. Moved by her delicacy, textures, and depth, our eyes eagerly following each curvature and contour in the cabinet of curiosities she summons. However, the love for her work reaches much deeper than the first subcutaneous layer of our bodies: Hannah triggers all the viewers' senses, and travels from our brains to our hearts, causing a bizarre sensation in our guts with every brushstroke.
Next we are welcomed into Turkish artist Melis Buyruk's world. Melis wants to be close to nature, and in order to achieve this proximity, she is willing to sculpt nature itself out of clay, copper or porcelain.
No, we didn't accidentally put a few pages of the latest runway fashion magazine between the pages of this issue of Beautiful Bizarre. You are actually looking at the work of Colombian artist Efren Isaza, who not only is an excellent fine art photographer, but also skilfully wields brushes and paints. Just look closer.
As well, in this Issue of Beautiful Bizarre Magazine, let us introduce you to Hiroshi Hayakawa's muses, brought to life by his graphite and coloured pencils. They offer the viewer an opportunity to reflect on their own mortality as well as sensuality. The Ohio-based artist's Vanitas series teeters the line between tradition and contemporariness, borrowing to each side its ability to depict the female form in its most vulnerable state.
As recognisable as the cheerful plants, happy-go-lucky insects and diverse wildlife species of this terrene appear to be, they look positively beige the moment that John Walker's haberdashery loving animal-hybrids come into focus. Learn more about John and his practice and inspirations inside Issue 39.
Inside this special issue we also share the winning artworks from this year's Beautiful Bizarre 2022 Art Prize:
Grand Prize Winner of the 2022 Beautiful Bizarre Art Prize – Kristin Kwan
Winner of the RAYMAR Traditional Art Award – Ron Hicks
Winner of the INPRNT Photography Award – Jenny Boot
Winner of the Yasha Young Projects Sculpture Award – Chie Shimizu
Winner of the iCanvas Digital Art Award – Jennifer Bruce
Plus we enjoy full page reproductions of Ramon Maiden's captivating mixed media and ink drawings on found objects in this issue's Lookbook editorial.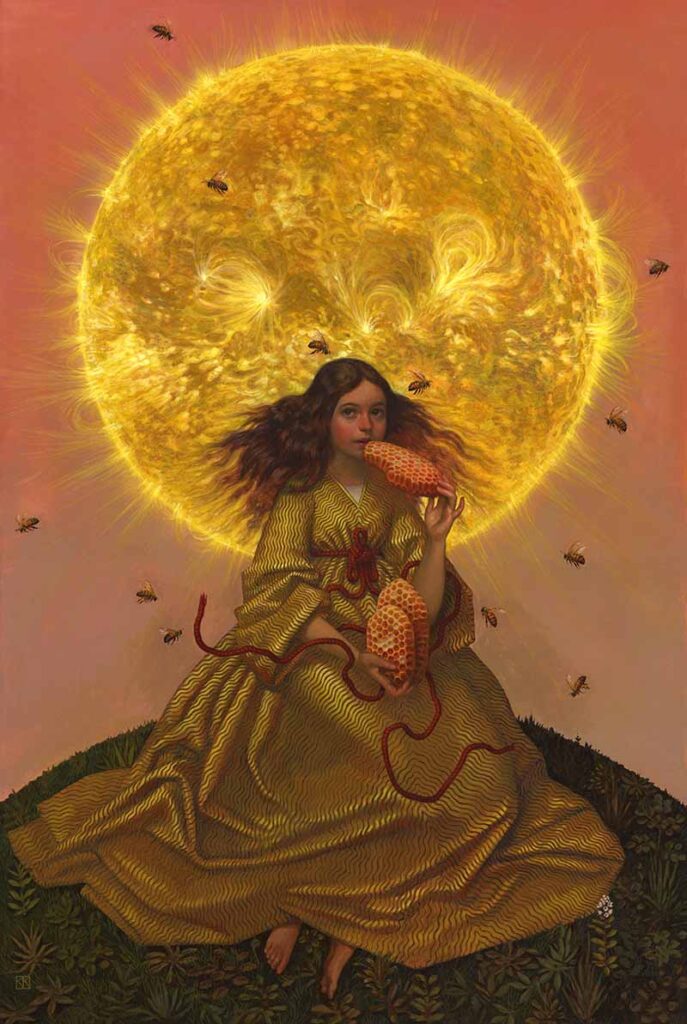 In our Snapshot series, we ask six artists: Jennifer Parks, Bénédicte Voglio, Clare Toms, Kristen Egan, Elizabeth Blair Stephenson, and Jenni Pasanen answer the same quick questions:
What is your favourite part of the creative process and why?
What are your thoughts on the use of AI technology in art?
What do you want the viewer to feel when they view your work?
How do you feel about the recent changes to Instagram, I.E. reels, deprioritizing photos?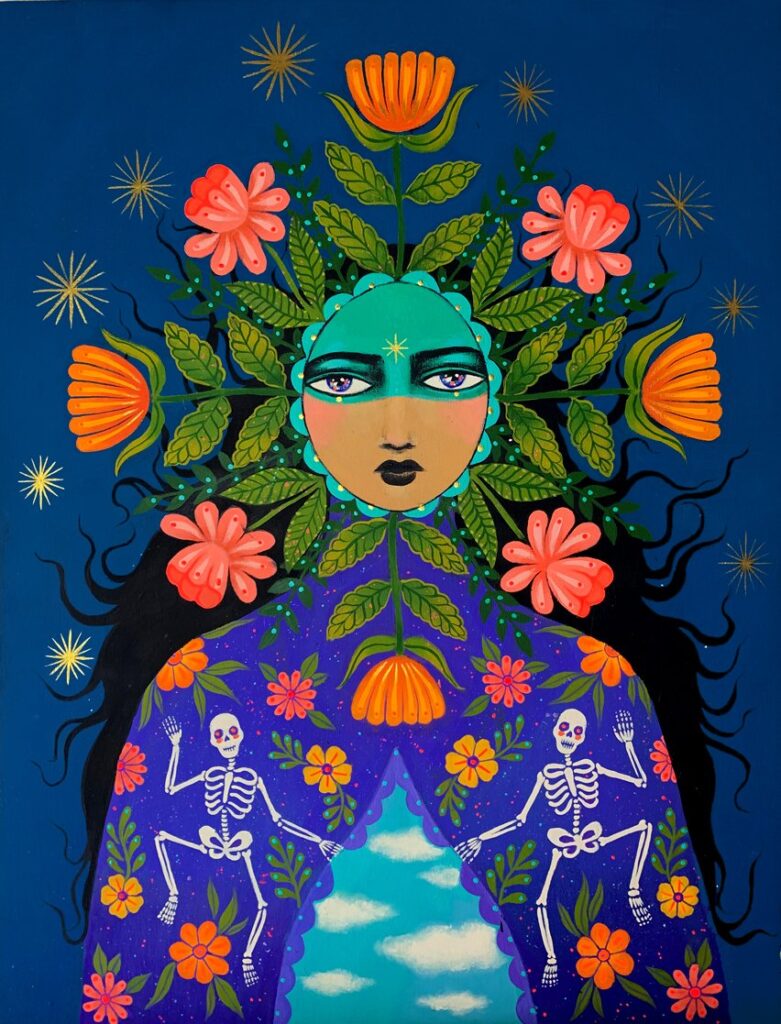 In her Letter from the Editor, our Editor-in-Chief, Danijela Krha Purssey speaks on the strength and resilience of the feminine – which is particularly important during these times of escalating oppression and violence against women and female identifying people around the world.
We also highlight more of the artisan fashion designers that have caught the eye of our Deputy Editor and Editor-in-Chief, in this Issue's Some of our Favourite Things editorial.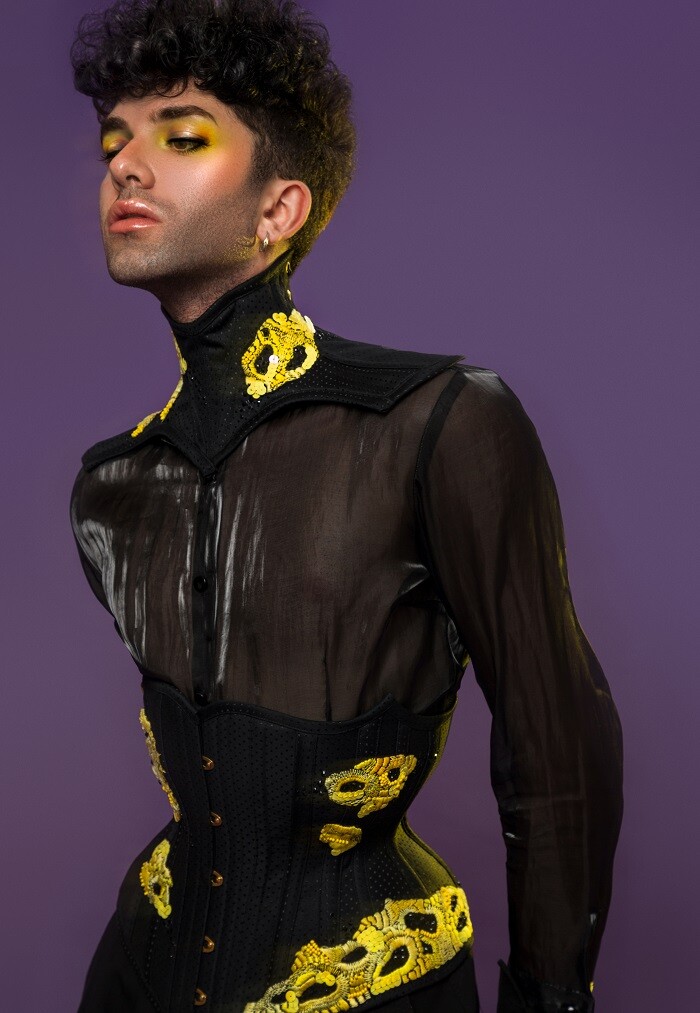 And last but not least, enjoy a collection of the amazing hash tagged #beautifulbizarre artwork from our social media community of over 1 million followers!
All this inside Issue 39 // December 2022, which showcases some of the best and most inspiring emerging and mid-career artists of our time.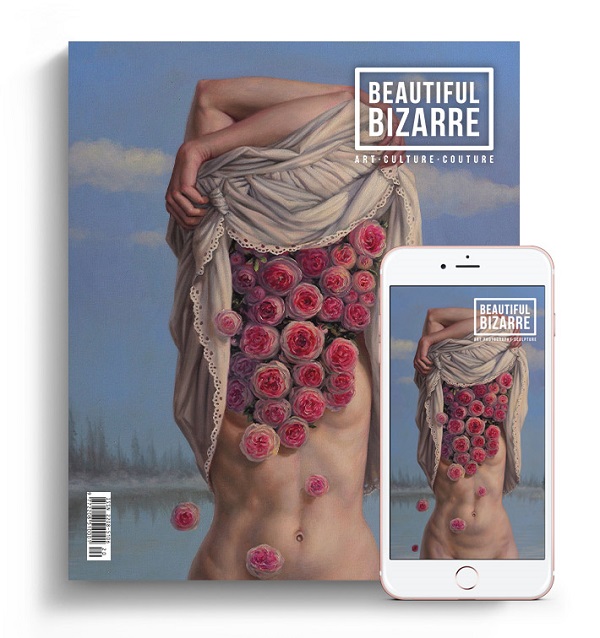 Visit our online store and enjoy Beautiful Bizarre Magazine Issue 39.