Let it come to you in waves, breaking at the shoreline of reality and impassioned brushstrokes that undulate in hyper-realistic force. Portraits bloom with nuanced emotion, raw and sensitive; they beat the pulse of an artistic prowess that is as tangible as it is admirable. The elegance of every detail, the impassioned hours of palpable dedication… this is the breathtaking work of Ukrainian artist, Sergey Piskunov.
A wasp of fragility entwines an intuitive nature of strength and symbolism. Sergey captures the sinuous sentiment and takes us on the painted journey. These distinct elements of hyperrealism ignite the fires of wonder and the intimate connection bound to his muse. With seamless energy, evocative and tantalizing, each painted stroke lures us into his exquisite vision where the actuality that these are, in fact, paintings is remarkable and beguiling. Although he has no formal art education and training, Sergey Piskunov leaves us bewildered by his vigilant creative expression and ardent proficiency. Utilizing various elements to harness a "genre-defying" commitment, his work speaks with a harmonious tone as if an extension of his own artistic voice.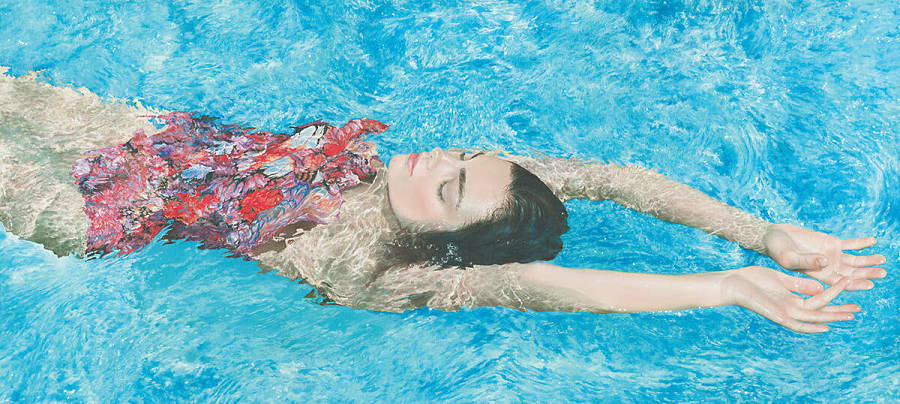 I do not finish a painting until my feelings from it coincide with expectations.
Sergey, thank you for taking the time to share your artistic story with our Beautiful Bizarre readers; we're so happy to learn more about you. I've been studying your work… looking carefully at your paintings, particularly your enthralling portraiture and figurative work. Exuding a kinship to strength, they have a story to tell and each share it generously with their viewers. What can you tell us about your protagonists?
At this stage, my work can be divided into two large parts; these are the portrait series with masks in which I try to convey the emotions and characteristics of a person's character and the figurative series of bright objects, the last of which is a series with mice. In it, the main emphasis is on the color scheme and the distinguishing feature of the heroes of this series is their lightness and brightness that according to my feelings, brings lighter emotions that echo the feelings from childhood.
In the same view, you said you want "fleeting emotion to be reflected on the canvas". It certainly is… but how effortless or difficult is it to communicate your creative vision through them? From thought to muse then from lens to canvas, is it ever challenging to invoke the spirit of a painting?
This process is always very individual and depends on each specific painting and image. A lot of details are important here; from how it initially turned out to capturing emotions during the photo shoot, to the moment of finishing details directly on the canvas. I do not finish a painting until my feelings from it coincide with expectations. It takes a lot of time and emotion, so sometimes it takes up to 400 hours for one painting.
400 hours!? No one could argue with how impressive and dedicated that is. When did your creative journey begin? Was there a moment from your childhood that you feel, in some pertinent way, paved the way and framed your future self?
I consider the beginning of my creative path, 11 years ago when I received a canvas from my then future wife and city… and since, I have devoted all of my free time to painting. As a child, I always loved to draw, but I never thought that this could be an occupation in adult life. This hobby was not given special attention, so I think that I was lucky to become an artist.
What are some of the key components of your artistic ethos?
I do not know what this is, but I draw all my free time. I can't say that it gives me pleasure or any certain emotions, I just can't without painting. I feel uncomfortable if I spend my free time not by the canvas.
Each painting has its own specific story; some of them are the result of careful preparation at all stages, and some completely improvised. The process of creation itself is also very individual and is often a search for technical solutions for its best implementation.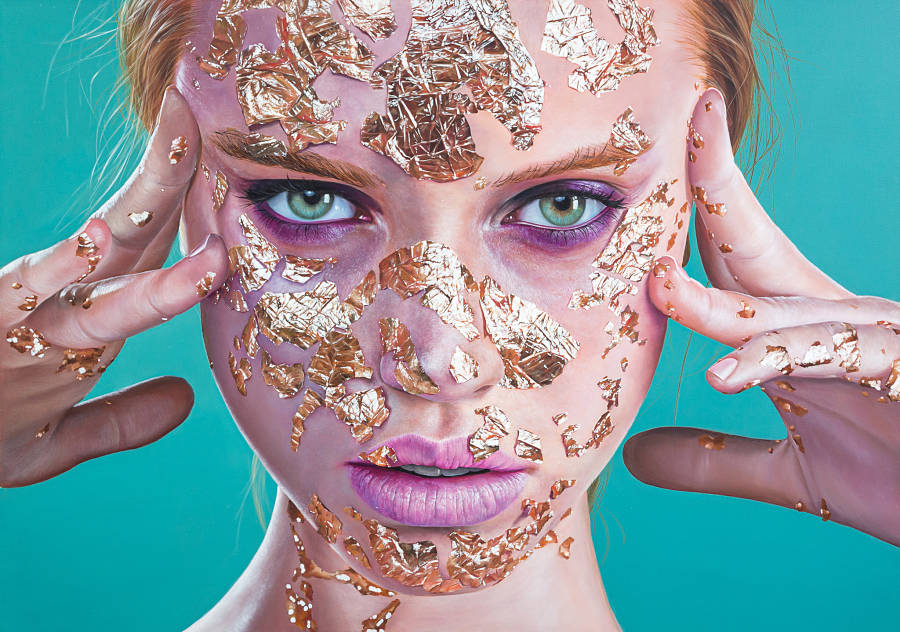 What else can you do with a paintbrush besides paint?
I haven't done so much with the brush directly in painting that it's definitely too early for me to think about its new areas of application.
You mentioned it can take upward of 400 hours on one artwork. Do you find this is typical in relation to time spent on each painting? What drives this dedication and patience?
It often takes even longer. This is due to the specifics of the style and the fact that I cannot consider the painting complete until the moment when it is not sufficiently worked out. On the other hand, I am a very impatient person. But every time, I have some kind of excitement to see the final result as soon as possible. That's why often I draw until the moment when I do not run out of strength at all (this applies to each specific day of work and painting in general).
Do you have a life/work balancing scale that you adhere to?
I try to spend as much time as possible with my wife and son because this is an important aspect of life. Nevertheless, I still spend quite a lot of time in the studio… but I must say thank you to my family that they are sympathetic to this.
I'm always curious to delve deeper into the distinctions between an artist's mental process vs. creative process when preparing a body of work. Will you share yours with us?
You know, this is not a specific pattern. Each painting has its own specific story; some of them are the result of careful preparation at all stages, and some completely improvised. The process of creation itself is also very individual and is often a search for technical solutions for its best implementation. It's a long process of corrections and changes, and sometimes everything happens by itself.
What advice would you give an artist regarding the principles of hyperrealism? What was the best advice you received when learning and experiencing your own creative journey in this field of study?
I have no art education, and went through almost all of my creative path alone so I did not have the opportunity to get advice. Hyperrealism is too complex a direction to be able to help comprehend its principles with one piece of advice. But from my own experience, I can say that if you want to comprehend this direction you should be as gentle as possible in handling the brush.
Last but never least, what's on the horizon for you? What projects are you working on that you can share with us?
Mostly new series with masks and mice await. In addition, I plan to complete a series of works in virtual reality and embody several ideas in sculpture; I hope there will be enough time for everything planned.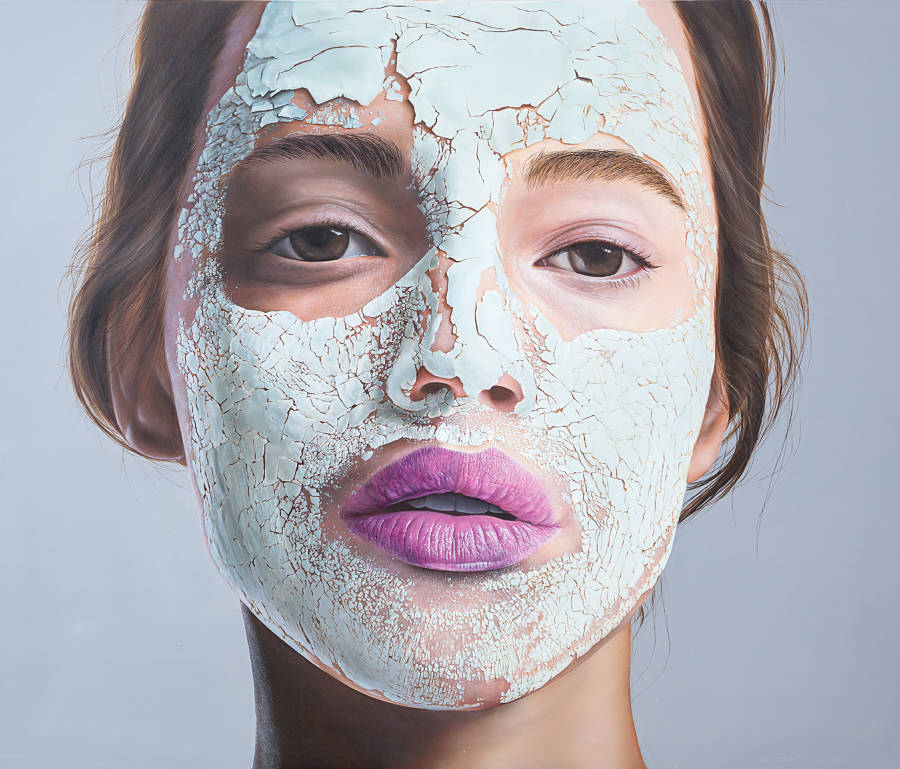 About the Artist // Sergey Piskunov is a genre-defying painter passionately committed to exploring the core principles of hyper-realism to redefine the genre with his breathtaking works. The Ukrainian artist creates a stunning anthology of works which he sees as a "burst of emotion", forcing the artist to turn inside out his soul and leave it on the canvas. His accomplished background and education as a computer system engineer may differ greatly from his career as an international artist globally exhibiting and creating works in Ukraine, Germany, UK, USA, Switzerland and beyond. But it is perhaps his unusual beginnings that make the artist so very exceptional. Piskunov's primary focus and area of work is a unique approach to hyper-realistic painting, which utilizes his courage as an artist creating both intuitively and instinctively, he infuses his works with a spirit of harmony and balance, that is then juxtaposed with a distinctive and hypnotic edge.
Piskunov creates work that moves seamlessly between many approaches to realism, while always remaining committed to the truth of his subjects and their stories. Piskunov's striking paintings go far beyond hyper-realism, drawing the viewer into an enigmatic, transformative, exotic and sensual world of fantasy, seduction, and spirit. His paintings form an interior dialogue on the intersections of space, place, time, memory, culture, and history. His art emphasizes an aesthetic that is at once alluring, sensual and salacious, yet intensely intimate and personal. Whether the Piskunov is painting an intimate portrait, a narrative scene or even a still life his style is always grounded in the internal, the psychology of people, places, and symbolism.
Many of Sergey Piskunov's works depict an intimate connection to women, his respect and admiration is clear; he documents the glory, strength and fragility of women. By recording their stories and experiences visually in his work, he gives them significance, acknowledging the beauty, melancholy, and history. He does so by layering vibrant colors, and complex compositions that combine areas of intense detail with cinematic negative space, allowing the subject to really become the focus, and always leaving the viewer wanting more.
Sergey Piskunov Social Media Accounts