Descend into the striking couture created by iconic Jay Briggs as we discuss the inspiration and symbolism behind his artwork. Explore organic and natural elements intertwined with tulle and dazzling headdresses. Briggs is not only mindful with his work, but in his day-to-day life as well. In Briggs' work, you will find inspiration drawn from nature, femininity, and dark fairy tales; a trio of elements that create an ever-so-stunning combination.
Whether Jay Briggs is creating art or taking a break, it is necessary for him to take a step back and create when the moment is right. Highly intuitive and inspired by the natural elements of earth, the couture of Jay Briggs is a product of his passion and hard work.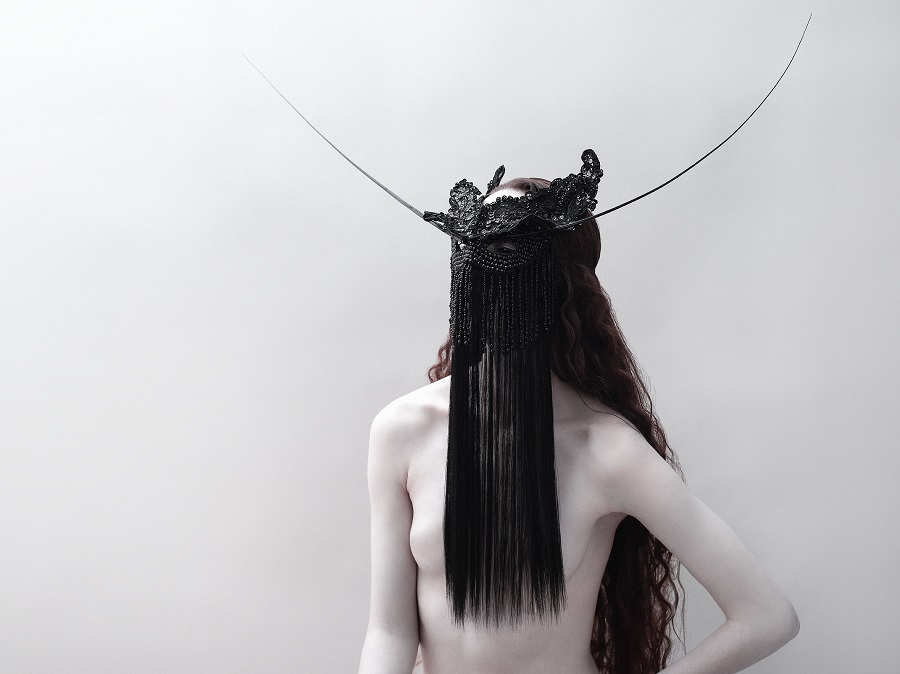 What I love most is no two feathers are the same, yet all are as beautiful as each other in their own ways, which goes hand in hand with the human race.
Thank you so much for taking the time to answer these questions. In your collection "Melusina", what is the purpose of the black-sheer veil?
What I love most about veils is that they give the wearer the ability to hide their beauty. They give the feeling of protection, mystery, and empowerment. In a world of social media and influencing, which is fuelled by how one looks, people are quick to put others on a pedestal because of that reason, and a veil allows a person's personal aura to take centre stage. Its concept of beauty fades yet inner beauty lasts an eternity. The veil represents empowerment, not fear.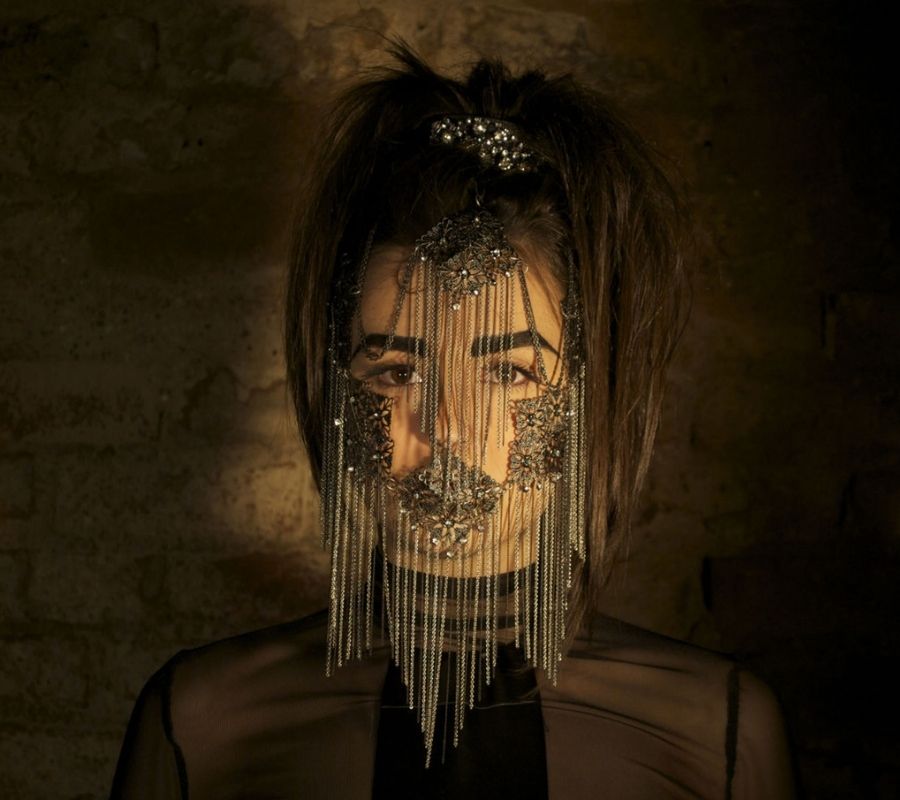 Can you explain to me how you have experienced metamorphosis as an artist and designer? In what ways have you transformed with your art? What was the big 'transformation" moment when you realized you were in this for the long haul?
I think metamorphosis naturally occurs, sometimes without you really realising it is happening.  Creatively or not, I believe everybody goes through the process at some point throughout their lives. I know that for myself as a designer, the process starts as soon as the seed is planted for a  new collection, and I go into a creative cocoon, which I don't come out of until I'm ready to show the collection. When I look back on my previous collections, I see change throughout them all. 
When I launched my debut collection "Melusina", I was mentally in a very dark place throughout the design process, which is the reason why the majority of the collection was designed to cover and distort the face. All of the collection was black apart from the showpiece, which was white to represent rebirth. The collection that followed "The Ugly Duckling" was designed in both white and gold… this too to celebrate a re-birth, with the collection showing off the wearer's face. I feel like, now, I'm in the midst of a "transformation", having not produced a collection for nearly five years now. I feel like my previous collections showed who I was and everything I stood for as an artist, and now it's about adapting my work to fit into everyday life.
What can I say about witchcraft, it runs through my veins and is a huge part of my DNA.
What is your fascination with feathers? Personally, as an artist, I thoroughly enjoy ethically sourcing organic materials for art pieces such as bones, insects, and feathers. I've noticed that a lot of your creations include feathers– are there any sentimental attachments there? Can you elaborate?
As a spiritual person, nature is very important to me as it is a source of inspiration that never stops giving; constantly changing and evolving, each phase being as beautiful as the last. Feathers are my way to bring those elements into my work. What I love most is no two feathers are the same, yet all are as beautiful as each other in their own ways, which goes hand in hand with the human race.  
Where do you gain inspiration from?
Storytelling, necromancy, history, and powerful women have always been my go-to places for inspiration. It's the escapism and fantasy, which draws me to fairy tales and mythical creatures, how they have the power to transport you from your everyday reality into a different world. Ancient periods of British history will never fail to inspire me. Periods of opulence, drama, romance, with a huge emphasis on historical royal families, with them being seen as the closest things to God on earth.
There is nothing better than getting lost in a book, transporting you to a different world, a different dimension, playing on the reader's artistry.
What is your favourite piece?
My favourite piece I have ever designed is the finale piece in the "Sacred Treason" collection. It was the first time I had ever worked with colour, and was the pinnacle of the collection. It represents England's break from the Roman Catholic Church and the power the pope had over the Christian lands and its people. I find the romantic connotations inspiring in a way, of the lengths a man (Henry VIII) would go to, to enable him to obtain his heart's desire (Anne Boleyn).
What do you like to do when you are not creating art?
Read. I love to read as it is the food for the soul of the imagination. There is nothing better than getting lost in a book, transporting you to a different world, a different dimension, playing on the reader's artistry.
I spend a lot of time with my husband and family as they are at the core of everything I do. They fill my life with an abundance of love and make me strive to be a better person each and every day.
Who are some of your biggest inspirational artists?
It's really hard to name just a few as I am influenced by a wide spectrum of artists; however, I gain so much inspiration from portraits by the likes of Hans Holbein and Nicholas Hilliard, who painted both the royal family and the nobles of Tudor and Elizabethan court. I could spend hours just staring at them as I feel that they really bring life to the people which they painted, giving you a glimpse into their life, through the hidden details embedded in the paintings. I feel like your imagination can go wild weaving together their life stories through the painting.
I greatly admire the photographer and fine artist Katie Eleanor, whom I have had the greatest pleasure in collaborating with for three of my previous collection look-books. She is such a magical being with the most beautiful aura… along with having a gift of storytelling, which really speaks throughout her work. I love the process which she goes through, directing and photographing the shoot, to then hand painting over the images. I find her work breathtaking.
What is the biggest struggle with being an artist who works full-time?
To be honest, this really isn't a choice for me as I have always had to work full-time to enable me and fund my work. I have never had my family's financial backing, as they never could, get what they did give me was priceless in the form of endless love and support.
Throughout undertaking full-time university, I also had to work part-time to see me through it. I think all this has helped me evolve as a person and installed the work ethic, which I have. I was brought up to know that life isn't given to you on a plate, you have to go out there and work for it, you reap what you sow in life. But you could say time, time is the biggest struggle, as there aren't really a lot of hours in the day.
How do you find the balance between work, your personal life, and art?
It is all I have known, really, so I don't know any different. When I lived in London, it was constantly nonstop or working on my art. I was constantly treading on the fine line of physical and mental burnout. It was very rare that I'd spend any time with friends or family–as I was always on the go. This being one of the reasons I had to get out of London and move back up North. I have learnt that with age comes wisdom, and the knowledge that it's okay to take a step back and produce a collection when it feels right, as I've always been taught that if you're going to do something, do it with passion or not at all.
Are you working on anything new? What does the future hold?
I'm still in the process of designing and creating a new collection, it's been a long time in the making, but I feel like it needs to be perfect, with it being my first collection in nearly five years. It will be my biggest collection to date and feature a range of ready-to pieces, along with the theatrical pieces I am known for. I will also be launching a new website that will enable me to sell my work; however, I will only sell one of each design, to keep the headpieces totally exclusive.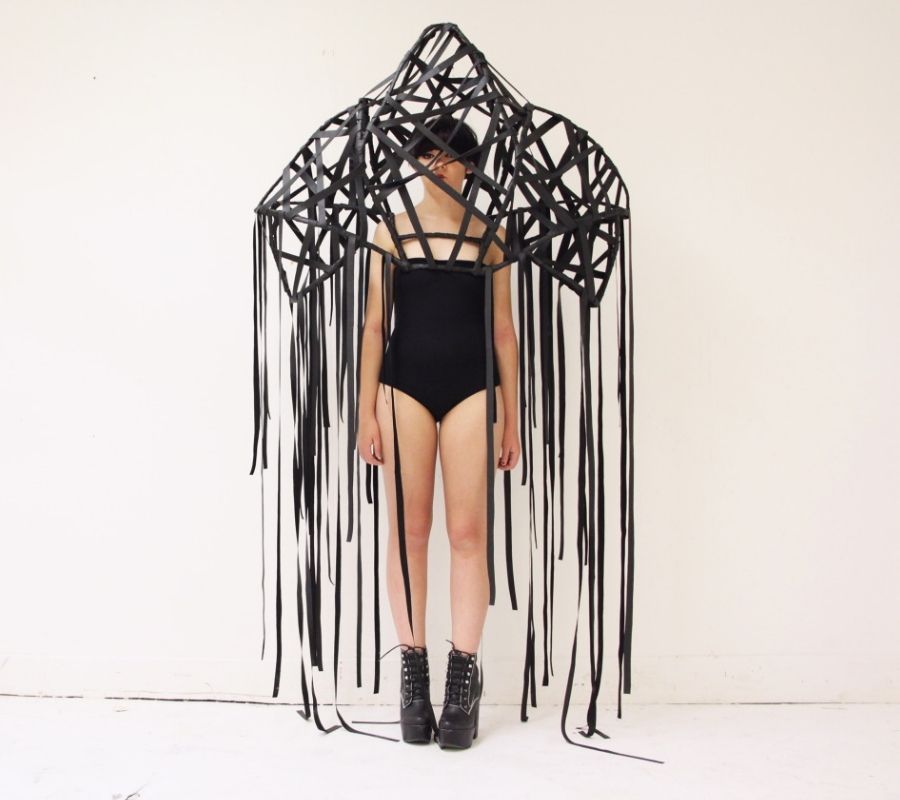 Can you tell us anything about your new collection and the inspiration behind it?
I don't really want to say too much about it. However, my new collection will be called "Domina", which is the Latin word for mistress. It tells the story of an empress in the Roman Empire who owns a Ludus, high in the dusty hillsides of Capua. However, behind the medal studded gates, she doesn't just use the gladiators in the arena, but for sacrificial rites to propitiate the spirits of the dead with offerings of their blood, to appease the Gods, for everything she did, she did for the gods and the gods alone.
Jay Briggs Social Media Accounts