Several generations ago when young girls were asked the timeworn question, "Sooo, what do you want to be when you grow up?", they may have buoyantly declared, "I want to be a ballerina!" …or a princess…or a movie star…or maybe even all three. Life tends to get very serious very fast, so by all rights, children at that early stage in life really should devour fairytales, play with dolls, and have fanciful notions about their blindingly bright futures. Carrie Ann Baade, however, was already strategizing how to make her dream of becoming a professional artist a reality.
Her life-long pursuit has now culminated in the release of Scissors & Tears, a fabulous new 160-page art book which showcases her past two decades of intensely visceral surrealistic self-portraits, each one inspired by her highly stratified, hand cut collages. Diving into her newly published monograph is indeed an inspired delight, but so, too is the journey that she's taken up to this point.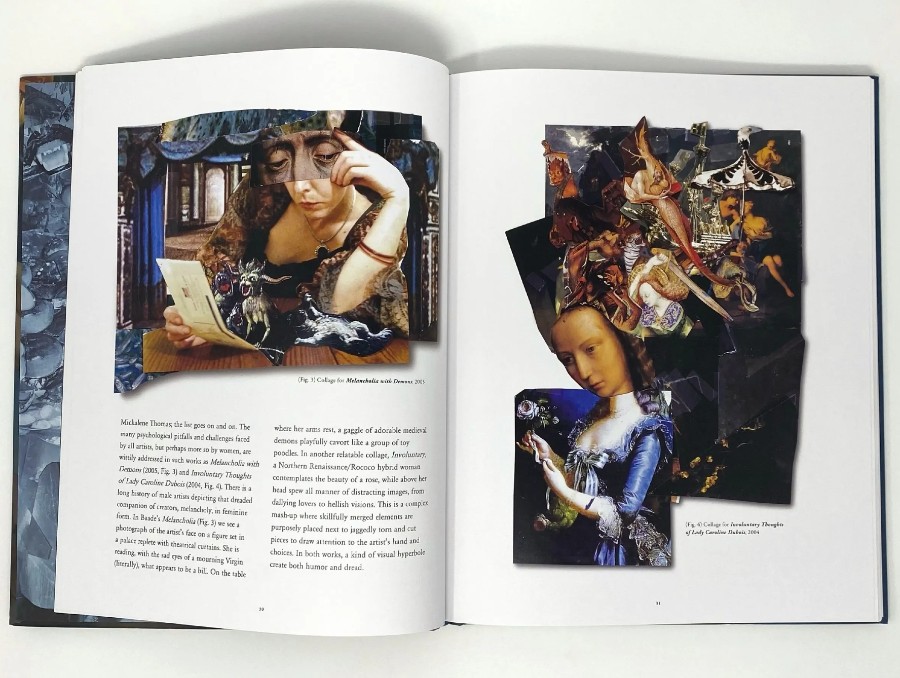 As a wee five-year-old, Carrie Ann Baade had a fully developed "aesthetic prejudice" against Impressionism, the otherwise much beloved 19th century art movement that she deemed – through her youthfully discerning lens – a minimal effort form of creative expression. By her sixth year of life, she had weighty discussions with her parents about the financial challenges of pursuing an artist's path and how one might rise above the typical pitfalls. Once the New Orleans-born, Colorado-raised child reached nine years of age, she became the proud new owner of her very first art book filled with Louvre-worthy paintings. The awe-inspiring imagery featured among those pages certainly heightened her awareness of the historical legacy of European masterworks, but it also impressed upon her the fact that the hallowed halls of that world class museum were reserved for "real paintings" created in oil, most often manifested by men.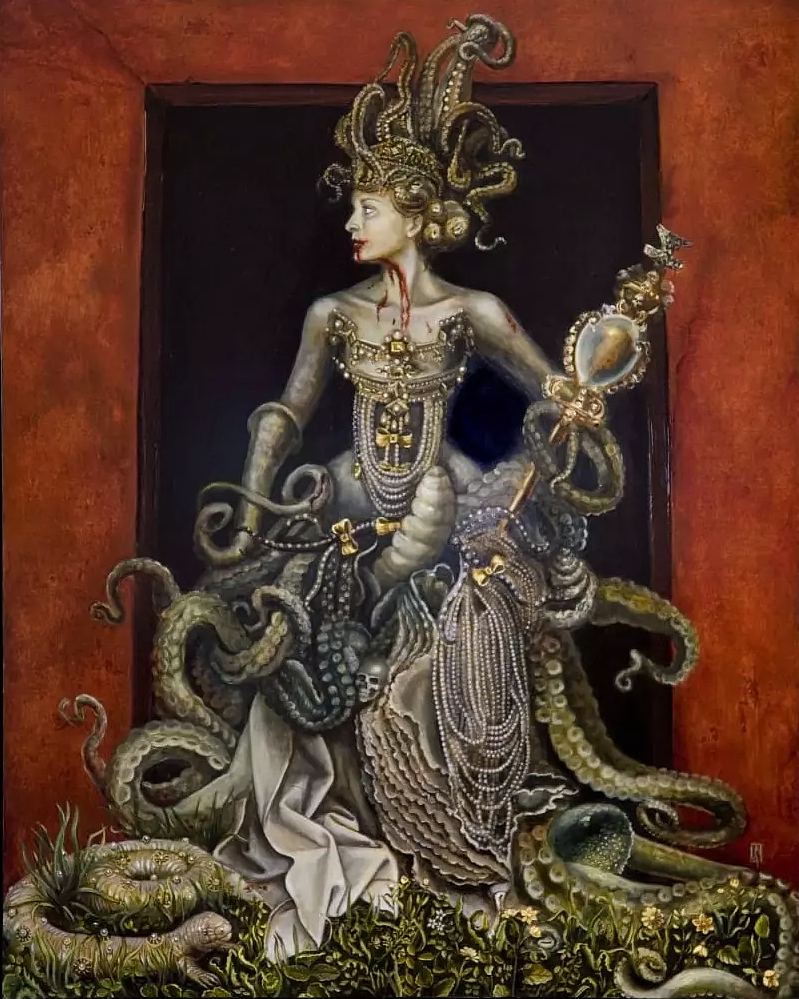 In hot pursuit of artistic greatness, Carrie Ann Baade renounced sub-par acrylics, reasoning that she would be better able to emulate art history's crème de la crème by mastering oils instead. She set her sights on taking proper oil painting classes with adults rather than children, a dream that was finally within reach by her mid-teens. Her enthusiasm and aptitude for the medium paved the way for a comprehensive undergraduate and masters-level art education, including formal training at the School of the Art Institute of Chicago, the Florence Academy of Art and the University of Delaware. Armed with classical realism skills and a deep comprehension of old master painting techniques, the internationally exhibited gallery/museum artist – who is also a professor/BFA director of Florida State University's department of art – clearly took her very early art career brainstorming sessions to heart.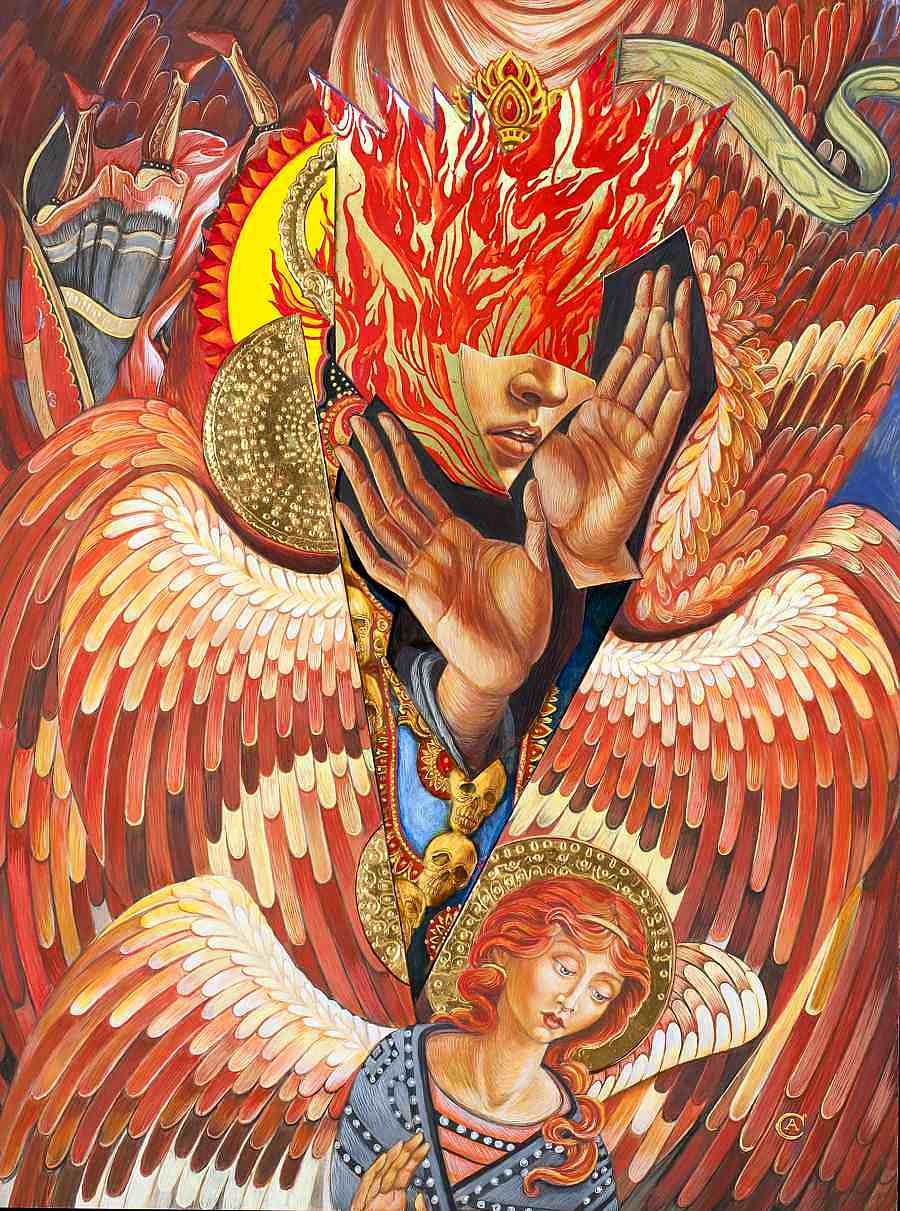 And while all of this truly is impressive, it's important to understand that even a highly educated, technically skilled artist like Carrie Ann Baade – who has amassed numerous professional accolades and creative coups throughout the years – has nonetheless wrestled with her fair share of career uncertainties. She recalls fearing that her artistic output might perpetually pale in comparison to the work that our civilization has long regarded as the pinnacle of greatness. Amid the throes of her crisis of confidence, she wondered how she could manifest the type of original art that history might look back on with admiration.
Side bar. All of this was happening just a few short decades ago – prior to the advent of residential access to the internet – when imagery was digested in an entirely different (and by today's standards, charmingly antiquated) manner…via tangible books! How is this relevant to Carrie Ann Baade's path toward her artistic truth? During those primitive days of yore, if one wanted to access knowledge or obtain visual inspiration, they had to either visit museums, borrow books from libraries, or purchase volumes for their own reference. As a lifelong lover of art and unabashed "museum junkie", Carrie had amassed a library of much revered art books throughout the years. What compelled the painter of surrealistic self-portraits to then callously carve them up with – gasp – scissors???
It all started innocently enough. Carrie's gaze was fixed on the family photographs and artwork images that were displayed on the front of her refrigerator. Curiosity compelled her to move each piece around, pause to examine the aesthetic outcome, and then rearrange each component once again. Those intriguing, ever-evolving juxtapositions kicked her imagination into overdrive. Take it away, artistic epiphany! (**please bear in mind that the reenactment found forthwith is admittedly imagined**):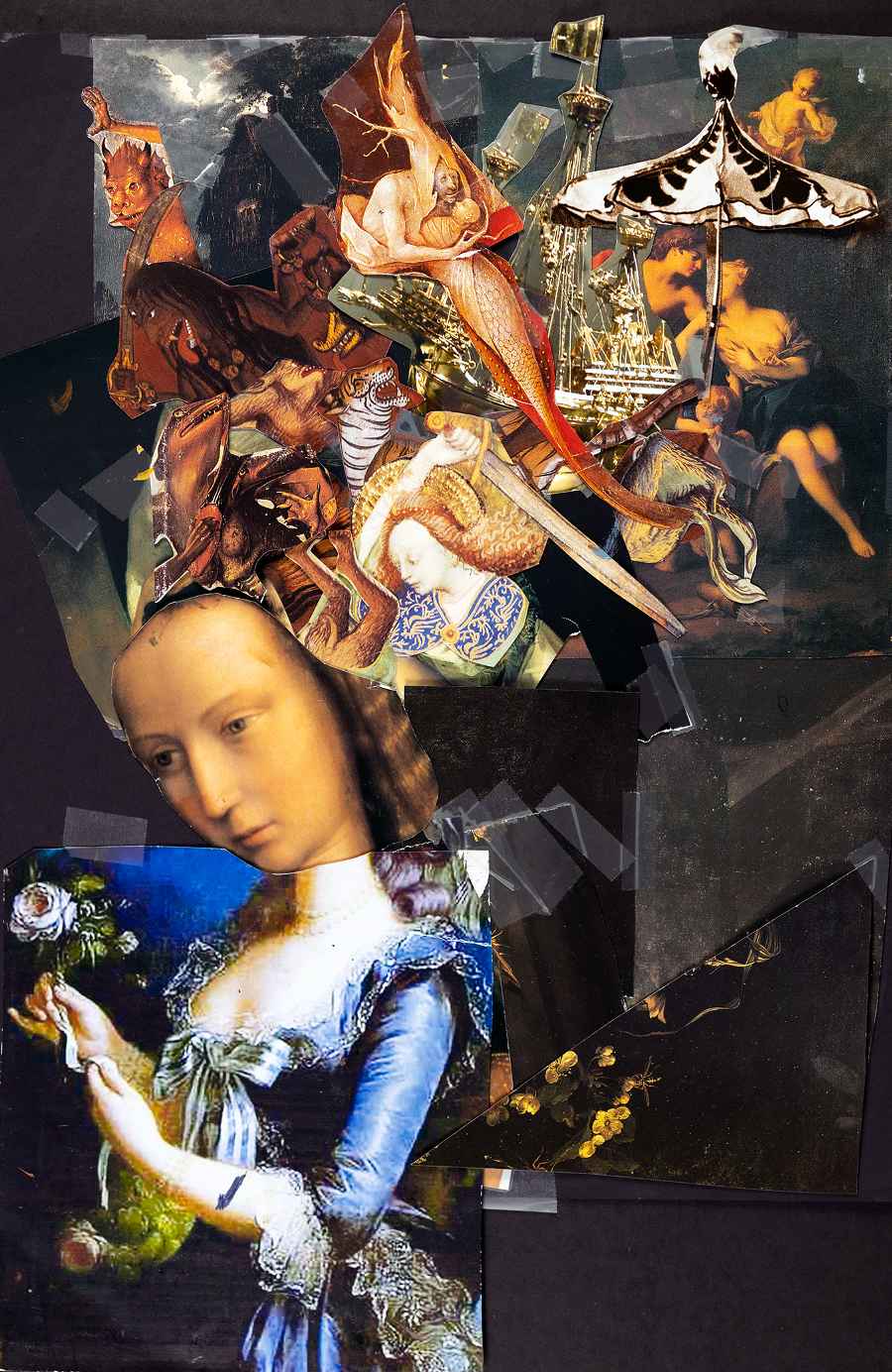 Well hello there Mr. Potato Head-meets-Wooly-Willy-esque rudimentary collage…hmm, very interesting. Now, what if I pop that bit riiiiight there? Yessss, nice move. And what about tucking this bit underneath that piece? Nope, that doesn't work. Bup-bup-bup…hang on Carrie, moving it underneath that wiggley section might look a whole lot better. Hooo lordy. I think I'm having a moment. (High pitched squeal followed by triumphant fist pump.) I guess the universe has finally spoken! I've absolutely got to do this on a much grander scale. Yeah, but with what? Think-think-think!!! I need juicy source material, and TONS of it <scans room> oh geeeeeeze…my book babies, my book babies! No-no-nooooo. No can do. Yeah but this is about your ART! You've finally reached the golden moment that you've dreamed about forever and everrrrr…and sacrifices simply have to be made! My precious dearest darlings <sniff, sniff>, thank you for your service.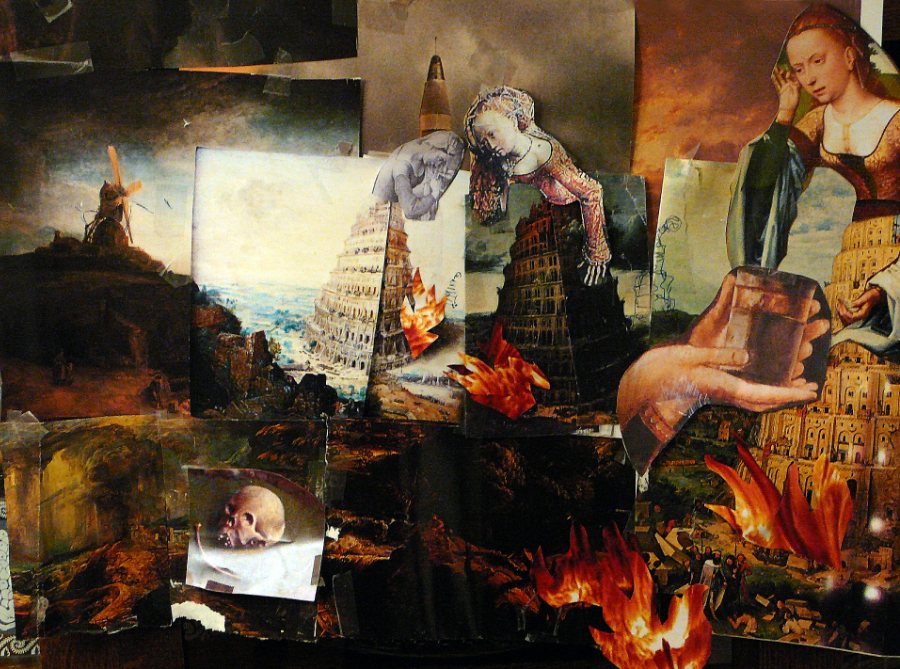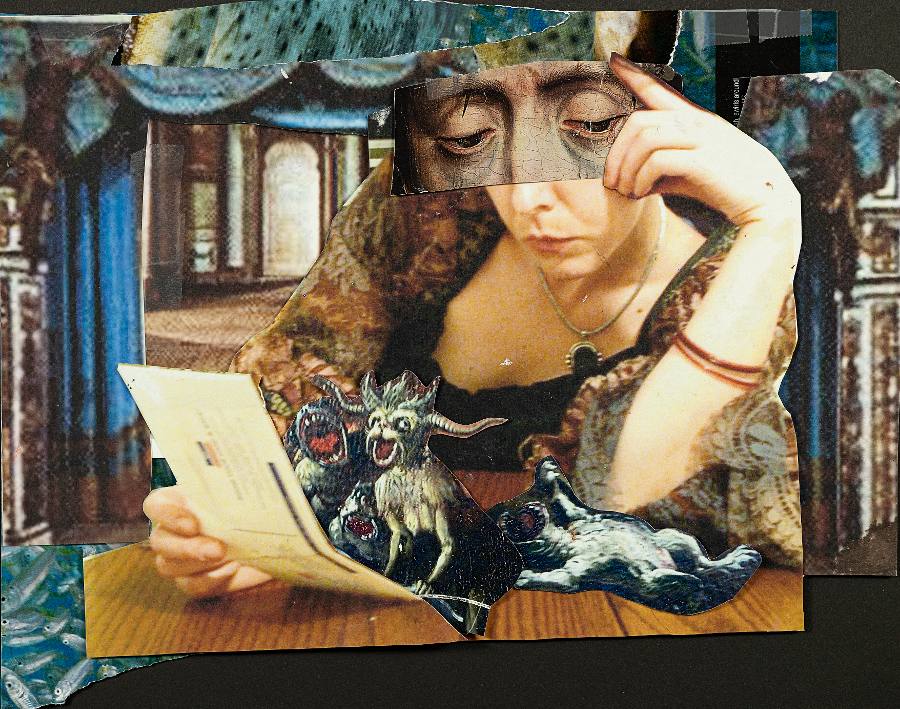 The rest, as they say, is bibliosurgical history. Carrie's scissors did indeed make mincemeat of her cherished library packed to the gills with art history's most celebrated heroes, yet in the midst of "making inquiries out of injuries" and relentlessly chasing after aesthetic mysteries, her now two-decade old creative process was born.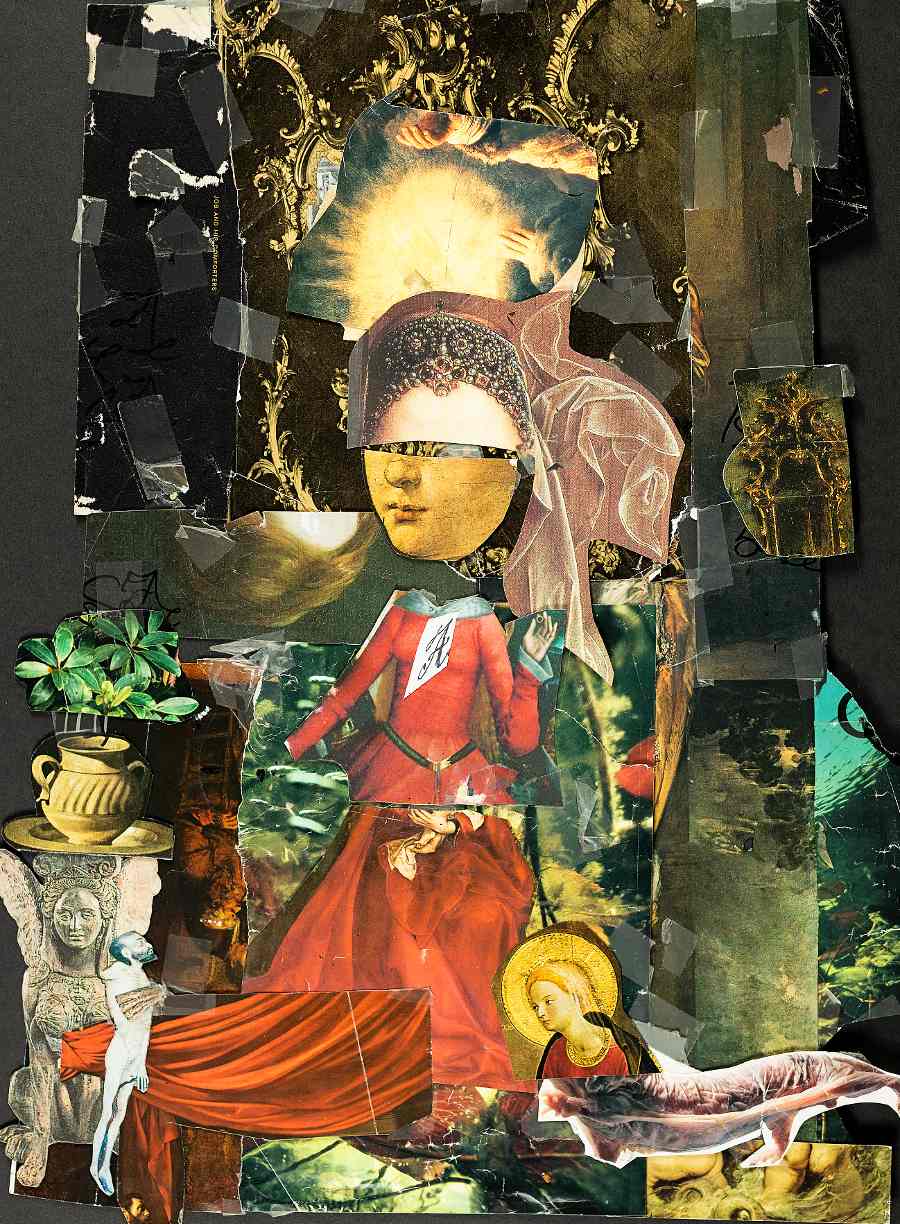 Not unlike the grand quilts that our ancestors lovingly cobbled together using repurposed heirloom materials, Carrie's Baroque/Renaissance-infused oil paintings spring forth from a paper patchwork of humanity's most awe-inspiring masterworks. Describing herself as "a scavenger, feeding on lost aesthetics and unlearned narratives", the professor of painting and drawing meditates on years of excised art imagery, slowly but steadily building individual hand-cut collages that then serve as the basic templates for her next-generation homages to art history's greats.
Among the seemingly hallowed rites that guide Carrie Ann Baade's practice, she launches the physical act of artistic creation through the very measured fragmentation and reconfiguration of pictures from magazines and art history books. Her resulting analog collages, packed with quadruple visual entendres – which the artist says are perfectly apropro amid the four-dimensionality of the world as we know it – take paper imagery to elaborate new allegorical/meta-narrative heights, leading the beholder through a never-ending series of imagination expanding portholes.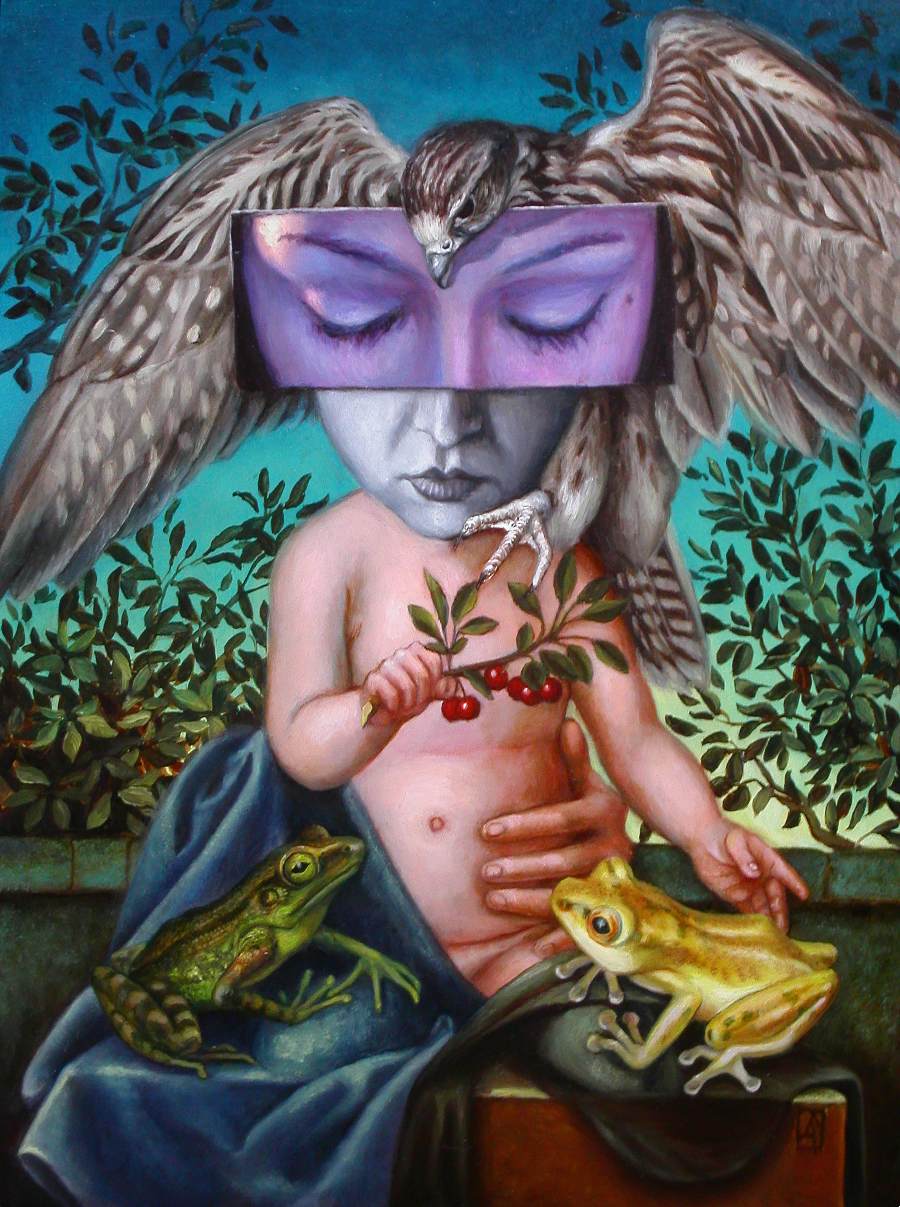 She then moves onto the preservation stage, incorporating trompe l'œil and old master techniques to immortalize the aesthetic gems of her painterly brethren on canvas with oils. Her old school reverence for the masters runs so deep that – in the process of manifesting her own work – she creates ink underdrawings on true chalk gesso panels, seals them with an imprimatura, builds compositional elements with lead white followed by a grisaille or casein or occasionally even egg tempera underpainting…and…and….and….need we go on? By the time you finish reading Scissors & Tears, you'll recognize that – straight out of the gates – she's a firm believer in doing everything the right way, and then plunking her mic down on the floor while casually exiting stage left *because boomshakalaka…the work speaks for itself*.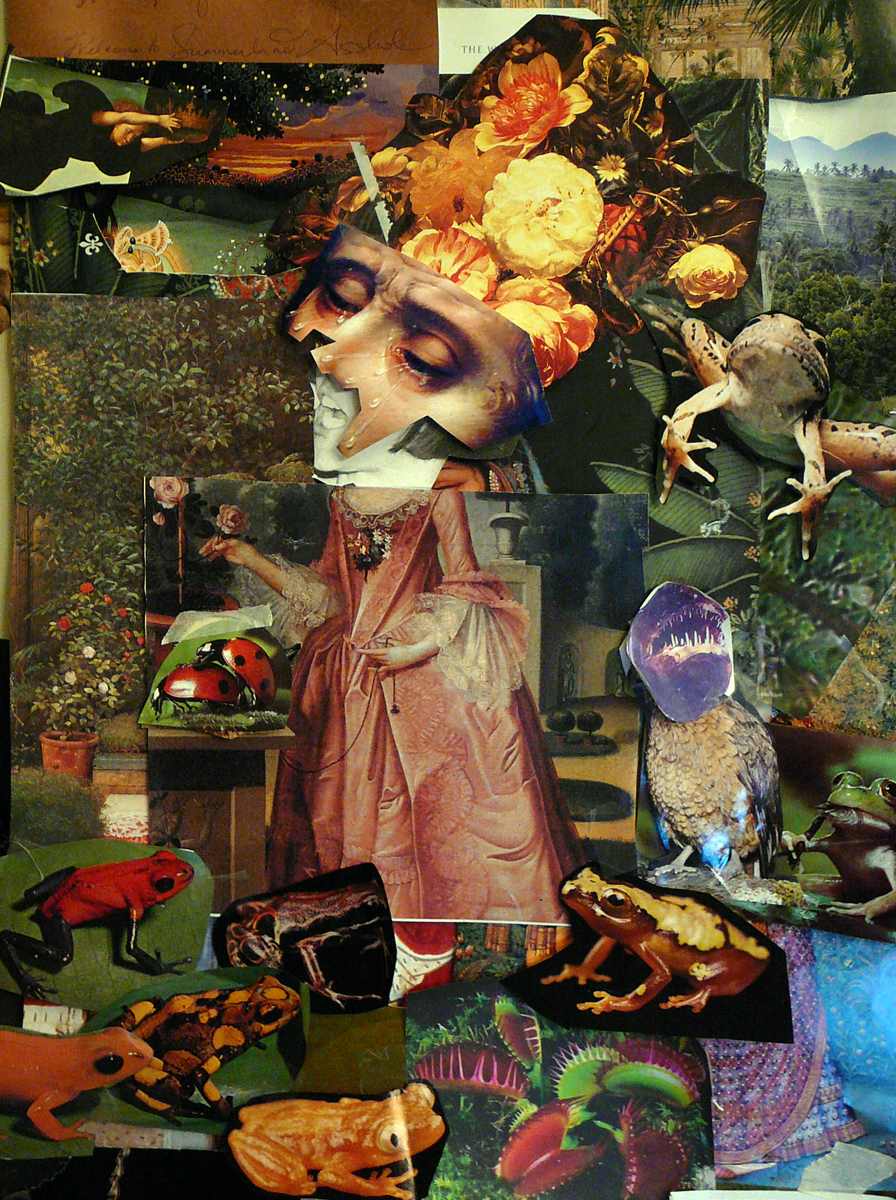 For the better part of her life, Carrie Ann Baade's regard for old world masterworks has been sacrosanct, making her semi-biographical, pro-feminist, neo-realistic yet magically fantastic narratives – which spring forth from the "violence" of scissors – even more compelling. In endless pursuit of art history's inherent mysteries, her synergistic conjuring of Baroque and Renaissance ephemera results in the birth of lush new imagination-igniting dialogues packed with cheeky contemporary flair. Scissors & Tears – featuring 100 of her surreal self-portraits from 2002 to the present – captures in words and aesthetic vision the path that a true artist's artist has traversed in search of creative fulfillment, an equally admirable and awe-inspiring adventure of heart, vision, and soul.
Order Carrie Ann Baade's Art Book, Scissors & Tears.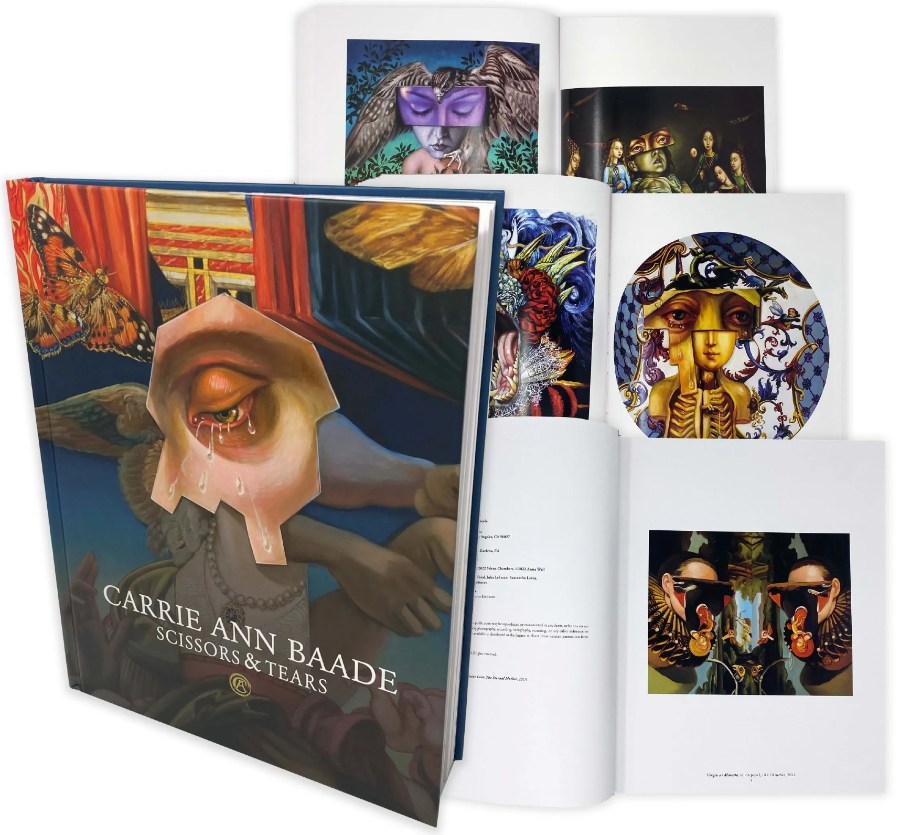 Carrie Ann Baade Social Media Accounts