From one dreamer to another, ignite the many layers of your imagination and celebrate the diversity of four new solo exhibitions opening this weekend at Haven Gallery! Mall, Kseniia Boko, Alex Garant & Gina Matarazzo lead us through multifaceted elements of composition, mood, fantasy and whimsicality…where every step is a journey of discovery and every artwork an extension of the artist's creative prowess.
With an air of mystery and wonder that stretches out like a beam of light, we let our thoughts wander – from movements of energy and "double eye" characteristics to otherworldly realms of fairy tale and folklore, every creature has a name and every flower has a voice. Come along and embark upon each of these beautiful collections. View them in their entirety alongside all available inventory by visiting Haven Gallery's website!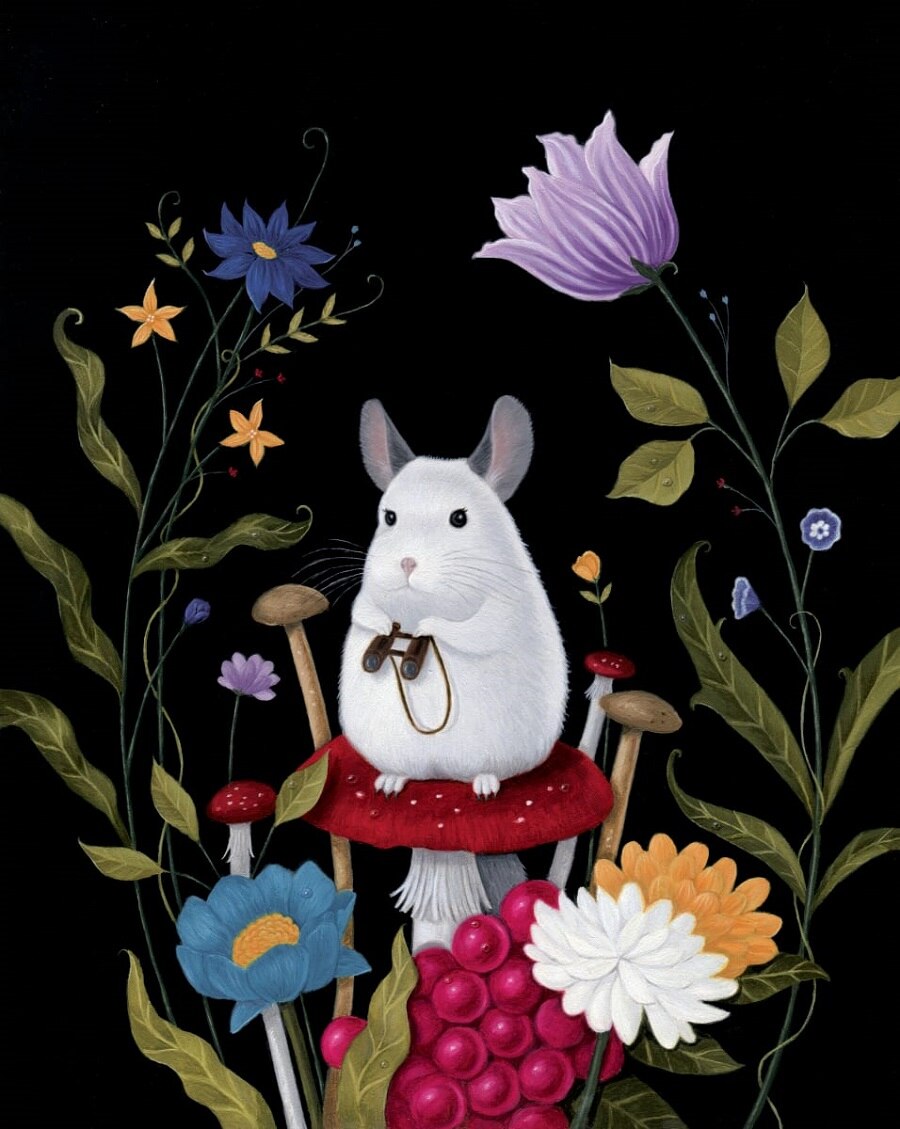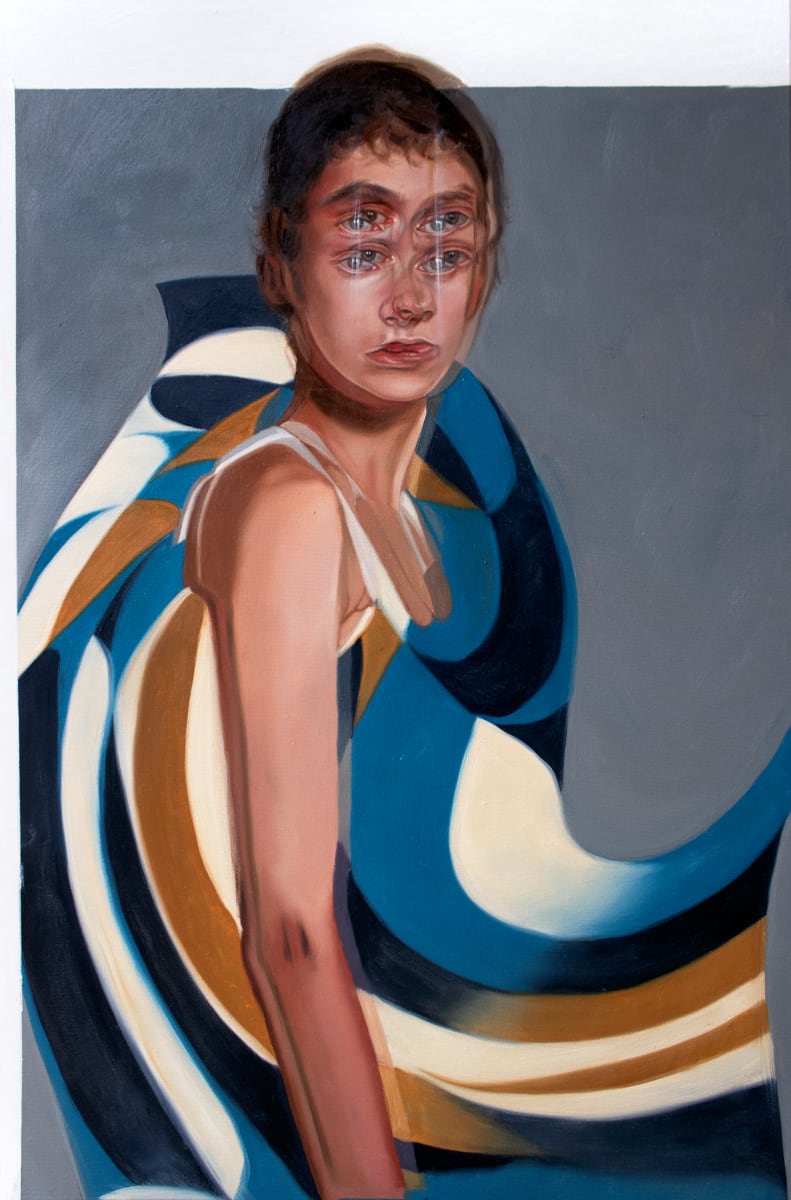 Opening Reception: Saturday, September 24, 2022
Exhibition Dates: September 24 – October 23, 2022
Haven Gallery
50 Main St., Northport, NY 11768 | ph. (631) 757-0500
To inquire, please contact Erica via email [email protected]
About the Gallery //
Haven Gallery is run by Erica Berkowitz and Joseph Weinreb. The gallery first opened in 2015 in the Carriage House of historic Northport, NY. Within two years, the gallery doubled in size and expanded into the entire Carriage House building. Through their successful in-house exhibitions and presentations at art fairs both domestic and international, Haven opened a secondary location at 90 Main St., in 2020, during the height of the Covid pandemic. It was at that point, that Erica and Joseph knew it was time to find a permanent location for their artists. In January of 2022, they bought the building at 50 Main st., and opened its doors as Haven Gallery's perennial home.
Haven Gallery's focus is on exhibiting emotionally, intellectually and imaginatively driven, representational artwork that connects the audience and artist with universal axioms and passions. We work with both emerging and established artists who transcend their medium and subjects by exploring the world around them as well as the one within themselves.
---
Northport, NY– Haven Gallery is pleased to present "Luminescence", a solo show of new work from Philippines based artist Mall. "Luminescence" is Mall's third solo show at the gallery and features fifteen new mixed media resin paintings and drawings that embrace forms of light to create glowing microcosms of life. Girls dressed in kimonos delicately pose amidst magical dreamscapes full of color, shimmer and energy. Mall's paintings take on sculptural qualities as she applies a multi layer technique with her paint, washi tape and sequins, animating her magical worlds. Cosmic, animal and floral elements whirl and flow through her compositions, giving each portrait a graceful sense of movement reminiscent of dance. Radiant moments of time are captured and through their flow, sweep us away to an enchanting dreamworld.
About Mall's Process //
Mall layers paint and washi tape between layers of resin. She does this in trays and plates locally sourced in the Philippines. Her use of resin and its transparent nature allows her to build delicate layers that suspend her female figures amidst the natural world surrounding them. This technique allows for a three dimensional presentation highly inspired by traditional Japanese aesthetics, the stylization of anime and manga and their contemporary narratives.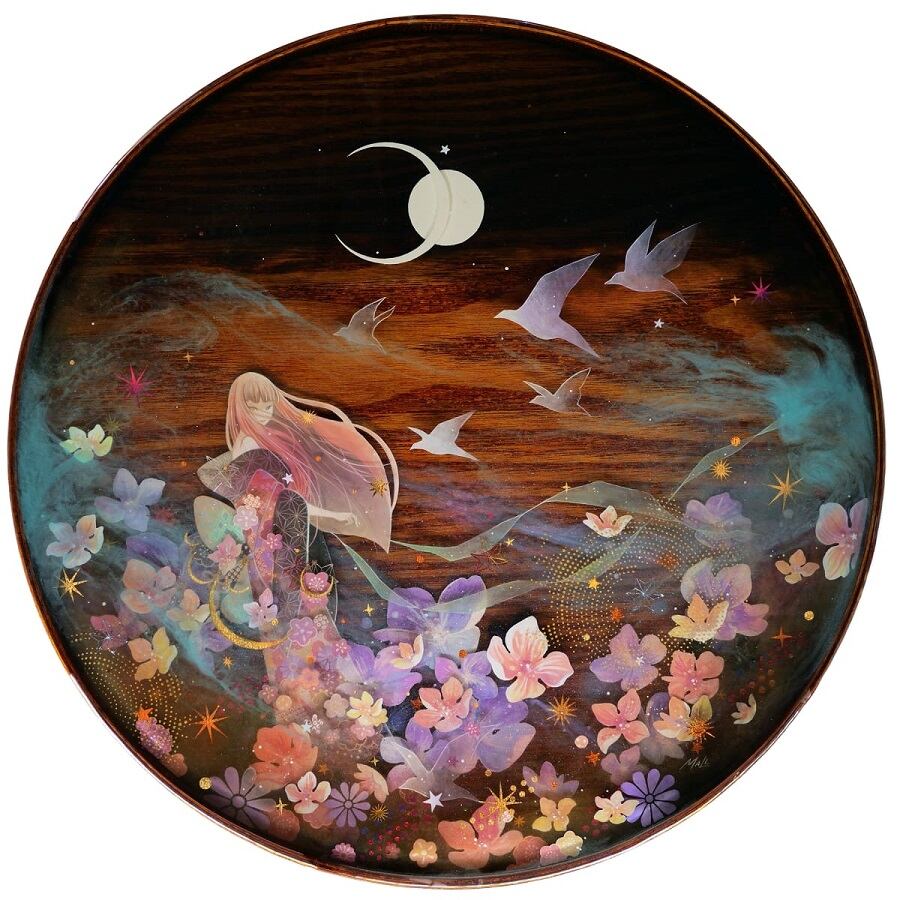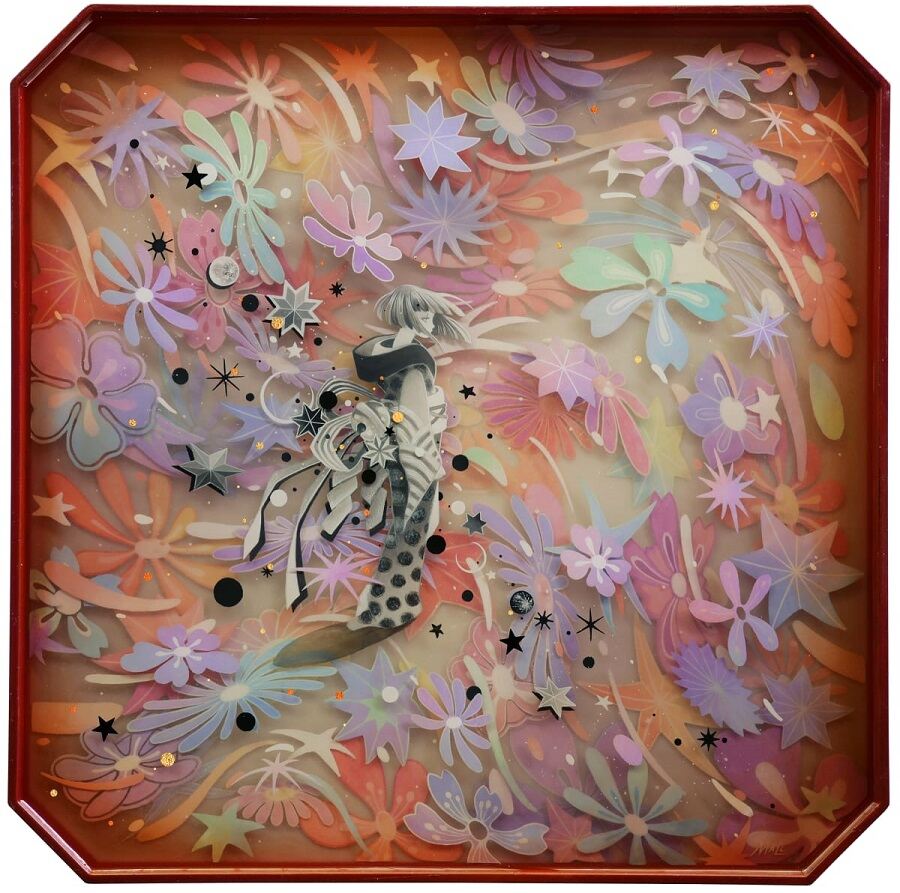 Haven Gallery is pleased to present Ukranian based artist Kseniia Boko, for her third solo show at the gallery, entitled "Dreamers". "Dreamers" consists of nine oil paintings focusing on human and animal portraiture utilizing ethereal palettes and empyrean landscapes. Many of her figures find themselves basking in moonlight and otherworldly luminescence full of glimmer and magical properties. Sprites of light, stars, energy and magic, envelope her compositions and transport her contemporary deities from the earth bound to the celestial. An enigmatic quality blurs the line between the dreaming and waking world, suggesting the coalescing of the two realms. Each painting offers a poetic and painterly glimpse of an Arcadian world beyond our earthly reveries.
About the Artist //
Kseniia primarily in oil paints and creates fantastic pieces featuring mysterious female portraits with fragments of the natural world. She wants to show a harmonious coexistence between humans and nature. Kseniia graduated from Kyiv National University of Construction and Architecture in 2013 and worked as an architect before serendipitously falling into the art world. Today she works as a full-time artist.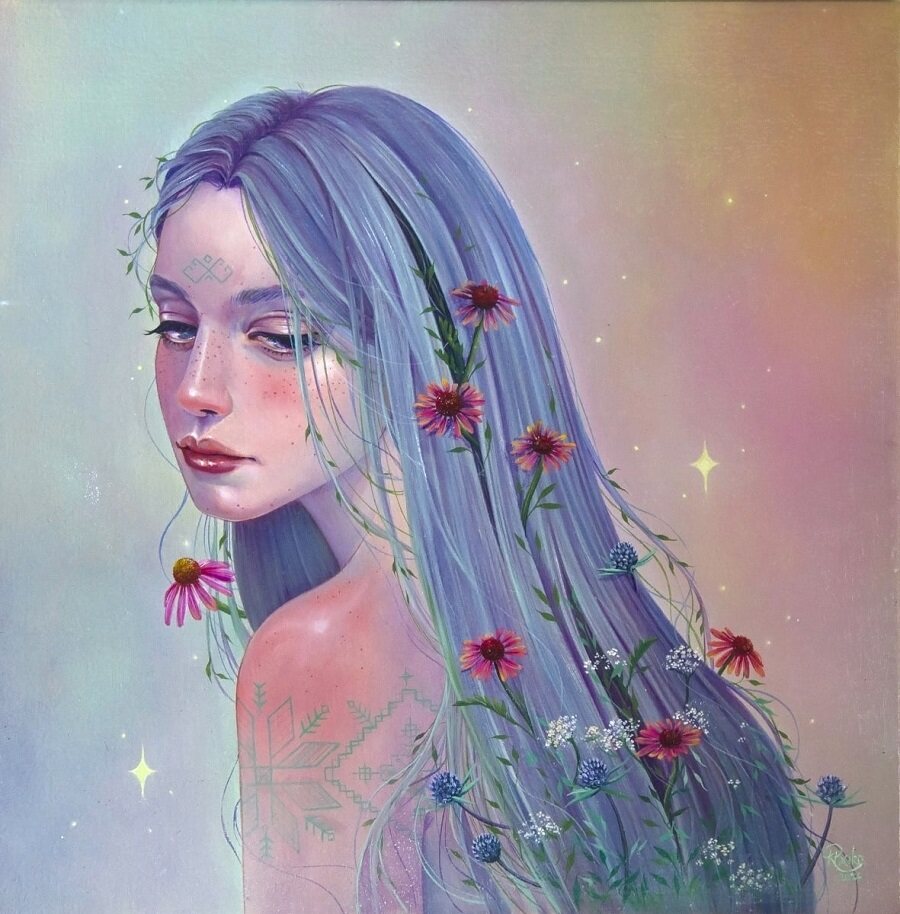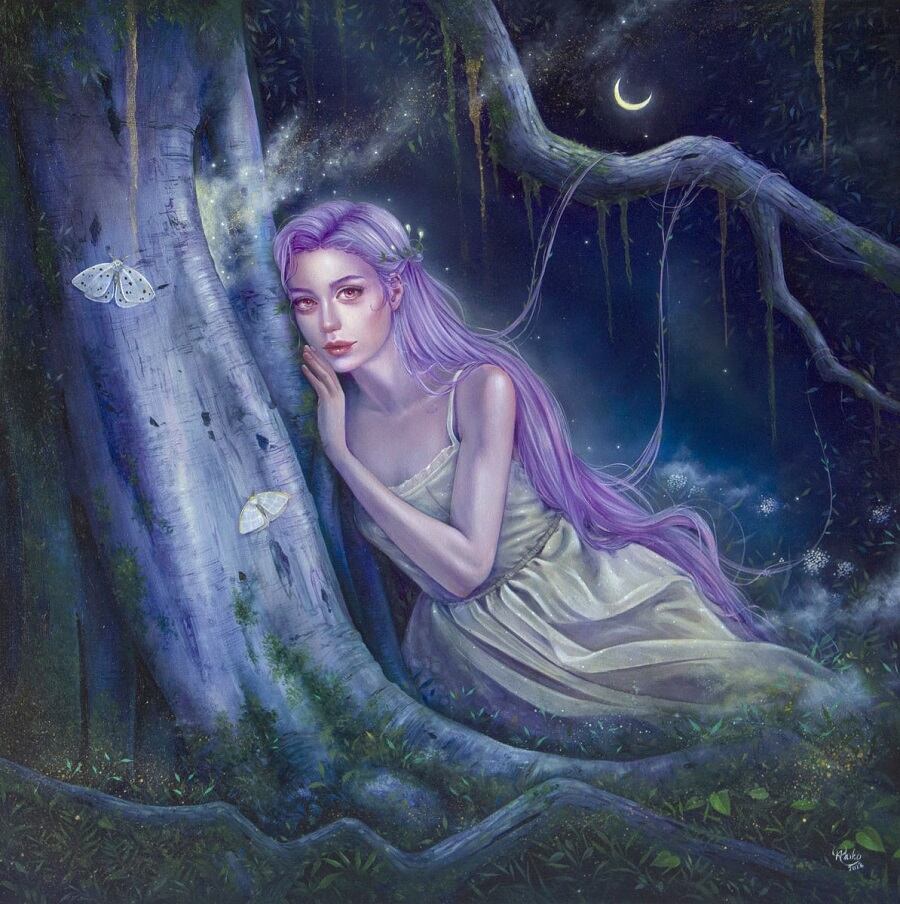 Northport, NY– Haven Gallery is pleased to present "Odyssey", a solo show of new work from Canada based artist Alex Garant. "Odyssey" is Garant's third solo show at the gallery and features twelve new oil paintings that explore themes of color, form, shape and design. They are a visual and artistic journey as the artist expands her motif while simultaneously moving from her home in Canada to new lodgings in the United States. The title may reflect the long distance travel as well as the continued exploration of movement in her work.
Garant's portraits have always focused on motion and optical illusions, suggesting her sitters are in flux in the corporal form, or perhaps, a representation of the multiple selfs present in all of us. "Odyssey" takes this one step further as abstract forms of color, shape and design extend themselves in what can be suggested as the form of continual movement. The theme and prevalence of motion originating in her characteristic "double eye" portraiture evolves further in this series. Thick undulations of paint are paired with realistically painted sitters, allowing a play on technique and contrast of gesticulation. The prominence of this fluctuation may even echo string theory, or the idea that everything is made up of tiny, vibrating strings.
The double exposed nature of each portrait harks to antique and contemporary methods of photography and are also suggestive of the historic movements in art such a futurism and op art. The hallucinogenic qualities of Garant's work create an optical reaction resulting in an individualized experience. Capturing a moment of perpetual motion through perhaps humans most telling body part, the eyes, playfully provokes the viewers sensory experience. This illusionary effect of motion offers a glimpse of the multifaceted and oftentimes multi-self trait to humanity, both that of one's own volition as well as the latent workings of the subconscious and unconscious mind.
About the Artist //
Internationally renown as the Queen of Double Eyes, Alex Garant studied visual arts at Notre-Dame–De-Foy College just outside Quebec City. After graduating in 2001, she ultimately settled in Toronto, Canada. She decided to truly commit to her passion for Arts after suffering from a heart attack in 2012, changing forever how she would see the world. As a pioneer of Contemporary Figurative Op Art, her oil paintings offer a graphic quality combined with traditional portrait techniques. Garant establishes herself as one of the leaders of analogue Glitch Art by using patterns, duplication of elements, symmetry and image superposition as key elements of her imagery. Her paintings are a reflection on human duality, the battle for self-definition between one's inner self and outer persona.
Represented by galleries in New York, Los Angeles and Australia, her works have also been shown in several museums including the Museum of Art and History (MOAH) in California, the Mesa Contemporary Arts Museum in Arizona, the Honolulu Museum of Art in Hawaii and the Fullerton Museum Center in California. She has been featured in Hi-fructose, Juxtapoz, Beautiful Bizarre, the American Art Collector magazine and on multiple online platforms including VICE, The Huffington Post, Buzznet and many more.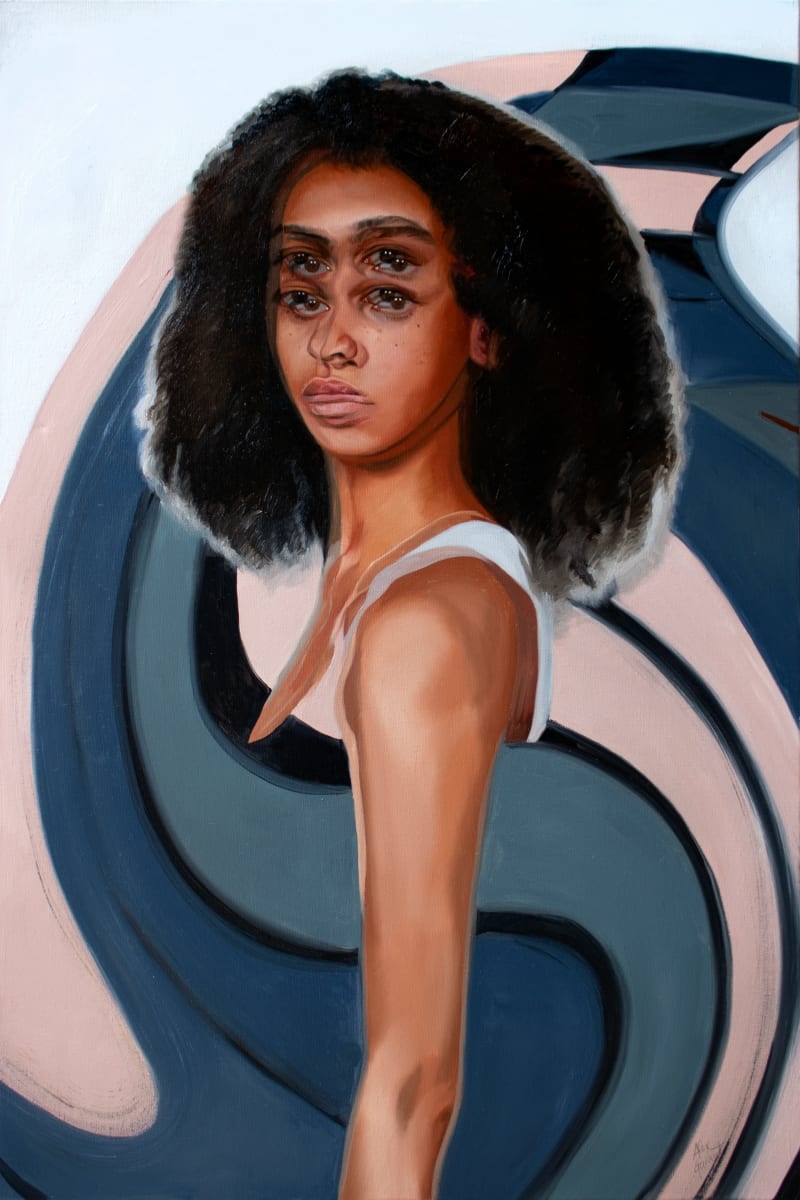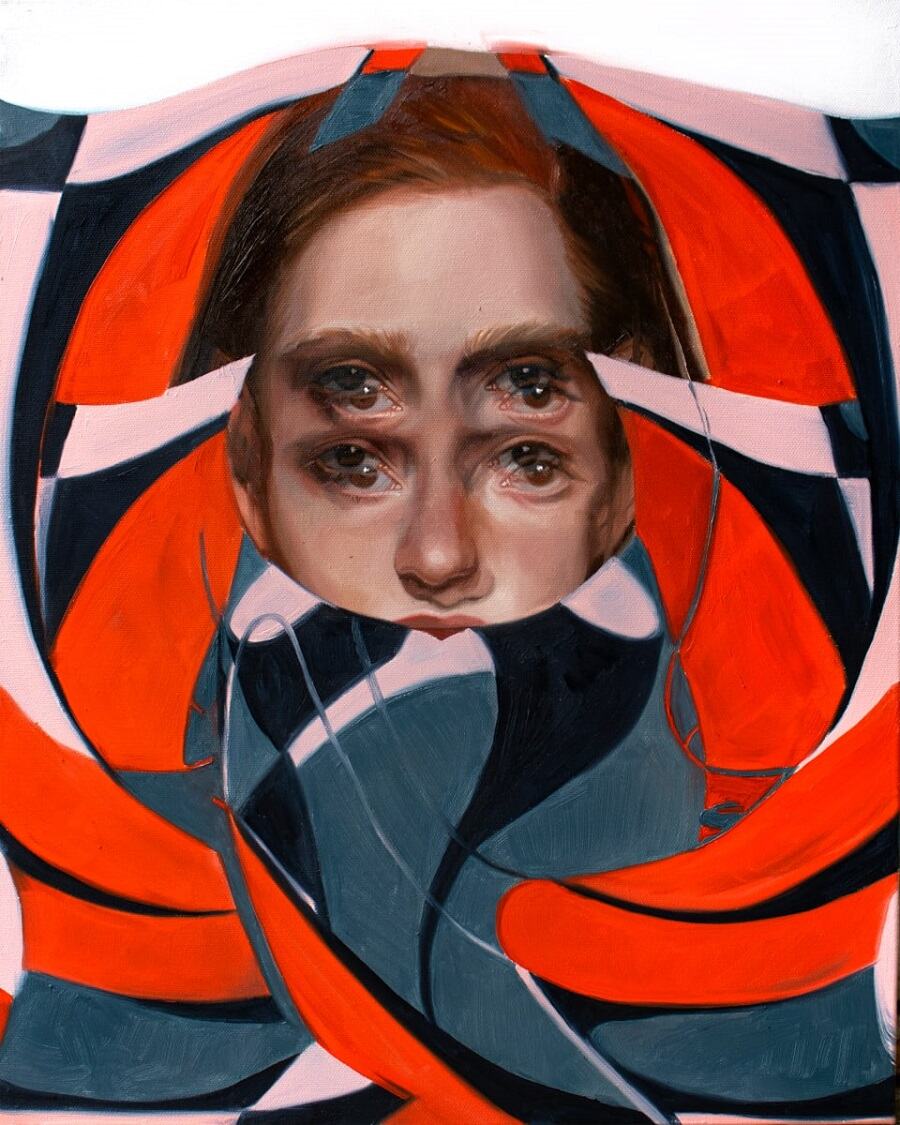 Northport, NY– Haven Gallery is pleased to present "Wee Worlds", a solo show of new work from New Jersey based artist Gina Matarazzo. "Wee Worlds" is Matarazzo's second solo show at the gallery and features eleven new miniature oil paintings of her quintessential animal sitters cavorting about in playful compositions, costumery and amidst the landscape. This particular series focuses on critters small in size, but big in passion and personality. Each portrait is paired with a short story about the depicted, allowing us a glimpse into their tiny lives and worlds.
Artist Statement //
I paint pictures, design books, hide chocolate like a squirrel (meaning, I don't always remember where I put it), love to cook, own and operate 22 hula hoops (not all at once), sometimes lose paintbrushes in my hair, get caught on doorknobs frequently, work too much (because I love it!), look for creative opportunities with EVERYTHING, love looking at academic paintings in person and spending time with my cats and husband. I love COLOR and DETAILS and SECRETS and STORIES and EVERYTHING about the creative process, especially the challenge and the hard work.
I believe there are hidden secrets, wonders and joys of the world right under our noses every day. I enjoy creating art that celebrates the things that are often overlooked and taken for granted. When is the last time you really looked at the sky or the sprightly little rabbit in your yard? What does that dog of yours dream about? I think everyone needs to slow down and pay more attention to what's going on around them. With a little creative license, I aim to show you a magical way of looking at ordinary things.
In the past, my primary focus was designing and illustrating album covers for a wide variety of recording artists across a great spectrum of music genres. My client list has included Paul McCartney, Billy Joel, Glen Phillips, Peter Tork, Woody Allen, 88.5 WXPN and Austin Music. I have also done freelance work on books, toys, and textiles for clients including Houghton Mifflin Harcourt, McGraw Hill, and Running Press Books. Currently, I design books for Bookbaby in any and every genre and style that comes across my desk. I live with my illustrator husband, Matt Stewart and cats Gwendolyn, Cecily and Georgie in southern New Jersey where at certain spot between trees, you can catch a glimpse of the beautiful Philadelphia skyline in the distance.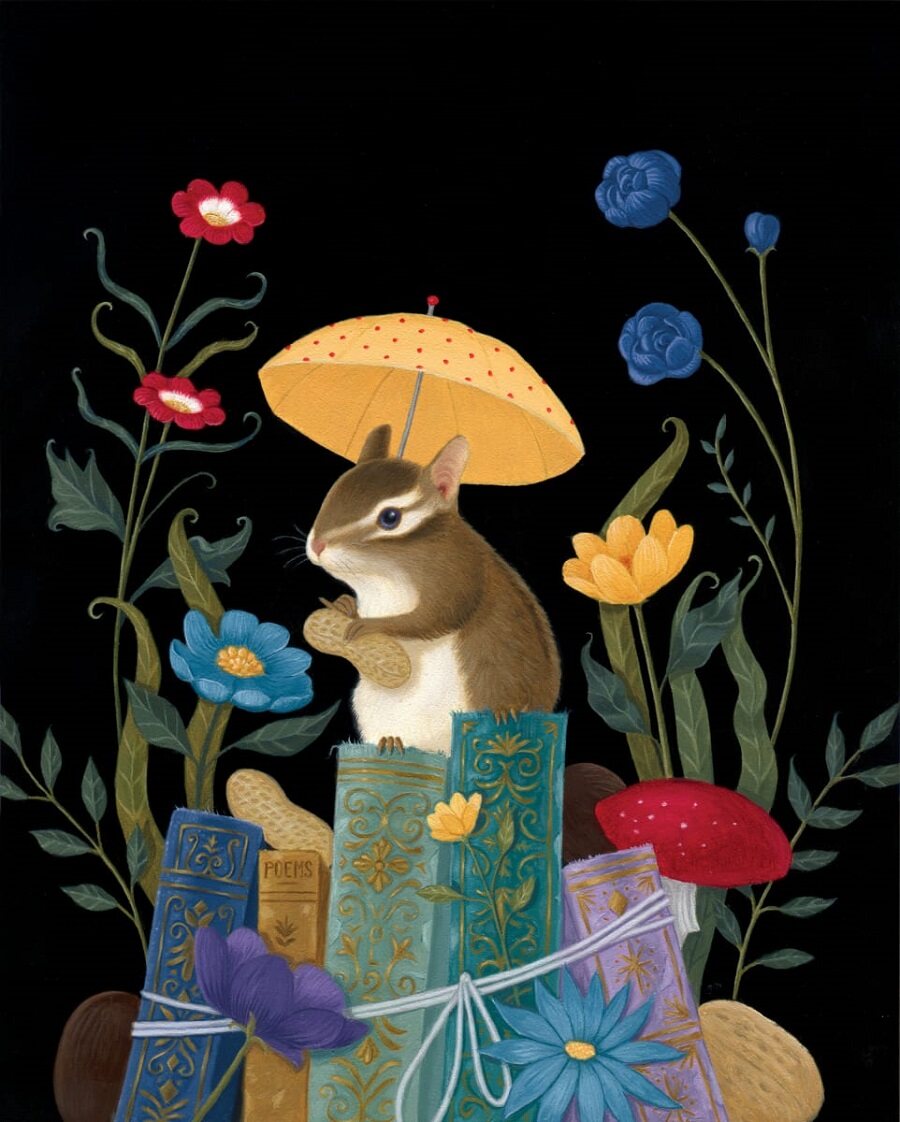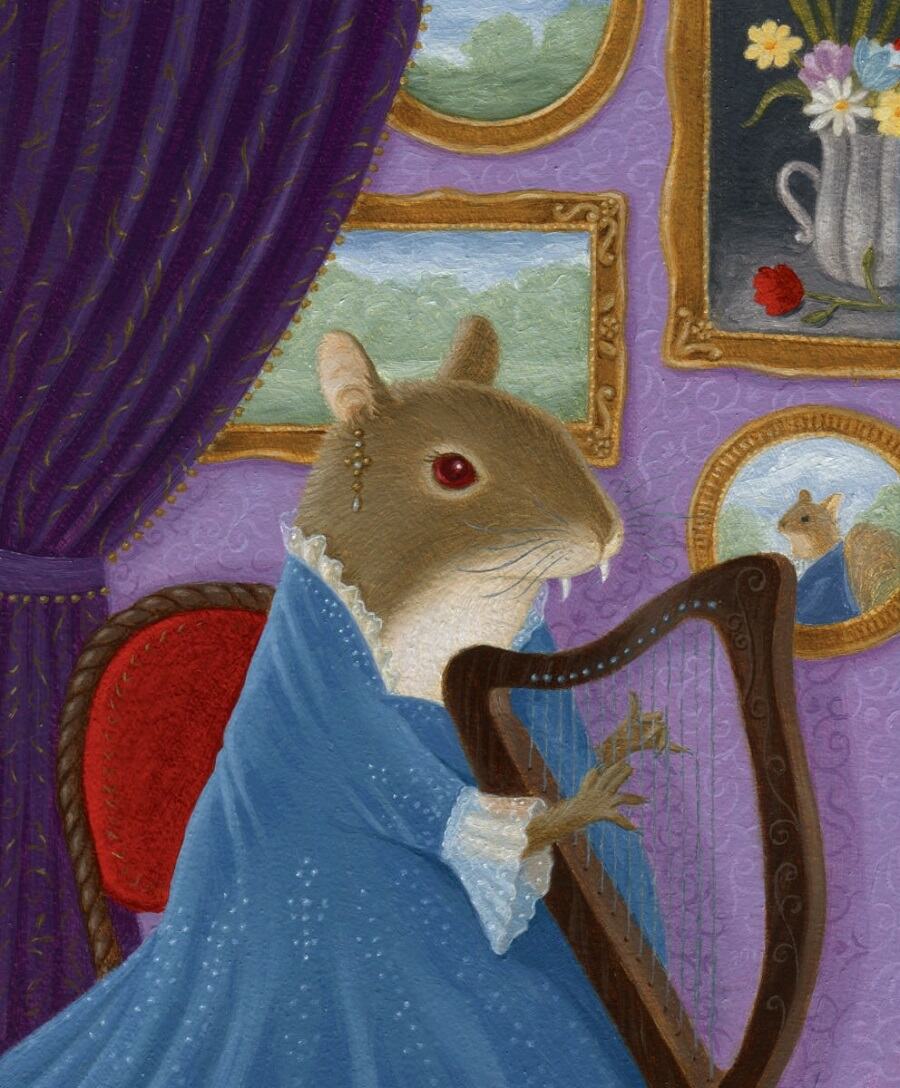 Haven Gallery Social Media Accounts