Brace yourself for the whimsical surrealism of three exciting exhibitions that will leave you with a smile on your face. Steeped in the magic of hybrid animal sculptures, tarot-drenched watercolors and exceptional creative visions, Haven Gallery is going to fill you with inspiration. Join them this weekend for Valency Genis "Beast Bazaar", June Leeloo "East of the Sun, West of the Moon", and "Allegory", a group exhibit with a wonderful lineup of artists.
**On behalf of Haven Gallery and their artists, the openings of the solo shows of June Leeloo and Valency Genis, as well as group show, "Allegory", will be rescheduled to Saturday, June 13th.**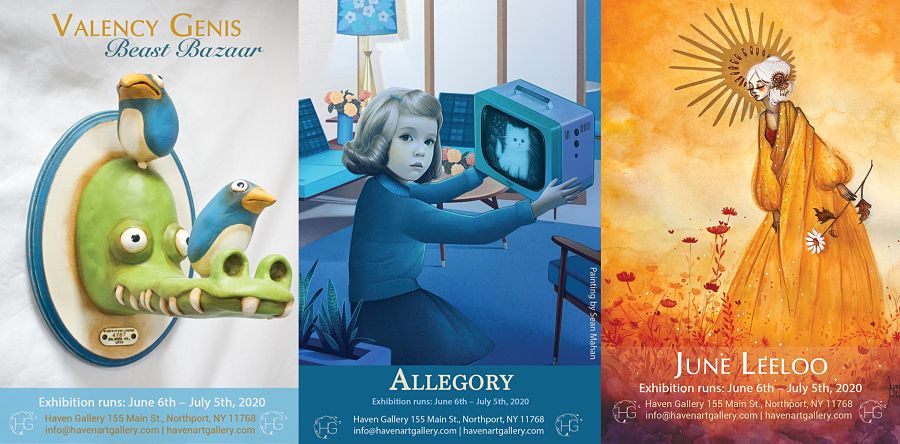 Valency Genis, June Leeloo + "Allegory" Group Show
Exhibition Dates: June 13 – July 5, 2020
**Current exhibitions will be displayed in the gallery, but will remain an online exhibit as quarantine measures continue in New York.**
Haven Gallery
155 Main St., | The Carriage House Square | Northport, NY 11768
For additional information and images, please contact Erica Berkowitz at [email protected]
Haven Gallery Press // Haven Gallery is excited to present a collection of new work from Washington based artist, Valency Genis, for her first solo show at the gallery. Valency's exhibition aptly titled "Beast Bazaar", will feature forty of her playfully chimeric animal sculptures à la taxidermy, but instead, made from hand sculpted and painted parts comprised out of epoxy clay and wire. Each creature finds itself affixed to a taxidermy plaque, with large, bright eyes and exuberant expressions. Sometimes her mythical critters find themselves accompanied by an unusual companion, small in size, but symbiotic in nature; while other times, independent homages of individual animals beam brightly.
Valency's art melds the characteristics of multiple animals into her own unique creatures, adorning them with ribbons, name tags and a delightful array of color and pattern work. Highly inspired by her time as a child out in nature, but also from her love of television and video games, Valency's sculptures merge the two worlds together, creating one of her very own. A surrealistic twist on a historic art-form of preservation and study with the imagination and wonder of mythology and contemporary character motifs. The artwork of Valency brings warmth, imagination and mirth to its viewers; a sharing and connectivity through familiar pastimes and innovative designs.
About the Artist // Valency Genis is an artist with a head full of never-ending creatures. Her magical ability to bring her vivid imagination to life is evident in her amazing sculptures of fanciful hybrid animals. She originally hailed from the Republic of Cascadia, entering the world as a 12-pound baby, born in Portland, OR. After her father passed away when she was a baby, she then grew up in the heart of Seattle, WA.
She was utterly obsessed with television and video games for most of her life, so it is ironic that a summer spent on Flathead Lake, Montana in an electronics-free log cabin when she was 10 years old would change her life forever. Searching for diversions to alleviate her interminable boredom, she happened upon an old taxidermy shop. A dusty pair of "unborn beavers" caught her eye in the window display, and it forever imprinted on her naive adolescent mind. The stunning array of animals presented in the rustic store drew her in with their beauty, but she was bereaved by their demise.
While later studying for her BFA at the University of New Mexico, Valency discovered that she had the power to create creatures and control their aesthetics, while minimizing the tragedy associated with taxidermied animals. She takes an almost Dr. Frankenstein-like glee in crafting her unique animals, drawing on influences such as Dr. Seuss, Jim Henson and Tim Burton.
Her first solo show, Heterodoxy, was at the John Sommers Gallery (UNM) in November 2011, and it garnered Ms. Genis summa cum laude honors from The UNM Department of Art and Art History (which she proudly added to her summa cum laude baccalaureate honors). Valency recently moved from Albuquerque, NM to Lacey, WA, finally returning to her beloved Pacific Northwest.

June Leeloo "East of the Sun, West of the Moon"
Haven Gallery Press // Haven Gallery is pleased to present a new collection of exquisite watercolor paintings from French artist, June Leeloo, for her second solo show at the gallery. Leeloo's exhibition entitled "East of the Sun, West of the Moon", will consist of fifteen new works representing about half of the Major Arcana cards found in a traditional Tarot deck. Artistic interpretations of such well known iconography such as The Sun, The Moon and many others will be present in this new series and feature the artists unique whimsical style depicting the Tarot's foretelling and illuminating properties.
Tarot card decks have a long history of game play, divination and artistic interpretation. Their stories and messages serve as universally understood ideas and outcomes, readily comprehended and interpreted. The artist brings these analogies and possibilities to life with their visual narrative and personal symbology. Prominent and quintessential characteristics of Leeloo's work pervade this collection; her ethereal females cavort with their downy hair, slinky forms and languid poses amidst lush flowerscapes and acquiescent animal accomplices. "East of the Sun, West of the Moon" is expressed through a jewel tone palette and magnificent sense of atmosphere, characteristically exemplified through Leeloo's delicate rendering of her watercolor style.
"Allegory"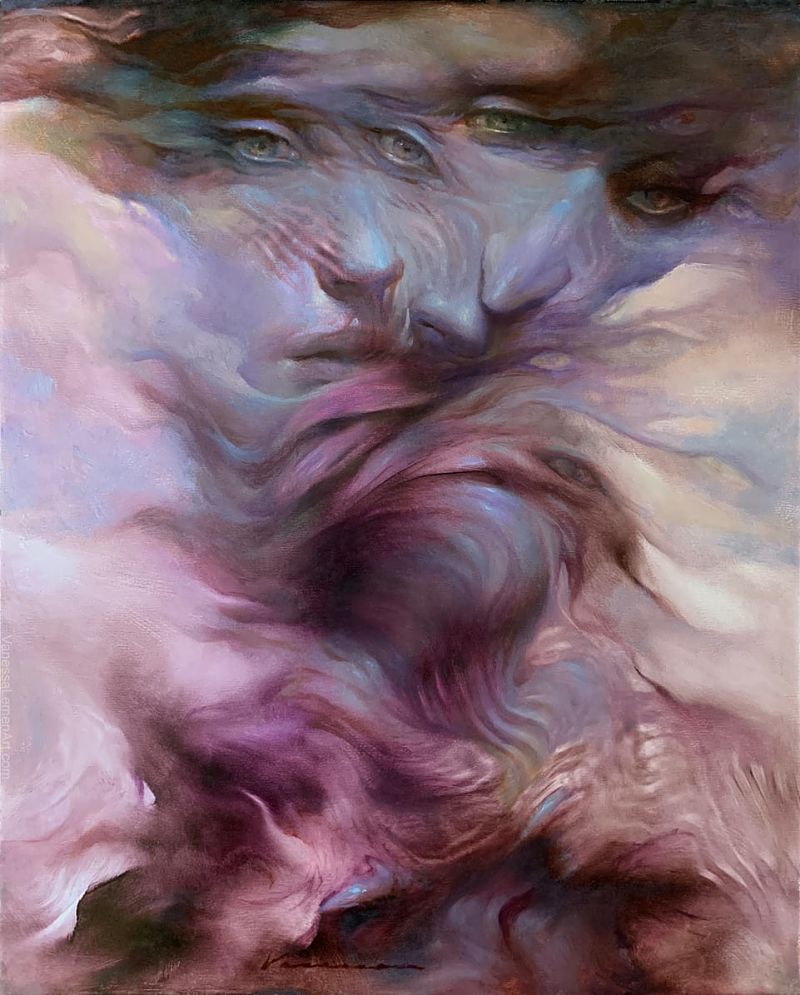 Haven Gallery Press // Haven Gallery is pleased to present "Allegory", a group exhibition that encourages an exploration of the use of allegories throughout art history, prominent works of literature and the humanities.
Participating Artists // Deidre S Beeman, Vanessa Lemen, Jel Ena, Steven Daily, Sean Mahan, Brendon Flynn, Mandy Tsung, Helice Wen, Daria Theodora, Kathie Olivas, Scott Fischer, Howard Lyon, Mahlimae, Madame, Sarah Finnigan, Mathieu Nozieres, Adiopocere, Randy Ortiz, Claudia Griesbach-Martucci, Kaysha Siemens, Amahi Mori, Katie Gamb, Yoko d'Holbachie and Orphne Archeron.
Haven Gallery Social Media Accounts