Are you ready for the next Take Over?!
If you are a follower of our Beautiful Bizarre community, you surely love this feature as much as I do. Every month, we select one of our favourite creative minds and friends to take over Beautiful Bizarre Magazine's social media for a whole day. A magical dose of inspiration and creative energies – directly from the source and curated with 🖤!
In August, we handed our socials over to our great supporters and gold sponsors of the Beautiful Bizarre Art Prize 2022, iCanvas. What a special Tuesday it was… the third time our friends amazed us with their curation!
In case you missed the spectacle on our socials, we put together the Take Over right here for you to dive into. Join us on the adventure to the world of iCanvas!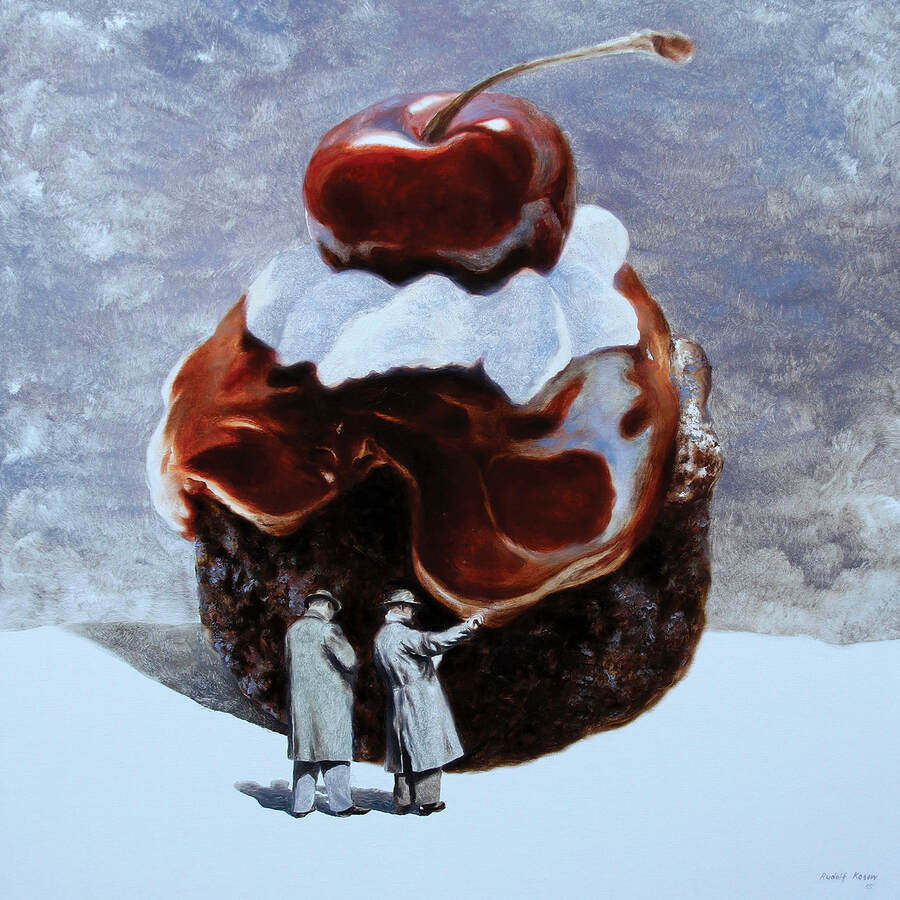 We're thrilled to be back for our third year of taking over Beautiful Bizarre's Instagram feed! As art lovers with a huge fondness for dogs, we're leading things off with this precious pair and their playful proportions. Swipe to see more sweet, scale-bending scenes, and stay tuned for more art from curious creators we love.
🎨 – Rudolf Kosow
---
FFO Art
"Is this real? Or has this been happening inside my head? Of course, it is happening inside your head, but why on earth should that mean that it is not real?" – FFO Art
FFO Art's digital collages dance along the thin boundary between art and reality. Loaded with anatomical abnormalities, delicate details, and vintage allure, we love their elegant yet twisted takes. From evil eyes to exploring isolation, it's hard to look away from their enigmatic prints.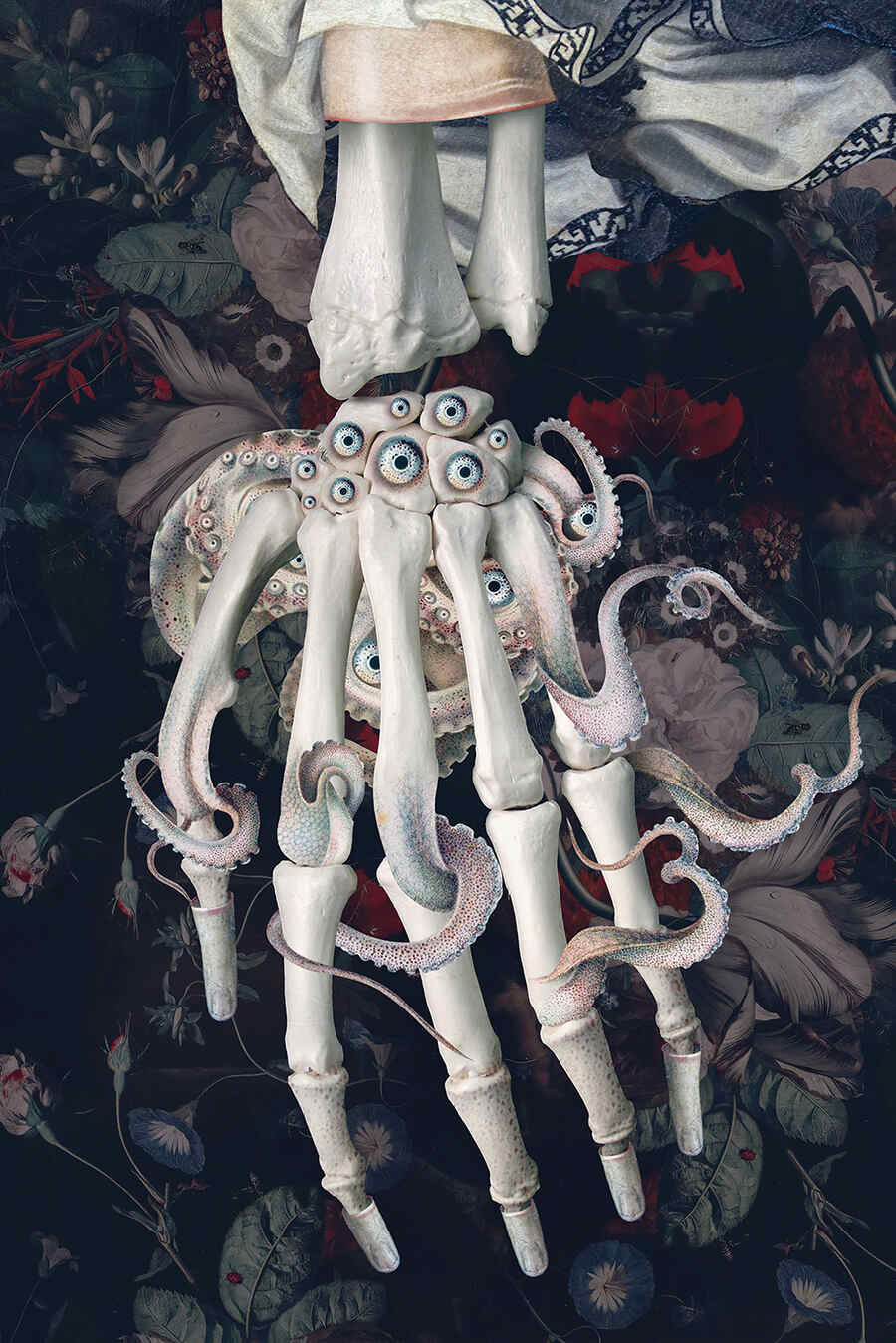 ---
Adrian Borda
Oil painter Adrian Borda makes art "not necessarily to create something most people like, but to open a window to haunting images impossible to forget." Crafting unusual narratives from the subconscious world, his surreal scenes are layered with introspective and emotional themes. From dancing in the rain to allegories about art, we love getting lost in his strangely beautiful stories.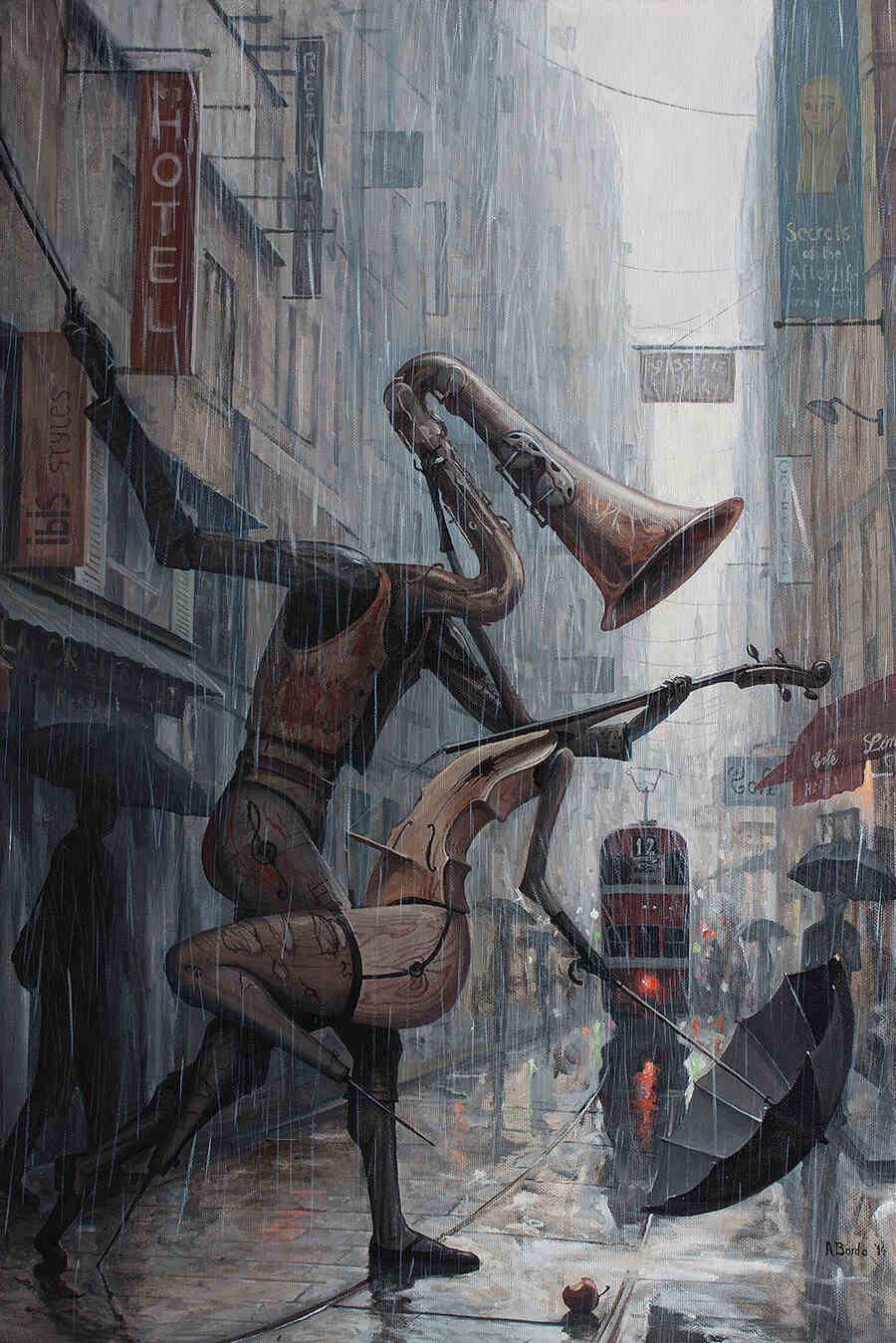 ---
Juliana Loomer
With dramatic lighting, sacred symbology, and captivating characters, Juliana Loomer's digital paintings pack a powerful sense of fragility. Juxtaposing soft textures with unsettling thoughts, we find her mysterious artwork both haunting and empowering. From feeling defenseless to reclaiming the past, we think her focus on each subject's "eternal beauty" makes her dark scenes feel more like dreams.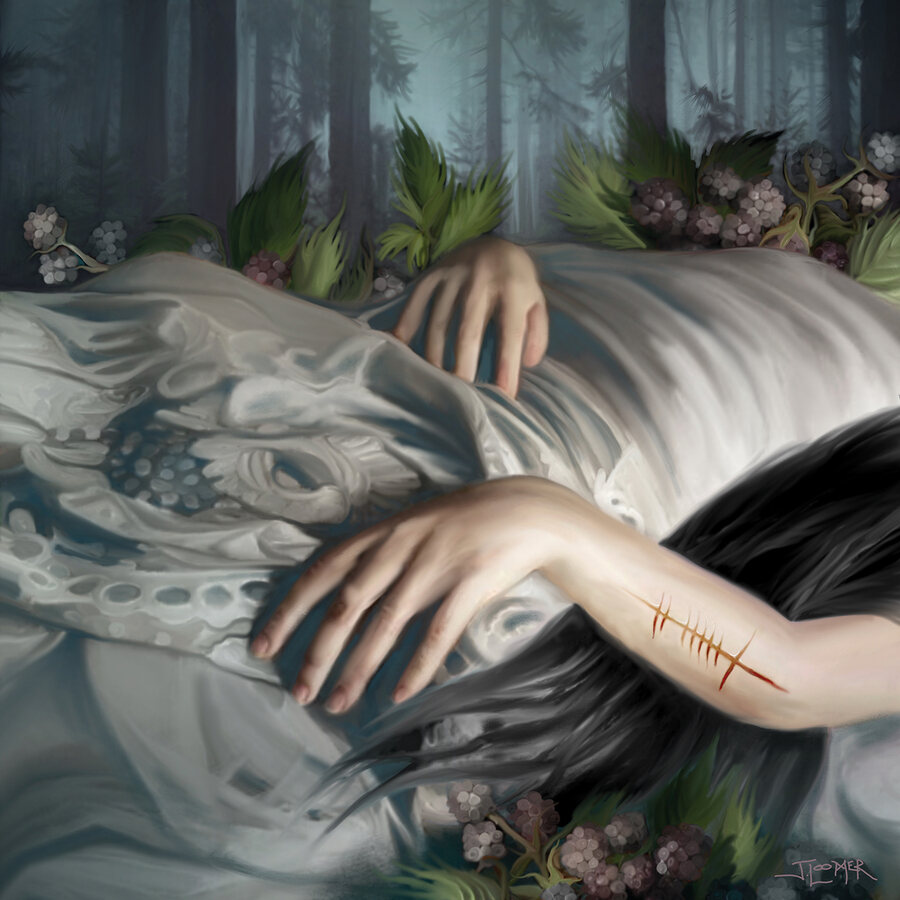 ---
Tero Porthan
Inspired by the ancient poems and songs of Finnish mythology, Tero Porthan creates fantastical creatures with a macabre edge. Illustrated in black and white, his digital artwork explores frightful phenomena alongside more playful adventures. From the daughter of death to the birth of the bear, we're always dying to see more of his underworld scenes.
---
Ejiwa "Edge" Ebenebe
Ejiwa "Edge" Ebenebe's striking portraits radiate a fierce yet whimsical flair. Often saturated in bright colours and lush botanicals, they use their fantasy artwork to wrestle with concepts of identity. Aiming to push underrepresented voices into positive narratives, their intriguing scenes feature an uplifting dose of magic. From vibrant starbursts to ethereal phosphorescence, we find each print enchanting.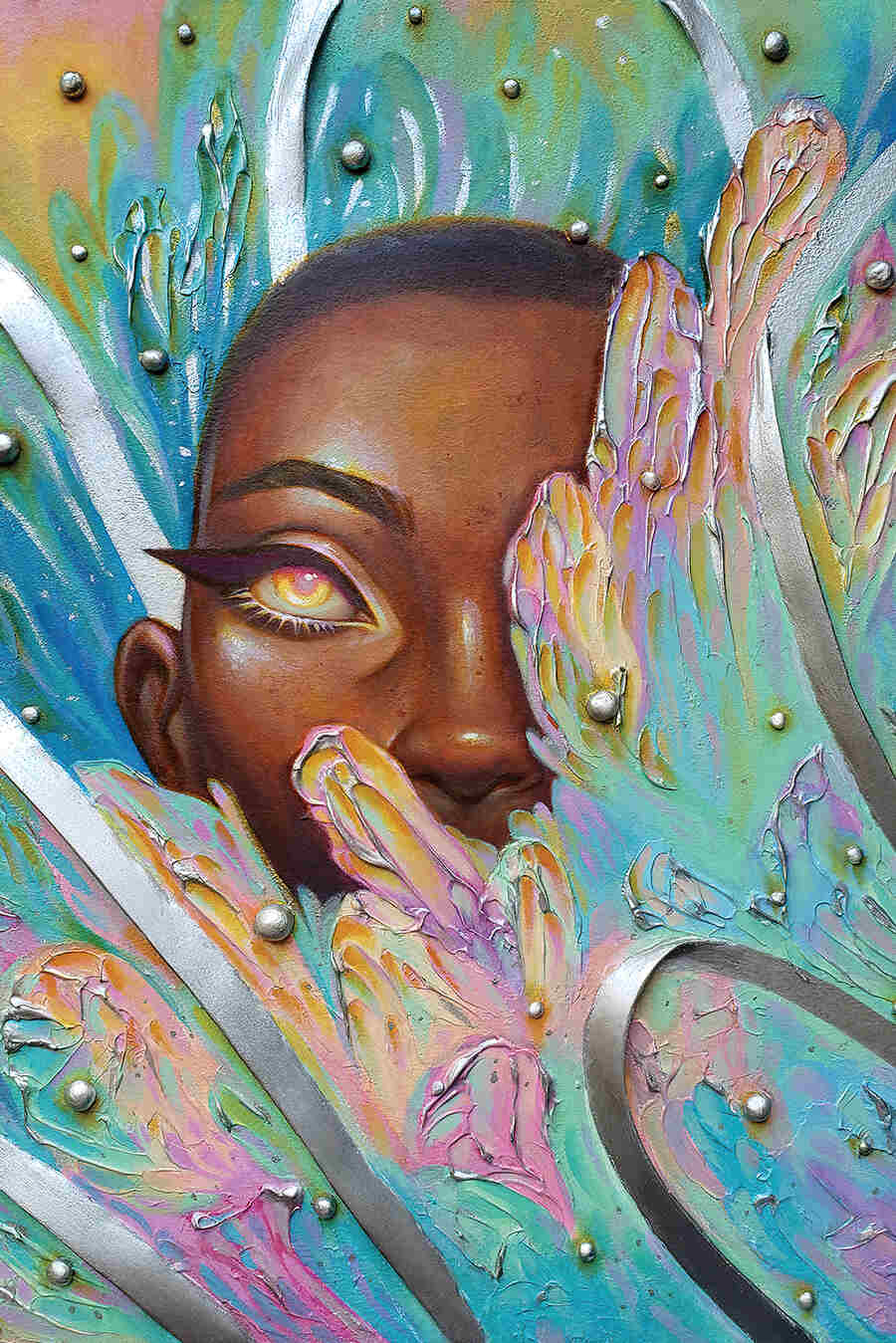 ---
Oliver Pocsik
At first glance, Oliver Pocsik's explorations of everyday life dilemmas resemble anything but everyday life. Woven with unconventional details, his complex digital creations always spark such interesting thoughts and conversations. From a silencing hush to an electrifying muse, we relish trying to unravel all the fascinating threads.
---
Chen Hongzhu
"People cannot attempt to evade or keep their distance from evil, because it will pursue them without release." – Chen Hongzhu
Chen Hongzhu's paintings portray an almost perfect kind of porcelain innocence, interrupted by sexual undercurrents and physical trauma. In a series of zoomorphic self-portraits, she uses her charismatic creations to explore humankind's duality between light and darkness. From questioning memories to breaking out of control, we love her sweet takes full of serious commentary.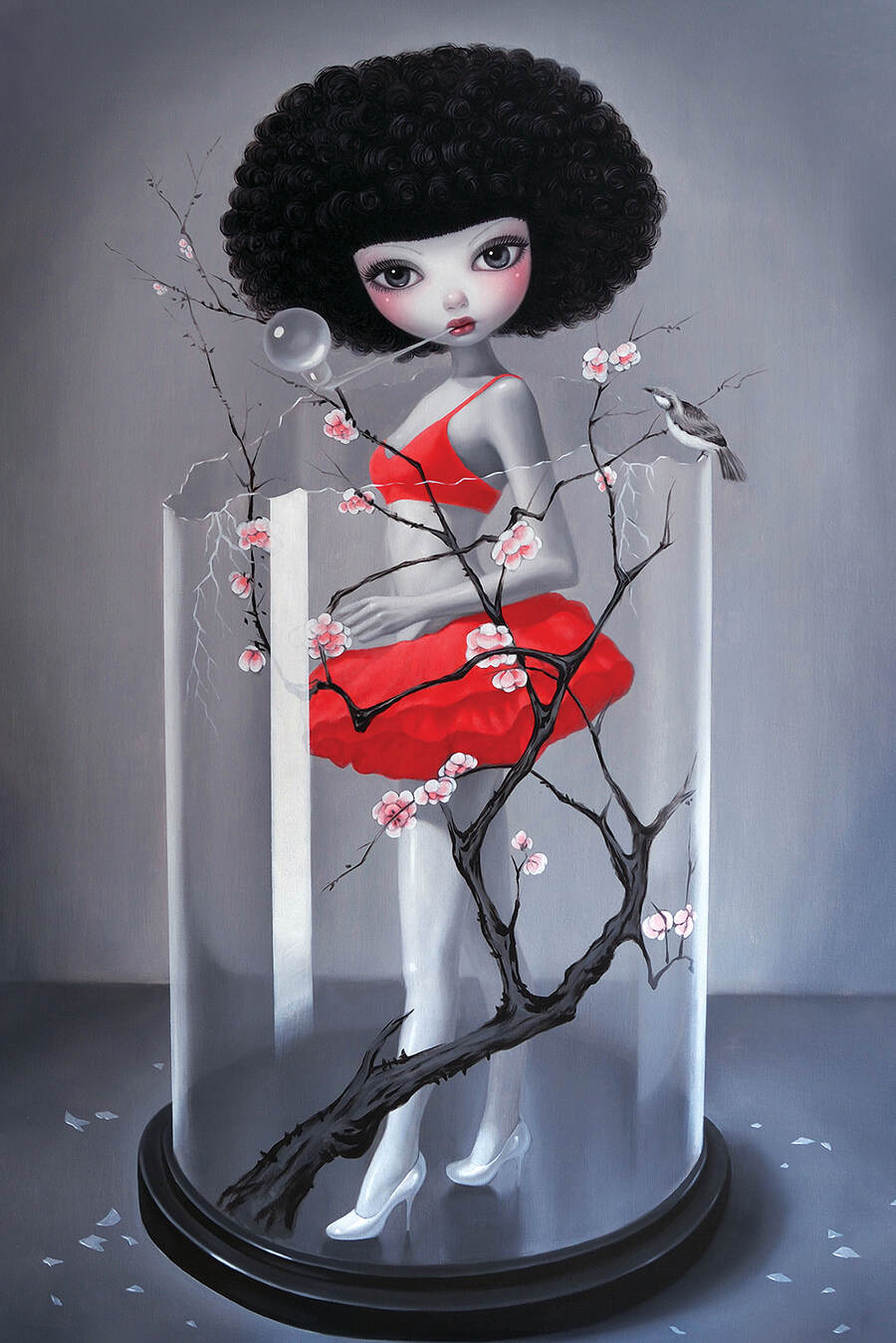 ---
This was the last inspiring post of our fabulous guest curator for the day, our friends from iCanvas. Thank you for the Take Over of our feed and the inspiration you shared with all of us!
iCanvas Social Media Accounts