To fully appreciate the frolicsome visual narratives that tumble out of Jette Reinert's blithesome portfolio, the beholder must first understand that her preliminary compositions are born out of an amorphous splash of coffee on a blank piece of paper. A whimsical origin story, indeed, but how can she possibly leave such a critical aspect of her art making process to chance? In a way, it's the perfect metaphor for the Danish artist's perspective on the creative process, as well as the human experience. Those in hot pursuit of ever-elusive perfection tend to miss out on the simple delight of open-minded discovery, which is where so many of life's inspired treasures quietly lie in wait.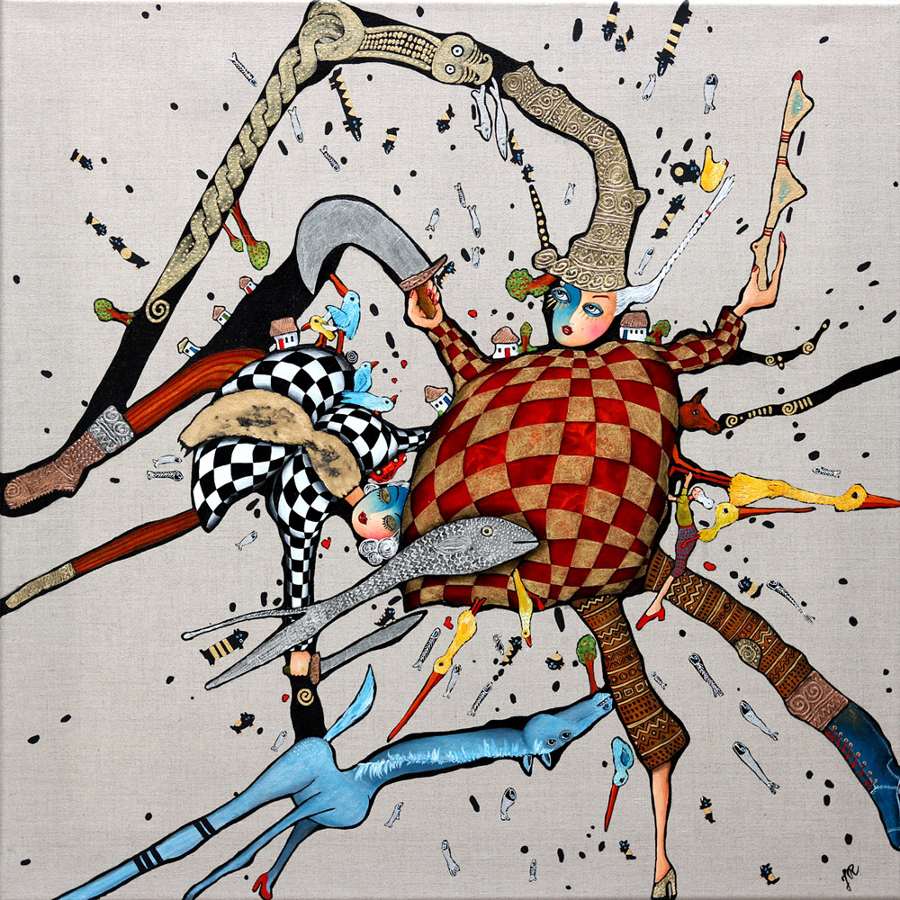 Society continues to encourage impossibly unrealistic expectations of conventional beauty and an overarching sense of conformity, both of which patently spill over into the art world. Through serendipitous art exploration, however, Jette's Reinert's vivacious conceptualizations champion the idea of thinking outside of the box. As her many years of joyfully uplifting paintings prove, trusting one's intuition results in aesthetic appealing, creatively liberating, and refreshingly authentic art that really does make the world seem like a much better place – it certainly makes it a lot more fun, too.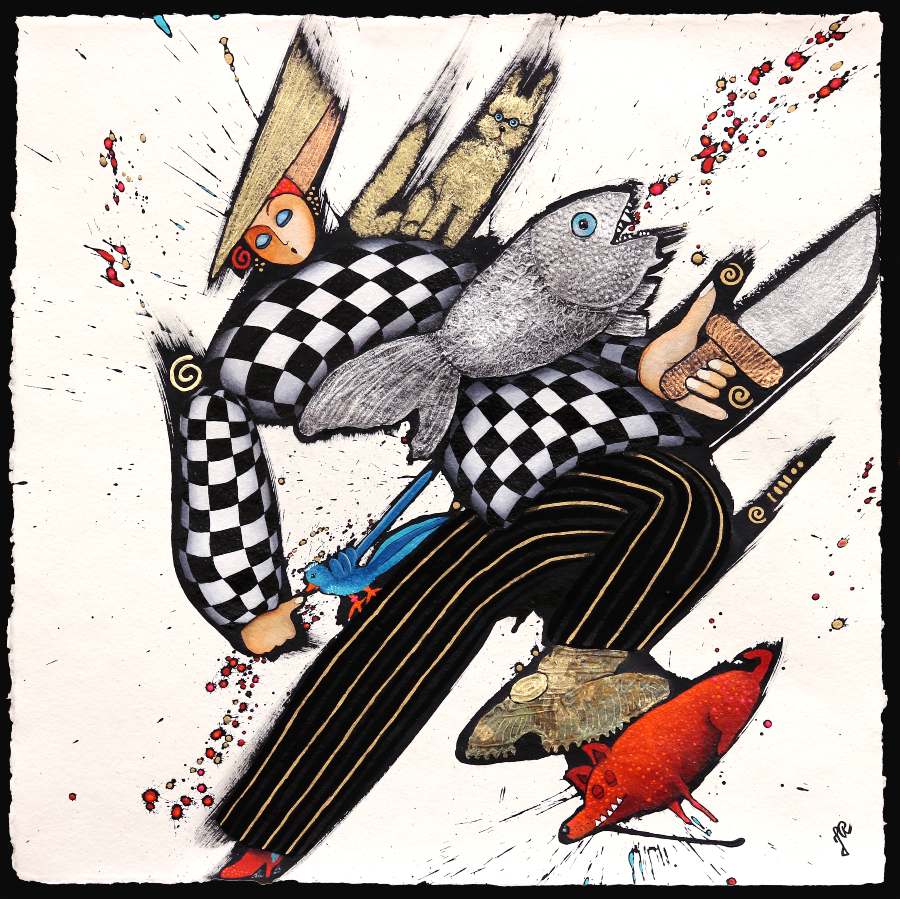 Last year, we explored Jette Reinert's step-by-step artistic process and learned that she does indeed allow the framework of each painting to be determined by the random patterns created on her blank canvases with intentionally spilled coffee. The very idea of allowing fate to be involved in the creative process is as imaginative as it is fearless, and yet it makes perfect sense the longer you think about it. After all, creating art is the one area of life in which conformity really should be kicked to the curb. Like those who gaze at a billowy cloud-filled sky and observe shapes manifesting before their very eyes, the acrylic painter revels in the potential that each coffee stain presents, but even more so, her spirit thrives amid that unpredictability.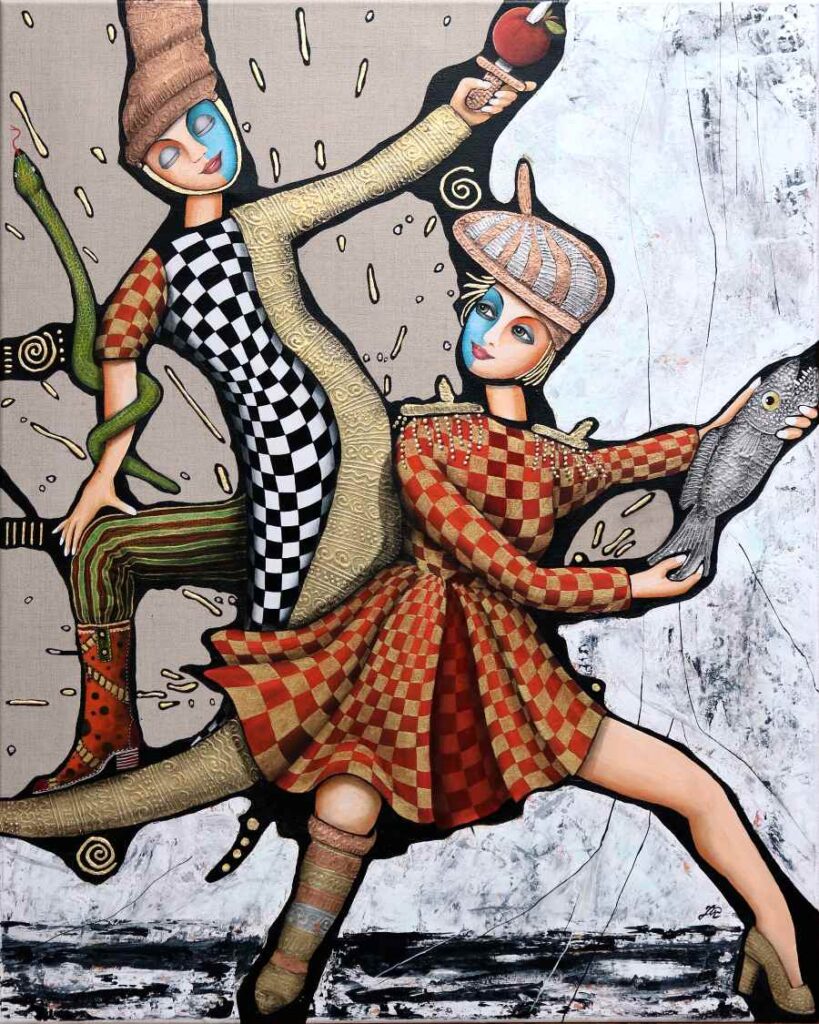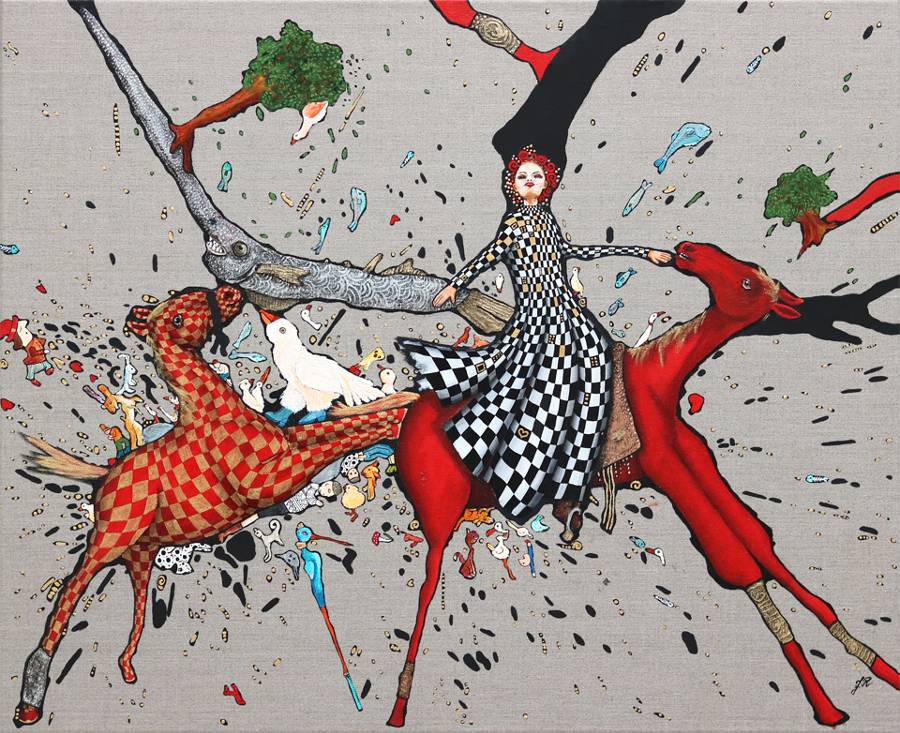 Of course, not all of the coffee stains marking Jette Reinert's initial paper canvases make the cut. While engaged in her early ideation stage, she studies each amorphous shape – allowing her mind to wander…consider…evaluate – until eureka!, she lands on an exciting and quite often heart-warming narrative involving humans and animals uniting in a common goal. Upon transferring the most appealing caffeinated splotches onto linen canvas, she begins the magical process of bringing her endearing scenarios – frequently featuring boldly attired ladies and a quirky menagerie of creatures – to life.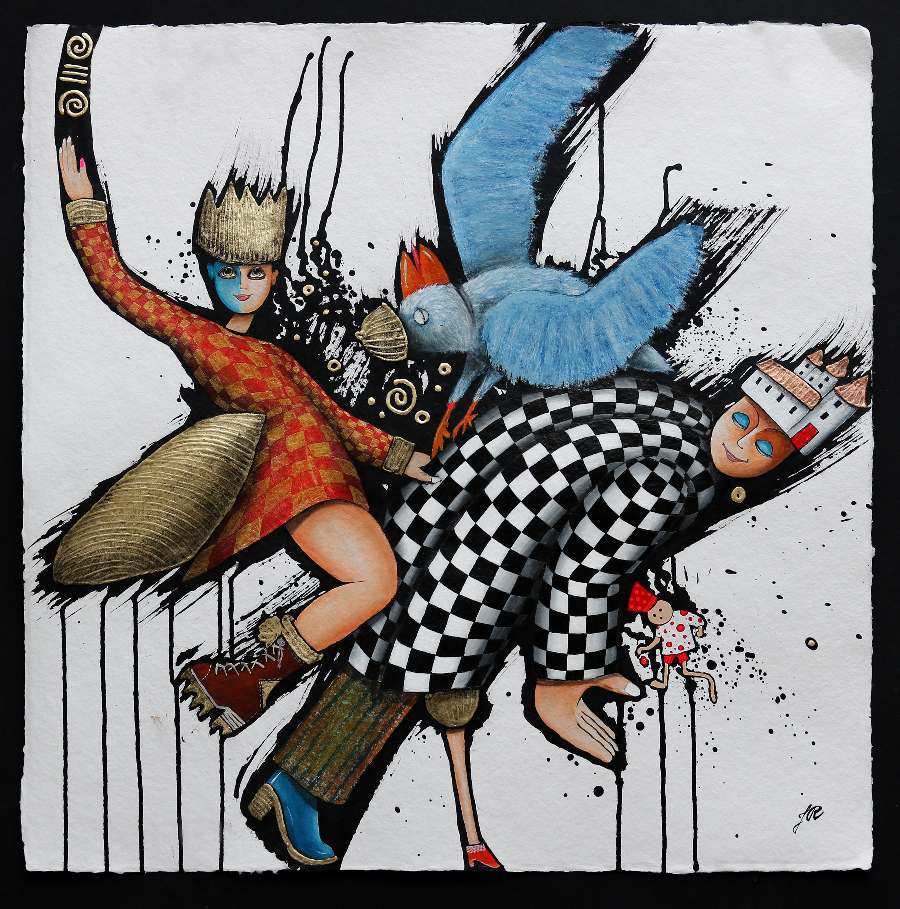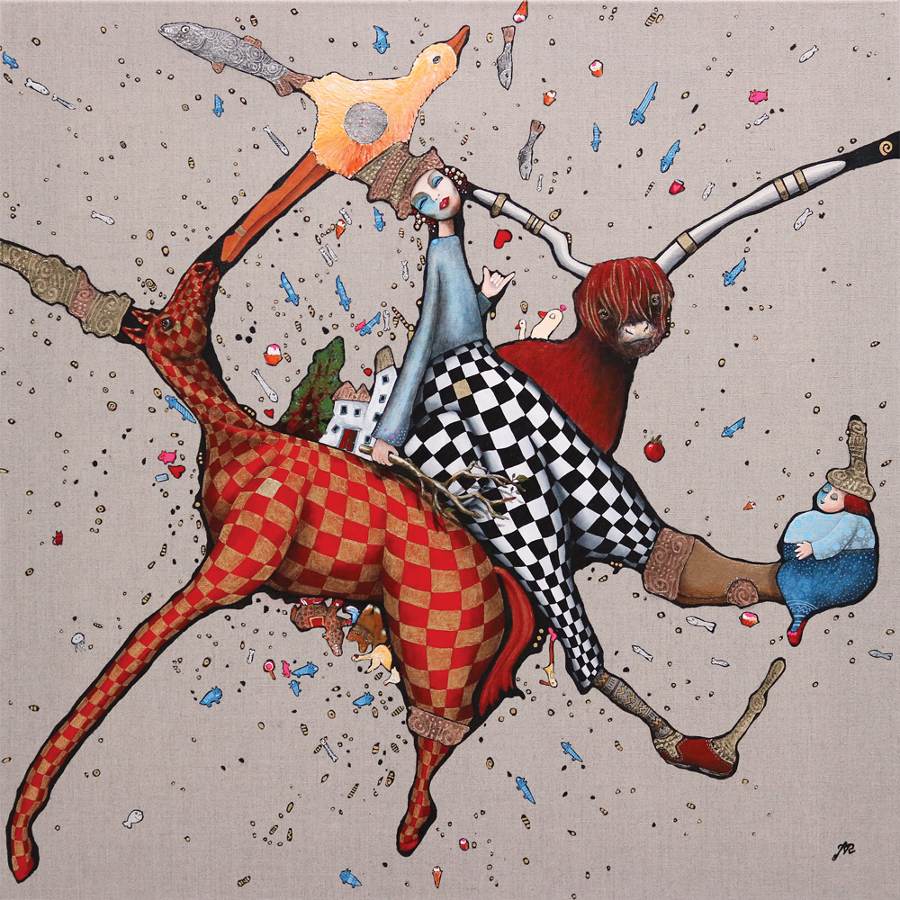 Happy-go-lucky companions tumble through space and time with a gaze of mutual admiration on their faces, their kinetic backdrops peppered with torpedoing fish, ice cream cones, skateboarding cats, cupcakes, and errant toothbrushes. Jette's work is riotously unshackled – a breath of fresh air for any art lover longing for a great escape into a metallic and checkerboard realm where stifling rules, regulations, expectations, and conventions simply do not apply. The artist's lively and entirely unpredictable imaginings often catapult beyond the confines of each canvas, and that – in and of itself – is such a perfect visual reminder of what happens when creatives are entirely invested in producing work that emerges from deep within. It's pure, free, and most importantly, absurdly entertaining!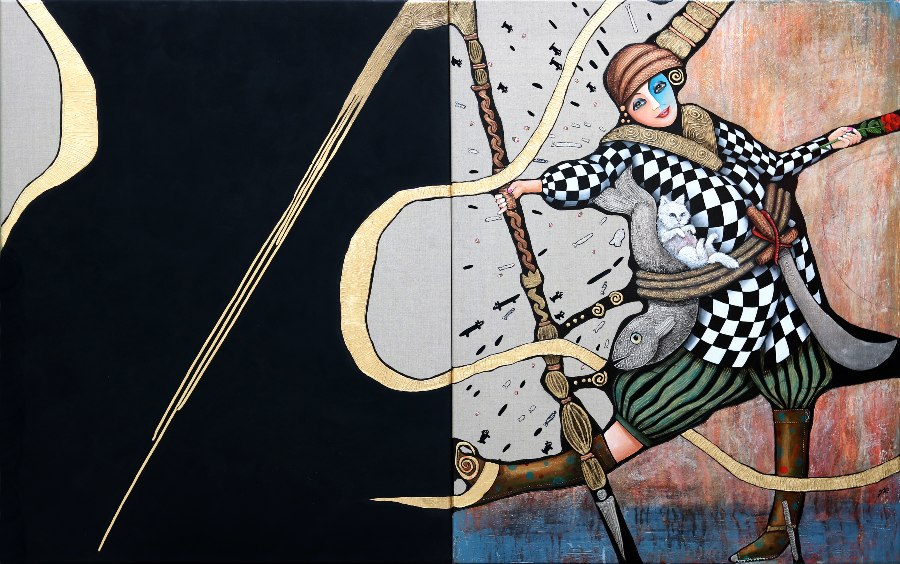 Jette Reinert isn't a trend chaser. She demonstrates what it really means to happily succumb to the creativity zone. Her unpretentious artistic intuition enables her to give rise to triple somersaulting fishbone-, mushroom-, and hapless duck-filled narratives that, below the surface, are rooted in far more truth than initially may meet the eye. As much as we crave the fairy tale of a perfect red bow tied around our lives, most of us understand that things generally tend to go sideways. The artist matter-of-factly elevates that which is sloppy, messy, and entirely imperfect, capturing the cascading chaos in a delightfully amusing and aesthetically explosive manner.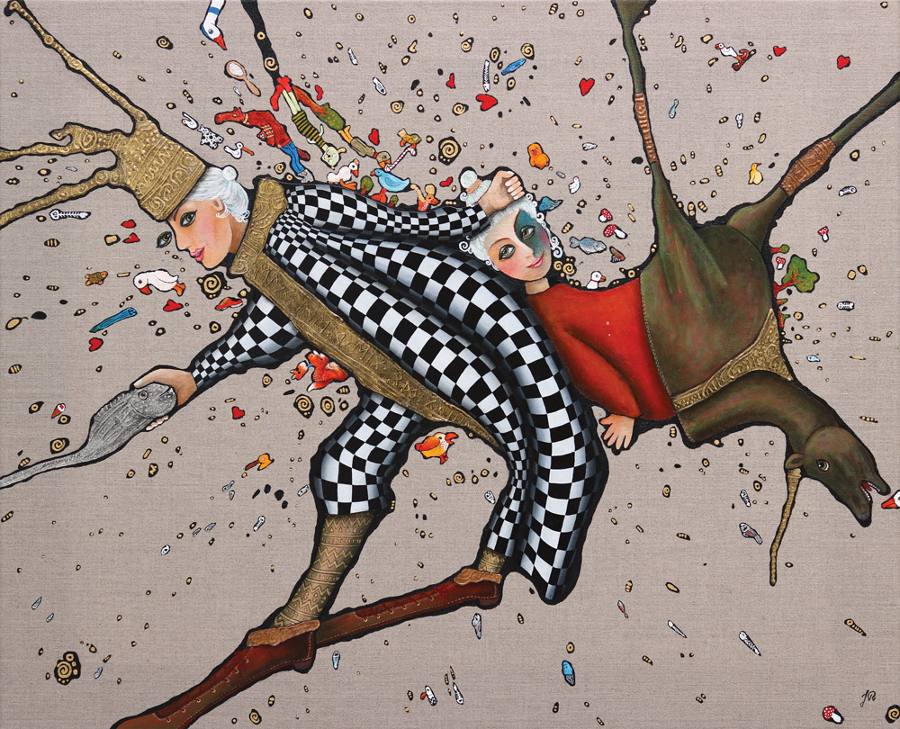 None of the Vejle, Denmark-based creative's visual narratives play along with preconceived notions of beauty, perfection, order, and logic…and oh what a relief it is! Through her gymnastically ecstatic paintings, the beholder is liberated. We can give ourselves permission to appreciate our day-to-day disarray and quite possibly even revel in how beautifully life-affirming the many storm clouds swirling around us actually are. In fact, if we don our creativity glasses and allow our minds to wander, we just may even detect silver linings in those shadowy mantles that sparkle like a beacon of hope.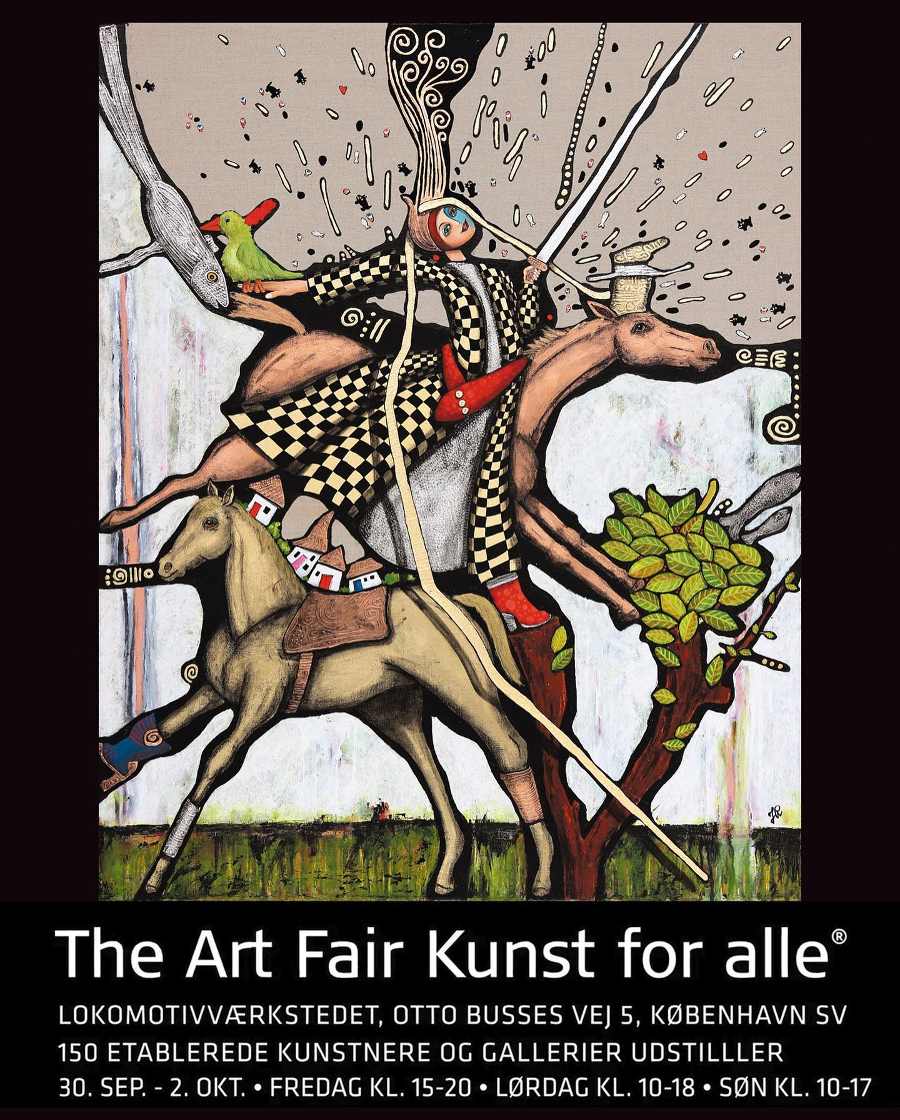 Jette Reinert: Exhibiting New Work at Copenhagen's Kunst For Alle
Exhibition Dates: Friday, September 30, 2022 to Sunday, October 2, 2022
The Artist Will Be Located At Booth B13
Kunst For Alle
Lokomotivværkstedet Conference Center in Copenhagen, Denmark
Otto Busses Vej 5A, DK-2450 Copenhagen SV | Phone: +45 22821212 | [email protected]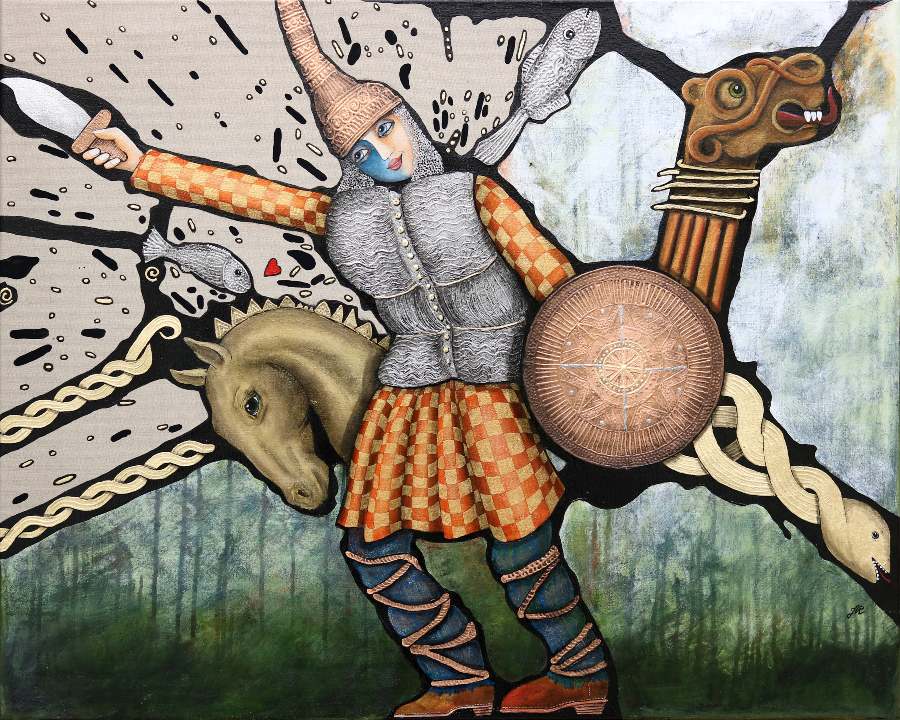 About the Artist //
Inspired by the artistic output of her own mother and an upbringing in which creativity was consistently encouraged, Jette Reinert's path in the arts was likely written in the stars. In her earlier years, the Viborg, Denmark-born, Vejle-based mixed media painter was fortunate enough to receive formal training from multi-disciplinary artist Lasse Winsløw, who – among his many strengths – was well versed in creating a diverse array of figurative oil paintings, sun-dappled Impressionistic landscapes and clay sculptures. Having acquired a solid grasp of various artistic genres, techniques, and mediums, Jette set her sights on a career in graphic design and illustration. Her manifold creative skills were well-suited to the industry that she ultimately worked in for twenty-five years.
As with many artists who reach a point when they are craving more creative fulfilment, Jette Reinert decided to immerse herself in courses at the Aarhus Academy of Art in 2014. Her reintroduction to dynamic fine art techniques ended up becoming a professional and personal turning point for her, inspiring her to shift her focus solely toward mixed media painting. In pursuit of an aesthetic that really resonated with her, she ultimately landed on the metallic accents – a hat tip to the endlessly enduring painterly legacy of Gustav Klimt – and bold graphic flourishes that are currently woven into her vast body of work.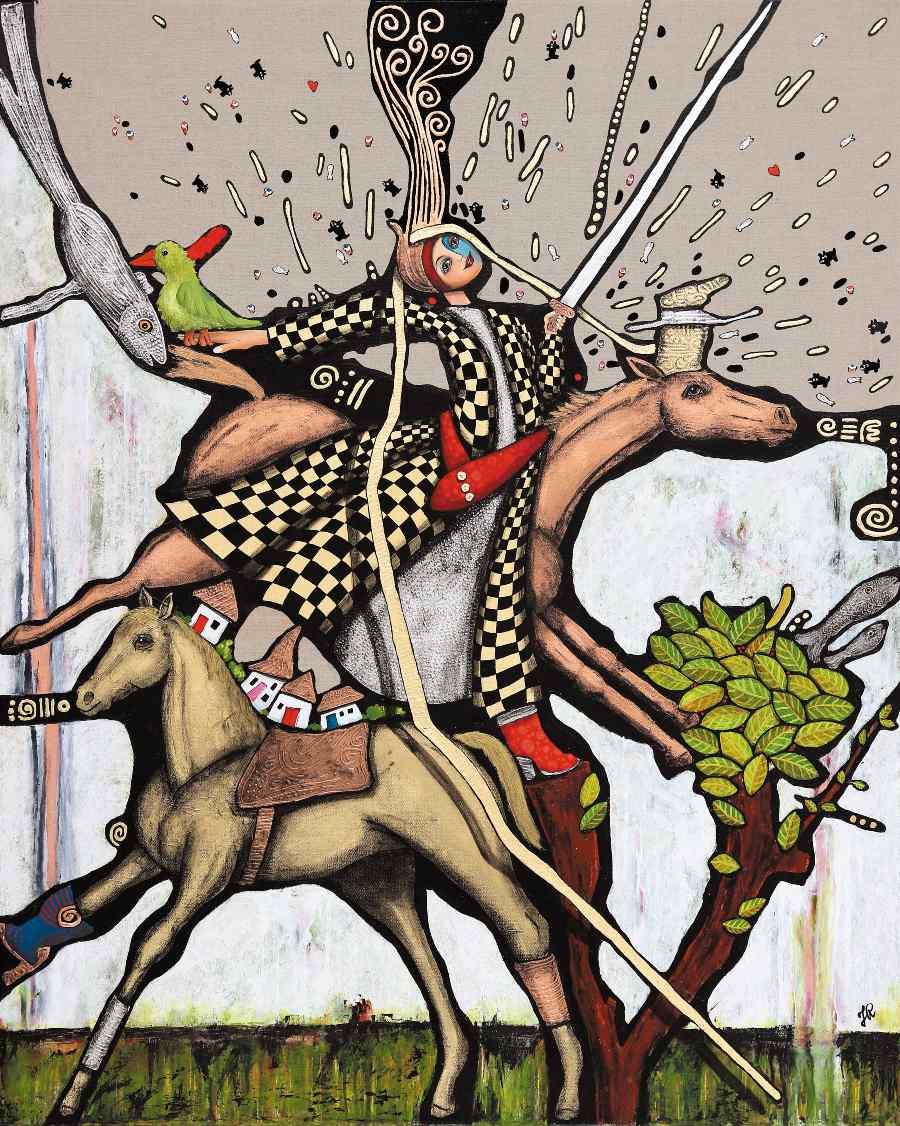 Among the various professional milestones that the widely exhibited Danish artist has achieved in recent years, her whimsical paintings have been displayed internationally, including on the iconic 3,685-square foot electronic billboard in New York City's Times Square. She has also participated in three censored exhibits, including the Aarhus Academy of Art's censored show of 2012 and Hans Christian Andersen's 2013 and 2015 censored shows. Furthermore, her art has been featured in highly regarded international contemporary art publications such as ArtMaze Magazine and Beautiful Bizarre Magazine.
Jette Reinert Social Media Accounts
Website | Facebook | Instagram
Kunst For Alle Social Media Accounts