The below interview was originally published in the Armidale Express newspaper and online here. Much thanks to Senior Journalist Vanessa Arundale for taking the time to speak with our Editor-in-Chief, Danijela Krha Purssey.
When Danijela Krha Purssey moved to Armidale four years ago with her husband Richard for his work, her friends in Sydney were worried a life in the country would be too isolating for her. There was also the complication of continuing to run her wildly successful global art magazine from regional Australia, but Ms Krha Purssey says she has never regretted the move.
"I embraced the idea from the beginning," she said. "I have never been afraid of a change of scenery and place, so I welcomed the opportunity to live in the New England region of NSW. It is also halfway between Sydney where many of our friends are and Brisbane where our families are."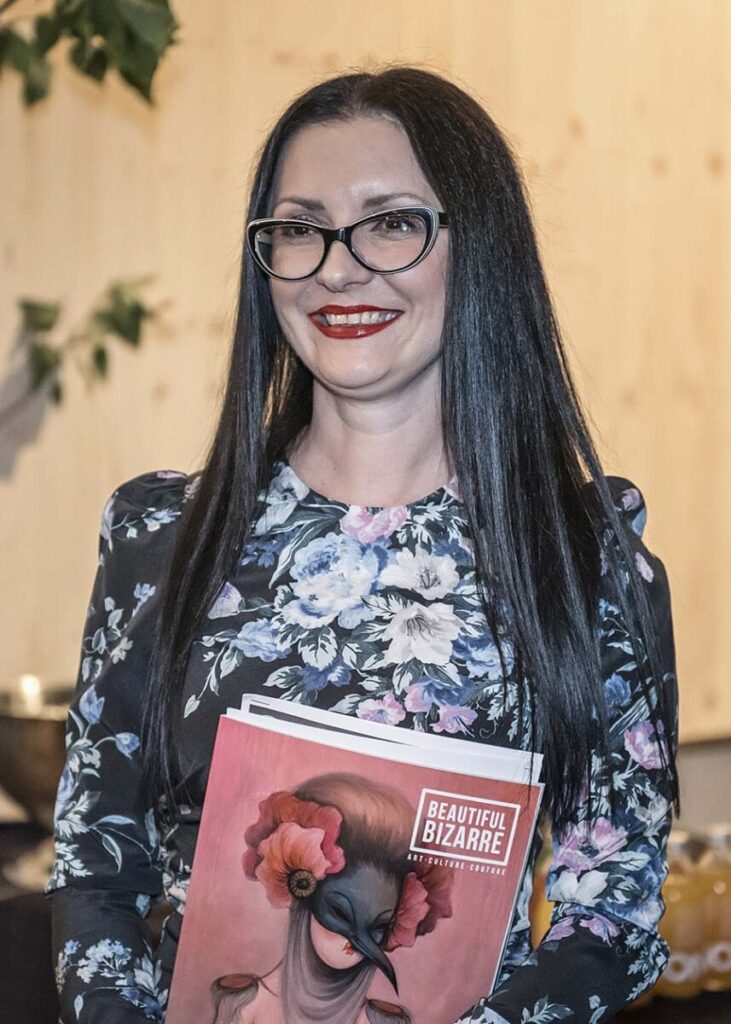 Ms Krha Purssey is an entrepreneur, the editor-in-chief and co-founder (along with her husband Richard) of the Australian based international contemporary art magazine, Beautiful Bizarre Magazine.
Born from a social media group page started over a decade ago, the business now has more than one million followers. More than 36 issues of Beautiful Bizarre have been released, more than 2300 web articles have been published, and an interactive digital magazine has been developed and launched.
As well as all this, at least 10 exhibitions in four countries have been curated, and the work of countless creatives from all corners of the globe has been shared.
"I have always had a deep love of the arts and my personal experience with visual art began with my studies in high school," Ms Krha Purssey said.
"This then progressed to my joining the artist platform DeviantArt. At the time there were over 20 million artists all sharing their work online and it was a wonderful community for creatives. I created a group on this platform to share my favourite artists' works and grew this audience over some years."
Ms Krha Purssey initially ran her sharing platform as a passionate hobby before launching her first magazine in 2013. And she continued to squeeze in her work on her publishing business around her 'day job' until 2016.
"As you can imagine this wasn't sustainable in the long-term," she said.
"That year I was awarded the prestigious AMP Foundation 'Tomorrow Makers' Award, which included grant funding to expand Beautiful Bizarre Magazine, and that was a pivotal moment for me because it allowed me to quit my day job and work full-time to grow and expand the business."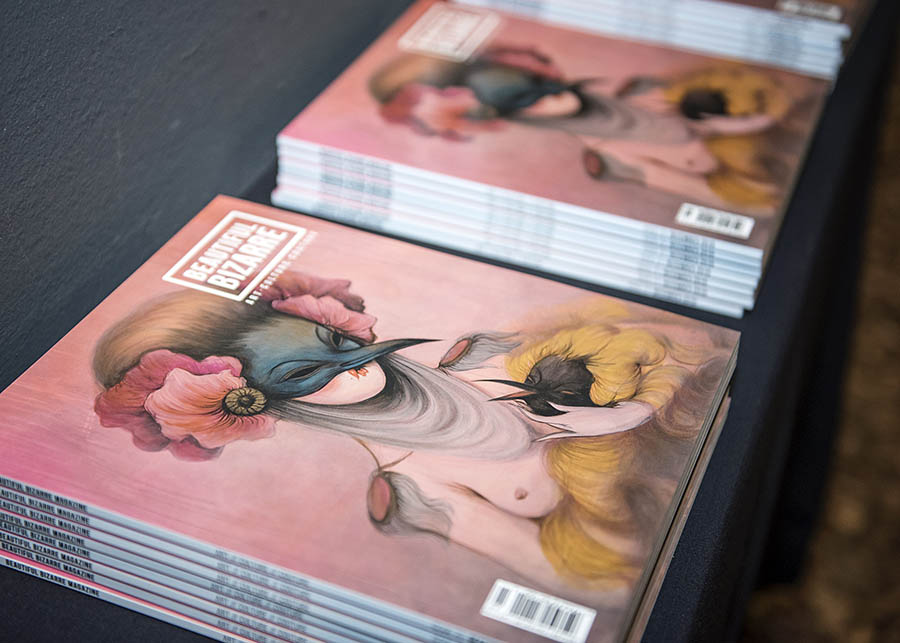 And expand she has, with the company now made up of seven staff based across the UK, US, Greece, Nepal and Australia. It also has more social media followers than any other Australian based art or photography magazine, and most Australian public and private galleries.
Oh, and next year, 20 back issues of Beautiful Bizarre Magazine will be sent to the moon.
"There have been many highs over the years, many of which I still pinch myself over," Ms Krha Purssey said.
"Being able to survive the COVID pandemic, creating partnerships with private and public galleries around the world, and launching the Beautiful Bizarre Art Prize which inspires creatives from around the world to pursue a life and career in the arts.
"But I would have to say that the most incredible high was discovering that Beautiful Bizarre Magazine will be part of the Lunar Codex project – which started as a project to spread hope during the years of the COVID-19 pandemic on earth. It speaks to the idea that, despite wars and pandemics and climate upheaval, humankind found time to dream and to create art."
Filipino-Canadian physicist, Dr Samuel Peralta, has digitally archived a diverse collection of contemporary culture from 91 different countries including art, literature, music, and film onto nickel-shielded memory cards that will be placed into three different time capsules.
"I am very grateful and deeply honoured to think that future generations of humanity, and perhaps sentient beings from other worlds will one day read Beautiful Bizarre Magazine to get some understanding about our culture," Ms Krha Purssey said. "It's totally mind-blowing!"
Running Beautiful Bizarre from Armidale is business as usual, Ms Krha Purssey said. "Myself and my team have always worked from our home offices, so moving to Armidale was not an issue for the business," she said.
"My team is spread out around the globe and working remotely has never been an issue for us. We stay connected via social media and of course emails and calls. The only downside is we don't get to see each other in person very often.
"In Berlin in 2019 I met my deputy editor Natalia Joruk for the opening of our first museum exhibition. It was the first face to face meeting for us in the five years we had been working together. It was a wonderful moment, such excitement at seeing her face and being able to hug her, it felt like seeing an old friend again.
"So I do wish the team had more opportunities to meet face-to-face, but I feel deeply grateful that I am able to be so flexible with where I live and work."
And Ms Krha Purssey says she is also grateful she met Rachael Parsons, the director of the New England Regional Art Museum, soon after arriving in town. "She has become my 'fabulous arty friend' with whom I can share my passion for the arts, and the successes and challenges of my business," Ms Krha Purssey said.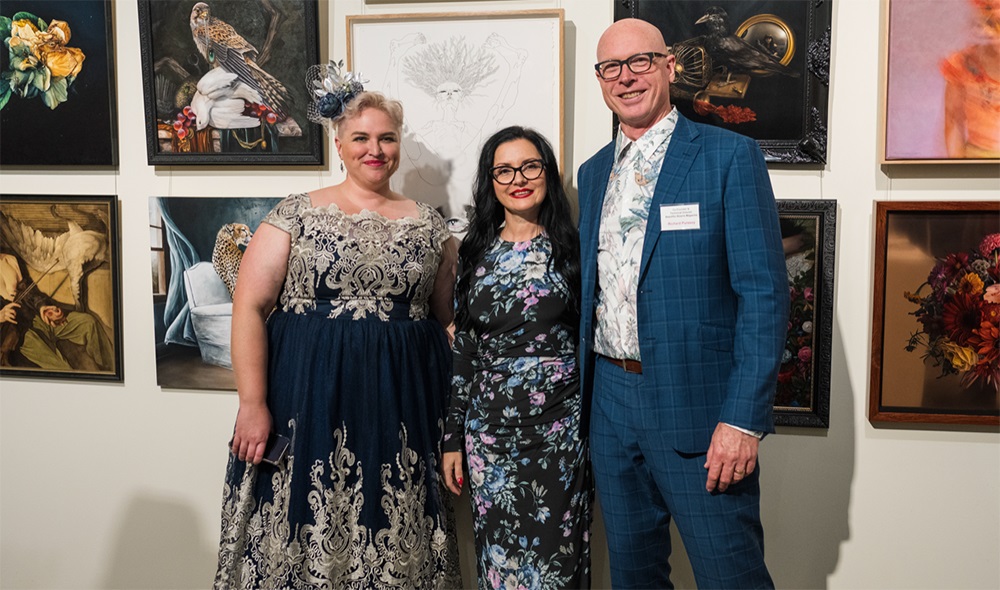 "The fact that Armidale has a regional art museum is a huge plus for the town, the region, and me personally. Being able to continue to engage in the arts through the regular exhibitions has been wonderful.
"Plus everything in Armidale is three minutes from my house so we actually go out and enjoy pubs, restaurants, events, and natural places in and around town much more often than we did in Sydney.
"I love the clear blue skies, the bird song, the quiet, the obvious change of seasons, and the friendly welcoming people."
And although it takes a little longer to get overseas and out to other art shows and fairs, Ms Krha Purssey said the regional housing market has meant the couple now own their first home.
"I really enjoy gardening so having our own home has given me the opportunity to get my hands in the dirt, and to nurture life and watch it grow," she said. "I find gardening to be a wonderful way to disconnect from technology and screens, and to be present in the moment."
The first museum exhibition in Australia curated by Ms Krha Purssey , Interconnected, is now on show at NERAM.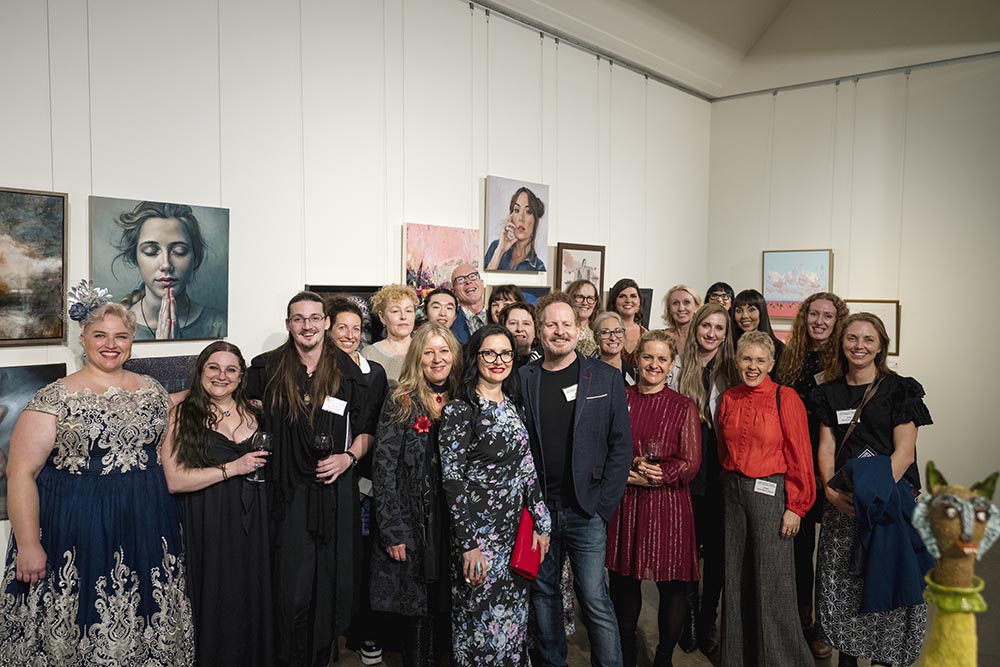 "It is a real joy to bring the Beautiful Bizarre Magazine brand aesthetic to my own country, and hometown through the work of more than 70 of the best representational artists working across styles, media and genres in this country," she said.
"We also host our own non-acquisitive international art prize. Now in its fifth year, we are giving away over US$57,000 in cash and prizes, generously donated by our incredible sponsors.
"This year, the grand prize winner will receive US$13,500 cash and the prize is open to all static mediums and styles. I strongly encourage artists of all ages and stages to enter the Beautiful Bizarre Art Prize before July 17. "I would love to see their work."