If you are looking for a refreshing delve into the world of art, look no further than Corey Helford Gallery's two very different solo exhibitions currently on show. Within the Main Gallery, Mayuka Yamamoto shares her latest series of paintings. A collection of heartwarming and nostalgic portraits, the series was born from a strong experience Mayuka had – read below to find out more. Additionally in Gallery 2, Issue 33 artist Adrian Cox brings another stunning display of latest works which delve into the latest saga from his self-created world. Together, the two exhibitions provide a full day out of artistic enlightenment.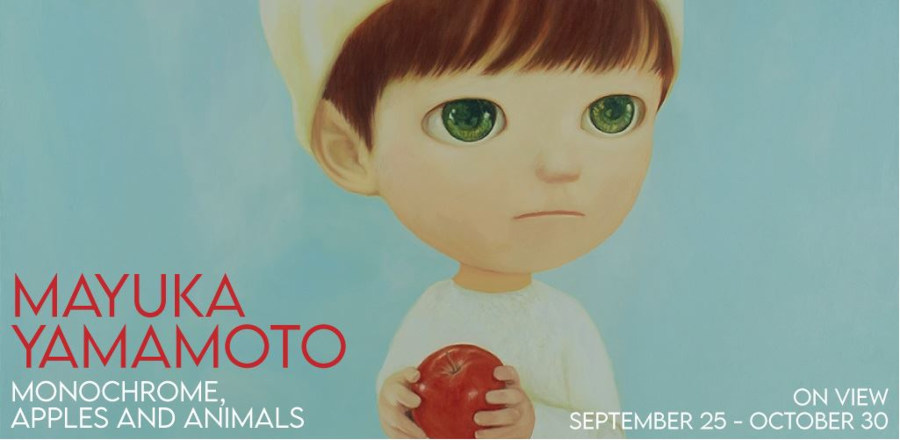 Exhibition Dates: September 25 – October 30, 2021
Corey Helford Gallery
571 S Anderson St (Enter on Willow St), Los Angeles, CA, 90033.
Visiting hours: Thursday – Saturday, 12:00 pm – 6:00 pm.
For press inquiries or sales, please contact [email protected] or call (310) 287-2340.
Please note: As coronavirus cases continuing to rise, CHG will be requiring proof of COVID-19 vaccination as a condition of entry into the gallery, plus guest temperatures will be checked and masks will be required.
Corey Helford Gallery have shared some captivating insights from the artists about their two solo exhibitions. Read below to find out more!
Mayuka Yamamoto: "Monochrome, Apples and Animals" (Main Gallery)
Regarding her new series, Yamamoto shares: "I wanted to keep this a secret for myself and keep it in my heart. Many years ago, there was a place I thought I had to go to, and I went there, the Catacombs in Palermo. There is a space for child mummies, and they are just standing there in dresses. The space was filled with the love of the mothers for their children.
This scene lingered in my mind for a long time. I think most of the children in the pictures I draw are just standing or sitting, without much movement, much like the Catacombs. I think it's because that space full of love remains in me to this day.
When I asked myself why I continue to draw these pictures, even though I am no longer a child, I realized I feel nostalgia for my childhood. It seems that my way of preserving this feeling is to paint these pictures continually. I have a certain memory of when I was young; my parents always worked very hard, but Christmas was our family time together at home. It was a special day. Even now, when I smell the candles on a Christmas cake, my heart returns to my childhood as clear as if it were yesterday. It's the same feeling as when I finished drawing these pictures. When I look at my work, I feel a little sadness and longing, but also happy."
Adrian Cox: "Dream Country" (Gallery 2)
"My paintings chronicle the lives of the Border Creatures, a group of hybrid beings that live in the verdant wilderness of the Borderlands. This personal mythology draws on a myriad of references and blends elements of art history, science fiction, mythic archetypes, and my own experience of growing up in a closeted queer family. These works challenge how we define the Monstrous and the Other, and propose a reconsideration of the categories of the natural and the transgressive. These overarching themes are grounded in the lives of my recurring characters and play out in the actions of those that wander the Borderlands.
The Border Creatures exist in symbiotic harmony with the natural world, but are antagonized by the Specters, spirits of pure energy that casually burn the landscape that they walk upon. When these spirits first appeared, the destruction that they brought to the ecosystem of the Borderlands drove the creatures into hiding. The Border Creatures eventually triumphed when Healer, the leader of the creatures, transformed many of the Specters into rainbow-hued Spectral Witnesses. These witnesses now wander the Borderlands, seeking a path to redemption.
Defeated but not broken, the remaining Specters united to form the Spectral Brotherhood. Together, they created a mantle of power, a hollow body built from their half-remembered existence as humans. The Specter that they chose to wear this body became a champion, a figurehead that could lead the Brotherhood in its violent rituals.
In Dream Country, these rituals come to a head, and the Brotherhood crowns their champion as king. By ceremonially scarring the trunks of trees, the Specters use the forests of the Borderlands to create an archive of apocalyptic prophecies and angry rantings. They transform the landscape into a reflection of their collective will, heedless of any harm done in the process. Under their new king's direction, these desecrated forests are harvested and burned in a climactic ritual intended to reshape reality. However, the Spectral Brotherhood is met with resistance, and the Border Creatures use their own rituals to cultivate and heal the Borderlands.
In this exhibition, I depict ritual and myth as the means by which reality is created. Through codified ceremonies, the characters in my work externalize their internal world views and transform the Borderlands in the process. The resulting narrative is one that recognizes the double-edged nature of myth and examines the role of ritual in shaping a shared understanding of the world."
Mayuka Yamamoto's "Monochrome, Apples and Animals" and Adrian Cox's "Dream Country" are on show until October 30, 2021.
About Corey Helford Gallery:
Corey Helford Gallery (CHG) was established in 2006 by Jan Corey Helford and her husband, television producer and creator, Bruce Helford (The Conners, Anger Management, The Drew Carey Show, George Lopez). It has since evolved into one of the premier galleries of New Contemporary art. Its goals as an institution are the support and growth of young and emerging, to well-known and internationally established artists. CHG represents a diverse collection of international artists, primarily influenced by today's pop culture. It collectively encompasses style genres such as New Figurative Art, Pop Surrealism, Neo Pop, Graffiti and Street Art. CHG is located in Downtown Los Angeles in a robust 12,000 square foot building presenting new exhibitions approximately every six weeks.
Mayuka Yamamoto Social Media Accounts
Adrian Cox Social Media Accounts
Website | Facebook | Instagram
Corey Helford Social Media Accounts