Iren Horrors captures the pure essence of the dark and macabre with exquisite detail and haunting beauty. Working her way through an extensive catalog of mythology, folklore and fairy tales, from around the globe, IrenHorrors presents some of the most well-known characters and stories with a fresh gothic twist. Every Iren Horrors illustration expresses delicate beauty and grace without feeling submissive as her characters drip with power and elegance.
Ksenia Svincova, better known within the art community under the name Iren Horrors, works as a freelance artist and illustrator in Obninsk, Russia. Svincova utilises a mixed media technique of watercolour and ink alongside Photoshop to create dark, subdued gothic illustrations.
Art for me, is a departure from reality, a journey into new worlds.
When first taking a peek into the delectably dark and gorgeously gothic world of Iren Horrors, one may notice its atmosphere and mood. These are areas that Svincova values most and in her own words, "I want to immerse you in the world of long-forgotten creepy stories from childhood."
The story of Iren Horrors begins during her own childhood. Svincova expresses that she's been fond of drawing and painting ever since she can remember. Her love of art mixed with an interest in horror and dark fairy tales from a young age helped shape the artist we see before us. However, it was Tove Jansson's famous Moomin Trolls that sparked an interest in her becoming an illustrator. Jansson's work gave her a dream of being able to tell her own stories through illustration. Later down the line during her teens, Svincova took an interest in the Gothic subculture.
"I began to get interested in the history of fashion, especially the Victorian and Edwardian eras since elements of these periods were actively used by the goths to romanticize their appearance."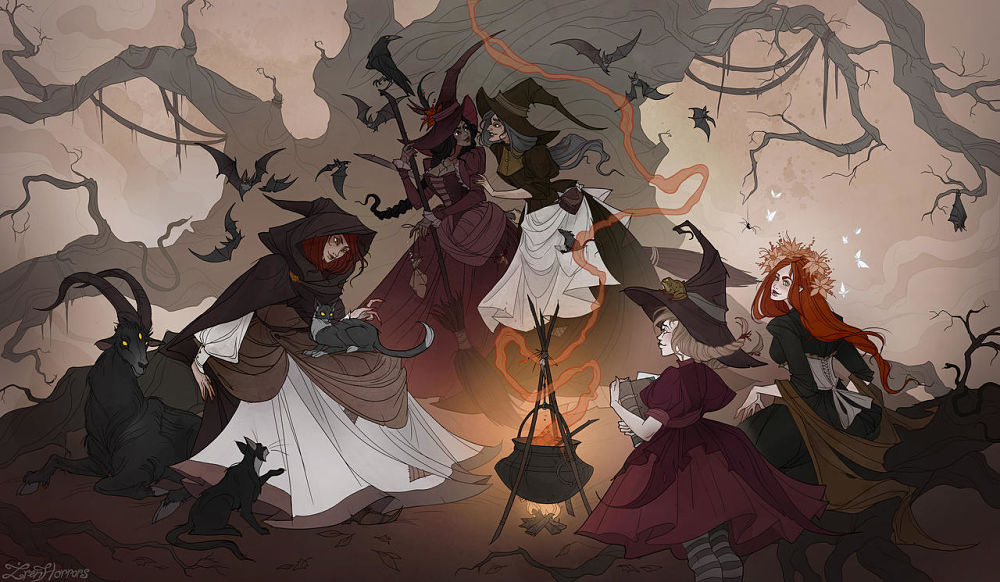 Alongside the inspiration from her formative years, Iren Horrors takes influence from artists including Abigail Larson and Gris Grimly whose "visual language and storytelling are really close to mine". Svincova also admires Golden Age illustrators including Edmund Dulac, Kay Nielsen, Arthur Rackham and Ivan Bilibin and expresses that "Pre-Raphaelite art resonates deep within my soul too." As Svincova grew to reach the ripe age of adulthood she entered Moscow State University of Printing Arts as an illustrator. Svincoa's time there helped to ignite a love for graphic art and her main speciality as a student was book illustration. This isn't surprising as upon viewing her work, it is clear how perfectly suited her style would be for illustrated books about fairy tales, mythology, and folklore.
When discussing her own art style, Svincova shares how she embraces a style that takes primary influence from "classic Disney animation and Tim Burton's style, as it was he who served as my main source of inspiration". "I like to call it cartoon-gothic" says Svincova. The term cartoon-gothic truly does help to encapsulate her style as while it's very much her own, she pays homage to the artists who've inspired her. She further explains that "the formation of this style as a whole took place over many years" through the process of cultivating her own tastes in various art styles. "I spent a lot of time searching for various inspirations. Be it fine art, music, books, movies, video games, or anything else". Svincova pays close attention to artists who can offer up a great deal of attention within their work and provide her with an immersive experience away from real life. "Art for me, is a departure from reality, a journey into new worlds, so I will always admire those who can create this journey for me".
Iren Horrors' interest in witchcraft and mythology took shape a few years ago. "I got fired up with all this along with neo-paganism" she explains.
I believe that through mythology you can learn the peculiarities of the culture and thinking of people from all over the world. Mythology demonstrates how different we all are, but at the same time, how connected we all are. Mythology and folklore allow you to look back to your roots, understand who you are, and find your place in the world through this connection with your ancient ancestors.
Svincova describes how any kind of mythology and folklore is "a storehouse of fascinating information" but "the greatest interested for me is primarily my native Slavic mythology". She informs me that many cultural sources for Slavic mythology were lost or destroyed due to the Christianization of Kievan Rus', making it a complex and confusing area to study. Alongside Slavic mythology, she holds a love for Japanese and Scandinavian mythology professing how "strong female deities" are her primary focus. "Through their image, I often realize my creative potential."
I want to immerse you in the world of long-forgotten creepy stories from childhood.
Iren Horrors' artistic process is an extensive one. "I spend a lot of time on research, collecting various sources and making a plan. Like most artists, I have a systematic library of visual references and I also keep a notebook in which I write down the key points and symbols that I should take into account when forming an image in the illustration." Drawing up sketches comes next as "it usually takes some time to find the right composition." After completing these steps, she can begin working on the main illustration.
A mixed media technique is utilised throughout Svincova's work, and illustrations consist of a combination of watercolour, ink and photoshop. Go to brands when working on illustrations includes ink liners such as Rotring Tikky Graphic and Pigma Micron fineliners. She often opts for budget brands easily available in Russia for her watercolour paper however, when she gets the chance Winsor and Newton and Daler-Rowney Langton are her preferences. The technique utilised within an IrenHorrors piece "allows you to preserve some of the charm and naturalness of traditional art while achieving the necessary contrast and colour saturation." This technique also works as a more convenient option for choosing the right colour scheme as well as correcting any errors that may come up in the process.
While this technique has its fair share of positives, it also has its "peculiarities". Svincova elaborates stating that she needs "to have an additional workplace to create a traditional part" alongside an "impressively large amount of time" for her to process the traditional parts into a digital workspace. Not to mention the fact that she needs to use a scanner every time she works on a new illustration. "In the last six months, I have been exploring the possibility of my full transition to digital art to simplify and speed up the process. At this stage, I have already mastered the ability to create linework and texturing in Procreate, but so far, I have not learned how to work with colour there. As not to lose the desired effect I continue to use Photoshop for the final stage of creating an illustration."
Iren Horrors' illustrations often feature muted colours with vibrant splashes of reds, purples and blues. This creates art that is dark and moody in tone yet rich and full of life. When asked about her process when working on a colour palette she expresses "first of all, I pay attention to the distribution of the darkest and lightest parts of the illustration. It is important not to lose detail, but at the same time to make the work look complete and not fractional. Despite the presence of colour, my work is more related to graphics, so I always use a very limited palette. This approach gives me the easiest way to get the right atmosphere. Usually, I have an idea about the colour in advance, if not, I can spend quite a lot of time trying different options and combinations until I am satisfied with the result."
Mythology demonstrates how different we all are, but at the same time, how connected we all are. Mythology and folklore allow you to look back to your roots, understand who you are, and find your place in the world through this connection with your ancient ancestors.
Working as an illustrator comes with its fair share of ups and downs especially in our current climate. When reflecting on what she loves about the job she reveals how there are practical advantages such as "the ability to work from home, the ability to work anywhere in the world, the absence of intermediaries between me and the client, a free schedule and passive income from sales of merchandise." "From an emotional point of view" she continues "this is primarily an opportunity for me to do what I love while earning at the same time." That being said there are a few disadvantages which can be a real hardship. Artist burnout can be paralysing and can cease abilities to function which "directly leads to unstable income." "It is also worth considering the great pressure of social networks, which inevitably have to be maintained in order to stay afloat" says Svincova.
Although a huge chunk of her time is often dedicated to her art and researching for future pieces, Svinova allows herself some downtime. "My leisure time is rather boring" she proclaims. "Before the lockdown, I really loved to travel" which is a sentiment I imagine many others share. With the current state of the world, Svincova finds herself watching Netflix and listening to music and audiobooks. "Occasionally, I let myself indulge in video games, they usually absorb me completely and I fall out of life for a long time."
When looking to the future for Iren Horrors she explains that she is in the midst of working on a Tarot deck project. "Many have been waiting for it" she says before stating that she hopes she "can do everything in the best possible way" for the project. With her gothic flair and admiration for the spooky and spiritual, there is no doubt in my mind that her Tarot deck will strike a chord with modern-day witches, spiritualists, and those who admire her "cartoon-gothic" style.
Iren Horrors social media links
Instagram | Twitter | Facebook | DeviantArt