Hold onto your hats, because Copro Gallery presents a summer soirée filled with a spectacular line up! Mark this Saturday 14th August in your diary as the array of art exhibitions will be further complimented with a live performance and book signing. But what about the artist exhibiting, I hear you thinking? Copro Gallery will be unveiling three solo exhibitions: Benz & Chang 'Into and Out Of The Light', Wes Benscoter 'Strange Alchemy' and Dan Seagrave. Alongside these, in the other half of the gallery you will find Bad Otis Link and Sean Wheeler, Cirius Scion unveiling her latest body of work, and Anthony Ausgang.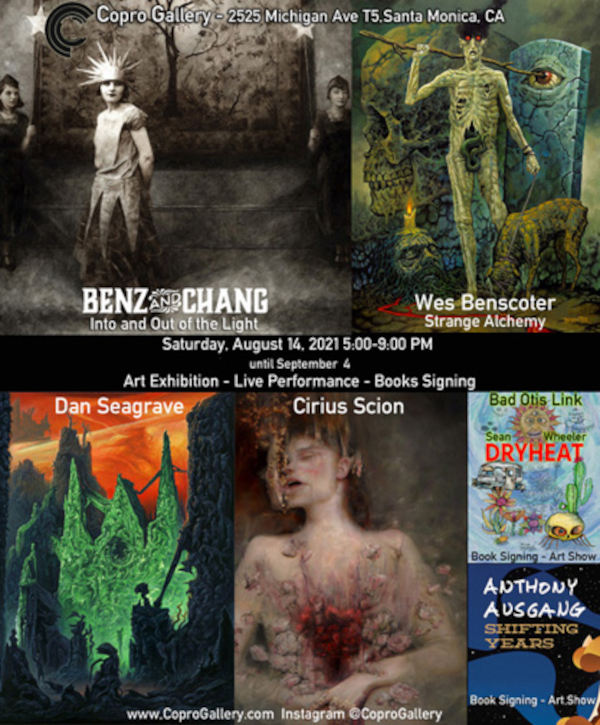 COPRO GALLERY
2525 Michigan Ave, #T5, Santa Monica, CA 90404, United States | Phone: 310 829 2156
Exhibition Dates: August 14 – Sept. 4, 2021
Opening Reception (artists will be in attendance!): Saturday August 14, 2021 | 5:00pm-9:00pm
Live performance by Bad Otis Link and Sean Wheeler: 7.30pm | Open to the public
To receive the collector's preview, please email Gallery Director, Gary Pressman at [email protected] or call 310-829-2156

Benz & Chang Artist Statement
Benz & Chang 'Into and Out Of The Light' will be exhibiting a new body of work featuring some of their largest pieces to date! Benz & Chang believe that the arts make the world a better place through shared experience and mutual understanding. The Benz & Chang paintings are "fake vintage photos" rendered with watercolour and/or walnut ink. They are dreamlike and figurative. Most of the paintings appear to be photos from the early 20th century, and they reward a second or third look with details that can be easy to miss. Figures appear with twins, crowns, wings, ghost limbs, halos, odd lights and shadows. Using this imagery, Benz and Chang explore transformative life experiences such as facing fear, making life-changing decisions, grieving losses, having mystical experiences, or confronting mortality. Says Benz:
I see myself as a channel. My job is to align myself with a larger creative impulse, and also with the painting itself. I must add that I rarely do this perfectly. During the various steps of making a painting, I will "see" something that belongs in the painting, and so I will add it.
If the decision-making process breaks down, I consult a Magic 8-Ball for direction. The resulting paintings are dreamlike.
Dan Seagrave
Dan Seagrave's 'Facades' shares his series of semi-architectural forms which appear in expatriated landscapes, like reinvigorated memory shards of past lives lived. As he describes: "Encrusted within the bio strata, ambiguous animal characters twist and writhe in an unreachable goal to simply exist. Their appetite for life benefited by the demise of their fellow species. The evolving structures deceptively emulate grandiose places of worship. Soulless silhouettes of faith and reliability insinuate meaning. A sanctimonious subterfuge of order. As if realised by an indifferent semi omnipresent drifter."
Wes Benscoter
Wes Benscoter's new body of work 'Strange Alchemy' features six paintings created exclusively for this exhibit at Copro Gallery. His artwork has been featured on many well-known music album covers including those for Slayer, AC/DC, Black Sabbath, Cattle Decapitation, and countless other death and heavy metal bands. Benscoter's work has also been featured in book covers, DVD/Blu-ray covers, and magazine illustration. 'Strange Alchemy' celebrates all the best which makes a Wes Benscoter artwork, and is not to be missed!
Elsewhere in the gallery…
Cirius Scion will have a new body of work created over the last several months. "I have always found the process of old master painting both intriguing (the secrets of imprimatura) and rewarding." She shares. "The ability to capture scenes and objects through creative visions provide endless enjoyment. As an artist, I can get lost in the initial discovery process as I immerse myself in a variety of activities such as reading literature and watching the world around me followed by the actual painting." Her work is inspired/influenced by history and the future; capturing an image that induces beauty of emotions.
Bad Otis Link and Sean Wheeler will be exhibiting original art from the new book 'Dry Heat', along with a live performance of spoken word, projection, and music. This exhilarating magic for all of the senses will start at 7:30pm, so don't be late!
Anthony Ausgang will also be signing his new book 'Shifting Years', a catalogue for the 2020 Anthony Ausgang retrospective exhibition which was sadly cancelled due the COVID-19 pandemic. Anthony will have original art and toys, as well as a few surprises… what a perfect way to spend your Saturday evening.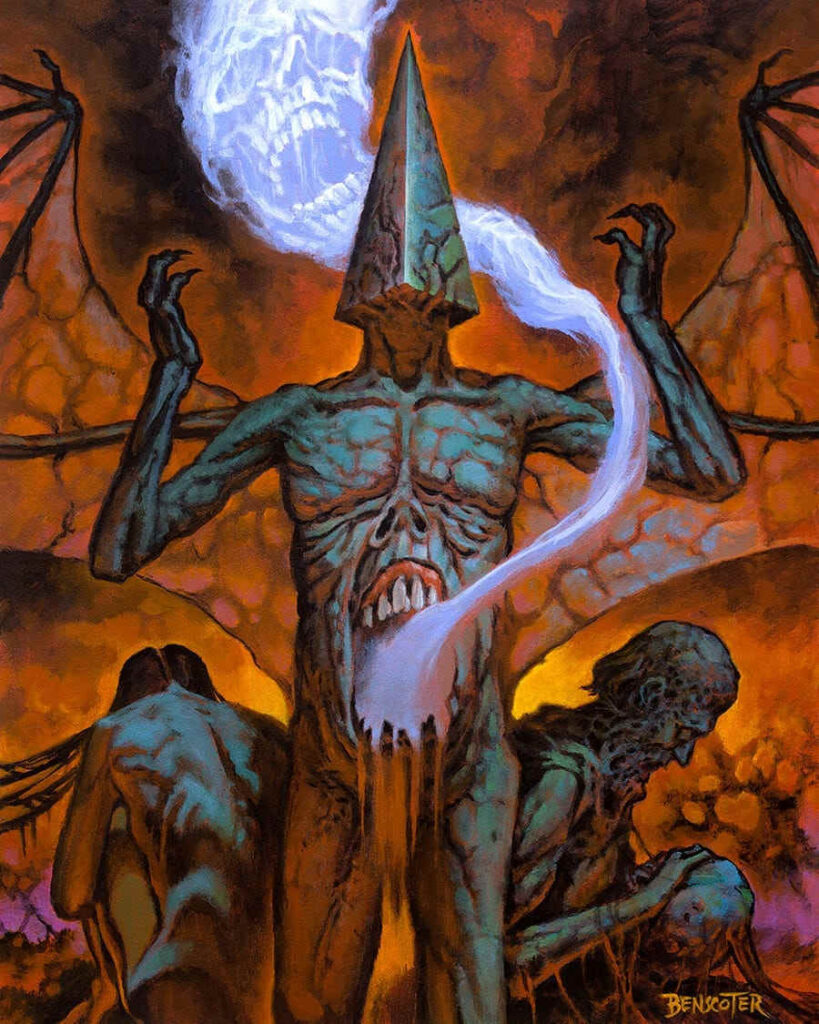 Copro Gallery Social Media Accounts