Dazzling goldwork embroidery, sumptuous rayon-silk velvet, and lustrous glass beads. No, these aren't your grandmother's family heirlooms. Denver-based multidisciplinary artist Carly Owens recontextualizes an historic medium through contemporary bijouterie that sits at the crux of high fashion and art. Tactile meets visual in Owens' fanciful pendants, earrings, and brooches in that traditional methods and materials form the foundation for her surrealist-inspired imagery. While, historically only the upper echelons of society adorned themselves in such finely embroidered designs and embellishments, her contemporary wearable art aims to be accessible for the everyday with her signature touch of whimsy and magic.
Eyes have been a recurring motif for Carly Owens over the past year. They function as a symbolic device for expressing the polaric spectrum of emotions from joyful and spirited to anguished or melancholic. Conceptually, her work is marked by the tension between dualities: blessings and curses, dreams and nightmares, creation and destruction. The intersection of the past and present also plays a significant role in her process. In practicing the laborious art of hand embroidery, she honors and preserves the millennia-old medium. That she does so with an emphasis on mindfulness and ethics aligns with the contemporary sensibility towards slow fashion, supporting independent makers, and investing in versatile statement pieces that are truly one of a kind.
In an age where life and technology seem to be moving so fast, it is important not to forget the beauty of fine craft and the capability of the human hands.
Interview with Carly Owens
You have an extensive background studying your craft, when did you initially begin creating embroidery art? How did your work develop as you honed your skills?
In 2016, I had the opportunity to travel to the UK for a study abroad program at the Royal School of Needlework. This was my first experience with hand embroidery, and specifically goldwork. After this program, I spent the rest of my collegiate studies in art + design concentrating on hand embroidery. This led me to embark on a couture embroidery internship in New York and to become a finalist for the Hand & Lock Prize for Embroidery in 2017. Like with any medium, I spent hundreds upon hundreds of hours embroidering to hone my craft and develop my skills. Now that I've learned the rules of hand embroidery, I feel more confident in breaking them to further develop my own style.
Your signature way of designing and styling your pieces draws inspiration from the Surrealist art movement. At the same time, it also evokes a very contemporary aesthetic. Can you speak to this in more detail?
You hit the nail on the head! Surrealism greatly influences my work. I love the movement's strangeness and its ability to portray the familiar in an unfamiliar or slightly twisted way. This is something I try to achieve in my own work. As for the contemporary aspect, that is intentional too. Goldwork is a very historic medium and often used in a specific fashion for specific purposes – royal/military embroidery, historical costuming, opus anglicanum, etc. With my work, I try to take it out of its traditional context and put it in a more modern light – making it wearable for today. Perhaps the biggest influence over my work is the intersection between the historic and the contemporary. I'm always looking at art and art objects from contrasting eras and finding timeless motifs and elements; those are what I'm inspired by and want to bring my own perspective to.
I love to make work that makes you look twice. At first glance, it should be beautiful but over time that beauty should turn to something more melancholy or even dark.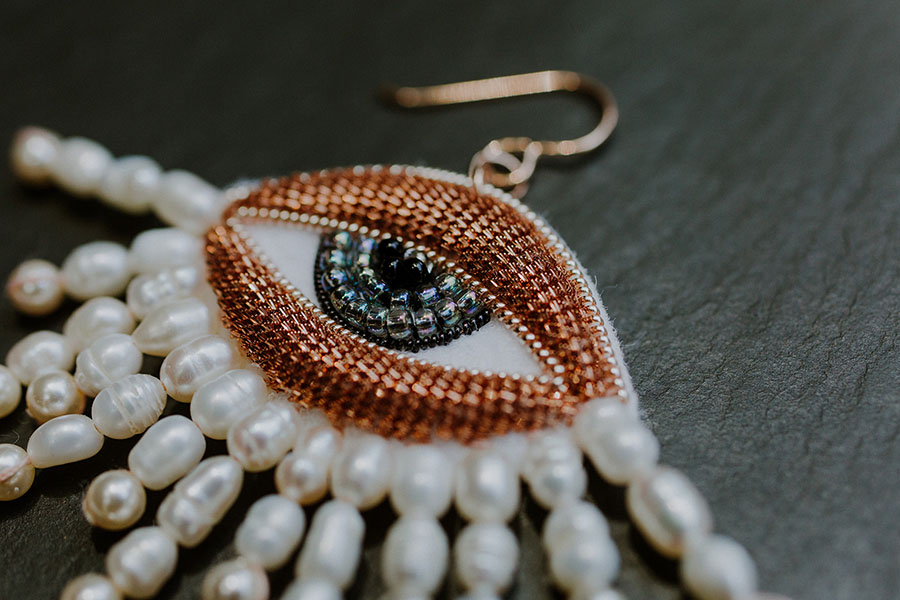 Explain your interest in dualities such as blessings and curses or dreams and nightmares. Why do you often feature eyes as a singular subject?
I think this ties back into my interest in Surrealism. I love to make work that makes you look twice. At first glance, it should be beautiful but over time that beauty should turn to something more melancholy or even dark. Putting a conceptual tension in my art is what keeps it interesting to me, even if that duality isn't always explicitly apparent. Eyes play a big role in my work because of their expressiveness. Then, when I remove them from their facial context, that emotion becomes harder to read but you can still feel their presence. Are they dreamy? Crying tears of joy or tears of sadness? Is there anger there? I love that my work's meaning manifests in different shapes for different people and that they are so open to interpretation.
Can you share your process of conceptualizing each new piece whether it is jewelry or two-dimensional work?
I keep a sketchbook where I'm always drawing up motifs and ideas or exploring text to develop concepts. A lot of times, I'll hear a song lyric or line of poetry that inspires images in my head so I'll write them down in my sketchbook and refer to those words. With my embroidery artwork, it is a bit more formulaic, so I tend to do small samples so I can explore different stitches and determine which ones work best for the piece. However, I'm finding that the less I plan, the more I enjoy the work. I have discovered that my process is very organic so I'm trying to honor that.
Goldwork embroidery in particular is also a medium that not a lot of people are aware of. I like using it and making people scratch their heads trying to figure out what exactly it is.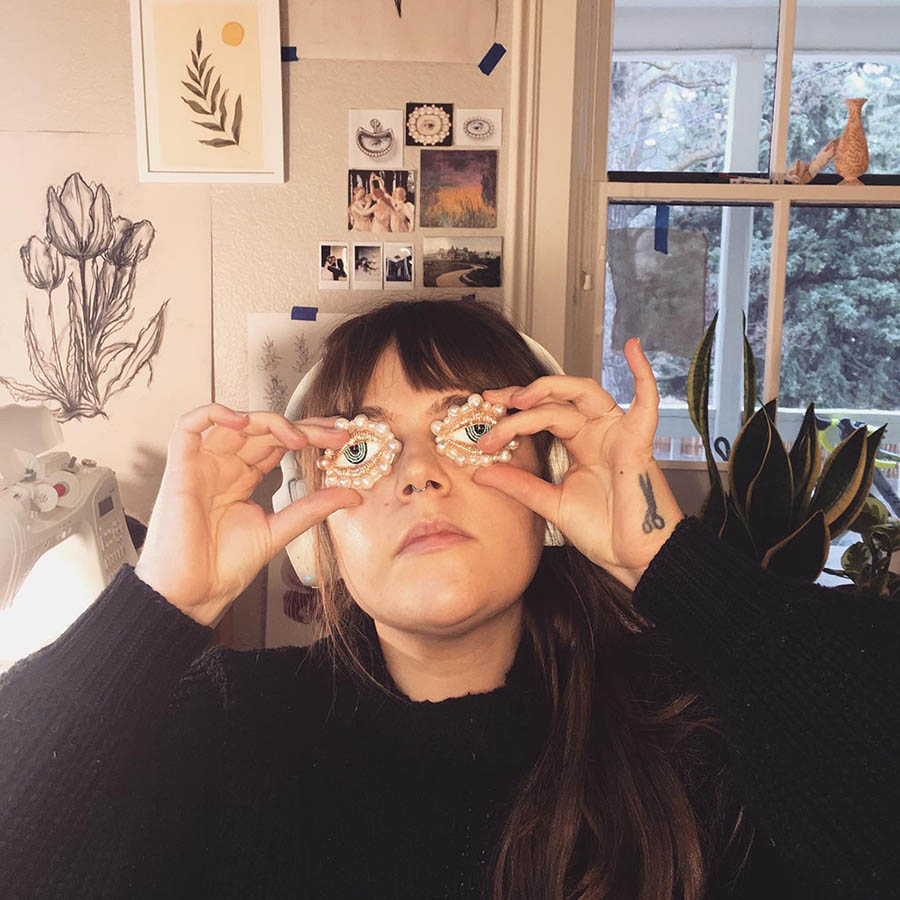 What are you able to express through this art form that you wouldn't have the capability to with another medium?
Embroidery is a medium that is so rich in texture and dimension. Goldwork embroidery in particular is also a medium that not a lot of people are aware of. I like using it and making people scratch their heads trying to figure out what exactly it is – a lot of times it's mistaken for beading, which I also use in my work. Historically, goldwork was only worn by the wealthy and powerful so I also enjoy that my pieces make goldwork accessible for the everyday. Now, as I've ventured into creating larger art pieces, I'm trying to figure out how to incorporate embroidery into my paintings by stitching directly into the canvas.
What is the most important skill to master in embroidery that others might not consider?
Definitely patience. I don't think many people realize just how time-consuming hand embroidery is, especially when in comparison to size. A two-inch embroidery can take hours to create but unless you watch someone doing it or try it out for yourself, you can't really grasp the time.
Do you think the rise in social media has popularized embroidery art or simply created a platform to shed light on a niche that already had a robust community of artists working in it?
In terms of goldwork, I think social media is definitely shedding light on this niche technique and also sparking interest in others to learn it, which is so exciting to me. These underrepresented craft forms need interest in order to maintain longevity. So if I can use social media to get others excited by it, or at the very least draw awareness to it, then that in itself is a massive success in my eyes.
Can you share the experience of your journey as an entrepreneur?
It's been a rollercoaster – a lot of highs and a lot of lows and a lot of uncertainty. As an artist, I just want to spend my time creating but I have to do the not fun business things that being an entrepreneur requires. Over the years, I've been able to find a balance between the two and now I feel a little more confident in my abilities. Ultimately, it's so rewarding because I'm putting my energy into growing something that's mine.
Have new platforms such as Patreon played a role in the expansion of your embroidery art business?
I'm very new to Patreon so I'm still trying to find my flow with the platform. I've been wanting to get into education for a while, so I think this will be a great space to intimately share my knowledge and practice. I'm so grateful that there are people who love my work and really just want to support me. I also want to use the platform to help me reach goals, like funding artist residencies that I otherwise wouldn't be able to achieve. I'm still a long way off, but it's exciting to see progress.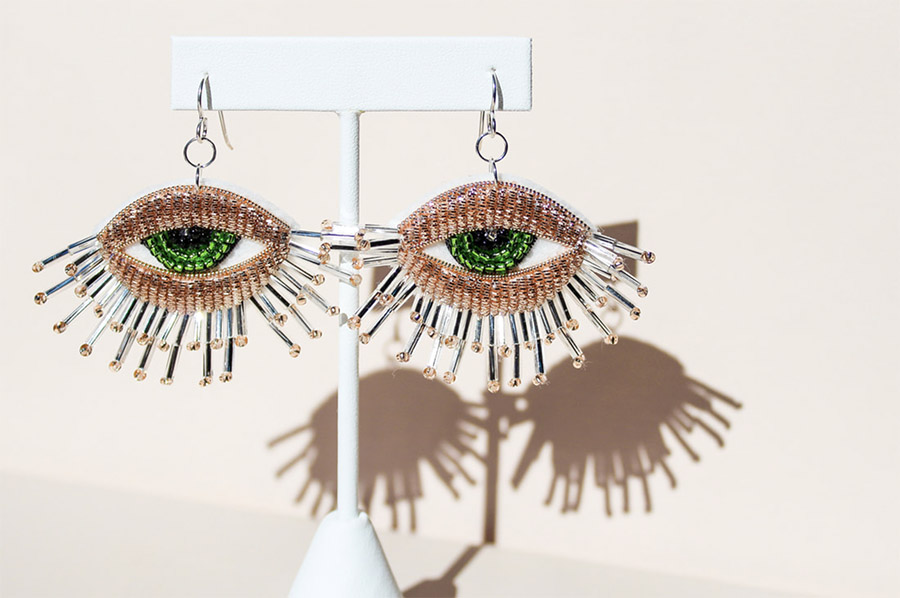 Tell us about one of your pieces that you'd consider your most successful or your favorite and why that is.
My eye series has definitely been the most successful. I've been making these pieces for over a year and they are still drawing attention. They are also what I'm best well known for. I think it's because the eye is such a universal motif that takes on multiple meanings. We all have our own justifications for the attraction to them. For me, the eyes are so emotive, powerful and mysterious and they are a recurring motif in all aspects of my work.
Is there a quote or mantra that you feel most resonates with you right now?
"This too shall pass". I'm constantly reminding myself of this. It's how you persevere through the hard times and not get too lofty when things are going really well. This mantra keeps me humbled.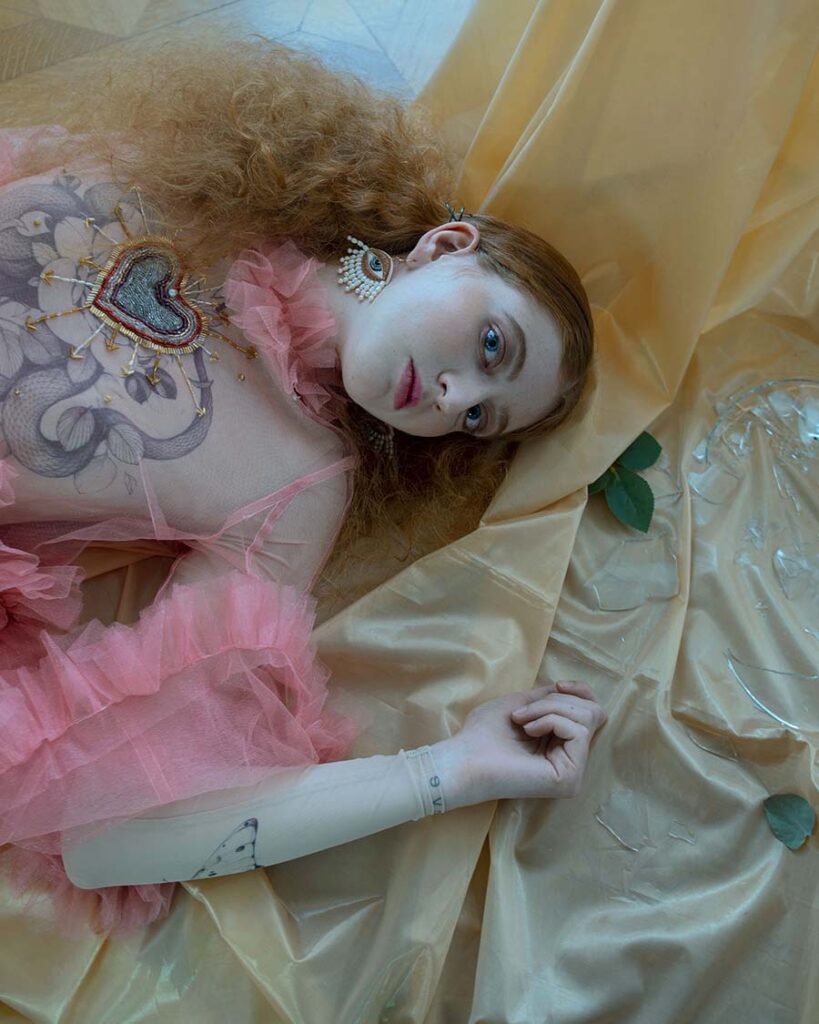 The images from the two photo stories produced for Holm Magazine and Pap Magazine are stunning! How did these projects come about? Do you have any other collaborations this year that you're currently working on or preparing for?
I've had the pleasure of collaborating with the talented photography artist, Olesya Parfenyuk. Her vision really made my work sing the way I've been wanting it too, but haven't had the resources for. As for what I'm currently working on – I've got a bunch of things stewing. I'm spending a lot of time working on large-scale paintings and exploring new conceptual ideas. I'm really adoring this process. The biggest thing on my plate at the moment is preparing for West Coast Craft in September. I also have a few features in some upcoming magazines, including the next issue of Beautiful Bizarre Magazine, which I'm really excited for!
Carly Owens Social Media Accounts