Bask in the subtle, yet remarkable tones of Australian fashion illustrator Kelly Smith (Birdy & Me). From botanical themes to lavish dresses, Smith allows us to see through her eyes as a visual artist, illustrator, and graphic designer. Desirably pretty in pink with warm pastels of wonder, she speaks volumes with her delicate and enticing illustrations and pop art. Kelly Smith is enamored by the world around her and utilizes elements such as nature, beauty, and color in her fictional worlds.
In Smith's work, you will find shades of comforting hues accompanied with femme pop art– this artist sticks to light and bold shades of color to create enough contrast with the ink. Using mainly only a graphic pencil, Smith knows exactly how to convey a world filled with delicacy, florals, and beauty.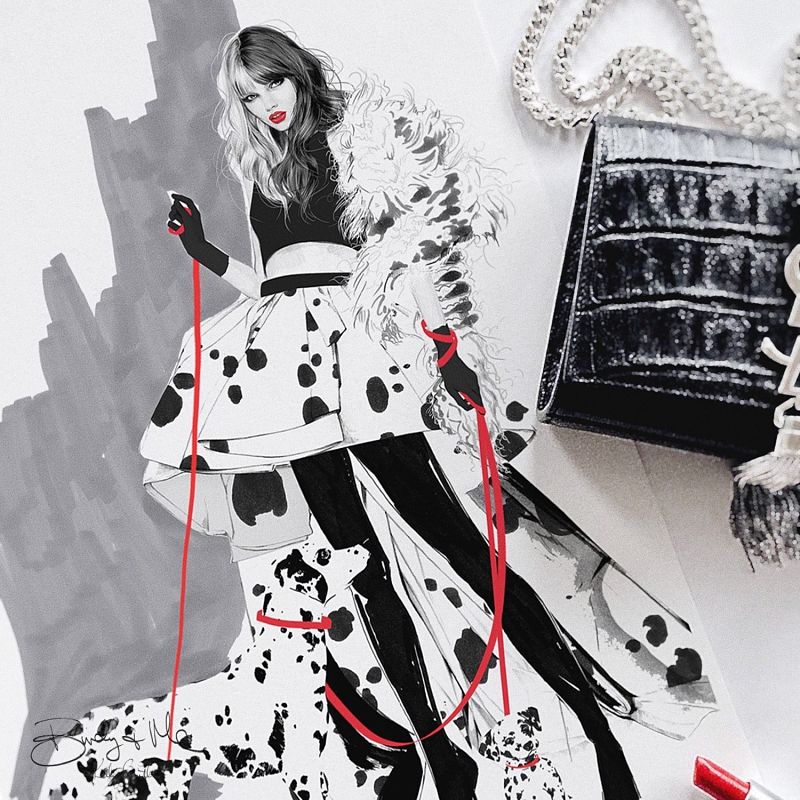 In Her Eyes
Fashionable with striking tones, this pop designer knows exactly how to welcome us into her ethereal state of nature, beauty, and confidence. The dusty pastels of pinkish rose and smooth blue create a comforting and relaxing world we can all escape to.
In Smith's work, you will find shades of pink that accent carefully drawn lines across the paper– her work brings so much vibrancy and peppiness to every eye that catches her artwork. Each woman in the illustrations brings something unique to each scene– whether it's an attitude, style elegance, or curiosity. Variety and diversity encompass Smith's illustrations as she includes different styles, outfits, ethnicities, and cultures.
With each model and outfit representing a certain theme and color, Smith is able to create a variety of fashionable looks and characters that are nothing short of mesmerizing, unique, and classy. In some of her drawings, Kelly Smith pairs graceful women modeling with botanicals and animals. Pop couture and surrealism define Smith's illustrations as she navigates her world as an artist.
Flowers paired with dresses, makeup, hair tools, and more graceful accents, the art of Smith is both enchanting and voguish. The earthy tones of these illustrations will satisfy all the senses of the body and mind. Ruffles, gowns, and dresses are some of the characteristics you will find in Smith's art. Nothing short of sumptuous, Smith's illustrations are engulfed with elegance, detail, and poetic accents.
Fall Down the Rabbit Hole
Did we mention there's an Alice in Wonderland theme? Fall down the rabbit hole and join the tea party with this electric, yet feminine spin on a classic fairy tale. Alice's blue dress is paired with poppies, and together they create a contrast that leaves us relishing the eccentric classical book and movie. Isn't this illustration just delightful?
Kelly Smith's work has appeared throughout various events and magazines around the world. Not only does Smith encompass a unique talent, but she is able to utilize her talent in a way to connect realism with fantasy.
Enamored by butterflies and supplied with only the beginning of graphite scratching across the surface of sketch paper, Smith marries digital with illustrative. By scanning each drawing into her computer for a pop of color, Smith is able to combine two elements into one.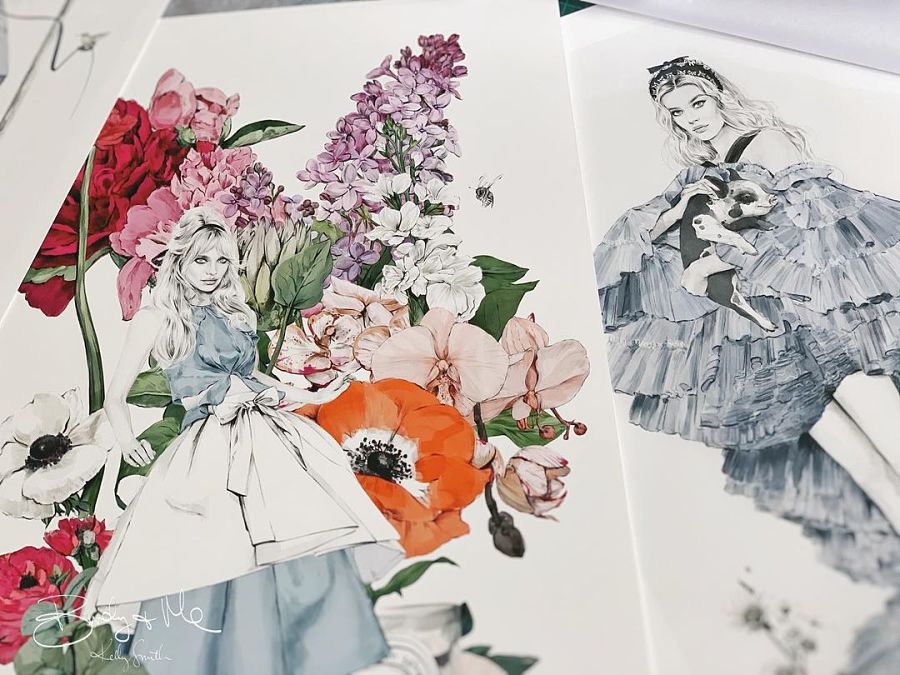 In some of Smith's illustrations, you will find graceful fawn accompanied by a warm embrace. You would think this type of gentle combination could only exist in fairytales, but if you step inside her world, then you see this world can exist right before your eyes! The woodland scenes carefully display intricately illustrated facial features and personality embodiment. This illustrator knows how to capture the natural beauty around her– swirls of blotches of color dance around each illustration.
Kelly Smith studied art in school, but some would say she was born an artist. Fine lines of graphite and mysterious shades create a contrast that allows us to truly focus on each piece of art.
A Modern Artist
If you are into all things dainty, then you will probably really enjoy Smith's work. Not only can you see Smith's artwork in art galleries across the world, but you can see her work with some of your favorite luxury brands: VOGUE, H&M, Maybelline New York, and so many more.
You may find some of Smith's work published in your favorite magazines as you scan through the various sections of art. Fashion magazines such as Russh, NET-A-PORTER magazine, The Hub, Flare, and TASCHEN's 'Illustration Now! Vol. 4'. If you want to find your very own collection of Smith's work, then be sure to check out her newly published book, 'Sticker Fashionista.' In addition to digital pops of color, Smith also implements watercolor within each illustration. What is better than smooth hues of pigments mixed with neutral shades of graphite?
Within each illustration, you will find a story that takes you to a new world. From bird wings, antlers, and feathers to flowers, dresses, and hummingbirds– there is something for almost everyone in Smith's illustrations. Dazzle your eyes with smooth shades of intricately drawn figures, then be sure to get some of Smith's artwork to hang around your home.
Kelly Smith Social Media Accounts