Joseph Weinreb is an oil painter from Northport, NY. His first solo show at Haven Gallery, "We're Not Meant to Remember" (on view through October 17), focuses on the blending of time and our perceived perceptions of a bygone era. As he paints he ponders the ancient past and all the potential details of previous civilizations that must have been lost to the sands of time. Each painting is rich with historical relics. Joseph often scours antique stores in search of the perfect frame and inspiration for his paintings. The natural world is used throughout his work as a contrast to the strict lines of architecture and the civilized world. After all, when one civilization ends nature will reclaim its rightful territory. Joseph's work begs us to ponder all the possibilities that lie buried beneath our feet.
Continue reading to discover the artwork of Joseph Weinreb. Peek inside his studio space and learn how he pulls inspiration from imagined histories, antique style clothing, and the artistic masters themselves.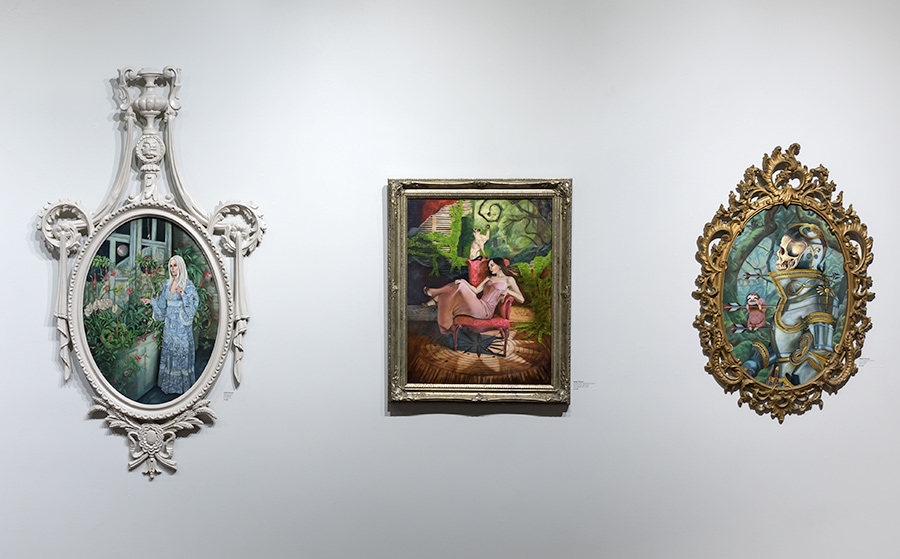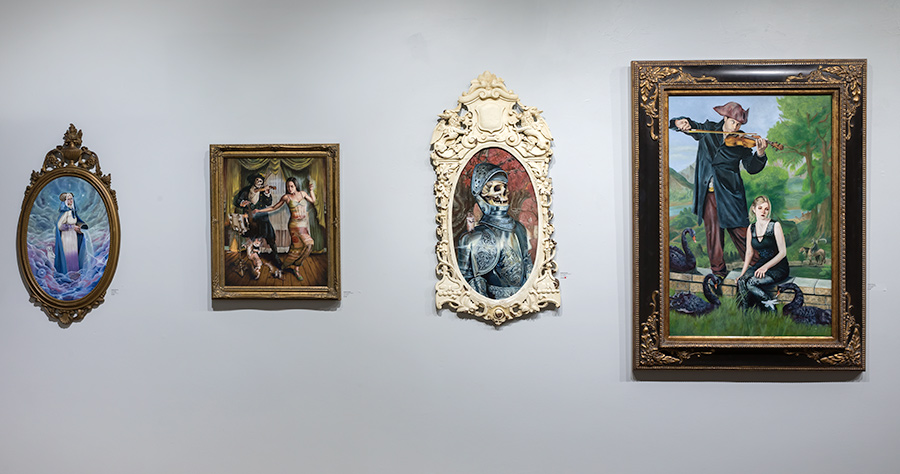 What was the inspiration for this new exhibition, "We are not meant to Remember"?
There are a number of inspirations behind this body of work. It began with my love and reverence of historical painters such as Leonardo da Vinci, Michelangelo, Caravaggio, Rembrandt van Rijn, Albrecht Durer, amongst many others. Their technique and ability to tell stories with their medium greatly influence my own technique and personal narratives. Thematically, I pull visuals and stories from ancient civilizations, science fiction, space, comics and the natural world with thoughts on death, the element of time and parallel universes.
The suggestion of memory as a cognizant defense mechanism for our own mental health is a concept I find myself continuously exploring. "We are not meant to Remember" can also be seen as a commentary on both humanity and earth's history, and all that has been misconstrued as well as that in which we do not know yet.
What is the meaning behind the exhibition title "We are not meant to Remember"?
I wanted to make a statement on the human mind and our ability or lack thereof, to remember. Our own minds retain certain people, experiences and memories over others. While sometimes the more difficult tribulations may pale in recollection, almost as if our minds wish to protect our hearts. Further, the mysteries of our past, the unknown, etc. are concepts I find myself eager to explore, yet I wonder if some of these answers are ones that are not meant for us humans to learn everything about. The suggestion of memory as a cognizant defense mechanism for our own mental health is a concept I find myself continuously exploring. "We are not meant to Remember" can also be seen as a commentary on both humanity and earth's history, and all that has been misconstrued as well as that in which we do not know yet. Graham Hancock put it, we are a culture with amnesia. Through some of my work, I really want to bring that to light as I feel, we are just one of many great civilizations to rise and eventually fall.
Your paintings are rich with symbolism. One symbol that is prevalent are relics of the ancient past, like the Egyptian pyramids for example.  How does the ancient past influence your work and what does it symbolize?

Symbolism has and always will be a very important tool in the arts. They allow the artist to suggest delicately and the viewer to interpret personally. This creates a connective bridge between the two where much can be shared and learned.
I've always been fascinated by ancient civilizations, and the fact that there is so much more to them than what has been unearthed and documented. In fact, I believe there is evidence that these ancient people were far more advanced than we could fathom with technological innovation such as electricity, industrious metals, their knowledge of the solar system and more. There is great mystery surrounding their architecture, remains, rituals and overall history, and I love learning as much as I can and visualizing it through my paintings. As humans, we should always re-evaluate history and learn and evolve as much as we can.
There are three recurrent themes that I have noticed throughout your work: classic or antique clothing styles, outer space (specifically Saturn), and nature. What do these symbols mean to you and your artwork?
I am forever intrigued by the past in all of its facets. The artistry and integrity in clothing, architecture, art, appliance – all of it, stand out and continually impress me. These are also all ephemeral and do not not withstand the test of time, embracing the themes of death and time that are ever present in my work. This bleeds into the strong presence of the natural world as nature always reclaims itself and can persist in the harshest of conditions; these natural traits of adaptation are a strong reminder to us as humans to follow, evolve and adapt, and reminds us again of the passage of time and natural progression of life and death. Which in turn, leads to the prominent themes of space and space travel evident in my paintings. The stars and surrounding celestial bodies have been long studied and discussed throughout the course of humanity, and for me, it truly is the next frontier of human exploration.
Saturn is one of the most prevalent planets in my work. 1) It is recognizable. 2) It was my favorite planet as a kid. My mom used to take me to the planetarium and it really stuck in my mind, so perhaps it represents both her and the innocence of my childhood that is not lost.
Simultaneously, this represents multiple time periods for me. For example, the alignment of ancient architecture such as the Egyptian periods, are with the celestial bodies above. We can learn much about these former people by studying the little that remains of their life and times. It is through their studies, those from the people thereafter and our current and future understanding that present a symbol of hope and evolution. As humans, it is imperative to always learn, adapt and evolve. Many past findings have been adjusted or remain true. And through questioning, re-examining and re-evaluating, we will do that. This, for me, is a reminder that there really is so much more out there to learn about the world and ourselves; and the passage of time is an imperative tool in doing do.
Historic art and the art of my contemporaries play a major role in my technique and subject matter. Owning a gallery especially exposes me to the talent and brilliance of our genre of art.
I noticed you use classic poses for your figures, particularly in "Venus of Titan". Are you influenced by classic works of art, and how so?

I am greatly influenced by historical painting – their poses, narratives and techniques are just the tip of the iceberg. In my opinion, historic representational works are of the highest calibre out there. They represent human evolution towards perfection in art but also freedom in personal expression and relatability. The talent and vision of these artists, and the visual vernacular and historical documentation of their presence teach, inspire and move us in so many ways. They transcend time.
Seeing Titian's painting "The Venus of Urbino" in person at the Uffizi in Italy greatly inspired me to do this pose for "The Venus of Titan". I actually painted Titian's painting in the background of my own work from the photo reference I took at the museum. My female sitter is on Titan, one of Saturn's moons, and I chose this partially because of how it is a play on words with Titian himself.

What have been some of your biggest influences throughout your painting career?
As most artists would say, we are influenced by everything and everyone. Some things are obvious, while others subconscious. Historic art and the art of my contemporaries play a major role in my technique and subject matter. Owning a gallery especially exposes me to the talent and brilliance of our genre of art. I have incredible opportunities to not only meet and get to know so many amazing artists, but also to have an up close and personal look at their work.
In addition, the stories and artistry of comics, anime and manga, as well as history, nature and scientific exploration greatly inform my day to day passions.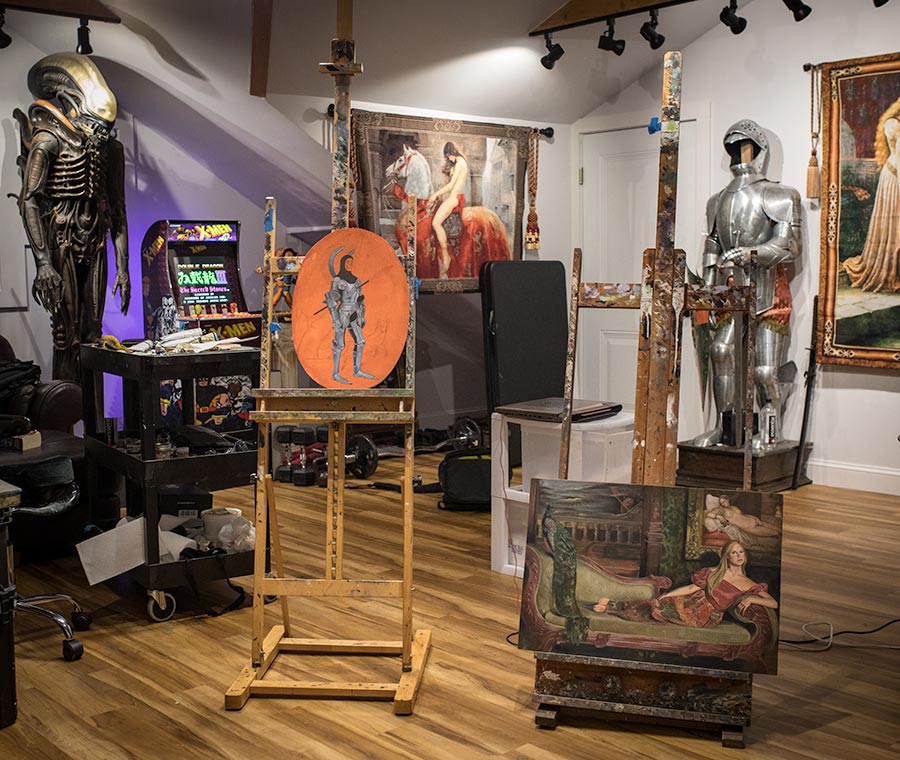 Can you talk about the IMC and how that has influenced you as an artist?
The IMC has influenced me in so many ways. The people, the community, the talent, the art and the camaraderie. I was extremely nervous when I first attended the IMC as I did not know anyone nor what to expect. But after a day of being there, I soon realized, I was amongst long lost friends and like minded people, and all the anxieties I had were for nought.
At first, it was very hard for me to even start painting, as I was not only amongst so many talented teachers but students as well. But as I finally started painting, I received so much support and guidance, it made me never want to stop painting. What I learned there in a week, I felt was a lifetime of knowledge crammed into such little time. It was a very overwhelming amount of learning but probably the most help I received in my life.
The teachers were very helpful and really guided me on my path to being an artist. One of my professors there, Scott Fischer, said such encouraging words to me, that whenever I doubt my work or career, I always go back to think about it, and persevere.

Have you always been drawn to art?
Yes – I and many of my peers grew up as visual individuals. From the art of comics, anime and manga to book covers and museum exhibitions to the birth of the internet and the plethora of information and imagery readily available, this is certainly the time of endless inspiration.
What do you love the most about painting?
That it helps me escape reality and quiets the voices that run rampant in my mind.
It helps me cope with the loss of my father, and I feel a great sense of calm as I blend and paint with each stroke. I love the blending process of paint and seeing works come together as a whole; it's almost like a puzzle for me. It's like a game you can never quite master.
Your medium of choice is oil paint, what do you find most appealing about this medium?
I love the way it blends, works and how it is very forgiving. It is what the Old Masters like DaVinci used, which whom I look up to. I only used pencil to draw when I was younger, and had a fear of oil paint. But once I started, and the more I used it, the more I loved it and wanted to express myself more with the medium.
How long does it take to finish a painting?
Anywhere from 2 weeks to 2 months depending on the complexity of the work.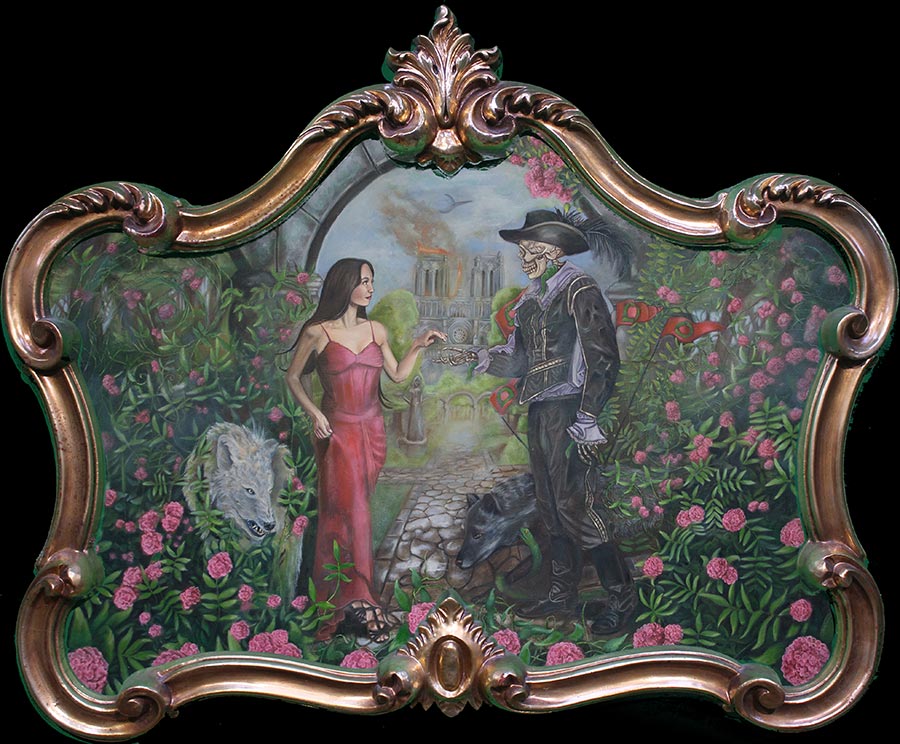 What is your favorite painting you have created, and why?
I don't have a favorite painting because they each represent an experience and emotion in time for me. They are small parts to a larger story that I will always explore and try to tell.
What is your favorite thing about being an artist?
That it is a challenge and you can always better yourself. I also love that you can use your imagination and as well as put a part of you into the work that you hope someone else will see and connect with.
What is the hardest part about being an artist?
Putting such a vulnerable and personal aspect of yourself out there to be seen and judged.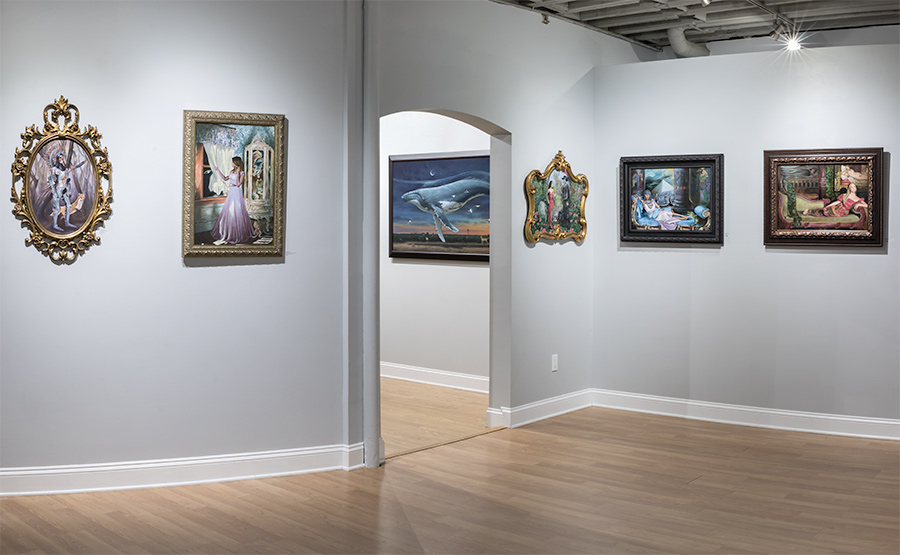 Joseph Weinreb Social Media Accounts