The past few years have forced a lot of challenges onto us, yet the wheel is gradually turning again. I've spoken with many artists who are, slowly but surely, coming out of the depths of personal darkness. While the world is far from healed from current events, artists are sharing their voices and their artworks to remind us that all is not lost. One such artist is Simona Candini. Her solo show, REBEL QUEENS, explores and celebrates five "rebel woman" from history. Each female was a revolutionary and a pioneer of their times. And in a year which feels as if many women's rights are being taken away again, perhaps Simona's REBEL QUEENs exhibition is just the reminder that we need to continue the fight for equal rights, and a celebration of female empowerment.
Opening Reception: Thursday, 21 July, 2022
Sally Centigrade Gallery
NEW LOCATION: 517 Ocean Front Walk, Venice Beach, Los Angeles, CA, USA
For more information email [email protected]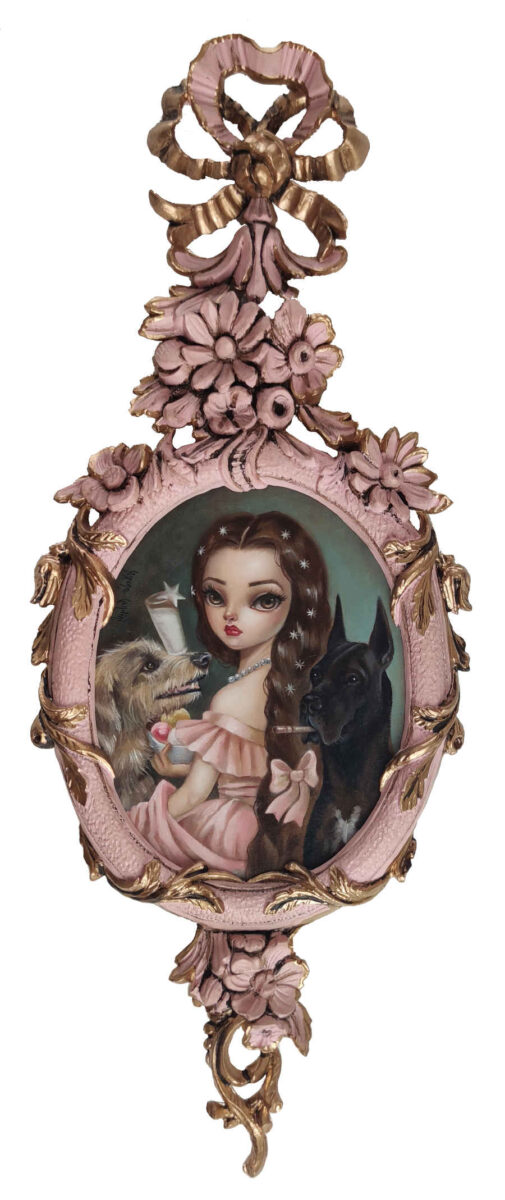 Each of the paintings in this show is a symbol of Simona's ability to overcome problems and still look ahead, despite her adversities. Over the past year she has suffered from health issues and undergone surgery, both of which slowed down her artistic production. REBEL QUEENS marks a new age of development for this Italian artist. Her new body of work represents a milestone after facing this challenging period.
"I've been going back to school." She shares. "I believe that as an artist, I can always improve – and after almost 12 years of being a full-time artist, I felt the need to go deeper. I've studying to improve my oil technique with master Erica Calardo; I'm blessed to have her living and working in my same city of Bologna, Italy."
I've applied some of my new teachings on these five artworks and I've seen a positive change right away. My goal is to apply the old master technique onto my doll-like subjects. I've always worked on this direction, but now I feel that I'm on the right path more than ever.
A deeper look into the Queens
The research into her chosen REBEL QUEEN brought Simona down a journey filled with multiple curiosities.
"Queen Victoria was known to be very conservative on one hand, but very innovative on the other. She was a very passionate woman and a fashion trendsetter. We've all heard about the Victorian style. She was one of the first women to get experimental anaesthesia during child delivery, despite the disagreement of the church.
"Princess Sissi dearly loved her large dogs and enjoyed horse-riding and hunting. She smoked cigars, and later in her life, had an anchor tattooed onto her arm to profess her love for the ocean. She was a trendsetter and had hair so long it reached her ankles! Sissi had a small gym built in her room to exercise daily, which was very bizarre for that period. We can say that she was a feminist, and her poems speak of freedom.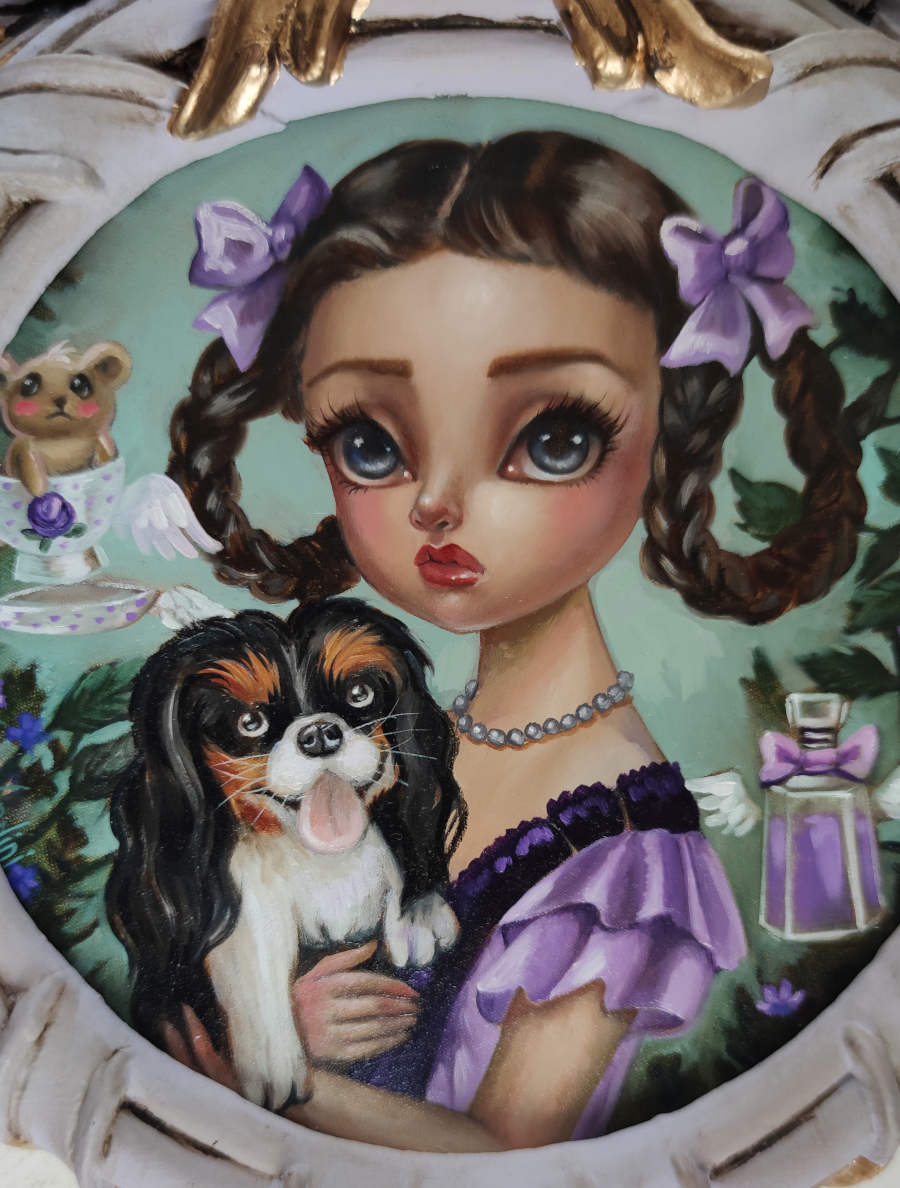 "Cleopatra was much more than the femme fatale or tragic heroine history often portrays her as: she was a fearsome leader and brilliantly astute politician. During her rule, she brought peace and prosperity to a country that had been bankrupt and split by civil war. She was multilingual and an accomplished mathematician, chemist, and philosopher.
"Marie Antoinette, the last queen of France, is always one of my favourites. I've painted her a few times already. She's an example of style and a pop icon "ante litteram". I absolutely had to include her in my REBEL QUEENS collection.
"Lastly, Elizabeth I is one of England's greatest monarchs – perhaps the greatest. Her forces defeated the Spanish Armada and saved England from invasion, she reinstated Protestantism and forged an England that was a strong and independent nation. She was the most powerful woman of her time, at a time when most women were nothing more than possessions. Strong, intelligent, convinced in her refusal to be constrained by a political marriage, Elizabeth I is viewed by many as a modern feminist icon.
Customisation, with a rebel twist
To further add to the excitement, fans of Simona's customized frames are in for another treat! For this mini solo show, Simona has purchased five beautiful, ornate vintage frames, each in unique shape to highlight each Queen. Simona then painted them a variety of pastel colours with gold. "Lately I've been using the combination of black and gold a lot, but I wanted something softer this time – despite that the theme may suggest more classical, traditional colours. Like my characters, I love to break rules: I feel pastel right now, so pastel it is!" Simona laughs.
Traditionally, Simona has used a variety of other materials including resin, mould and polymer clay to create custom elements that she then adds to her frames. When asked if the REBEL QUEENS have enjoyed these additional tweaks, Simona smiles: "I've been doing some experiments along those lines [with custom elements]. I will have juicy news in the upcoming months, I'm just not ready to reveal anything about that yet."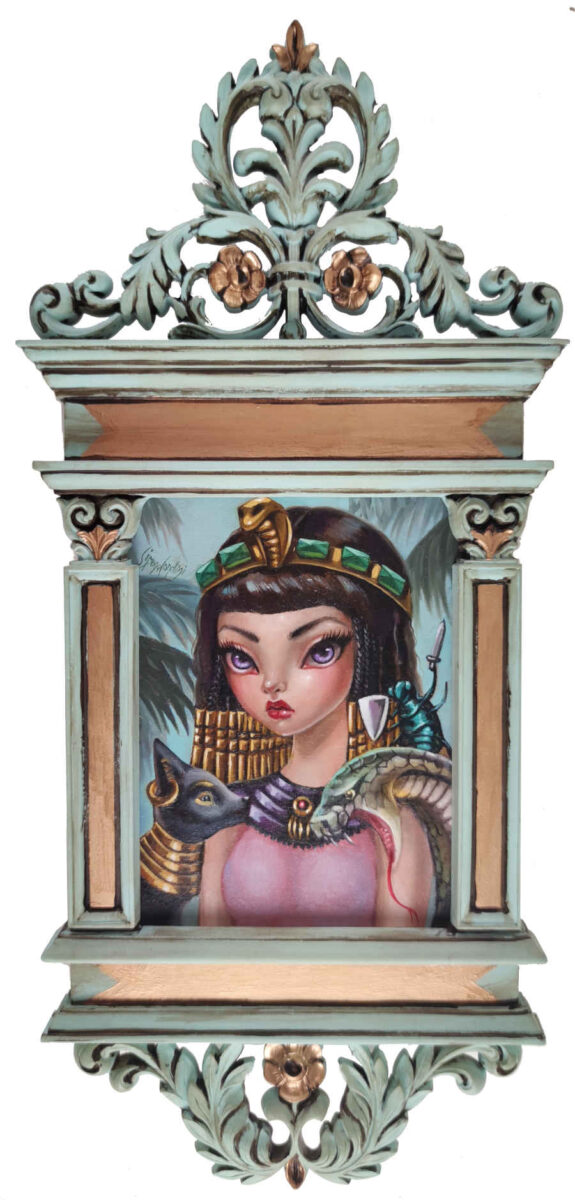 A new venue for Sally Centigrade Gallery
Simona Candini's REBEL QUEENS coincides with the grand opening of Centigrade Gallery in its new location on Venice Beach. "It's a great honour [exhibiting] the very first show at the new location! The space is really cool," Simona tells me. "The front of the gallery opens right up to the beach; it's only a few blocks from the old Venice Beach Freak Show location and you can see the Santa Monica Pier from the gallery." The gallery focuses on lowbrow and pop surreal art, supporting an array of international artists in these genres. "I've been working with this gallery for a few years now and it's always a great experience. Scott Bailey and Myah London Harwell are such a pleasure and an honour to work with. In my last solo show with them, about Alice in Wonderland, was very well received by the public. All my artworks were adopted at the preview.
Rebel queens is a show that depicts five popular female characters that changed the course of the history and broke the traditional concepts of what a woman was supposed to be, to do, to think and to say. I hope you enjoy it!

Simona Candini
As well as her solo show at Sally Centigrade this July, Simona Candini will also be exhibiting in the BLAB! Group show at Copro Gallery this September, followed by her next solo show at Copro Gallery in April 2023.
Simona will also be selling limited edition prints of her REBEL QUEENS in her online Etsy shop, with paper, canvas and hand-embellished canvas options.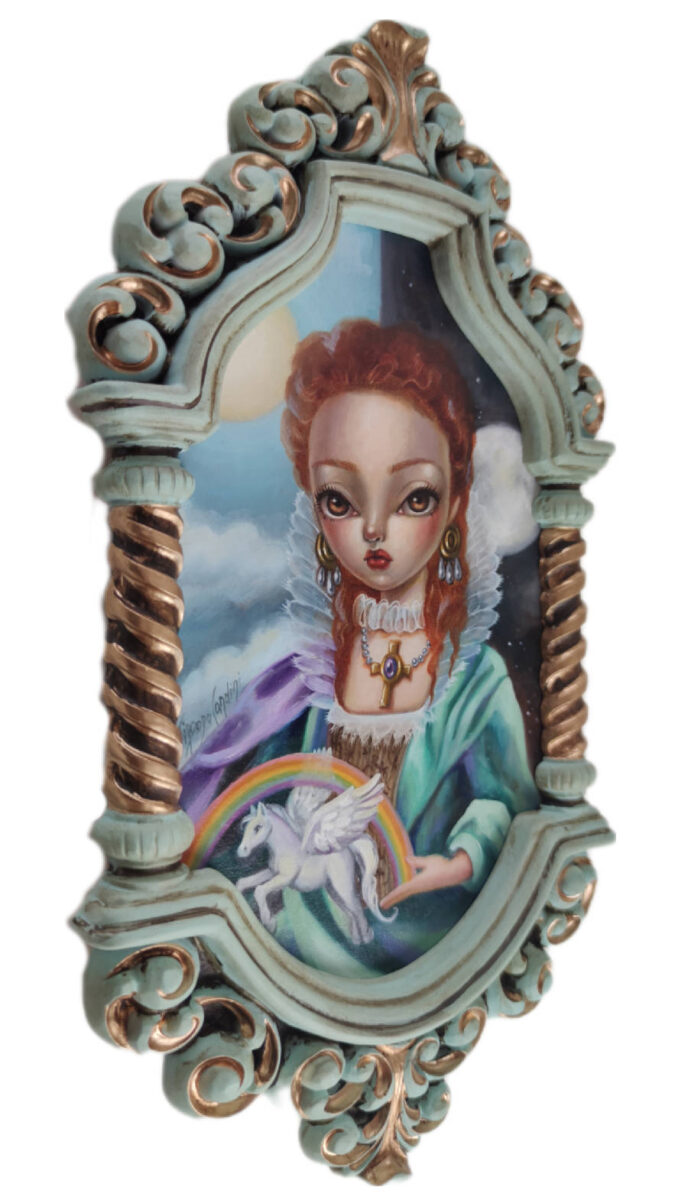 Simona Candini Social Media Accounts