Mythical, magical temptress of the water. If you love mermaids as much as we do then you've come to the right place. This weekend Modern Eden Gallery is celebrating the solo exhibition of Lara Dann, 'Sirens of the Zodiac' alongside their second edition 'Mermay' group exhibition. Prepare for a visual feast as each artwork captures the intriguing nature of these stunning aquatic creatures.
If you're looking to add to your art collection, be sure to visit Modern Eden Gallery's website for further details and purchase availability.
Exhibition Dates: May 9–30, 2020
Modern Eden Gallery Press // Modern Eden Gallery proudly presents the gallery debut solo exhibition from longtime gallery artist Lara Dann. Lara Dann is a talented American artist who creates amazing paintings that depict fantastical figures in the midst of contrasting themes – such as light and dark, lust and innocence, knowledge and naivete. Her work is inspired by vintage and antique wallpaper tapestry which is featured in most of her underlying work. Her long-awaited series, Sirens of the Zodiac presents 12 new oil paintings in her signature style featuring mermaids for every sign of the zodiac.
Mermay Press // We are thrilled to let mermaids take over the gallery (again!) for our latest group exhibition. We've adopted the popular hashtag and have asked our artists to create their most inspired interpretation of the theme. The result is a magical and vibrant presentation—rich with blue and opal tones—celebrating the aesthetic beauty of the mythical mermaid. Presented in accompaniment to Sirens of the Zodiac, featuring longtime gallery artist Lara Dann.
Artists: Jel Ena, Henry Schreiber, Andrea Sipl, Allen Williams, Megan Buccere, Aunia Kahn, Amandalynn, Kelly McKernan, Martin Hsu, David Natale, Mary Syring, Lacey Bryant, Marie-Eve Proteau, Jeannie Lynn Paske, Pippa McManus, John Walker, Sybiline, Jackie Gallagher, Julie Filipenko, Daisy Church, Jessica Dalva, Laura Colors, Glenn Arthur, Jessica So Ren Tang, Paolo Petrangeli, Vahge, Deirdre Sullivan-Beeman, and more!
Follow the artists' progress: #MermayandME #Mermay
Modern Eden Gallery
1100 Sutter Street | San Francisco, CA 94109
For press inquiries or sales, please contact Gallery Director Kim Larson at kim@moderneden.com
General Information, please email info@moderneden.com
Lara Dann 'Sirens of the Zodiac'
Mermay Group Exhibition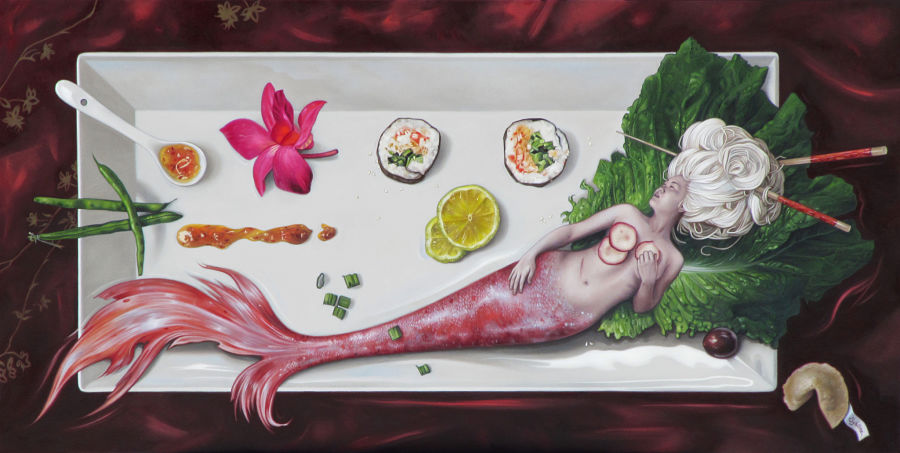 Modern Eden Gallery Social Media Accounts
Website | Facebook | Twitter | Instagram
Lara Dann Social Media Accounts