You may remember back in March an article on IX Arts introducing readers to the unique creative organisation and art show, focusing on imaginative realism. Since its birth by creative couple Patrick and Jeannie Wilshire, IX Arts has grown from strength to strength, with little sign of slowing down. IX Arts' growing prestige, firmly rooted in their accessibility to both those new and familiar with imaginative realism, has formed a respected community connecting artists, collectors and those in between. This has driven IX Art's ability to support both new and old imaginary realists throughout all stages of their career, from the annual event every October, to gallery and museum exhibitions, publications, and the recent birth of IX Gallery. It's not surprising then that all of this has led to the annual IX event moving to the Goggleworks in Reading, PA, after outgrowing the floor space available to the Allentown Art Museum, which housed IX 6, 7 and 8.
"As far as the level of respect IX has garnered, we are thrilled and gratified to see it – but it isn't all about us. A lot of that respect comes from the fact that the artists have responded so strongly to IX and pushed the boundaries of their work further and further each and every year." – Pat Wilshire.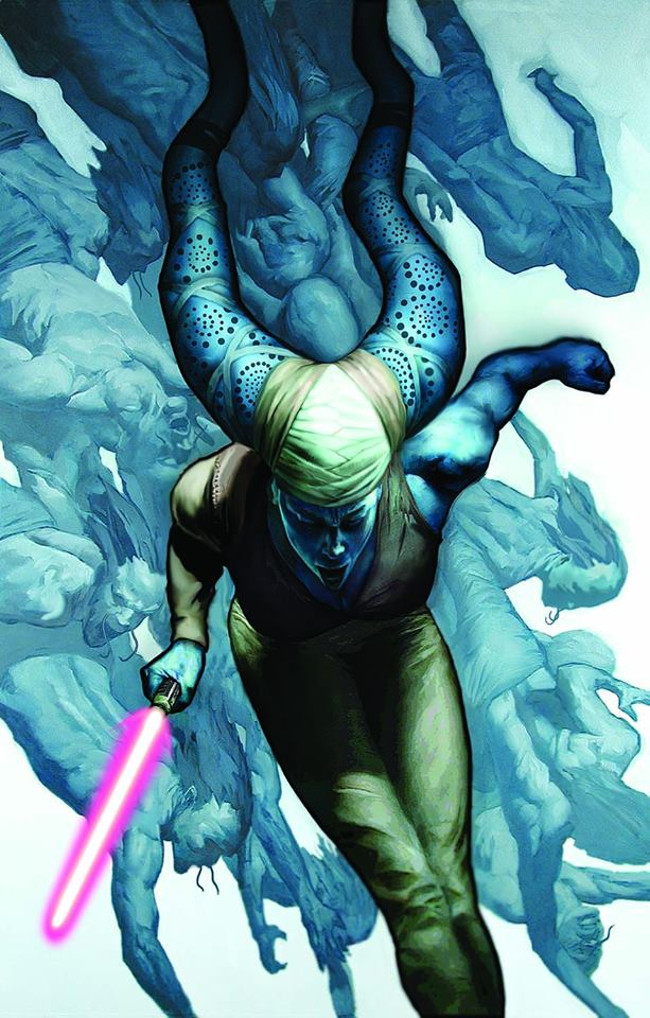 Jon Foster (will be exhibiting at this year's IX 10)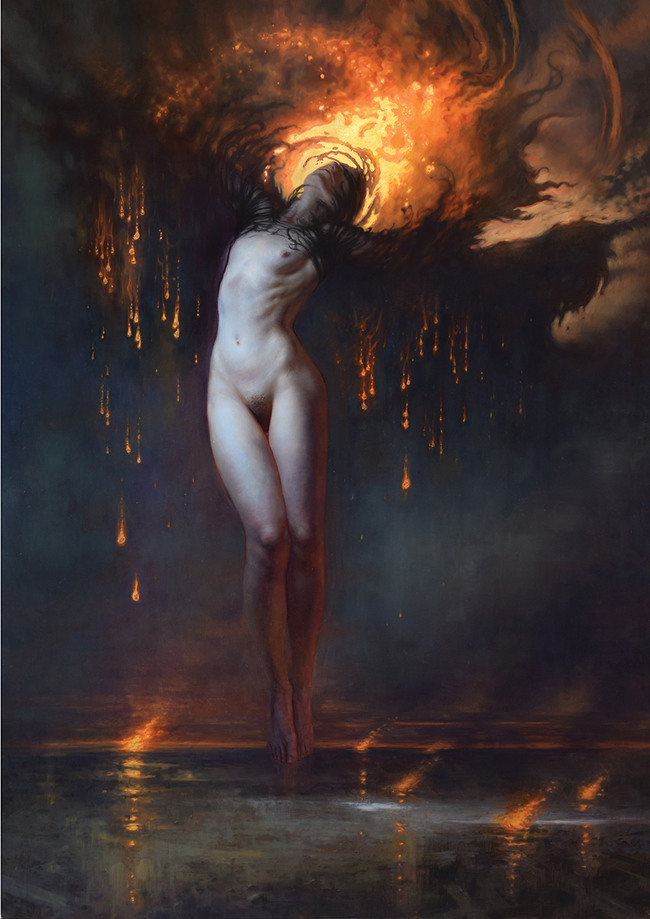 Tenaya Sims – Semillas (will be on display at this year's IX 10)
"Jeannie and I have both joked that if we had really stopped to think about it, we would probably never have had the nerve to do the first show." Pat explains, looking back at the past 10 years. "We just felt that it was something the field and the artists really needed, and we thought we had the ability to do it, so we did it." The last decade has certainly seen contemporary imaginative realism expand its reach around the world, greatly supported by Pat and Jeannie Wilshire's desire come to life. IX sees its tenth anniversary show taking place in the Year of the Rooster, described in the Chinese Zodiac as the 'Dawn Awakener'. This description seems particularly apt as the IX decennial marks further beginnings for this creative organisation; one particular point of note is the opening of the IX Gallery.
5 years in the making, Pat and Jeannie finally unleashed IX Gallery into the world in June this year, creating the world's first online gallery exclusively dedicated to imaginative realism. Their opening Inaugural Group show was a huge success, featuring over 50 artists and over 100 original works. The contrast of  styles, all connected under the umbrella artistic movement, created a fluctuating medley. Historical and futuristic, dark and light, hundreds of stories shared the limelight to celebrate the gallery's official opening. Following in strong succession, David Palumbo shared his full (to date) works from his ongoing series RITUAL in IX Gallery's first solo show. David's bold explorative paintings delved into the themes of community vs individuality, personal sexuality, and our connection with the natural world. Currently, the gallery is exhibiting a selection of works by illustrator Richard Bober in his solo show The Gilded Dreams of Richard Bober, sharing his interest in Alice in Wonderland, pirates, long-lost stories and Alfred Hitchcock.
Samuel Araya – The Lamia (from the IX Gallery Inaugural Group Show)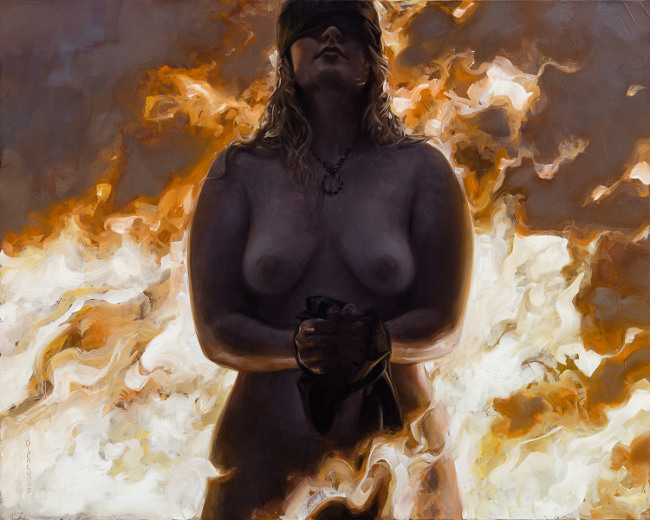 David Palumbo – Inward Journey (from RITUAL)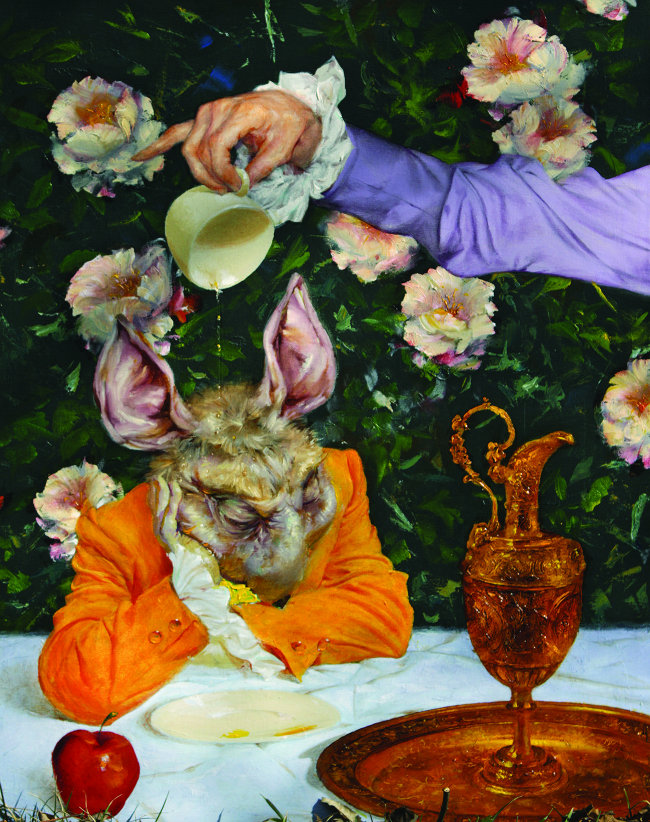 Original full color painting inspired by Bober's illustrative art for "Fantastic Alice" (Ace, 1996)
"We've especially enjoyed the opportunity that IX Gallery provides for us to reach out to artists that we haven't previously had the opportunity to work with" Pat explains, summing up their drive to continuously forge new creative relationships. Pat and Jeannie work as if living magnets, drawing together imaginative realism creatives and collectors from around the world as if it is the most natural thing in the world. With this in mind, IX Gallery seems to be the latest link in their promotional tour de force; the imaginative realism community has never felt so universally connected. 2017 marks a new dawn for the movement – it's going to be exciting to see what the next ten years have in store."
Elsewhere on the IX agenda, this year has welcomed more artists than ever before to take part in the annual IX event, with first-time attendees including George Pratt, Tenaya Sims and the Shiflett Brothers. Pat and Jeannie (along with millions of followers) have been watching in anticipation for the first new blooms of original art to unfold as the past few months have seen artists start to share their WIPs and finished pieces ready to be displayed at IX 10 this October. One such piece is 'The Moon Wrapped in her Gauzy Veil' by British artist Marc Potts (oils over acrylics), a gently chilling dedication to the Lady of the Moon. Victoria Steele's 'A Vision of the Past' (oil on panel) thrums with energy, whispering of the esoteric as she skilfully amalgamates still life with portraiture, and Benjamin Davis' WIP is the perfect tease to his collection of works which will be on sale at the Showcase in the Doubltree Hilton Hotel.
As with every year, IX Arts commissions pieces especially designed beyond the usual restrictions of price and size, allowing the chosen artists to enjoy full creative freedom in a capacity beyond their norms. One of this year's Commissioned Artists is Forest Rogers, whose piece 'Octopod Descending' echoes the particular celebration of sculpture that will be one of the focal points for the decennial event. This mixed media piece portrays the usual intricacy and skill that Forest imbues into every one of her pieces, and keeps the bar high in the latest year of commissioned works to forever become part of the IX collection.
"We're also excited about the debut of our 10th Anniversary IX Ale, courtesy of Sly Fox Brewing, which will be available exclusively at IX!" Pat adds with a grin."
From art to beer, 2017 is definitely marking the vast expansion of IX Arts and the IX community – and there are still plenty of surprises left along the way.
Watch this space!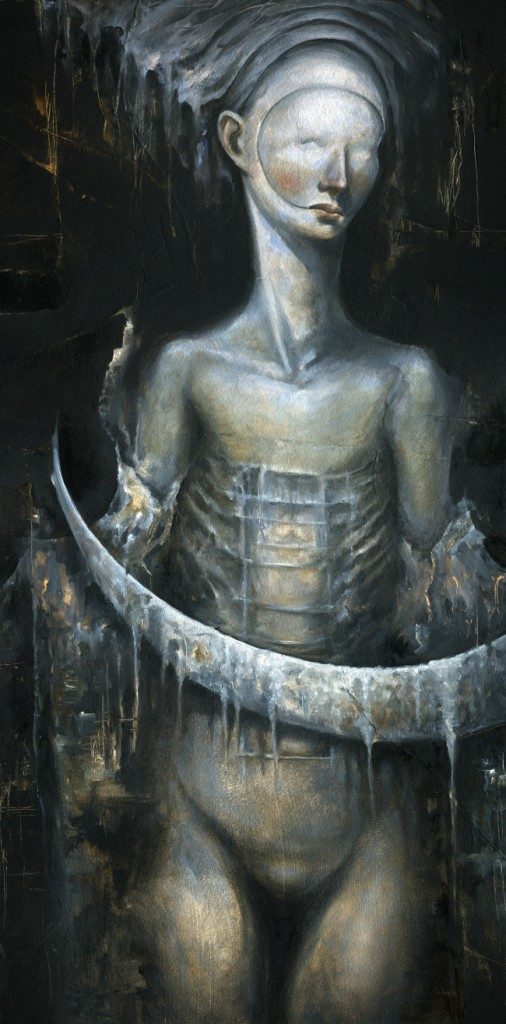 Marc Potts – The Moon Wrapped in her Gauzy Veil  (will be on display at this year's IX 10)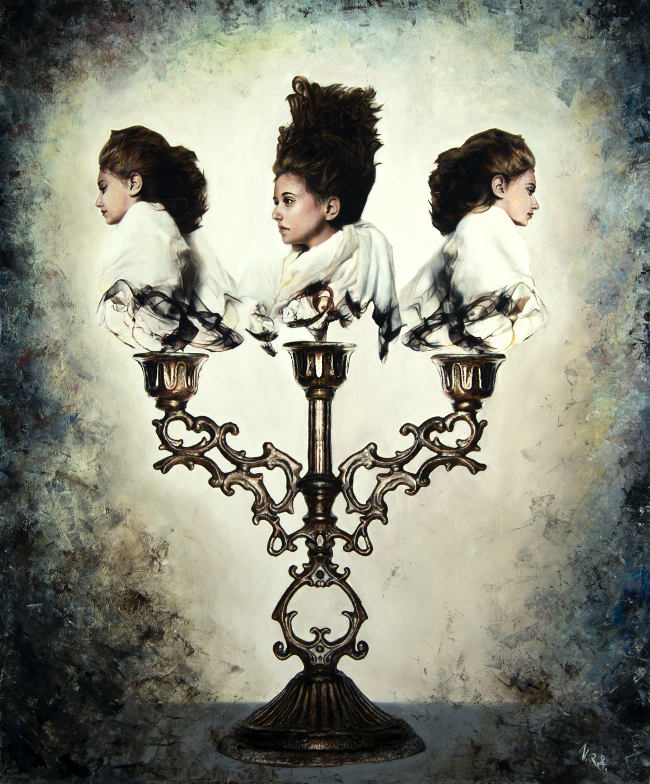 Victoria Steele – A Vision of the Past (will be on display at this year's IX 10)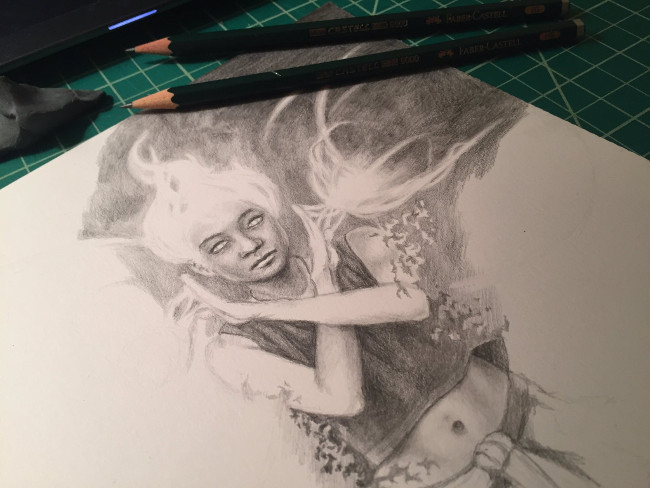 Benjamin Davis –  The balance, the Neutral, the Traitor (WIP – will be on display at this year's IX 10 Showcase)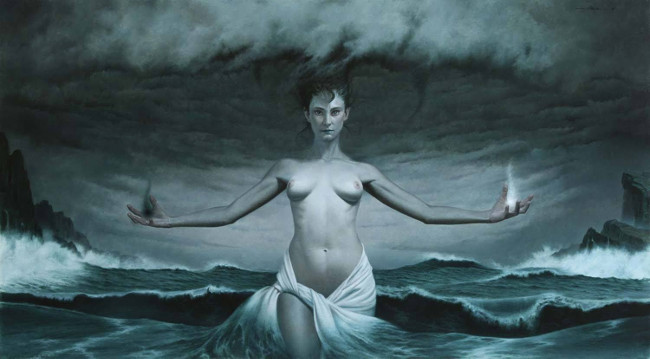 Vince Natale (will be exhibiting at this year's IX 10)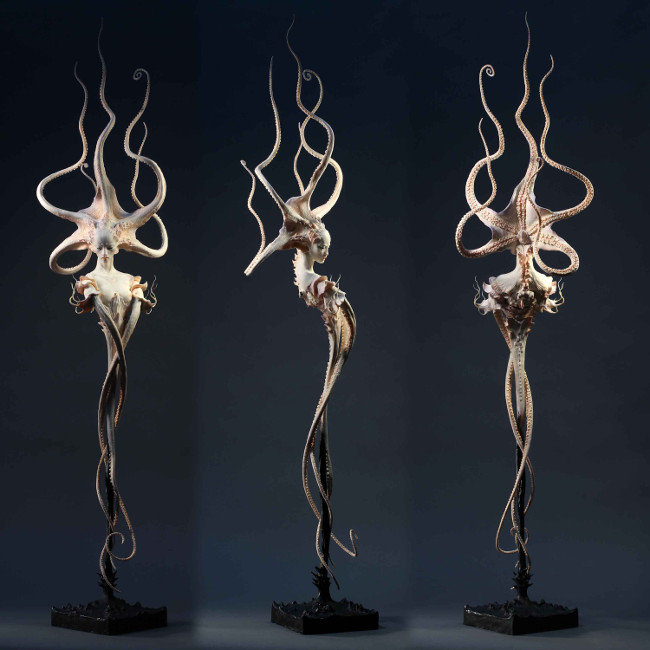 Forest Rogers – Octopod Descending (IX 10 commission)
Forest Rogers – Octopod Descending, detail (IX 10 commission)