There's a certain excitement that hovers perpetually around the name IX Arts; it's not without marginally contained elation that I find myself writing about them in the run up to their 10th anniversary show. A universal leading organization, IX Arts has been changing the creative landscape over the past decade to raise the bar on contemporary imaginative realism, a style of art, as the name suggests, blending the best of fantasy and reality with its roots in traditional media.
Its founders, Patrick and Jeannie Wilshire, have become worldwide defenders for this artistic culture.
"When we first started thinking about doing IX, our original intent was, in addition to creating an atmosphere of inspiration for artists, to provide imaginative realist artists […] a way to exhibit and sell their original work" explains Patrick, "we were adamant about the fact that seeing original work in person is critical to evaluating any artist or genre, and the fact that imaginative realists had been crippled in this respect – with a few fleeting exceptions – for decades in terms of established art fairs or galleries."
Since its birth with the annual IX show, IX Arts has grown into various other creative areas including gallery and museum exhibitions, publications, and the highly anticipated upcoming online IX Gallery. With 2017 promising to host the largest IX show yet, it's hard not to contain my own anticipation for what is to come.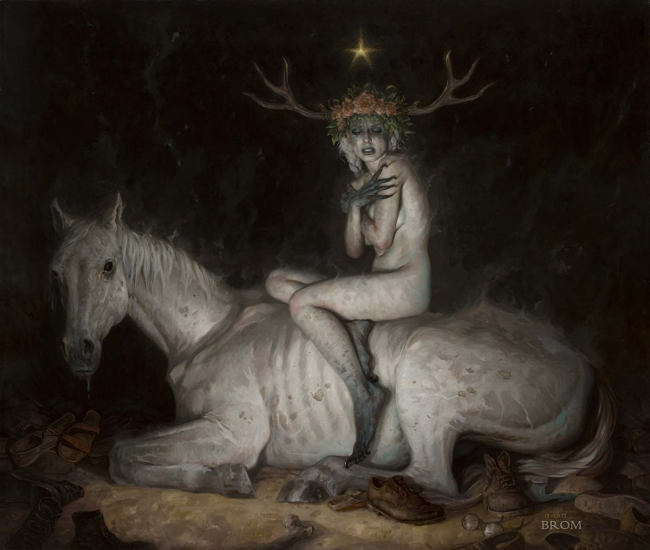 Brom – The Night Mare (2017 commission)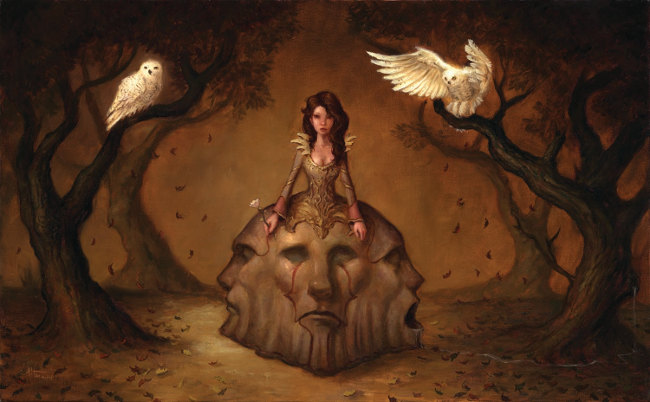 Scott Altmann – Misaligned (2009 commission)
It began in 2008 with the IX show providing a haven to display vast amounts of original art. Their concept to create a unique experience supplied the perfect platform to foster the strength and unity, which forged the backbone for what IX Arts is today. Patrick and Jeannie spent a lot of time planning how different people would gain the most from their events: how could they support exhibiting artists? How could they inspire visiting artists and fans? How, within the IX show, could they help teach the student and excite the collector?
Both with backgrounds in the creative industry, the visionary pair found themselves supported by various creatives around the world who shared in their distinctive concept; artists from Germany, Australia and the UK attended the very first event. Collectors, students and artists in particular reveled in IX's revolutionary experience within imaginative realism.
Jeannie thoroughly believes IX's accessibility to both those who love the genre and those who have never seen it before is a crucial factor:
"I especially love the interactions with people who are new to imaginative realism, who've never seen it before, and are suddenly exposed and blown away by what they see."
The show has intrepidly grown each consecutive year since.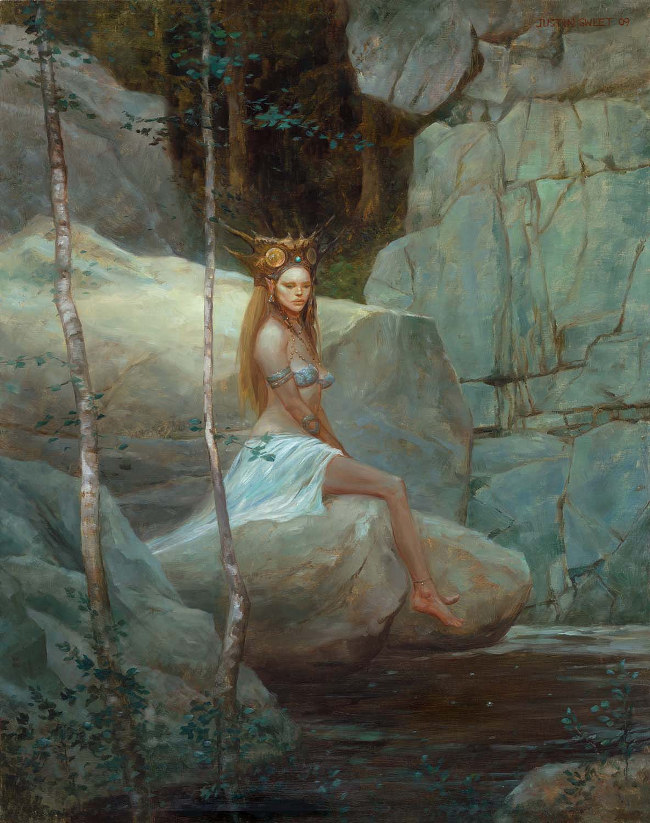 Justin Sweet – Elf Princess (2010 commission)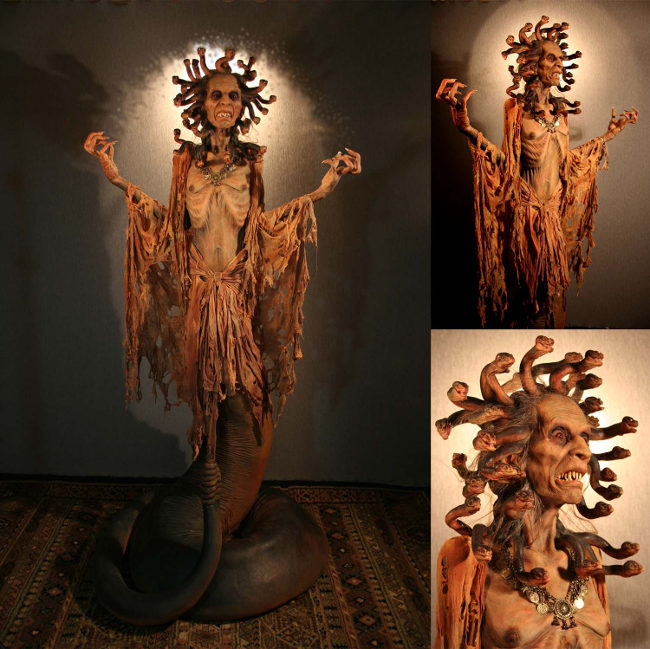 Thomas Kuebler – Medusa (2016 commission)
So what did they do that was so ground-breaking? There was a focus on students and young, emerging artists to build networks of support in which they could further grow, but at the heart of it, the clear message was that all artists would be equal: "there are no Guests of Honor, no sponsored artists, no one elevated above anyone else. Every artist is treated the same regardless of who they are, and that really seemed to help generate a warm atmosphere of mutual respect and appreciation".
With all of the artists I've spoken to about IX, the event continues to be cherished for its supportive environment, and spoken about with unfaltering excitement. Intrinsic parts of the annual show are the portfolio reviews and demos, which have been organised since the original set up, though time has evolved them along with every aspect of the show. Interaction is a key element. With this, certain major ingredients of IX grew by themselves, a prime example being the Showcase 'show-within-a-show', featuring 130 artists exhibiting Friday and Saturday evenings (outside of regular show hours, 8pm-midnight) in the IX main hotel ballroom in an un-juried, open-to-all display. Jovially, Patrick looks back at how that came about:
"Originally, we launched the Showcase at IX 2 as a way of letting collectors who were bringing work to the show to sell or trade show it to the public and the other attendees. When the IX 2 Showcase – with 20 tables – was announced, two young artists asked if they could have tables there, or if it was just for collectors. We said, "Sure! That would be great!" So two artists set up amongst the collectors that year. The next year, every table was taken immediately by an artist… now we have 130 tables that sell out in under two minutes each year, with a waiting list in the dozens!"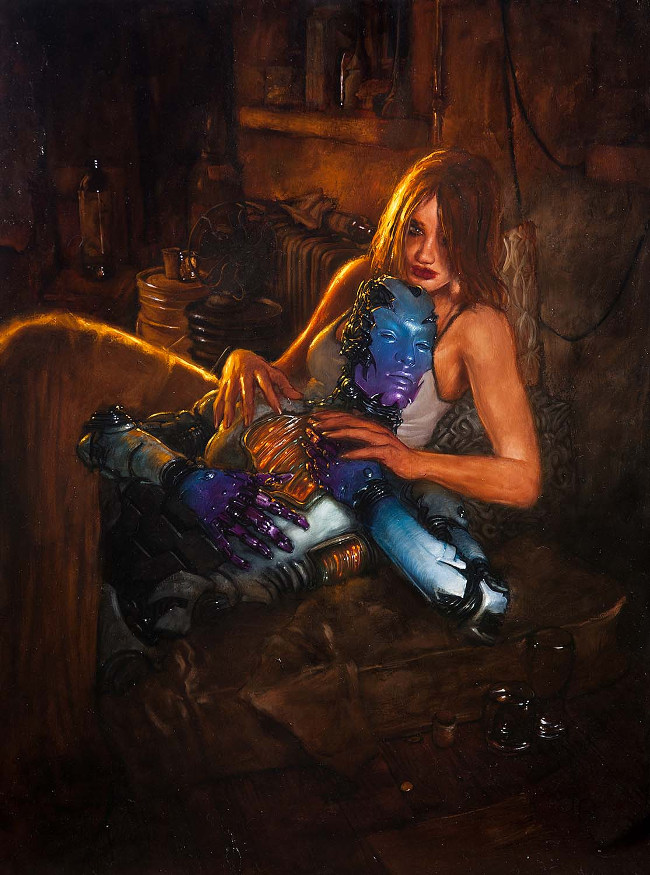 Anthony Palumbo – I Like You (2013 commission)
Each year, select artists are provided the opportunity to create IX commissioned pieces for the show. Compiling of 2D and 3D art, this handful of artists are booked out up to 2-3 years in advance. The IX commissions give the artists an opportunity to create a major personal work that otherwise, they may not have been able to justify or have the time for. Patrick Jones' piece CONAN THE CONQUERED (2014) is a perfect illustration of the commission's purpose, with his total hours spent on the painting easily reaching the 200 mark; without IX's commission, it is unlikely his creation would have been born. Each commissioned work is used to promote IX and IX Arts, becoming part of the IX Arts collection and exhibited in future events.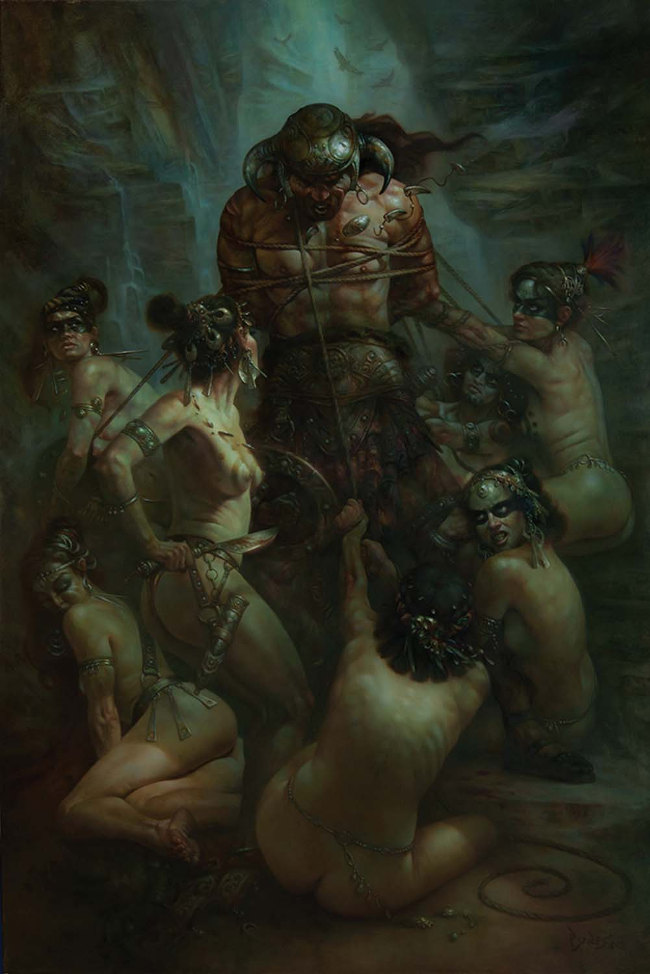 Patrick Jones – CONAN THE CONQUERED (2014 commission)
Interestingly, it took a while for Patrick and Jeannie to consider the broader potential for progression underneath the IX Arts label. "Honestly, when we started the show we were mostly focused on the immediate here and now as far the event was concerned" Patrick muses, "we felt that something like IX was critical to the continued growth and development of the field, but we didn't seriously turn our attention towards the mid and long-term until a couple of years into the process."
Patrick and Jeannie's simple yet dynamic drive to create a high quality exhibit under IX Arts had its challenges – the quest for high-caliber space and atmosphere, as always, provided its own playfully testing scenarios. Without their unwavering intent to support imaginative realism, however, it's doubtful whether IX Arts would have become as renowned as it is today. Most recently, IX has moved to the Goggleworks in Reading, PA, after outgrowing the floor space available to the Allentown Art Museum (venue for IX 6, 7 and 8). With over 1,000 linear feet of hanging space and over 18,000sq ft of floor space, the Goggleworks has excited exhibitors and audiences alike with its expansive opportunities. IX Arts has also teamed up with partnering organisations including Abend Gallery, the Art Renewal Centre and Delaware Art Museum to bring further recognition to imaginative realism, and with each new event IX Arts further strengthens the recognition of this enterprising genre.
The sheer amount of artists who have been involved with IX Arts (and who are returning this year to IX in 2017) goes beyond the boundaries of recognition. It's not often an art organisation is talked about with such esteem and reverie. IX Arts provides a harbour for imaginative realists to find camaraderie, learning and growth – and most importantly, if offers inspiration and hope.
IX 10 will be open from October 18 – 22, 2017 at the Goggleworks in Reading, PA. To get your tickets to the event and to find out more about IX Arts' upcoming projects, head over to the IX website today.
Marc Zug – Sands of Gorgoroth (2011 commission)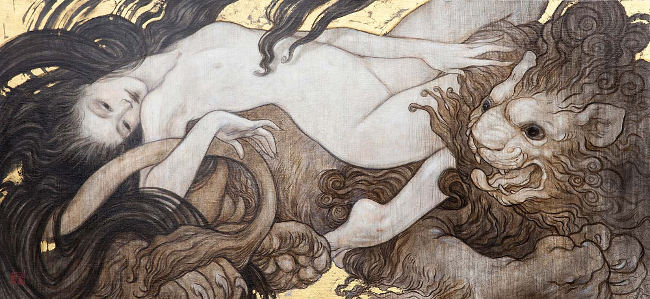 Rebecca Leveille-Guay – Time and Chance (2015 commission)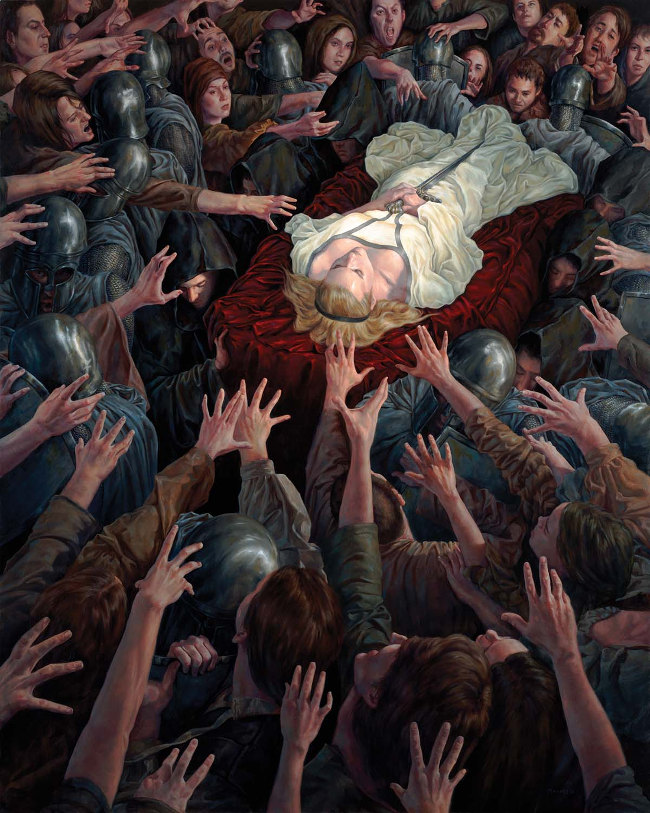 Michael C. Hayes – Procession (2012 commission)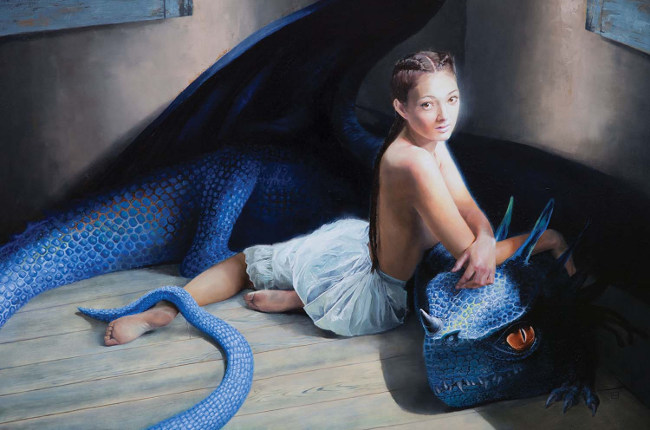 Linda Adair – Adolescence (2016 commission)
Jim Burns – Wanderers (2012 commission)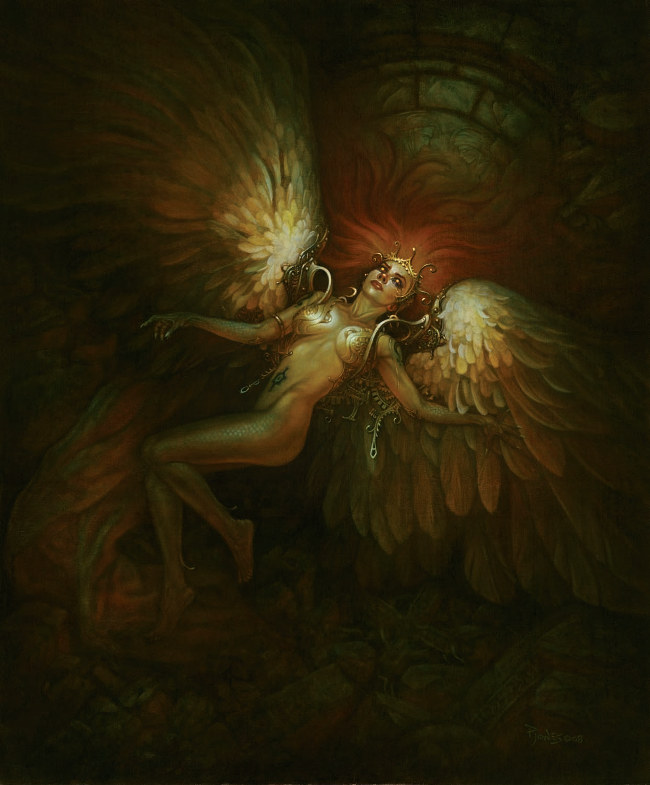 Patrick Jones – Fallen Angel (2008 commission)
Save
Save