Psst, did you know Karen Jerzyk's solo exhibition (and book release) opened over the weekend at The Dark Art Emporium? Delve into the magic and mystery of her work and let your imagination take flight as astronauts and eerie creatures rise from the depths of her keen photographic eye. Through wafting mist and bursts of neon color, the haunting melancholy of her vision is sure to pique your artistic sensibilities.
Show your support and help celebrate! The gallery is now open to walk-ins, no appointments necessary. Grab a bite to eat while you're there… have some pizza and beer at @the4thhorsemanlbc then head to the back and feast your eyes on some amazing art!
To view all available artworks, visit the DAE website! If you haven't discovered The Art Pit DAE Podcast, now's the time. The Jeremys (as in Jeremy Schott – Gallery Owner and Jeremy Cross – Assistant Gallery Director) discuss all things art, music, movies, and more. Episodes 1-9 are now available to stream using Soundcloud via The Dark Art Emporium website or their YouTube channel.
Karen Jerzyk Solo Exhibition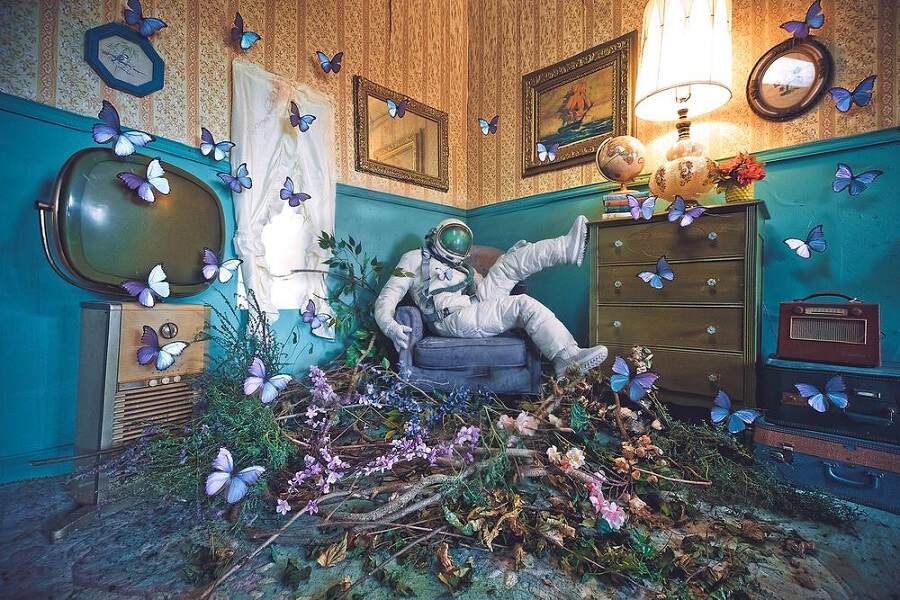 The Dark Art Emporium
121 W. 4th Street, Long Beach, California 90802
Located in Downtown Long Beach within The 4th Horseman
For additional information and purchase availability please contact: [email protected]
Press Release // Join us as we celebrate the release of Karen Jerzyk's first art book published by DAE. Karen's work will be hanging on the walls and available for purchase. With this series each photograph is presented in exhibition quality acrylic prints. Each signed on the reverse by the artist. Props used in this most recent series will be on display as well.
About the Artist // Karen Jerzyk is a self-taught photographer from the Greater Boston area. After graduating from the University of New Hampshire with a BA in English, her parents gifted her with her first digital camera. In 2009, after nearly 10 years of working as a photographer in the music industry, she started shooting portraits of people, and ultimately decided to concentrate her focus on fine art photography. Her trademark of shooting elaborate scenes in abandoned buildings, as well as her studio, involves a laborious process of cleaning and restoration, with attention paid to even the smallest of details. Her aesthetic combination of the past and the future has lead many to describe her imagery as "future-past". She lives and works in Manchester, New Hampshire, where she has a studio, as well as traveling the world shooting portraits in aesthetically interesting spaces.
The Dark Art Emporium Social Media Accounts
Website | Facebook | Twitter | Instagram
Karen Jerzyk Social Media Accounts