To kickstart the month of June, Modern Eden Gallery proudly presents Baby Mama: Portrait Invitational VI, curated by Bradley Platz. Drawing inspiration from the influential and omnipresent virtue of sacred Madonna and Child, these intriguing interpretations are sure to make viewers stop and stare.
Through dreamy imaginings that embrace the archetype with individualized medieval and renaissance iconography, each artwork utilizes modern-day twists in pop culture alongside personal style and technique. Please join Modern Eden Gallery in celebration of Baby Mama as this new summer collection certainly sets a foundation of curiosity and wonder.
For further details and a complete list of participating artists, visit the gallery website.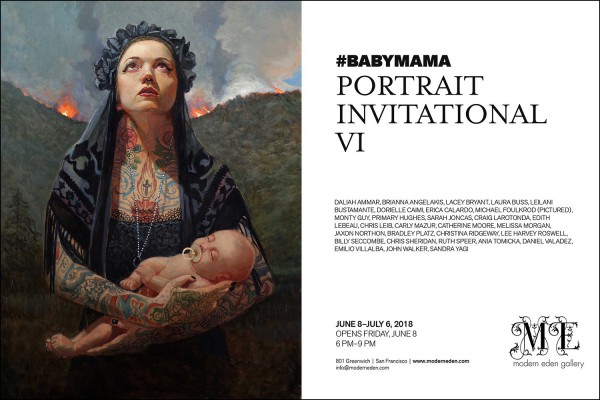 Opening Reception:
Friday, June 8, 2018 | 6–9 pm
Exhibition Dates:
June 8–July 6, 2018
Modern Eden Gallery
801 Greenwich Street @ Mason and Columbus | San Francisco, CA
For press inquiries or sales, please contact Gallery Director Kim Larson [email protected]
General Information: Please email [email protected] | www.moderneden.com
Modern Eden Gallery is located in San Francisco's historic North Beach neighborhood. Founded in June 2010 by local artists Bradley Platz and Kim Larson, the gallery features monthly exhibitions of established and emerging artists. The gallery's contemporary aesthetic ranges from realism to surrealism with a strong focus on illustrative painting and representational sculpture.